Cayuga Lake 11/25 AM + Skaneateles Lake 11/26
Cayuga Lake 11/25 AM:  Guided a 1/2 day on Cayuga Lake going out of Taughannock State Park with Ed.  He has a place near the north end of the lake.  Earlier in the year we did a lake trout trip which also resulted in a nice rainbow.  Today he was hoping for a salmon.   Salmon are around on Cayuga Lake now but most adults are likely spawning.  Some bright fish remain in the lake and we should see more drop-backs (from the spawning streams) by the day.   It's been the same story here about every year since the goby invasion – decent salmon action in November and December, albeit not great then some better fishing from late February on through March and into April.
Ed had a nice salmon chase him in within around 20 minutes of casting.  He had a few other hits but nothing to show.  A laker grabbed his stickbait within the next hour or 90 minutes.  We switched areas and got into more lakers on bladebaits.  Highlight of the day was the fattest smallmouth I've ever seen on my boat – a massive 19″er that grabbed a blade.  It fought very good given the cold water temps.  We released it.  I have no idea on the weight but I'd say at least 5lbs heading towards 6.  Who knows?  Eventually I'll get a decent scale that I can weigh fish on without harming them.
We had a couple more lakers then I had Ed fish one area that used to be a good salmon producer but not so much in recent years.  He was able to catch a thin one that was 18.5″, so we kept that along with the lakers.  Great day and apart from the windy morning, the wind stayed reasonable.
Guys are still launching out of Myers Park but the water is low.
FAT smallmouth!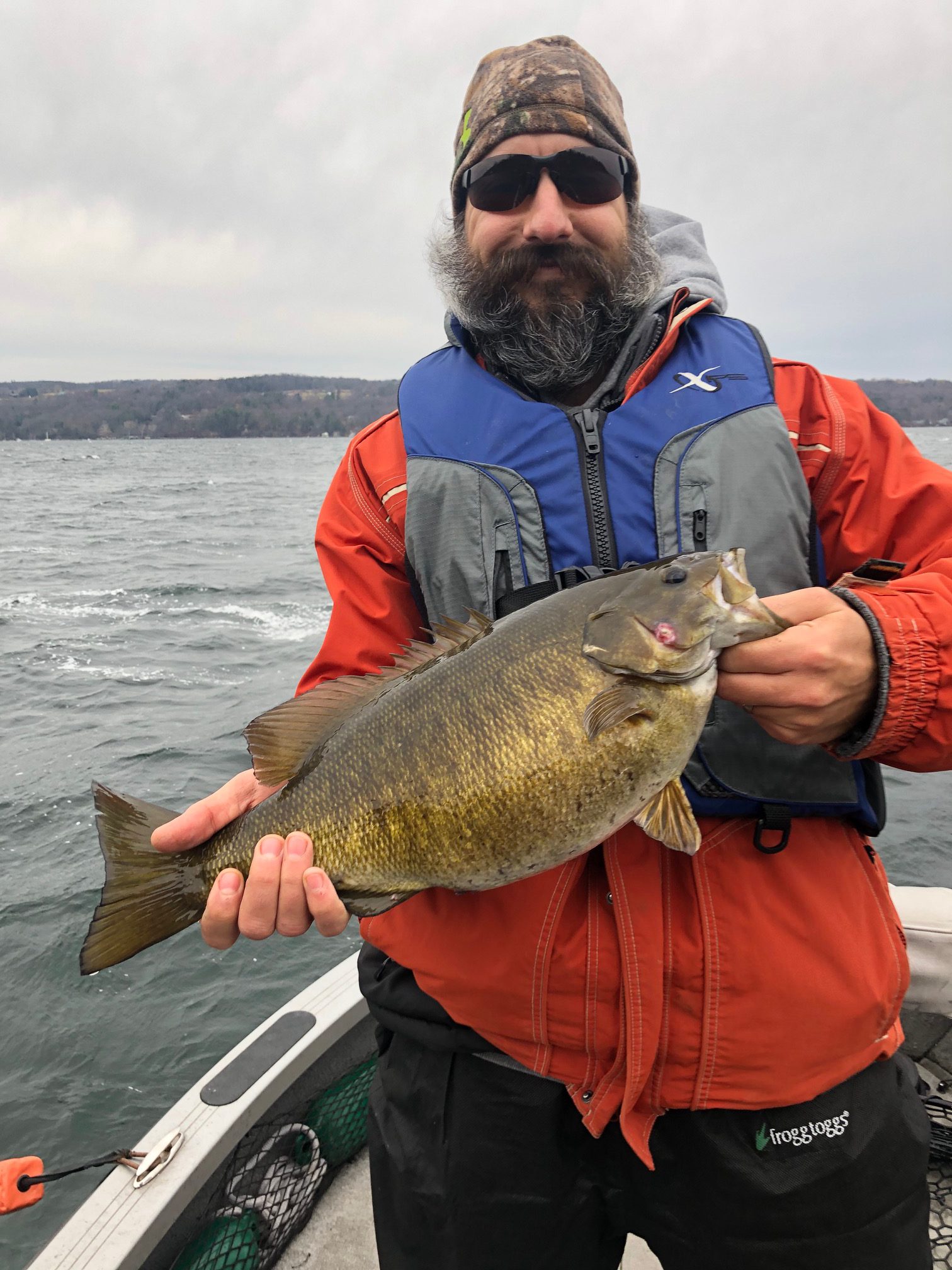 Another shot...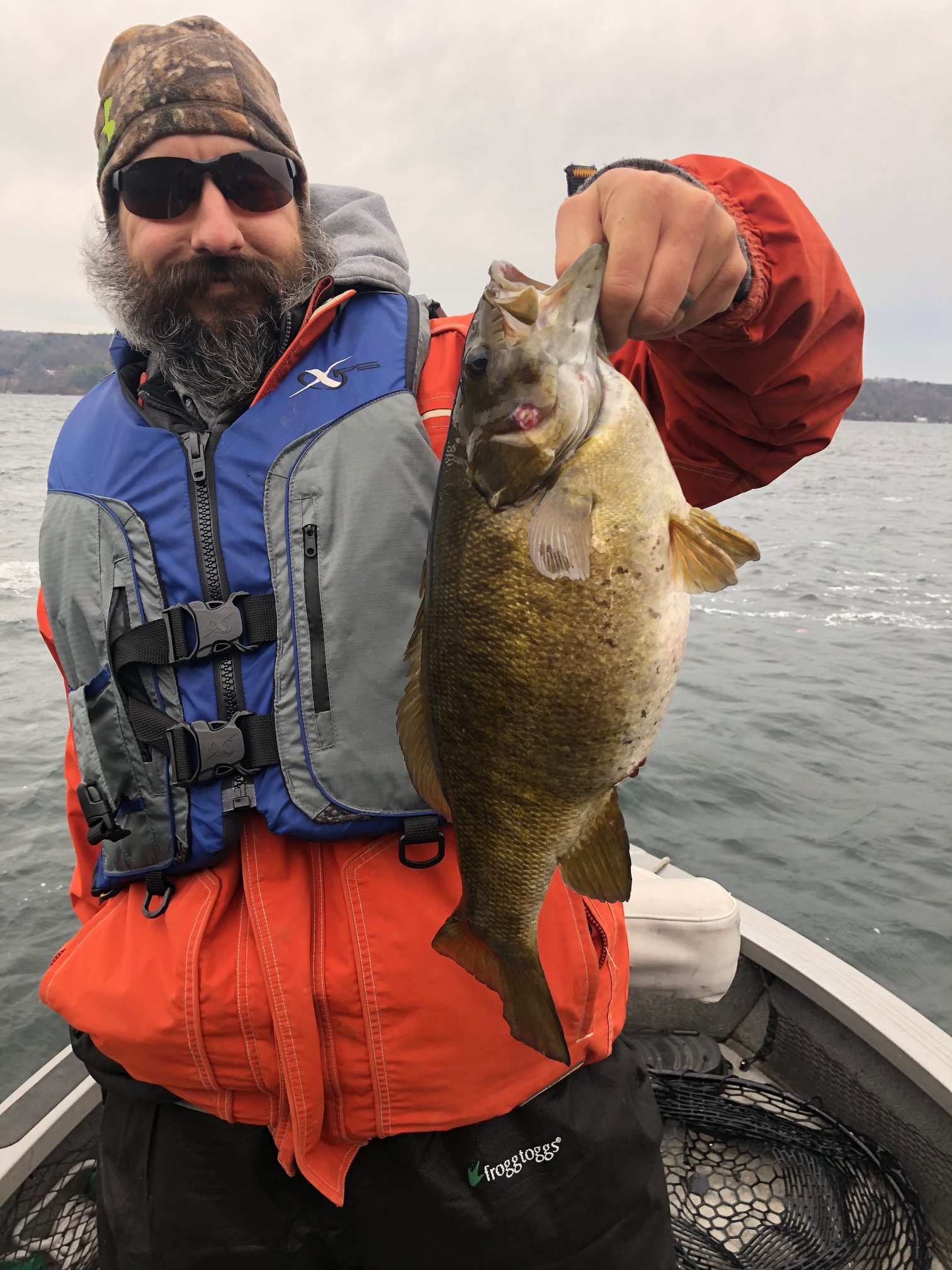 18.5" Salmon
Couple Nice Lakers
Big Laker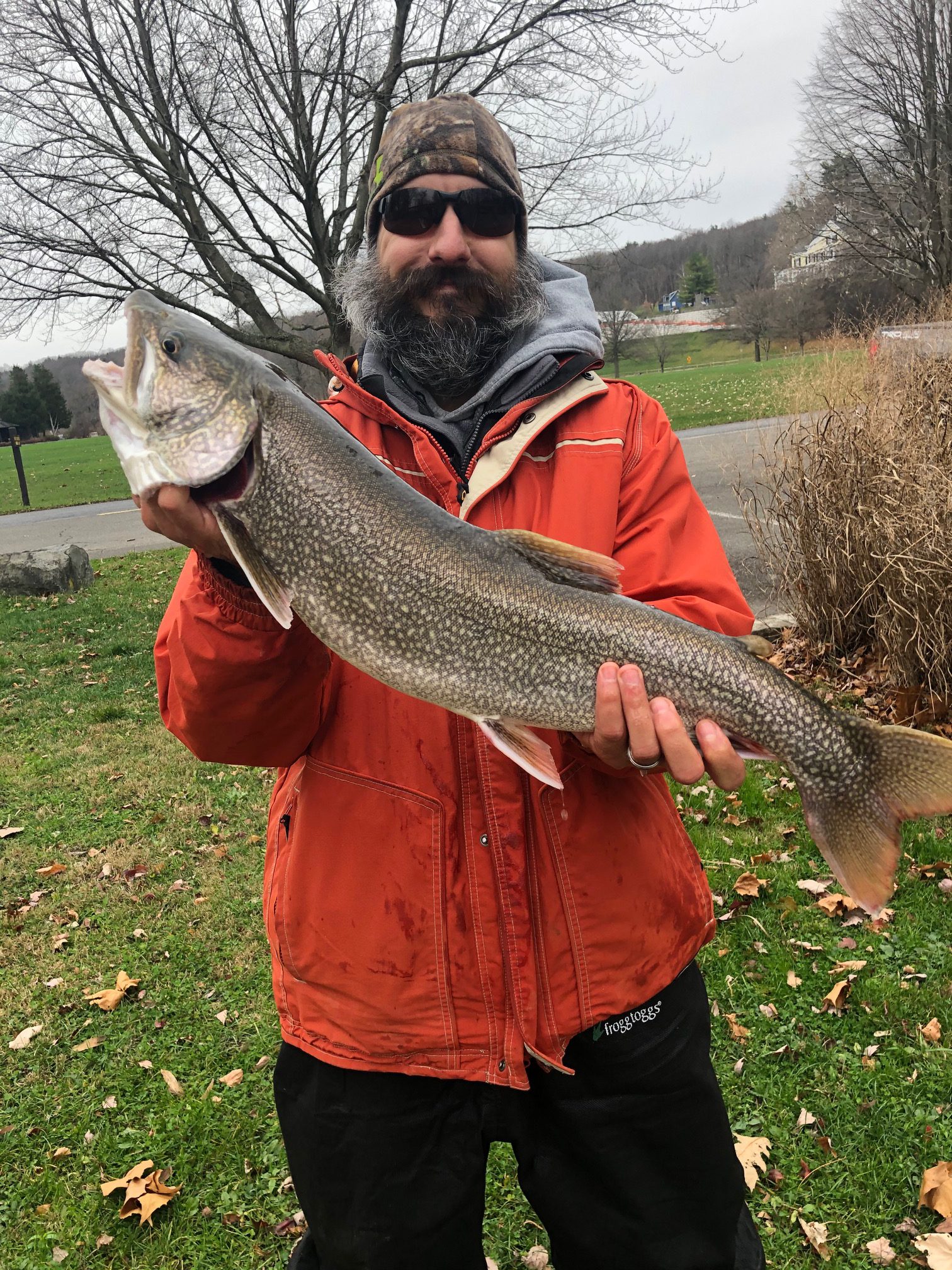 Skaneateles Lake 11/26:   Got out here with my buddy Mike for some Thanksgiving day fishing.  The good news is that the State Launch remains open.  The bad news is that the rainbow fishing here really appears to have bottomed out.  Shore guys report "the worst year for rainbows" they've ever seen here.  The illegal introduction of walleyes is the most obvious answer here.  Walleyes and rainbow trout both "prefer" water around 56 degrees.  Stock a bunch of rainbows (or a bunch hatch and drop back into the lake) and they will hang in the same zones.  What happens after that is obvious.   We saw the same occurrence in Owasco Lake in the late 1990s, though a lot of that could also be blamed on the double stockings of lake trout that happened there.  The "phosphorus" argument that some walleye aficionados were latching onto doesn't hold water in Skaneateles Lake.  It never held water on Owasco Lake either, given that the Great Lakes were full of phosphorus in the 1970s and into the 1980s and the rainbow trout fishing was spectacular.   If you have a donut shop and aren't profiting but your key employee went from 150 to 400lbs, you're short on inventory and your donut sales remain stagnant, you might have a clue regarding what is happening. But some guys will never get it.  "You ain't gonna learn what you don't wanna know."
Past client and lake resident Charles mentioned to me that the recently unprecedented super low water may be a big factor in the poor shorefishing success.  That may be true to a point – certainly in some areas that may be too shallow for fish to move in, but shore anglers have been catching some landlockeds.  The water surrounding Lordes Camp is deep, so I don't see the low water being a factor over there.  Under the right conditions rainbows will move very shallow to feed.  We have worked a lot of moderately deep water in search of rainbows as well and they just don't seem around.
Salmon did well here last year.  But the fish that were stocked ranged from around 10″ to 13″ long.  No problems.  Those fish were big enough to not get eaten by walleyes.  Lake trout like colder water than walleyes, so apart from the cold months, the two species would remain thermally separated.
It is what it is and it can't be undone now.  So my days of guiding this lake for rainbows are over with unless we see something change.  Walleyes for me remain a bonus fish here.  It's superclear water and the best walleye action by far would be at night.  That is not something I would undertake.  We have one of the best walleye lakes in the country in Oneida Lake and there's Otisco Lake along with the Lake Ontario bays, so there are plenty of fisheries that are better places to target walleyes than Skaneateles Lake.
Mike and I fished hard from around 8:30 am until almost 3 pm.  We casted a lot of hair jigs into likely rainbow trout areas.  Zippo.  He had one silver fish follow him in.  That may have been a salmon.  Very few guys have been fishing from shore at Lordes Camp.  We saw a few this morning, but it was a holiday and that was to be expected.  Most of the time I haven't seen people at all and when I've talked to them or overheard them talking about the fishing, it hasn't been good.
We did manage to catch some nice perch, a few lake trout, some bass and a big pickerel.  So the overall fishing was still alright.  But despite good wind and great water temperatures we never encountered a rainbow.  That for me never used to happen when all the factors lined up right.