Cayuga Lake 5/29, 30; Keuka Lake 5/31 AM
Guided two full days on Cayuga Lake out of Long Point State Park this past Monday and Tuesday and then a half day today on Keuka Lake going out of the State Park on the Branchport Arm of the lake.  The weather pattern made for a weird bite on Cayuga Lake.  Fishing picked up markedly today on Keuka.
5/29:  Today I had Paul and his sons Adam and Dave out for a scheduled half-day trip.  Fishing was not easy in the morning.  I think it was due to the weather system.  We had fish and bait in some of the areas we fished, but the fish were in a neutral to negative mood.  We wound up picking up a few fish in the morning.  It was a beautiful day to be out on the water and as we approached the end of our half-day trip, Paul asked his sons whether they'd be up for extending the trip to a full day.  They were up for it.  The bite continued to be tough as we worked our way around the lake.  The proverbial "switch" turned on towards the end of the day and we had a solid ending to the trip. I think we wound up with 9 nice fish if I remember correctly.  I'd be lying if I said it wasn't a grind at times, but again – it was a perfect day to be out!
5/30:  Today was a full day with my old friend (going back to elementary school) Chris and his wife Barb.  We used to fish the heck out of Irondequoit Creek when we were in middle school and into high school.  We fished for trout, salmon, pike, bass, perch, carp – you name it, we fished for them.  His grandfather had a place on the St. Lawrence River and I was able to fish there back in 1980 with them for bass.  That trip was also my first introduction to Stone's Candies up in Oswego, which we stopped at for ice-cream on the way to "the River."  During that same winter, I caught my first nice northern pike through the ice at Sodus Bay with Chris and his uncles.  I hadn't seen Chris since the just before the Covid outbreak. We had a good time catching up today.
We started the morning with good numbers of fish and bait but we just couldn't get the fish up to the boat.  A lot of fish were dropped by Chris and Barb.  Barb had a follow from a silver fish of some sort – probably a rainbow.  I think that was our first encounter of those for the season when fishing vertically.  We did some moving around and after 4 hours Chris finally got the first fish in the boat.  People may think, when they see a good fishing report, that the day went great and we had solid action all day long.  That's rarely the case, especially this time of year.  We usually have bite windows and sometimes we miss them or they are short and sweet.  Fish turned on in the afternoon and Chris and Barb even had a double.  We wound up with double-digit numbers, but had to work for them.
Chris's first fish of the day! An alewife!
First good-sized Lake trout of the day
Another good fish
Barb and Chris doubled-up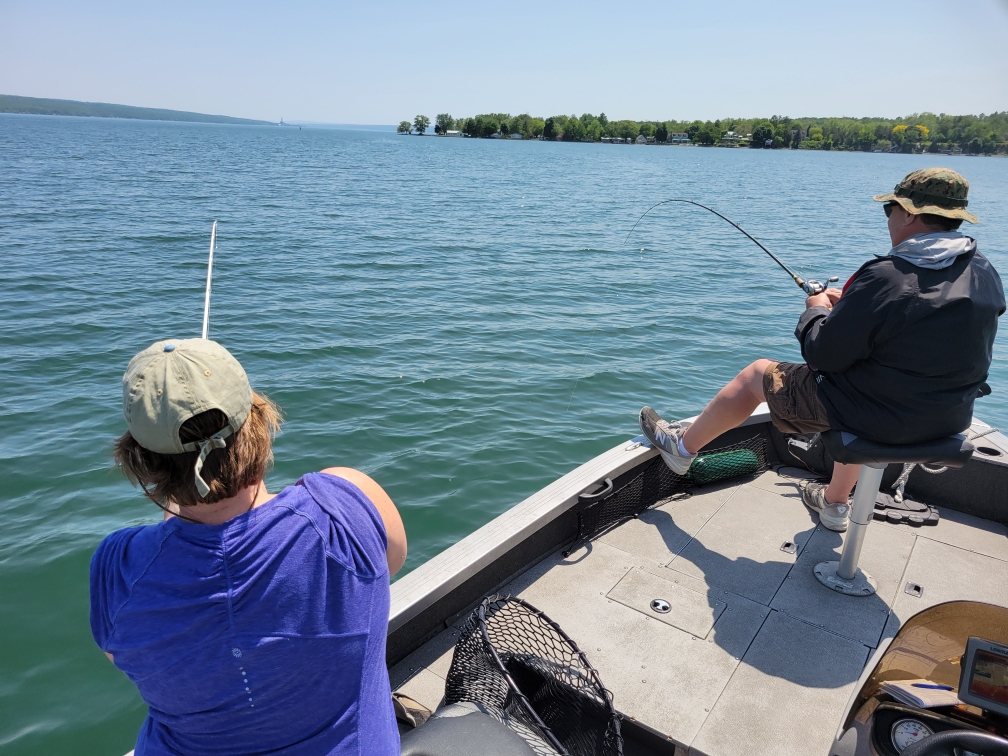 5/31 AM:  Today was a half-day Keuka Lake trip with Howard and his wife Sue starting at 7:30 am.  They were a referral from my good client Dave D. (from years ago.)  Dave sent me the old LL Bean cookbook years back.  It's a fun read and has some tremendous recipes for fish and game.  I've barely scratched the surface of it, but I've found a couple of recipes that I go back to over and over again.  Howard and his wife have a place on Keuka Lake and are getting more into fishing.  Today was a tutorial trip where I went over the jigging and we also did some jerkbait fishing (soft and hard) for smallmouths later in the morning.
Lake trout fishing was fantastic on Keuka Lake this morning.  Perhaps after the last two days with PM bites, the AM bite finally turned on -whatever the reason, I don't know but the fish were "on" today.  We had great fishing and slow "catching" to start our trip today; we had lots of hookups/bites but very few landed fish.  As the morning went on, the catching got better.  We wound up with a nice limit of trout ranging from 19″ to 22″ long.  They came from 70′ to 90′ FOW.  White and chartreuse baits worked best for us, although we had a fish on the old Lunker City Smelt colored swimfish as well.
Trout on the bottom on Keuka Lake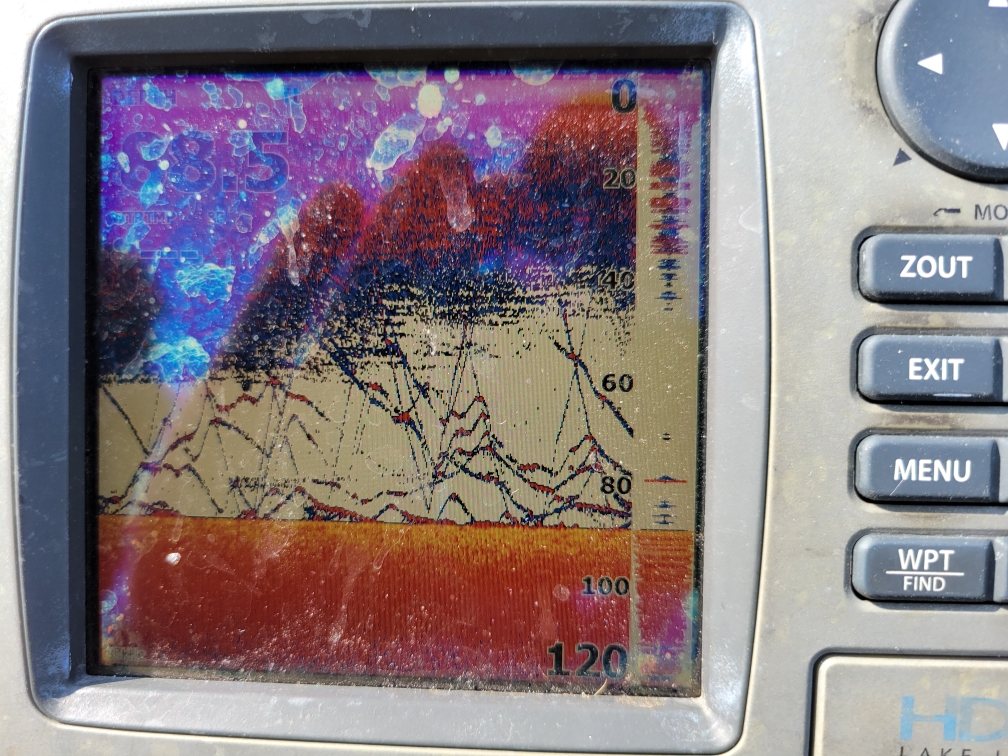 I think lake temperatures were in the upper 50s to low 60s on Keuka.  I took a reading but don't remember exactly what they were.  We only fished one small area of the lake for trout, so I have no idea how other areas are fishing.
After we got the trout we wanted, I showed them my set-ups for working lures like Rapala Shadow Raps and Zoom Super Flukes.  We fished them for maybe an hour.  We also worked on casting.  Howard had a nice laker swarm after his Fluke!  We had some activity from smallmouths, bluegills and pickerel as well.  This is a fun time of year to fish Keuka Lake – lake trout are often shallow and get caught quite frequently by bass fishermen this time of year.
I was going to hang around and fish Keuka Lake a bit after our trip, but it got pretty darn hot and I was pretty darn whipped, so we pulled the boat out.  Either way, the lake is fishing very well now.
Howard struggling to hold a lake trout!
2nd one...
Sue hooked up!
Sue's first
I think my prediction was fairly dead-on regarding the Seneca Lake Memorial Weekend Derby's fish sizes!  Lakers will continue to pick up another pound or so a year for the next year or two.  After that, the numbers of adult lake trout in Seneca Lake will go up a bit as the stocking increase from around 2020 starts to show dividends. We'll see how big the lakers get with gobies now confirmed in Seneca Lake.  Lamprey treatment is still of the utmost importance.   Browns struggle the most in the face of lampreys and that showed in the results.  Rainbows and salmon do a better job evading lampreys and that also showed.  Congrats to the winner, Bob Salotti.  I think he pulls copper.  I knew him a little bit from my Bass Pro Shops days and from bass tournaments in the 2000s.  Dominating derby for him – it's the first time I've EVER seen someone have a lead for the Grand Prize on Day 2 and then top their own fish!  Wow!  I expect to guide and do some personal jigging on Seneca Lake a bit in the next two months.  I'm really looking forward to it.  It's been a long time since this lake really caught fire although it had its moments last year for me and my clients.