Cayuga Lake 6/2 – 6/4
Guided full days on Friday and today and a half-day yesterday.  Only a few open dates remain in June – 6/13, 18, 29, and 30.  I may add in a few PM half-days depending on the bite and weather.  July and onwards feature good availability.  Water temperatures have been all over the map.  In general, plenty of bait has moved in shallow lake-wide.  Rainbow trout are providing good fishing for trollers and occasional bycatches for jiggers.  We've had some encounters with them, but none landed for us yet.  Versatility and patience remain critical for success this time of year.  The no-brainer deep bite of February through early-May is in the rearview mirror.
6/2:  Guided a split full-day trip starting at 7 am out of Dean's Cove.  Occasionally I'm asked to accommodate groups of 5 or 6 people over a full day.  This request usually comes when people are vacationing at a rental property.  I'm happy to oblige, but keep in mind that you're getting a split full-day, not two half-days in terms of trip length.  I started the morning at 7 am with Andrew, Misha and Chris.  Chris was the only real novice angler on the day.  The other guys were all die-hards.  My group on the day including a fly-fishing guide and other well-traveled anglers.  It was a fun day overall.  We had a good shallow bite in the morning with everyone catching fish.  Newby to angling Chris managed the biggest, which was nice.  The bite waned around 11 am when we headed in to switch groups out.
The PM trip was tougher fishing.  I had Evan, Ben and Taylor onboard.  We worked our way around the lake and finally got a laker onboard.  We made a good run downlake and encountered some good fishing late in the day.  One or two of the guys nearly had a rainbow trout, but it wouldn't grab the jigs enough to get hooked.  I don't recall how many trout my groups landed on the day but it was in the mid-teens.  We had solid fishing overall, but had to be patient and work for them.
Evan with his first lake trout
Taylor with a solid!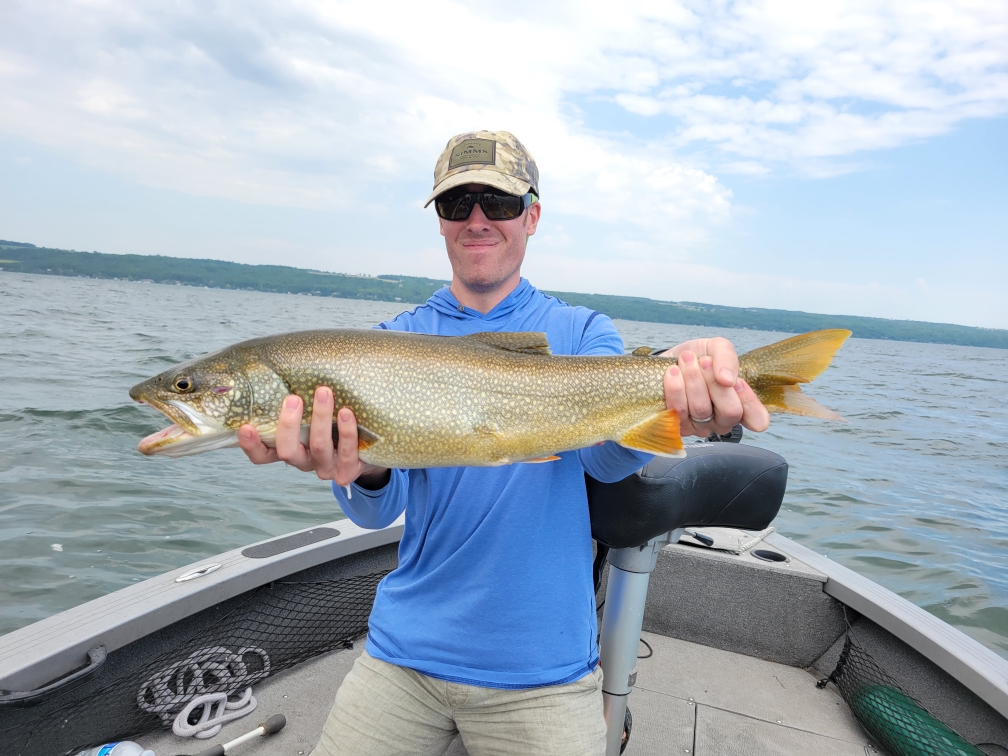 The guys all took plenty of photos.  If I get some more, I'll put them up, but these are the ones I took.
6/3 AM:  Today was a morning trip starting just after 7 am out of Long Point with John and his son Hunter.  I've guided these guys for years and it's always fun seeing them.  I watched Hunter grow up.  He was first onboard when he was maybe 11 years old, if not younger and now he just finished up his freshman year at college.  These guys are very easy going and that helps to keep me relaxed.  We had good fishing in the AM with some nice lakers dropped as well.  We then had a little lull, but the fish started hitting good around 11 am.   We had one double and wound up with a good double-digit morning.
John with a solid
6/4:  Today was a full day with Chris from last week and his friend John.  John has a cottage near Union Springs and Chris has been telling him to do a trip with me.  We finally set a date and today the guys really got to experience some top-notch jigging.  We made a decent run and got into fish pretty quickly.  The wind really started to come up and we made some adjustments and the guys really started catching them consistently.  We wound up with a solid double-digit day and we left a little early.  Bass boats were out in droves practicing for the BPT event that starts on Tuesday.  All the Major League Fishing greats will be there -from Kevin Van Dam (who's fishing his final year as a touring pro) to more recent heavy weights like Jacob Wheeler, Dustin Connell and Justin Lucas.
Chris with a beauty!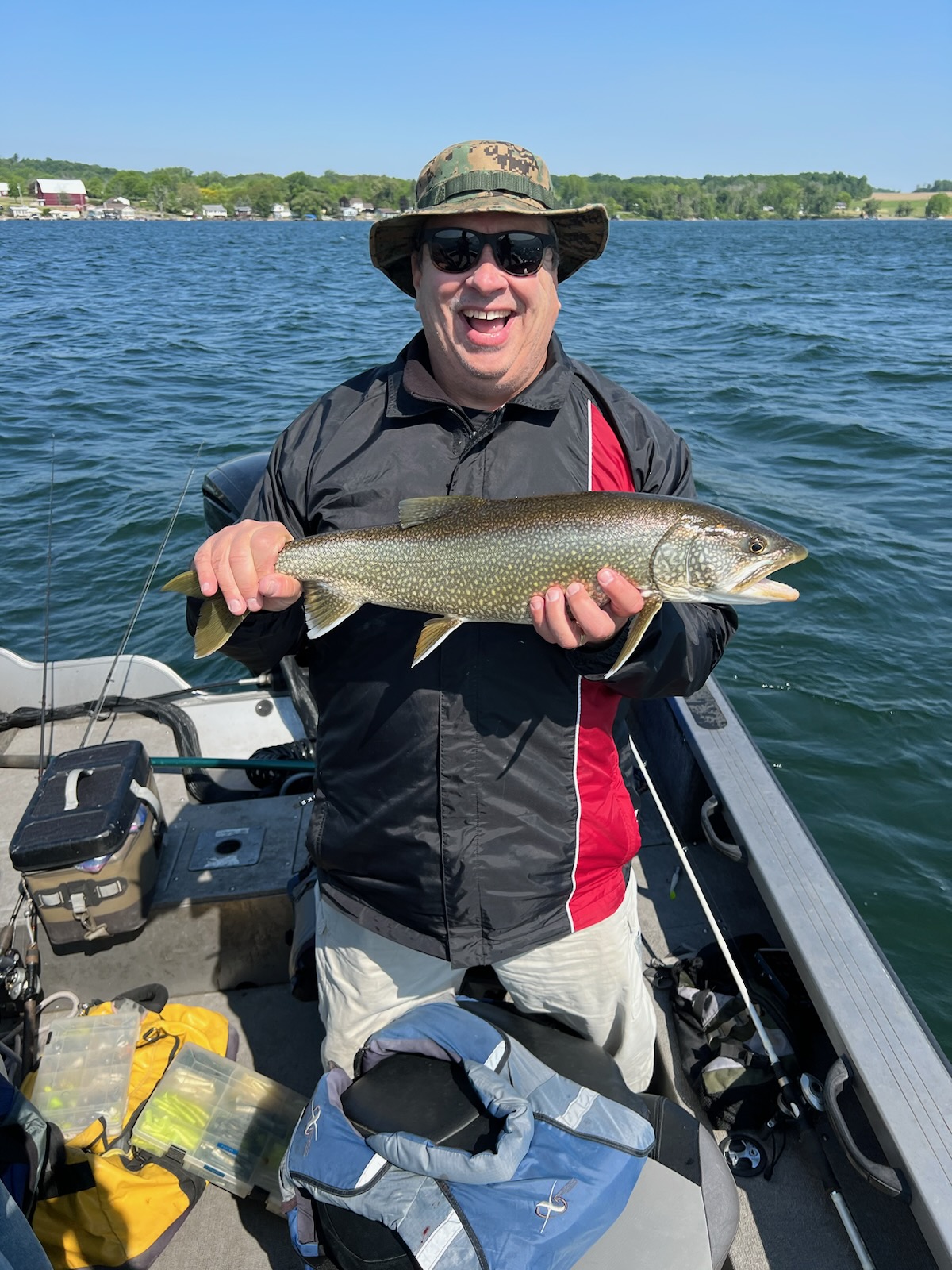 John holding one
Here I am holding one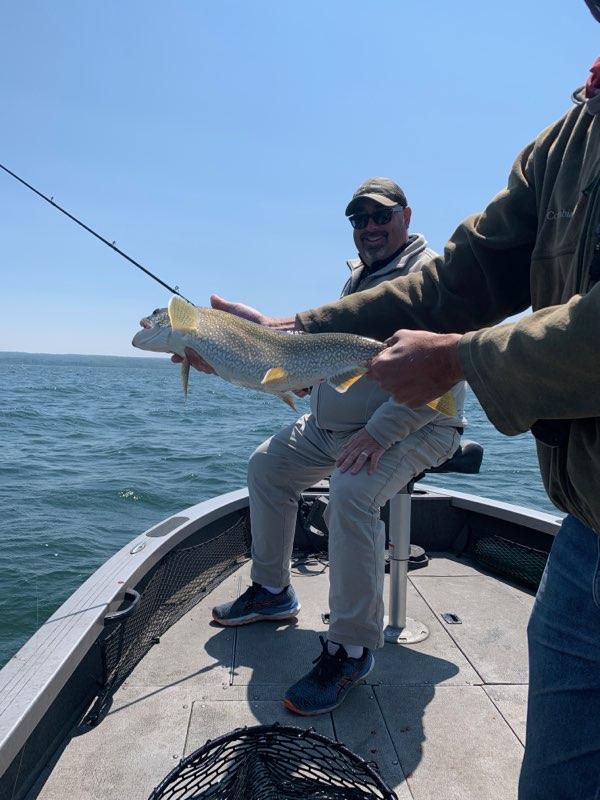 A smaller one
I have been seeing a small class of young wild lake trout on Cayuga Lake this year – these fish are running around 19″ long.  It's good to see in the face of the goby invasion.  Hopefully it'll continue.  We're not seeing many landlocked salmon (again!) on Cayuga Lake this year.  I've talked to some good trollers and they are all telling me it's mostly been rainbows this year in terms of the "silver fish."  Brown trout numbers are pretty good.  With salmon, a few very nice older (likely 3-year-olds) have been caught.  These fish are running around 25″ to 26″.  Some smaller salmon were caught this spring around the south end of the lake, but not many overall.