Cayuga Lake out of Long Point 5/25 PM
Guided Craig and Brian for a half day starting at 3:30 pm.  I've known Craig now since I think my first or second year of guiding and it's always great to have him onboard.  Brian first came along with him a few years ago.  Both guys are exceptional tattoo artists!   I've had reports all over the map lately, from very hot fishing on Sunday to a very slow bite on Monday.  I wasn't sure what to expect on this hot day but was glad the wind was up.  We also had a chance of storms/rain in the forecast.
The bite wound up being very good.  Brian had the hot hand to start, landing 3 or 4 fish as well as dropping some, and Craig nabbed a nice 29″er as well.  Then we had a line of fairly severe thunderstorms move through.  I watched the skies like a hawk and with my new (since February) Samsung Galaxy 21 I could bring up the radar (Thankfully I no longer have to bother people for their phones.)   We got off the water with time to spare and tied up at the Long Point Marina while waiting for the storm to pass.  After we were able to get out again, the wind had died but the fishing and then wind soon perked back up again.  Craig wound up with the hot hand "post-storm" landing a 31″ laker and a few more and we wound up with a boat total of 9 fish landed and probably as many dropped today.
Brian kicked us off today...
Here comes the storm line and rain onscreen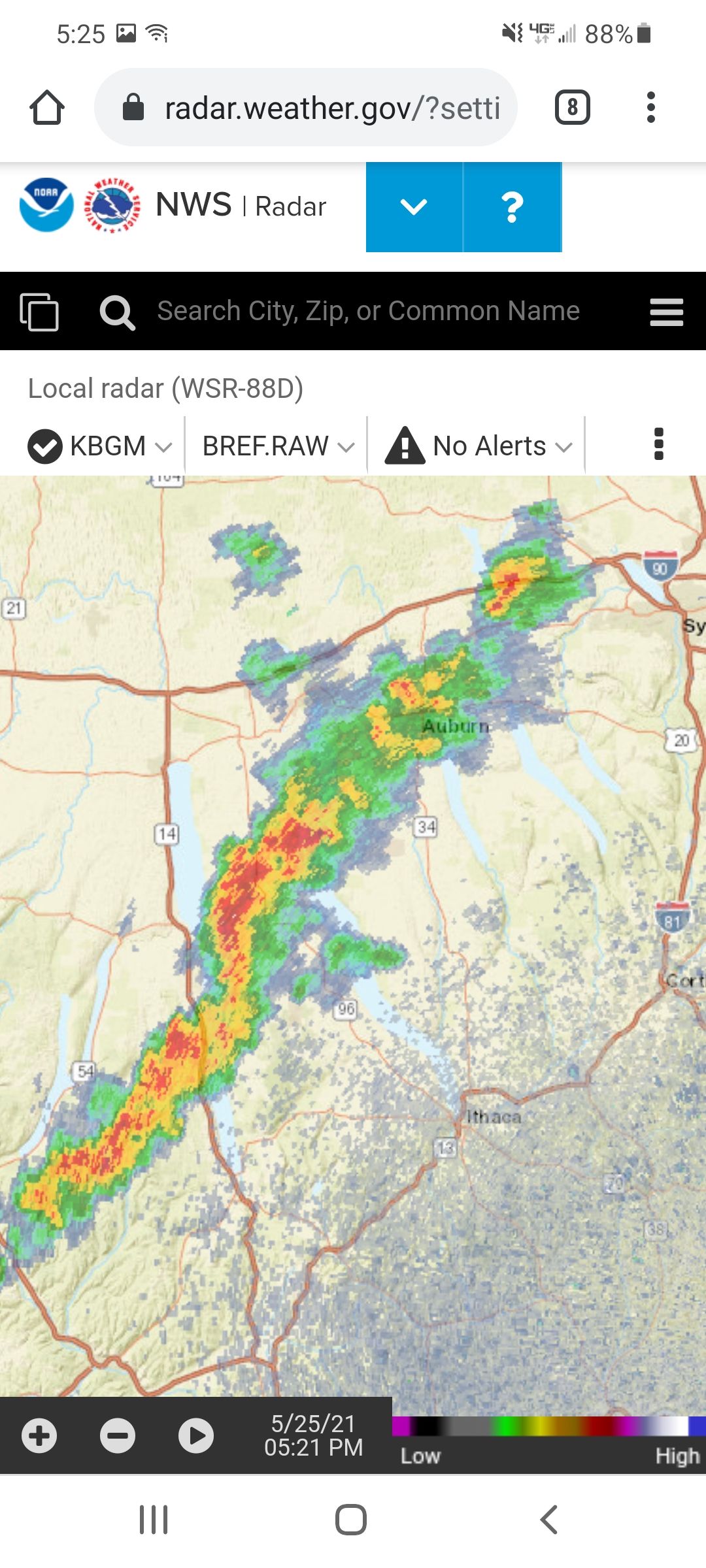 Nice to be on land #1
#2 Storm Shot
I know it's hard to see what's going on in these shots, but trust me, it was pretty bad out there.  Not nearly as bad as some stuff I've seen – i.e. no 55 mph wind gusts/shears, three to four foot waves and multiple lightning strikes, but it didn't look like fun out there!
Craig with a hard fighting 31" post-storm laker
Most of our fish came from around 50′ to 75′ FOW.  We had one shallower as well.   The guys kept 5 or 6 fish and most of them were full of baitfish (alewives.)
Availability going forward:
June:  4th,  8th.   I have select 1/2 days available.  Please call or email for more info.
July:  3rd, 4th, 8th – 12th, 14th – 20th, 22nd – 27th, 31st.
August:  1st, 2nd, 7th – 10th, 15th, 20th – 31st.
September and Onwards:  My availability is excellent.