Cayuga Lake out of Long Point 6/10, 11, 13
6/10 AM Cayuga Lake out of Long Point:   Got out here starting around 7:30 am or so with John Sander, writer of the "Sander's Guides to Fishing Western NY" as well as the Finger Lakes version – both published back in the 1980s.
John has been working very hard on his forthcoming website and he gave me a nice preview of it.  It looks great and was very impressive and inspiring.  Anybody interested in the outdoors here in Western and Central NY could easily lose themselves for hours clicking through the site.  Anybody who thought the books were great will be even more impressed with the website.  There's some terrific photography on it – complements of John.  John has personally visited every waterway he has listed.  He is noting every launch site (on lakes/rivers) and every public access on the streams.  There are photos for each waterway, so the viewer will get a good idea of what is there.  John has also listed interesting details about the plants, animals and other aspects of the areas.   He still has a lot of work to do on the website but hopes to launch it in 2022.
The Sander's Fishing Guides!
As anyone can see here, my Finger Lakes edition has received a lot of use!  These old guides are hard to find – especially the Finger Lakes edition.  A lot of the information is out of date – again, especially in the FL edition, but conversely a lot is still timely.  Some areas haven't changed all that much.  For anybody interested in the history of fishing in this region, they offer a good snapshot of what the waterways here fished like back in the 1960s – 1990s.  The FL edition is hard to find.  I don't recommend paying an exorbitant amount of money for it, but you may be able to find one in a local library or at a garage sale somewhere.  A lot of older anglers in the area would have one.  John still has editions of the Western NY edition as well.
John enjoys jigging lake trout (who doesn't?) and I certainly do, even though I spend the majority of my time watching other people catch fish.  We both had a great time jigging up some trout.  He really did well and was happy to outfish me.  He even caught a nice 26″ rainbow.
John Sander laker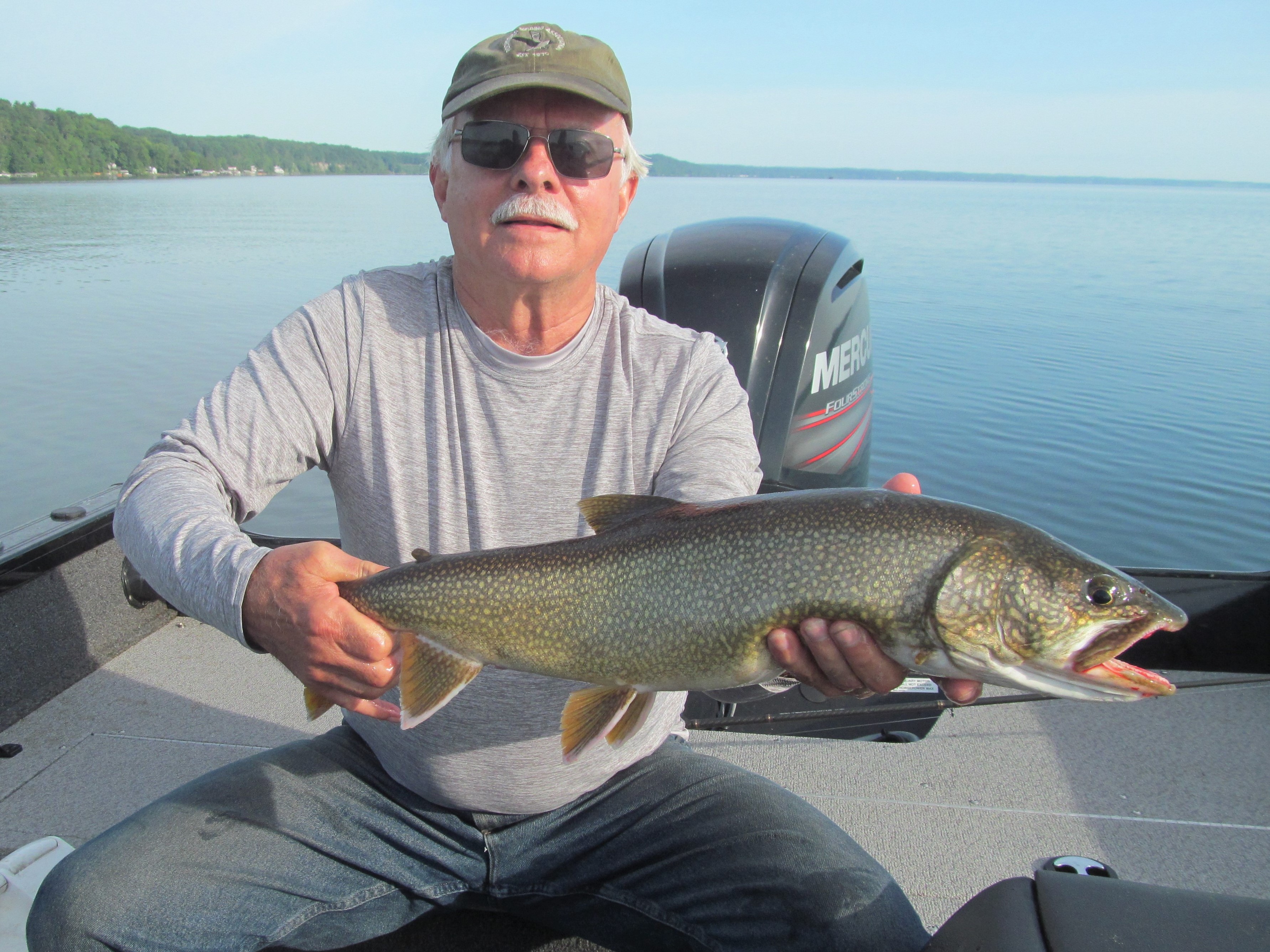 Another one
Fish on!
Again....
Rainbow!
Holding John's Bow before release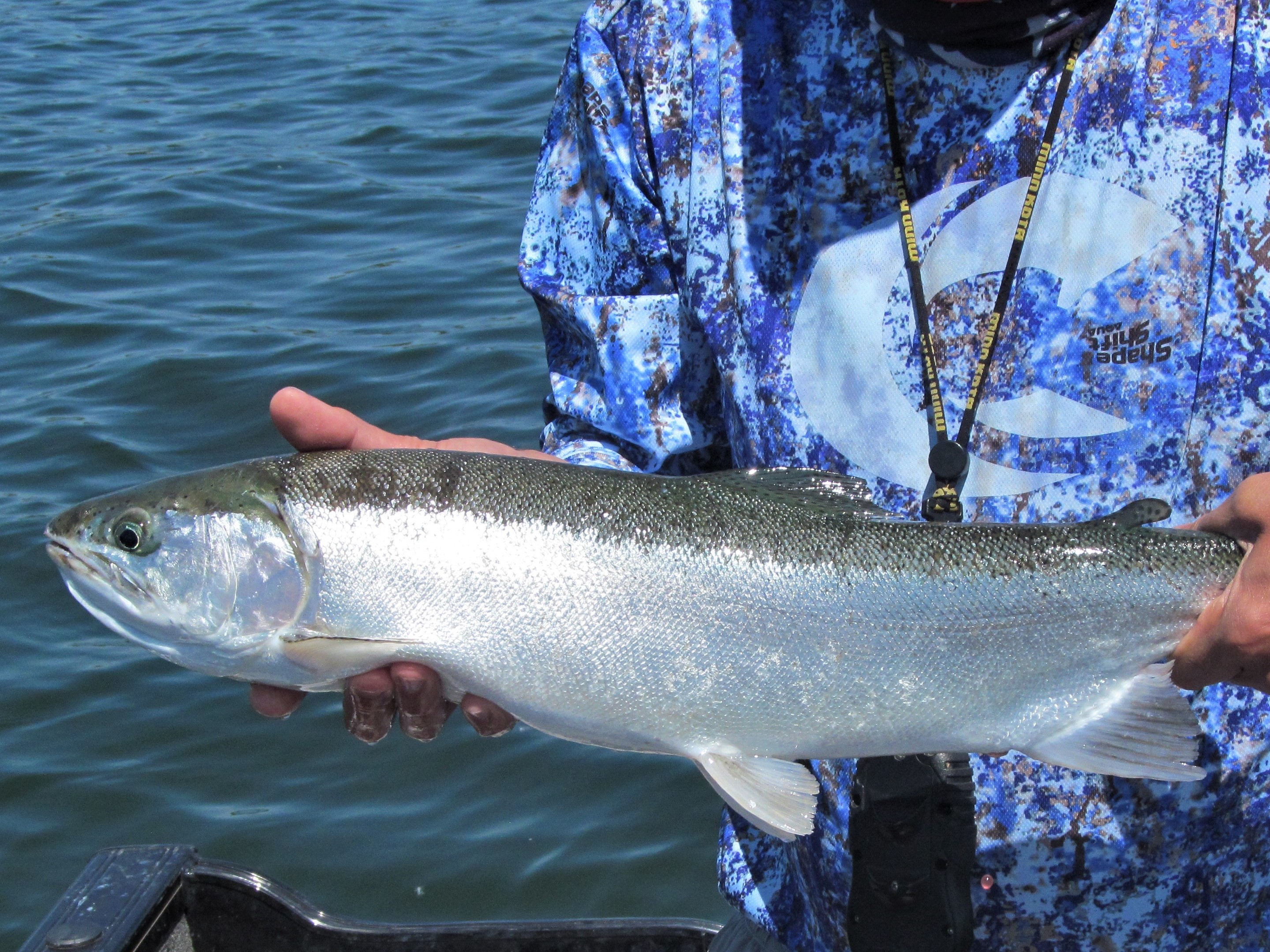 A smaller laker I caught...
A better fish
All in all we had a solid morning of fishing – I think we landed around 11 or 12 fish.  Fun day and not many folks were out.
6/11 PM:   Guided Craig (from 5/25) and his friend Dan for the afternoon starting just after 1 pm.  We had some solid fishing with around 8 nice lakers landed.  Craig almost had a rainbow trout as well – with a silvery one following his jig right up to the boat.  Despite the potential for storms and rain, the weather stayed perfect.  Stomach checks on the kept fish revealed the usual alewives.
Dan with a laker
6/13 AM:  Guided Joe and his son William for a half day starting at 8:30 am.  I don't know how the early fishing was, but our later start (the guys drove up from NYC) didn't seem to hurt us.  They landed 7 nice fish and we left around 1 pm with the fish still biting.  I always have a good time with Joe and William.  I actually met Joe at a concert back around 2012 or 2013 and we exchanged contact info.  When he found out that I was a fishing guide, he told me he wanted to get his son into fishing.  Since then we've managed to get out most years.
Joe with a nice laker
William hooked up
William with a nice laker
Fillmore Glen State Park:  I often get asked about things to do and places to visit in the region.  I had my old friend Gary (we've known each other since 3rd grade!) visit me over the weekend and we hiked through Fillmore Glen – just north of Moravia (near the south end of Owasco Lake.)  President Millard Fillmore was born in a log cabin about 5 miles away from the park.  The park does offer camping and some terrific views.  Unbelievably it was the first time I'd visited the park despite driving past it for years.  It's tough to find time to sightsee when my job is so weather dependent, but I try.