Cayuga Lake out of Myers 9/3 + 9/4
The bite has toughened up a bit on Cayuga Lake over the past two post-frontal days.  When I was out with my friend Mike on Thursday, he brought up something we all know and rarely enumerate – that fall really runs from September through November; winter runs from December through February, spring is March through May and summer is June through August.  Forget about all that "21st of the month" stuff – we are in fall for all intents and purposes.
With fall cold fronts lake trout fishing tends to get tougher.  In the summer the fronts are usually pretty mild – the temperature doesn't tend to drop too much and the accompanying winds aren't as strong.  Average wind gusts get higher as we move through the fall season.
Bite windows tightened up a bit over the past two days.  The fish definitely weren't lockjawed, but it also wasn't the hot summer bite we often take for granted on Cayuga Lake.  I expect conditions to improve markedly over the next couple days.
9/3:  I picked up Rod and his friend Tom at Taughannock at 8 am.  They drove in from Rochester, thus the later start.  I last guided Rod on Owasco Lake on October 22, 2007!   He looked vaguely familiar but doing one half day trip 14 years ago doesn't necessarily imprint someone on my mind very deeply!  Either way we had a fun day.  The forecasted partly sunny skies and northwest winds at 7 mph didn't material for us at all.  We had pretty solid cloud cover and strong north west winds averaging 10 to 15 mph and gusting into the low 20s at times.
Four solid lakers were landed with Tom having the hot hand.  Best fish was a 31″+ wild one.  All released today.  One hookup was dropped by Rod and a few other hits were had.  Fish were moving for the jigs but not as aggressively as we all would have liked.
9/3: Tom's 31"+ Beauty!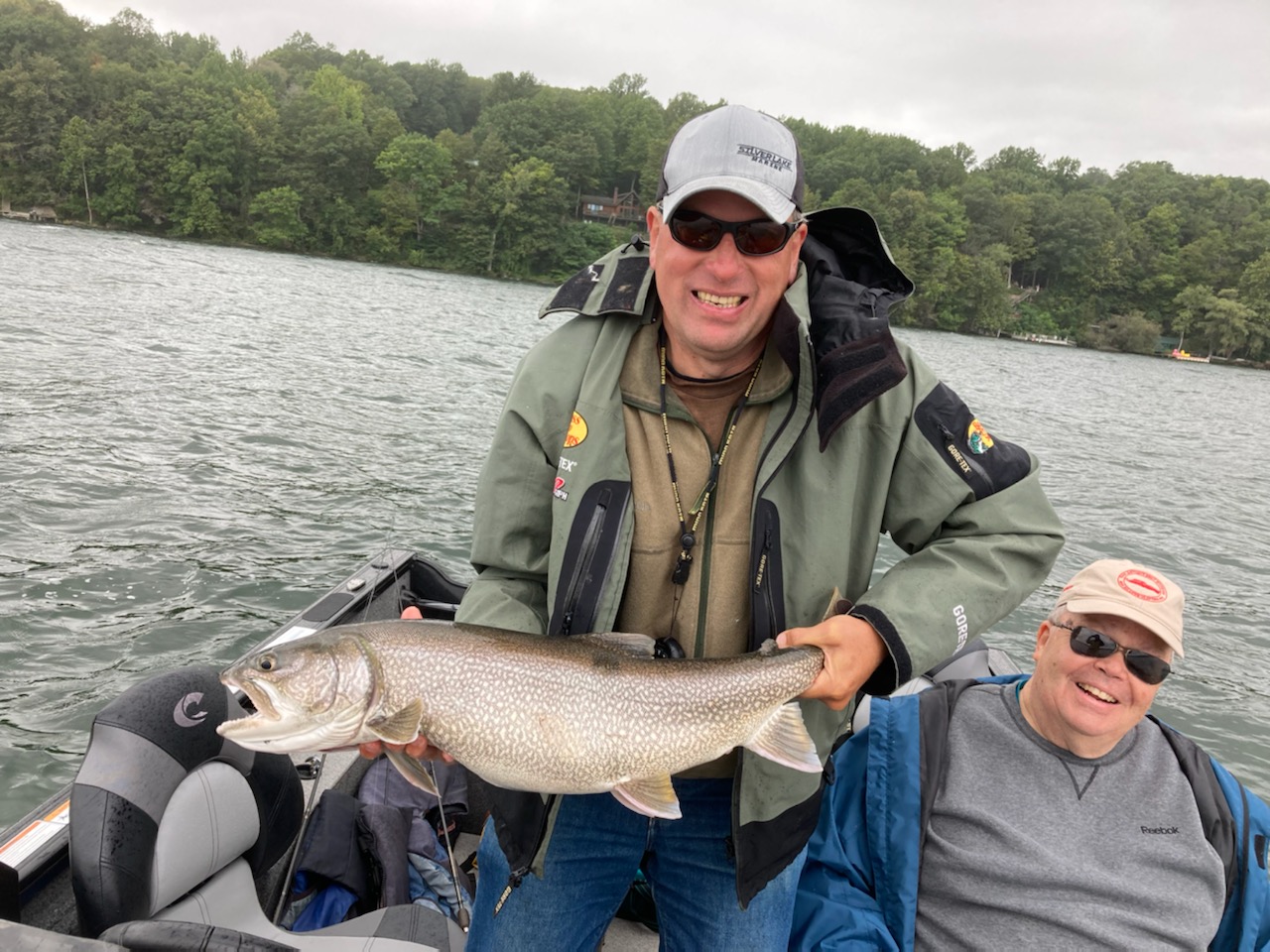 9/3: Tom hooked up!
9/4:  Today I had Skip out again with a couple of his friends.  It's been a lot of fun seeing Skip on a regular basis and we have at least one more trip scheduled.  I figured the bite would be a bit better today given the more favorable conditions.  It was better, but still not great.  Skip used some old tackle of his for half of our trip that probably didn't help him any, but I don't think he cared 😉
Larry and his son Chester joined Skip on this trip and the guys managed to land 5 nice lakers (one was a dink.)  Skip missed a good fish on his vintage 1985 combo.  It hit three times and might have been a rainbow or salmon.  Skip wanted to keep the trip to a tight 4 hours but we stayed out a little bit longer and that resulted in our last two fish.  The bite appeared to be picking up about an hour before we left.  Friends that fished longer than we did reported a pretty slow day as well.  We are getting into the "moodier" period for Cayuga Lake lake trout.  There's still a lot of great fishing to be had, but the consistency won't be quite what it was during the spring/summer.