Cayuga Lake out of Myers Park 7/13 + 14
I just completed two full day trips guiding Tom and his extended family out of their rental, not far north of Myers.  After last Friday's tough morning on Cayuga Lake, I was debating on what to do.  Tom and I decided to fish on Wednesday and then play it by ear; if we had a tough day Wednesday, we'd consider moving our Thursday trips over to Owasco Lake.  Fortunately, Cayuga Lake came through for us with some solid July fishing.
I'd say that what we have going on in the lower to mid-lake right now is a mild algae bloom.  The visibility through the water column is about 4′ to 5′ as of this writing.  It likely varies elsewhere.  These are pretty good July conditions. As I write this, the winds were howling out of the north, and strong winds often disperse algae blooms, so tomorrow could be a totally different story.  Conditions will likely be better.  As of last week, the algae bloom on Cayuga Lake was not classified as a "H.A.B." or harmful algae bloom.  You can read more about these classifications online with a simple websearch.
7/13 AM:  Guided Tom's son in-law Scott, his daughter Kaylee and son TJ.  Our morning fishing got underway at around 7:45 am.  A few hits were missed in the morning and Kaylee managed to land a nice laker for dinner.  Action was slow over the next two hours.  We had another bite window at around 11 am and Kaylee nabbed two more fish and Scott caught his first.  TJ had the first and last hits/momentary hookups of the day, but that was it.
7/13 PM:  My afternoon trip was with Tobin (aka Toby), Ema and Quinn.  After trying a different area for a short time, I motored up to where we had our AM bite.  Action was slow for maybe a half an hour, and then the fish turned on fiercely for a good hour and a half.  Everyone landed 3 nice fish for a total of 9 solid lakers on the afternoon before the fish shut off again.
Quinn being pushed to his limit!
Ema with a nice fish
Tobin with one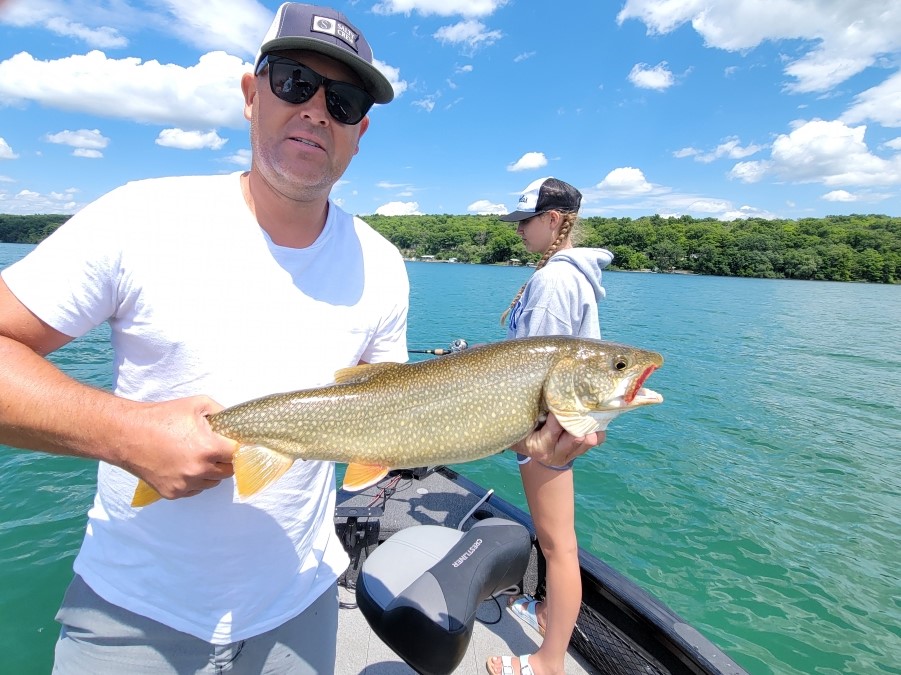 Doubled up!
7/14 AM:  This morning I was joined by Tom and his granddaughters Ruby and Ema (again – who'd joined us yesterday.)  Our bite was better than yesterday morning's.  We had a solid day with a half dozen nice lakers landed.  Ruby hooked what appeared to be a big laker and wound up with just a snagged lamprey!  I've seen that happen before.  Ruby and Tom also both snagged alewives today.  There was a lot of bait around.
Ruby and myself
Ema today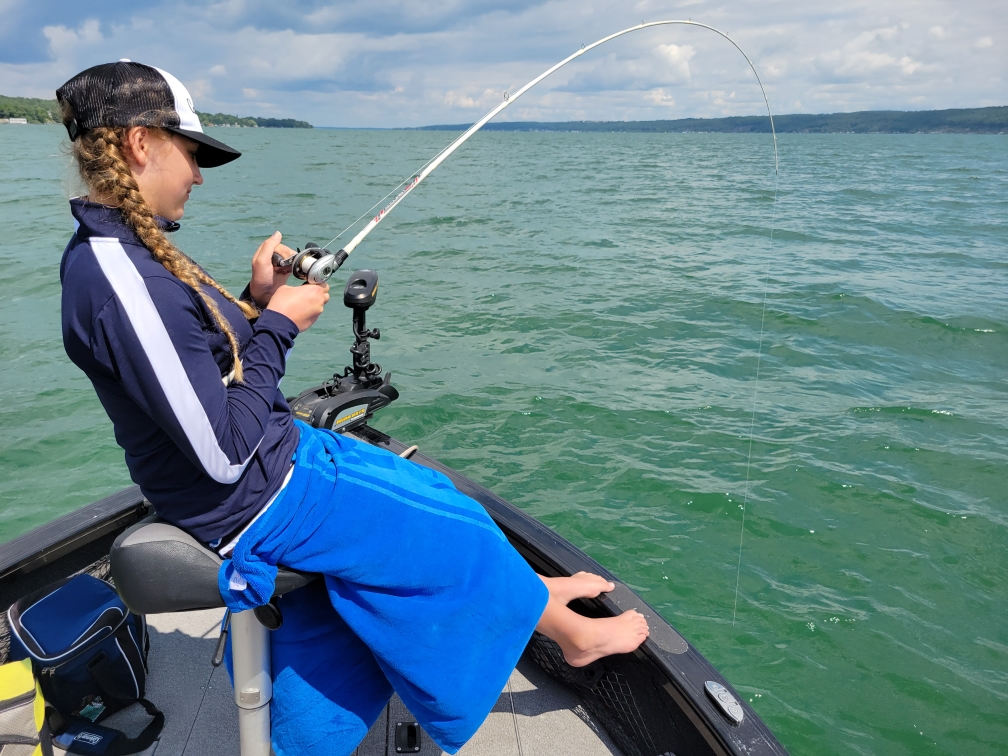 Ema yesterday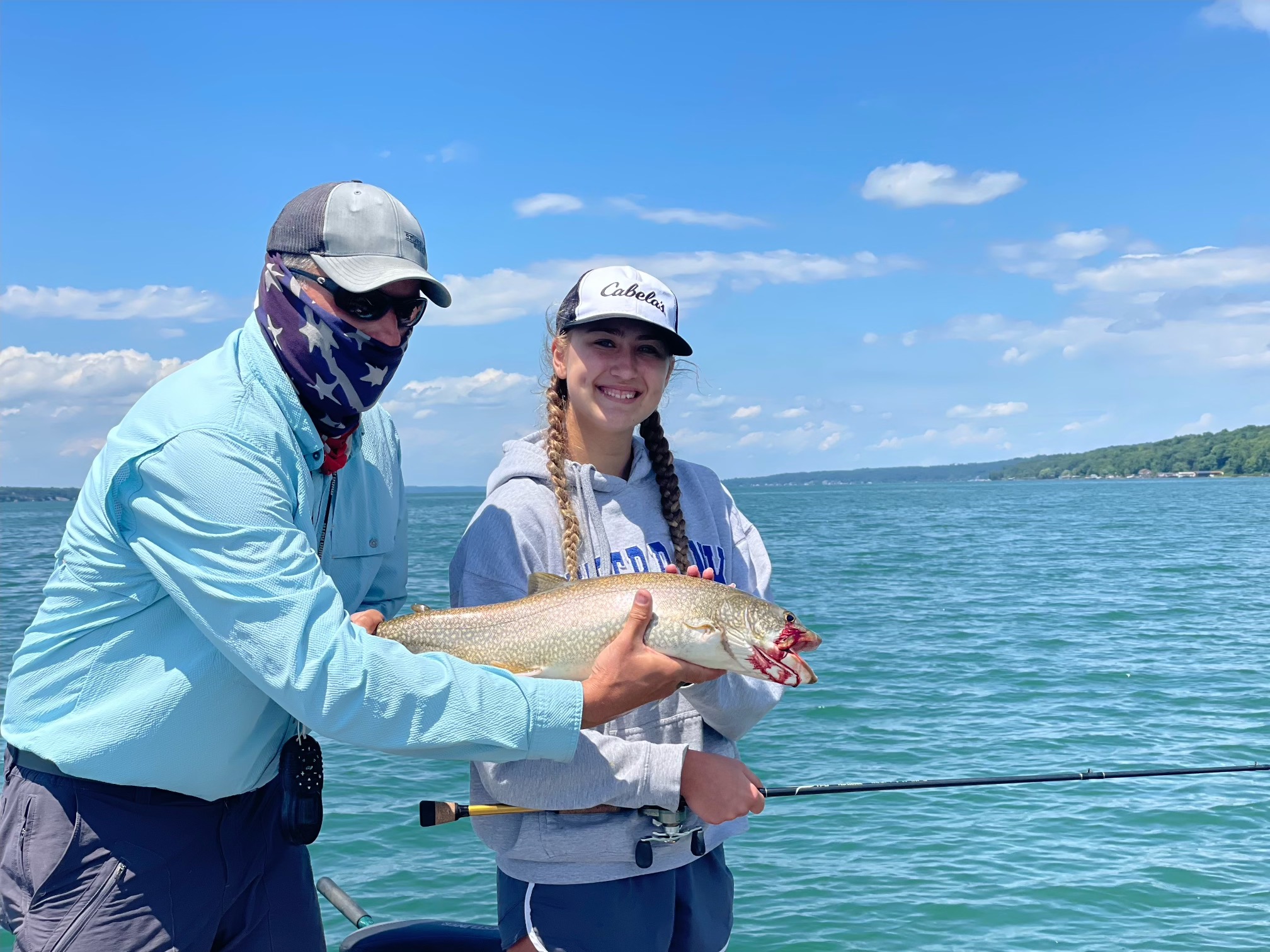 7/14 PM:  My afternoon trip today was with Tom and his wife Betty.  We had a great afternoon with 8 solid fish landed.  Betty almost had a nice rainbow!  It just missed her jig.
Betty
Last but not least, Tom - with one from this morning!
Tom with a fish from this afternoon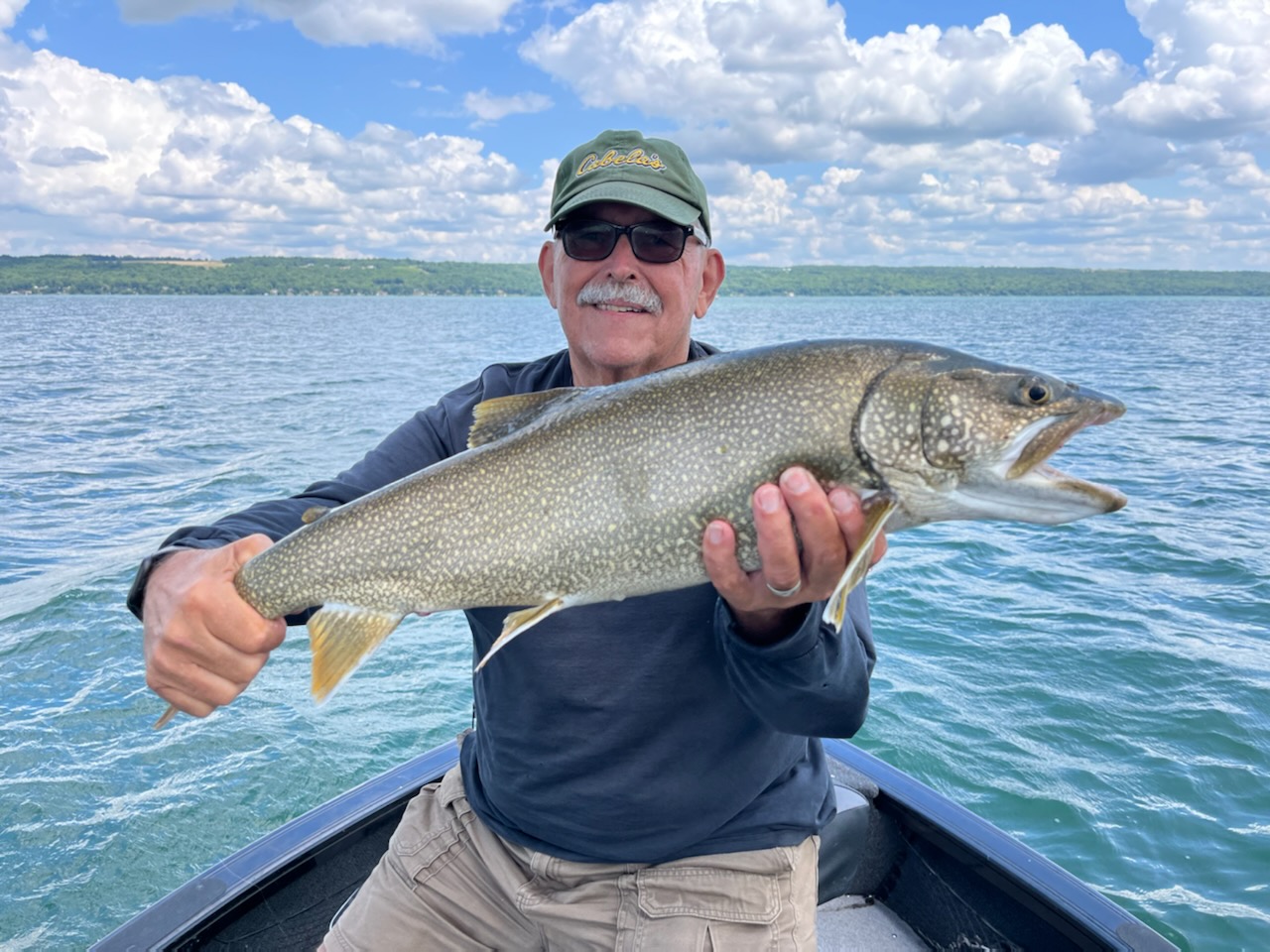 In summary, over the past couple days we had fishing ranging from very slow (like on yesterday morning) to super-hot (yesterday afternoon) and somewhat in-between today.  I'm on the water for the remainder of the week, so we'll see what happens.
Dates are booking fast!!!  My availability post is up to date and I will keep it up to date until I put up a new one.  I only have Saturday July 30th AM left for July.  August 13th and 14th are open, as is the 21st and 28th – 31st.  I may add in some PM half days depending on how the fishing and water conditons shape up.
I thought I'd be able to get some bass fishing in on Cayuga Lake this month, but it may not happen!  I get asked fairly frequently about bass trips on Cayuga Lake.  Unfortunately, I've been pretty out of touch with it, apart from reports I get from clients and friends.  Back around 2005 or 2006 I used to do some weekly bass tournaments with my Cornell boss at the time.  We had a lot of fun and it was great targeting bass a couple times a week.  I just can't do justice to a Cayuga bass trip at this point in time with all the trout guiding.