Cayuga Lake out of Myers Park 8/1, 8/2 AM trips
Guided back-to-back half day trips out of Myers Park.  It's great being back on Cayuga Lake.  I love fishing Owasco and Seneca Lakes, but there's quite a bit of extra drive-time involved.  I live only a few miles from Myers Park – it's much easier on me to guide here.  Cayuga Lake has been clearing up nicely over the past week and is in excellent shape right now.  There are some large weedmats floating around and waterfleas are fairly thick.  Both of these factors make trolling a pain-in-the-butt at times.  Fishing has generally been good to very good and even excellent on occasion.  We had very good fishing yesterday and a tougher bite today.
8/1:  Guided Joey and his parents, Bill and Theresa for a half-day trip starting at 6:30 am.  We fished a few different parts of the lake and had good fishing pretty much everywhere.  We had a terrific start with our first 5 fish all being 28″ long and above!  We wound up with a double-digit day with five wild lake trout in the mix.  Friends also did well on the lake working completely different areas.
Theresa started us out with some great fish!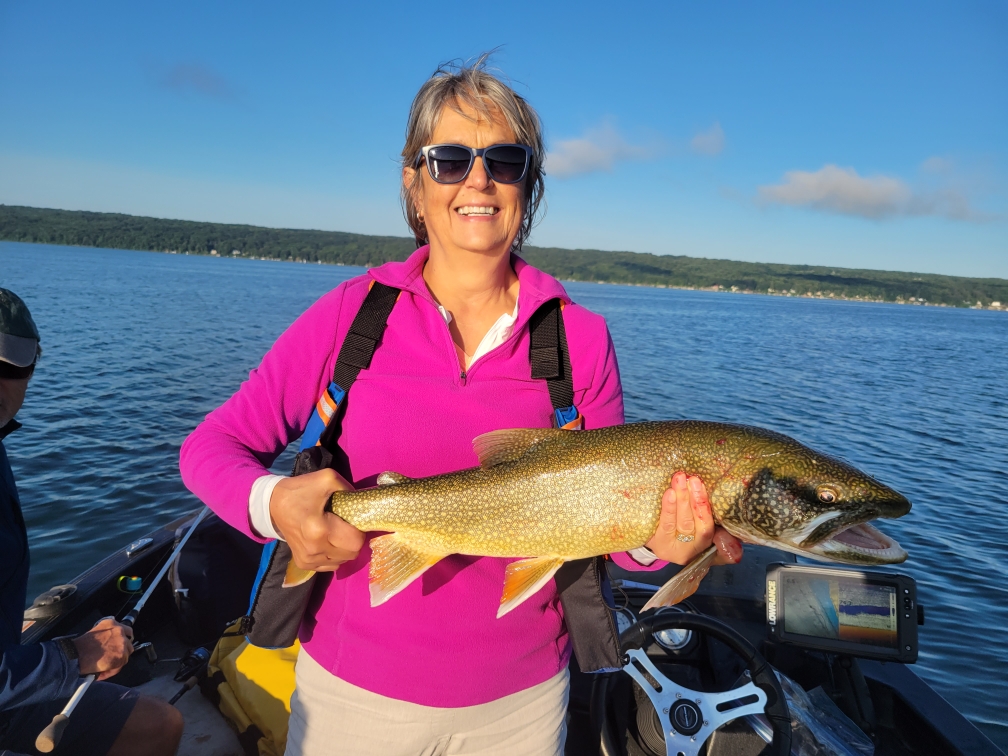 Joey with a good one
Another nice fish
8/2 AM:  Today I was back out with Tony and Pete from Monday's trip.  Fishing started out with Tony hooking and losing a big silvery rainbow trout after a wild run and careening jump!   It was probably around 5 to 6lbs, 24″ to 25″ long by my estimation.  We were around a lot, and I mean a lot of lake trout, but they were fairly neutral.  Tony had the hot hand and managed to land 5 nice ones.  Pete had the hot hand on Owasco Lake Monday but for whatever reason just couldn't stay connected to the fish that were hitting his jig today.  The massive full moon may have played into the weird bite – I don't know.  We tried plenty of areas and had numerous fish in all of them.
All in all, it was a gorgeous day to be out on the water.  We had nice cool temperatures in the morning around 50 degrees and then nice dry, warm sunny weather for the majority of the morning.  Our fishing was best from around 65′ out to 90′.  White jigs and white/chartreuse both worked well for us, as did dark blue with a cerise (pink) tail.