Cayuga Lake out of Myers Park 8/19 + 20
Guided two full days in a row with Will, who'd joined me for a morning half day on Monday.  On Wednesday he was joined by Dan.  Today Will went solo.  Last year Will landed a monster brown trout along with a couple other browns and a nice rainbow along with the usual lakers.  After trying a lake trout last year he found out that he wasn't super fond of eating them, so we tried to target the other salmonid species.  I asked him if he'd remembered to trim the lake trout up properly.  He said "probably not", so yesterday I convinced Will to give the lakers another try.  It is very important to remove ALL of the dark meat along the lateral line (under the skin) of the lake trout so you don't get any "off" flavor.  Will listened to me and enjoyed eating some lake trout Wednesday night alongside some brown trout.  I had one fillet as well and found it to be excellent.
Another point to mention is that DEC Environmental Conservation Officers have been patrolling Cayuga Lake fairly frequently during the past month.   They are ALWAYS on the lake the week after Labor Day, so please remember to have your fishing license with you and make sure it is valid.
8/19:  I guided Will along with Dan today starting just after 7 am.  We had a good day of fishing despite some unforeseen winds that just didn't let up!  Winds were gusting out of the north during much of our day.  Sometimes they appeared to be in the upper teens.  A call to Finger Lakes Regional Airport's weather line confirmed that winds up north (near Dean's Cove) were very light, so we had a little micro-climate weather going on in the lower lake.
All in all a solid day.  The guys managed to land 8 lakers and one long brown that was around 29″ but thin.  We kept it and it only weighed 7lbs.  This fish likely ran a tributary last fall and spawned and never really gained back any weight – it lost weight.   Still a nice fish though.  The one laker we kept had an alewife, a largemouth bass and a perch in its stomach!   Tough to go wrong with virtually ANY color in your tacklebox when lakers eat such a variety of forage!
Hanging with Will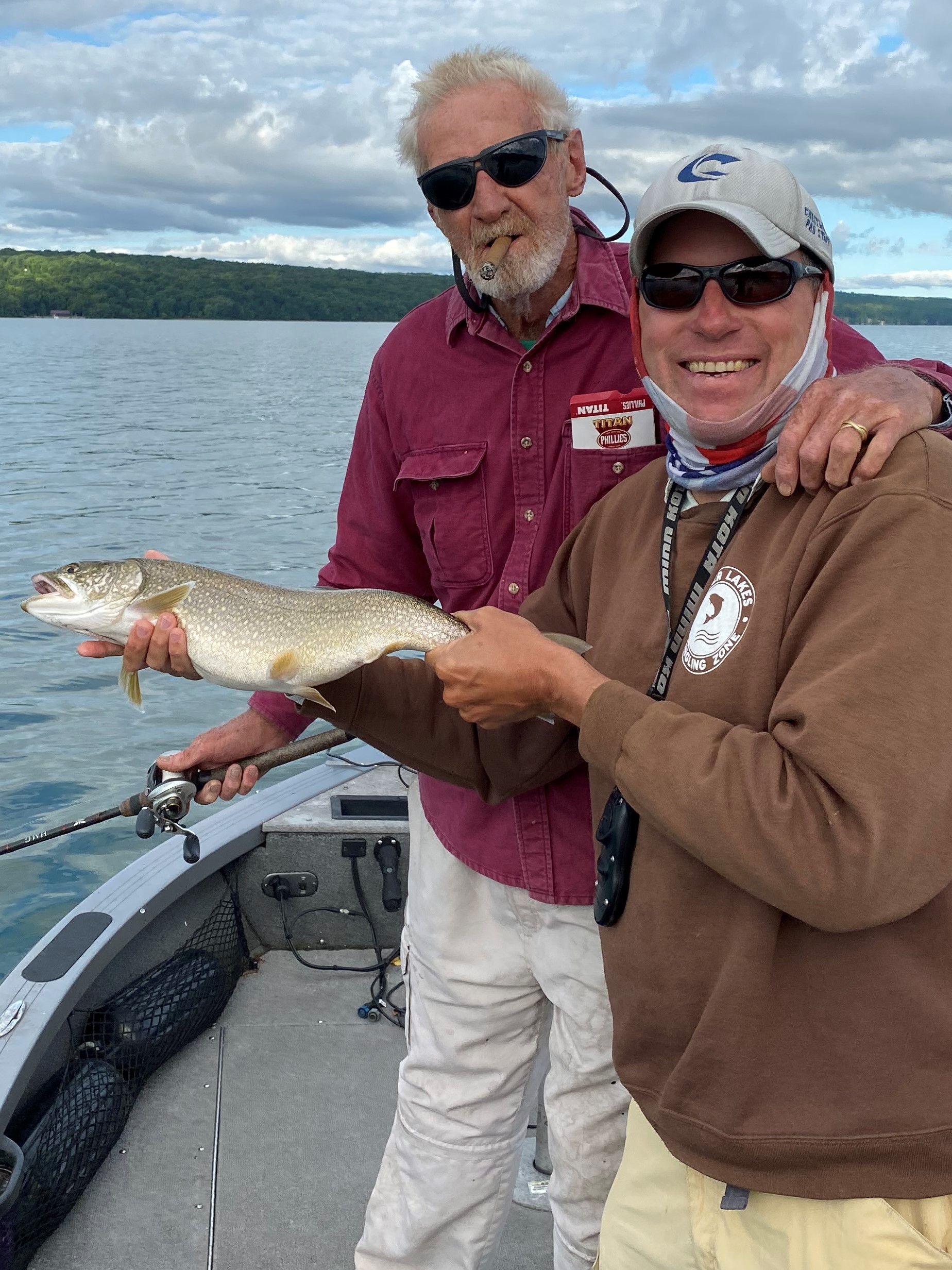 Dan's long but thin brownie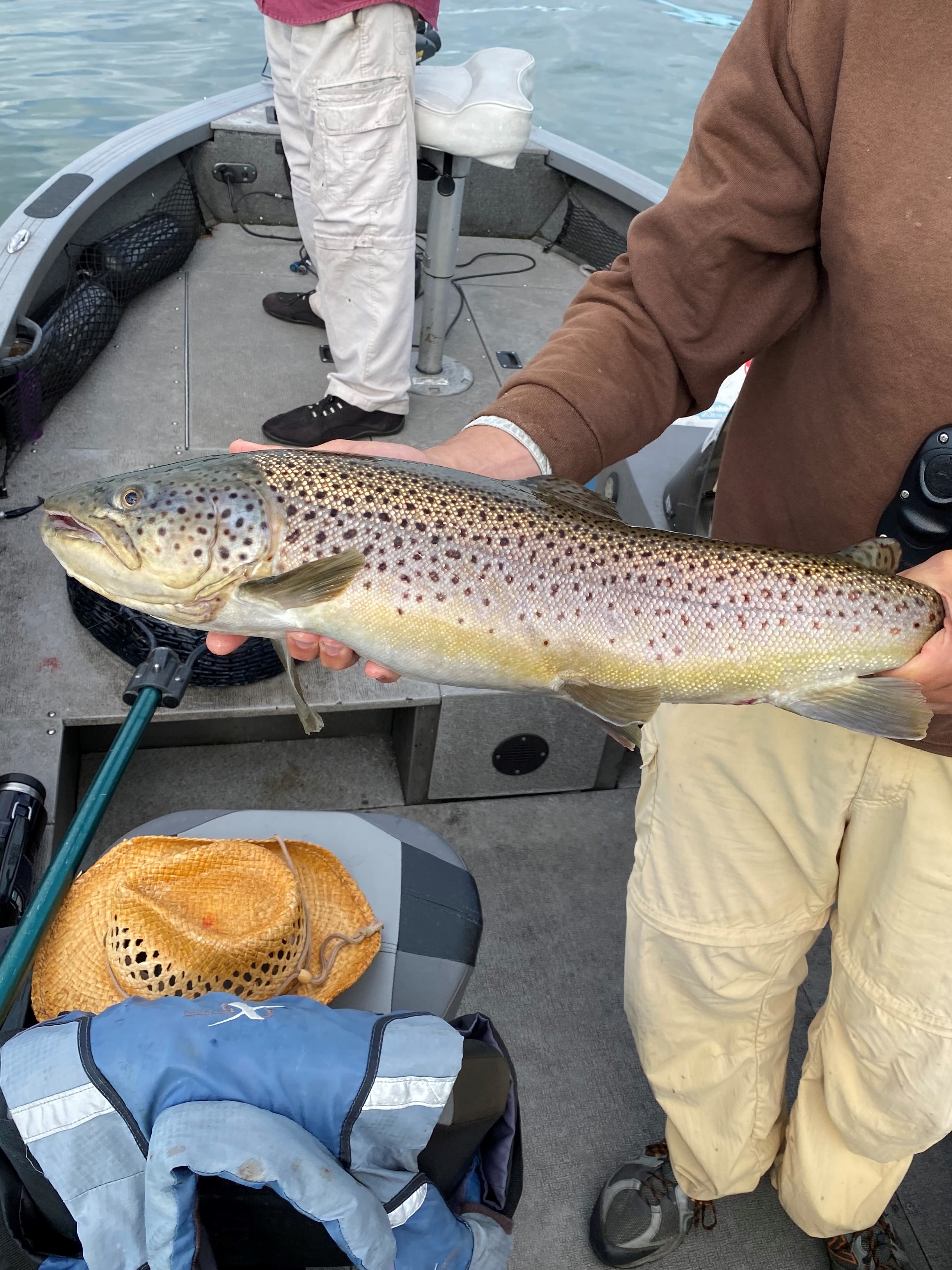 What's for dinner? Bass, perch and sawbelly
Lake trout eat quite a few perch along with the usual alewives and gobies.  Lakers will eat just about any fish that swims.  Over the years I've heard of them or seen them having eaten sunfish, pike, trout, bullheads, lamprey, banded killifish, smelt and more.   As a side note, I haven't cleaned a trout or salmon on Cayuga Lake with a smelt in it in probably 15 years or more.  I'm sure a few smelt are still around but I just don't see them.  That being said, I'm also not filleting a ton of fish.  I'm guessing we harvest a few hundred a year but it's a fairly small percentage of what my clients are landing.
8/20:  Today I guided Will solo and we had a tough bite in the morning with just one nice laker to show.  We tried hard for a brown or salmon and Will managed a solid 23″ brown and later on he landed a couple more lakers.   Tougher day overall today.  Boat traffic was light and there was a chill to the air this morning.
Availability onwards is as follows:  August is completely booked.
In September I have the 5th, 6th, 7th, 12th and 28th.  I do have some assorted PM 1/2 days.  Some will likely be on Owasco Lake, some on Cayuga Lake out of Myers.
Demand for trips this season has been heavy!   Book NOW for the broadest selection of dates.
October is wide-open.  I will be guiding jigging trips for lake trout on Cayuga and Owasco Lakes.  It can be a good month for pike if we get cold weather.  Pickerel fishing can also be fantastic on Cayuga's north end.  Skaneateles Lake gets better by the week and mixed bag action peaks in November.  Owasco Lake is fun for catching smallmouths and northern pike.  You can combine that with lake trout jigging on a full day trip.  I expect some nice bonus rainbow trout over there.  At some point I will get over to Otisco Lake and check out the new State Launch.  I don't foresee myself guiding there on any kind of regular basis.  It is a bit farther than I care to drive but I will likely do an occasional trip there.