Cayuga Lake out of Myers Park 8/19 – 21
Fishing has been good to excellent for us over the past three days on Cayuga Lake.  Some parts of the lake do have some large weedmats and areas of algae (yes – unfortunately the algae isn't gone yet, and we'll see what happens after all the rain we have been receiving.)  I have had reports of tougher fishing from some anglers, but thus far that hasn't been the case for us.  Keeping an open mind and moving around a bit has helped.
8/19:  Guided George (from last Friday) whom we picked up at his dock, Matt and Matt's son Hunter for a 6-hour trip.  As I mentioned previously, I don't typically offer 6-hour trips but will do them occasionally upon request.  I'm mostly running one trip a day going forward this season, so doing one doesn't preclude me from taking on a double, however I will likely be doing a few doubles in September and in October.
We had a top-notch day of lake trout jigging with solid double-digits landed.  One small salmon was also caught and released.  We had fish on a variety of colors including whites, black and alewife.  The lake looked great;  it was nice and clear without many weed-shards.
8/20:  Guided Jon and his fiance' Stephanie.  I've been taking Jon out since he was around 12 years old.  His brother Dan, who recently got married, is also a client of mine as is their father, who used to take them out on trips.  I've been guiding so long now, that in another decade I might be taking out three generations!
Jon and Steph were last out with me two years ago.  On that trip they landed 9 fish.  They were hoping to top that and catch one bigger than the 29″er they caught then.  We managed to accomplish both of those goals today.  The competition onboard was going strong today until Stephanie pulled away at the end of the trip with three nice fish landed in a row.  It got very hot out and the thunderstorms started to form, so we knocked off the trip a half hour early.   Great day!
We did have some signs of water discoloration/algae today and had to switch up some locations.  Our presentations were hampered a bit by a lot of floating vegetation in some areas.  Best color for us today was black and it wasn't even close.
Jon and Stephanie
If I remember correctly, I believe that fish above was a 31″er.
Stephanie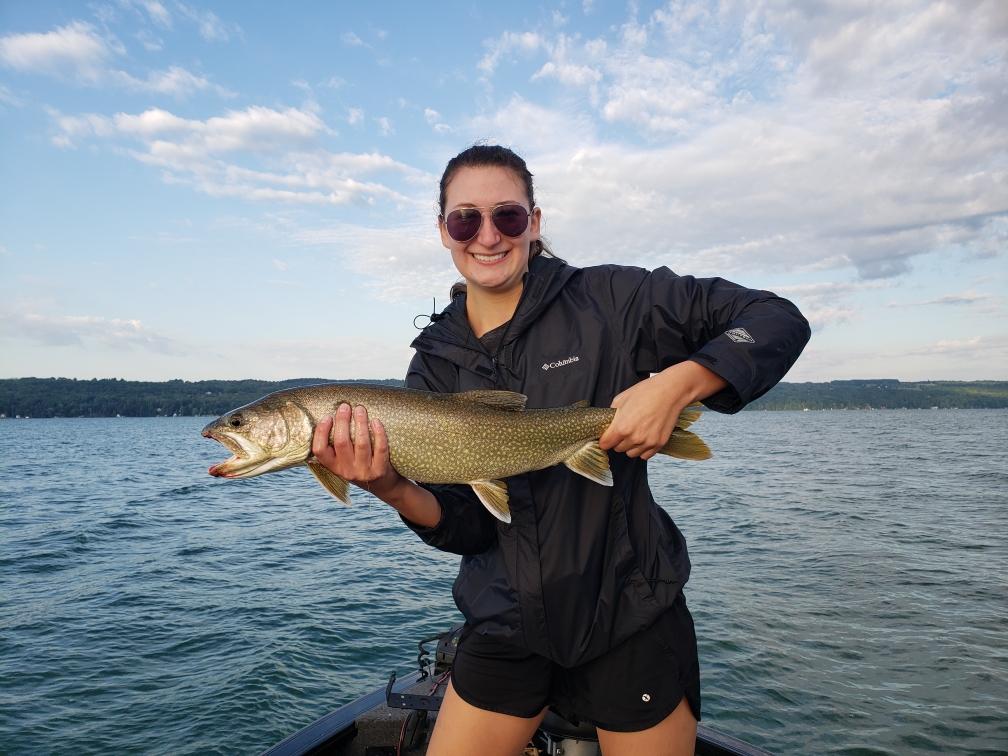 Stephanie again
8/21:  Today was a half day trip with Mick and Nate.  I knew Mick from parties at "Stepladder Ed's' place.  Nate drove up from Syracuse, where he's an avid shore and kayak angler.  We met at around 6:35 am and encountered some heavy rain and thunderstorms just after I finished prepping the boat.  We had to wait the storms out for over an hour.  It was well-worth it though, because the fish were really chomping once we got out on the water.  Fishing was hot and heavy for most of our trip, save for the last hour.  The guys kept a limit of lake trout that included one 22″ rainbow.  A few fish were also caught and released as well.  The guys had a good time and Mick's friend's smoker will be fired up soon!  One of the lakers I filleted had a perch in its stomach that had to be 8" long!
Mick's Rainbow!
Availability going forward is listed on my "Reports" page.  August is booked up.  A few dates remain open in September and then October and onwards is what I'm booking primarily now.