Cayuga Lake out of Myers Park 8/20 + 21
Fishing is currently good to very good on Cayuga Lake.  Keep in mind, that "very good" on Cayuga Lake translated to other lakes would be excellent or downright spectacular.  Cayuga Lake is just a powerhouse when it comes to lake trout fishing.  We all know that here!
Weedmats are still a factor for trollers.  Waterfleas have made a resurgence as well over the past couple of days.  Water clarity is still very good.
DEC is winding down their coldwater netting this week.  Despite all of the additional fishing pressure on the lake over the past few years (the number of guides working here has skyrocketed for example), the lake trout population doesn't appear to have been dented much at all.  Cornell studies conducted by Dwight A. Webster in the 1940s and 1950s showed that when factors like fishing, natural causes, lamprey mortality, bacteria/viruses are taken into account, a large percentage of lake trout die every year.  Even without much fishing, when nettings are conducted, biologists see fewer and fewer fish from each class as they get older.  As anglers we see it as well.  We clearly don't often see large numbers of big fish (although this year we are seeing a bit of that!)  He felt that anglers could harvest many more fish – these are fish that would otherwise die of other causes.   We'll see what the netting results are, but thus far lake trout abundance appears to be in line with numbers over the past decades.
8/20 AM:  Guided Jerome and his son Aaron starting at around 6:30 am.  I used to run into Jerome all the time up at Emerson Park on Owasco Lake back around a dozen or more years ago.  We saw each other recently and he told me that he wanted to book a trip, so we did it.  Fishing was slow for our first hour but after that the fish really turned on.  The guys hooked some doubles as well and we wound up keeping close to a limit of big lake trout.  It was a birthday trip for Jerome and I hope he starts a new annual tradition!
Aaron hooked up
Aaron nice fish
Jerome on!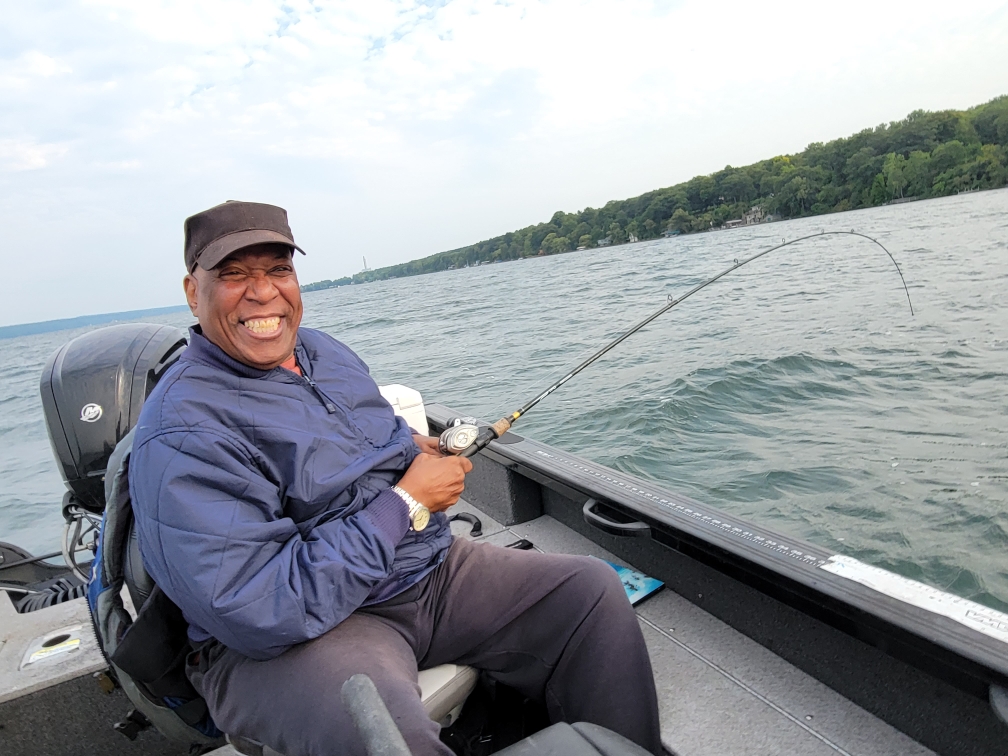 Doubled up!
Jerome with one
Aaron and Jerome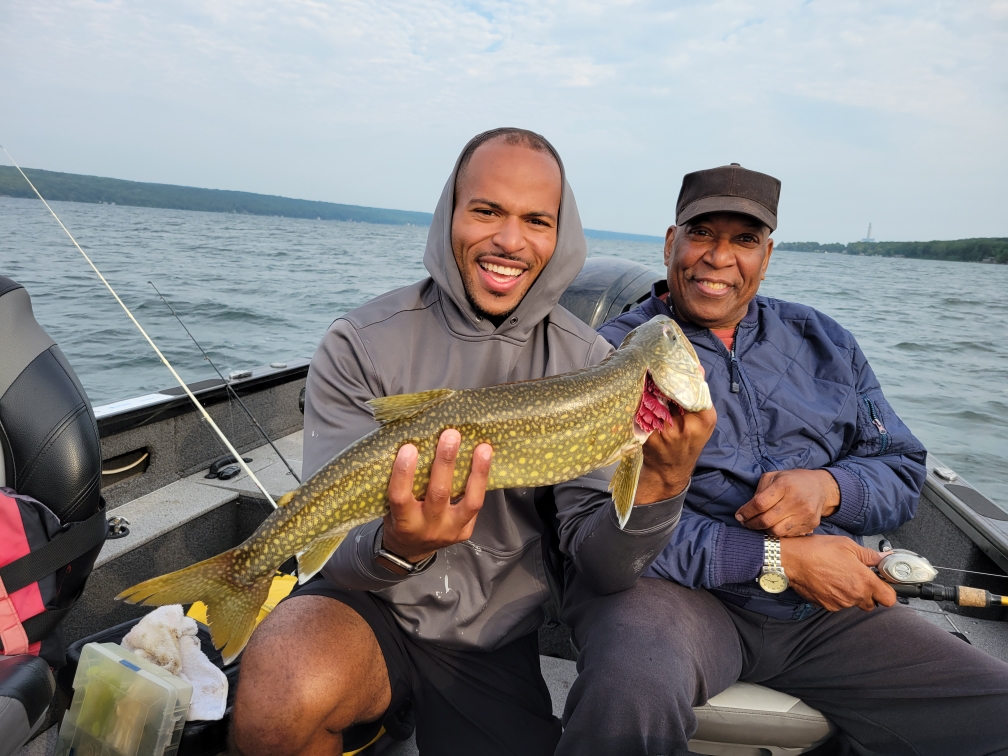 8/20 PM:  My "afternoon" (actually 11:30 am) trip was with Alek and his brother in-law Shawn.  The guys drove up from near Hammondsport where Alek has a winery.  We had a couple fish dropped early on, but a slow initial bite despite marking plenty of fish.  We kept at it, moving around a little and finally got into a solid bite.  The guys caught some beautiful fish that could basically devour their Keuka counterparts!  We had a lot of fun today!
Shawn with one
Alek with a big one
Alek with another one!
8/21 AM:  Today's trip was like a United Nations summit.  I had Sergei, who's originally from St. Augustine, Russia; his friend Veselin, who is Serbian and lastly, Dominic, who hails from the Dominican Republic!  We had a good day with moments of a hot bite.  It wasn't the fishing we had last year on October 1st, when Sergei brought a couple different friends with him, but it was still good.  The fish ran LARGE!
Sergei with a fish
Dominic really shined this morning!
Fish on!
Dominic with a 33 incher!
8/21 PM:  Guided Dave Figura (who used to be the outdoor writer for the Syracuse Post-Standard) along with his friends Jim and Chris.  I originally guided Dave years ago, along with his photographer Jim, at the time for a Syracuse Post story on laker jigging.  This had to be at least a dozen years ago I believe. Anyways, the winds kicked up a bit when we started our trip, and we had a slow go for nearly two hours.  A couple of fish were missed and two landed when I decided to make a move.  The move paid off and the guys wound up with a solid afternoon of jigging.  I worked hard with the guys on refining their technique.  It kind of dawned on me recently, that over the years and over a couple thousand trips, I have figured out a lot of seemingly inconsequential idiosyncrasies that when added up together make a big difference, if that makes sense.  Anyhow, a lot of fish were missed until our last hour or so of the trip.
Chris with a nice fish
Dave nabs a good one!
I still have some availability left in September, and plenty after that.  I sometimes get asked if I guide for fish apart from lake trout.  Of course I do!   I love guiding lake trout and if that's what people are requesting, that's what I will do, so I'm happy to guide lake trout throughout the year.  One of my favorite species to target is northern pike.  With Seneca Lake's lamprey population under control for now, we will start seeing some larger pike there.  I expect to see Seneca return to producing 30″ to 40″+ northerns in the not-too-distant future.  I will be keeping tabs on this lake.  Pike grow fast on Seneca Lake and it shouldn't take long.  The lake can offer terrific fly-fishing for them as well.
Salmon fishing should be good there, usually starting around mid-to-late-November.  Check archived reports for other fall and winter fishing opportunities!  Keuka Lake fly-fishing for lake trout is one of my new favorites in the region.  I can't wait to get back there with my sinking lines and streamers.