Cayuga Lake out of Myers Park 9/13 – 15
Fishing has been top-notch for the most part over the past few days on Cayuga Lake.  Fish are well-distributed throughout the lake and are hitting well.  Plenty of large lake trout are in the mix and we've landed our share of older wild fish.  I'm not seeing many wild fish under 27″ although we've had a couple around the 25″ mark.  Water clarity is excellent.  Water fleas are around as well.   Surface temperatures are around 72 degrees.
9/13:  Guided a full day with Frank and Brad.  I had a lot of fun with these guys.  Frank owned a pizza place for years, starting when he was around 21 years old and it blossomed into a full restaurant.  He gave me plenty of tips/recipes to improve my own pizza making – which has become a recent hobby of mine.
We had a very solid double-digit lake trout day with the guys keeping their limits for the smoker and other recipes.  Brad lost a really big rainbow trout that was quite the "tackle-buster."  We hooked fish virtually everywhere we fished and they bit all day long.  A couple doubles were also hooked.
Frank!
First double of the day!
Second double!
The best part of the day was the weather forecast – or better yet, the weather itself.  Forecasts called for rain and possible thunderstorms, then more rain and so on.  We had overcast conditions with maybe a half hour of rain, then the skies cleared and the sun came out.  Virtually nobody else was on the lake.
9/14 AM:  Guided the Mariano brothers with their friend Tom.  We had a slow morning after my great trip yesterday.  I guess fish can't eat all of the time!  But Tom managed three solid lakers in the morning and within a couple of hours the bite picked up and everybody caught fish.  We wound up with 8 solid lakers and one 26″ wild rainbow, complements of Steve.  A lot of fish were dropped as well as the guys got acquainted and reacquainted with the technique.   So double-digit hook-ups but a single digit day.
Steve's wild 26" 6lb 4 oz rainbow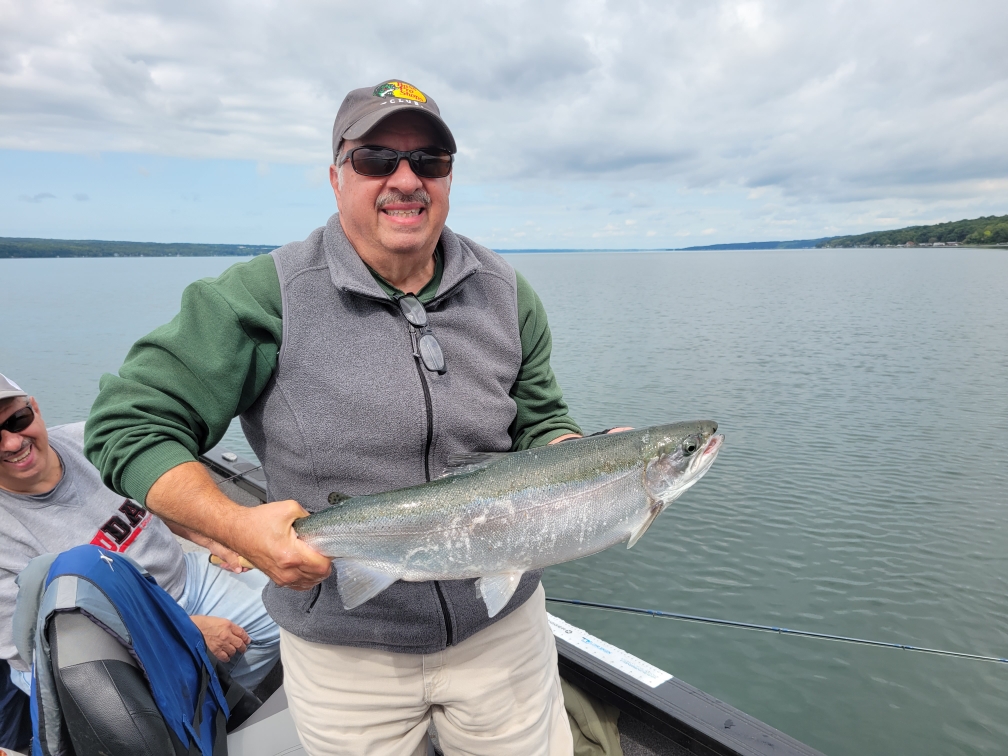 I tried hard to get a smile out of him for the photo, but that's the best I could do as his twin-brother looks on!
9/15 AM:  Did my second consecutive day with the Mariano brothers and their friend Tom.  I think we "got the bugs out" of the boat yesterday and the guys were primed for a good day.  We had a killer day today with a solid all morning bite on lakers.  Nearly every fish was large and we had some great fighters.  Very solid double-digit day!  Fish are clearly eating a lot in anticipation of the spawn.  Last year at this time, the bite never really materialized due to all the rain and associated turbidity.