Cayuga Lake out of Myers Park 9/17 – 20
I had another busy week of guiding on Cayuga Lake for lake trout.  Things should finally be starting to slow down a bit.  I have one date remaining open in September – Thursday the 30th.  October is filling up quickly.  I have Friday the 1st, Saturday the 3rd, the 10th and 11th (Sunday and Monday) of Columbus Day Weekend and the last two weekends of October still open, then we're off into November.
Fishing has generally been good but weather in general and wind in particular have made for some tougher fishing conditions.  I've been doing this for so long now, that virtually every day I encounter is like a movie I've seen countless times, so we've been doing well despite the unsettled weather.  Fish are running large and many are fairly close to being ready to spawn.  A lot of gobies are showing back up in the lake trout diets.
9/17:  Guided Mike and his longtime friend Jesse for a full day starting around 8 am at Myers.  If you look on my "species" pages and check the bluegill/sunfish pic, that is Mike from around 2007 or 2008!  Of course now he's in his mid-20s.  I don't even think he's much of a Yankees fan despite wearing that hat as a kid!  He was on my boat with his father for an epic laker outing on Seneca Lake back around 2007 or 2008.  They caught so many that young Mike got tired of it and wanted to pike fish for a while.  The good old days on Seneca!
We had a very solid day with slow steady fishing in the morning with a few lulls and then we had a good flurry to cap off the day.  The guys wound up landing around 15 lakers if my memory serves me correctly.
Jesse with the first one of the day
Mike laker
Me holding one
Measuring a fish for the DEC Diary Program
It's easy to see the missing fin i.e. fin clip on this fish.
Another one of Mike's many fish
Another of Jesse's many fish....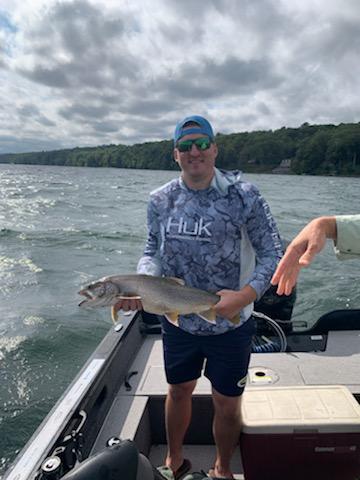 Last but not least....
9/18 AM:  My AM trip was with Eric, who is fairly new to the area.  He has fished all around the country.  We had a stellar start to our day and then we decided to try another area (so I could show him around the lake) and our conditions changed and bite went south quickly!   But he caught a half dozen very nice fish early on in our trip.
Eric with a nice fish
9/18 PM:  My afternoon trip was with the Hermans, who have been fishing with me since 2006 if I remember correctly.  Eleonore is 81 years old and still hasn't lost a step!   We had a steady, decent bite during the afternoon with around 7 fish landed I think.  A few were lost as is usually the case as well.
Eleonore hooked up
9/19 AM:  Guided Drew, John aka "Sully" and "the other Drew" for a half day.  Drew keeps me posted on Keuka Lake which he fishes regularly.  He isn't seeing any alewives over there nor is he seeing any ciscoes in the trout stomachs, but the fish still look pretty good.  Perch fry aren't great food for lakers, but they nearly suffice – just look at Skaneateles Lake.  We had a solid morning with a good chop on the lake and slow but steady bite.  "Slow and Steady" on Cayuga is still pretty darn good fishing.  Around a 1/2 dozen or more solid fish again.
9/19 PM:  My PM trip was with Ed and Randy.  It started out fairly slow but then the fish really turned on.  (The nearly full moon has a lot of fish eating at night in all likelihood.)   The guys did really well and kept close to a limit of fish.  One laker had a Storm Shad – jighead and all in its stomach and was still able to feed.  These fish tend to ingest a lot of plastic.  Unfortunately a fair number (let's say enough) anglers are complete idiots and throw shredded up and unusable Senkos as well as other plastics in the water on a regular basis.  Nothing against bass fishermen, but it's bass fishermen – they're the ones throwing Senkos since it's a bass lure for all intents and purposes.  And even some of the pros are guilty of this behavior.  It's a shame.  And I don't need anybody sending me pics of laker stomachs with plastics in them – trust me, I've seen enough of it.  Now the shad bait was clearly from a laker fisheman.  And one tip I can pass out on tackle – you don't need to use light line for these fish.  We use 12lb Seaguar Invis-X leaders and they work great.  Copperline trollers (like Skip whom I guided a few weeks ago) tie the copper DIRECTLY to the lure and it works fine.  These fish aren't line shy.  Most fish aren't nearly as line shy as people think anyways.  I've seen fish like that on Salmon River but that's another story.  Remember that fish swim into white gill nets all the time!
Randy with the first fish
A better one...
9/20 AM:  Guided Jim, his buddy Gene and Gene's son Dan for a half day trip starting at 8 am.  The wind blew good today.  Not as good as it is blowing now and will be blowing tomorrow, but it was windy.  Fortunately I have quite a bit of experience on this lake in the wind and like I mentioned earlier, virtually every day I encounter here may as well be a movie I've watched dozens, if not hundreds of times before.  I had an area in mind for us to fish and we dealt with the chop.  The guys landed a half dozen good lakers there and then one more in a more protected area down the lake.  Jim's a great guy and brought me some great turkey sausage and homemade bacon.  I still haven't even gotten through the maple syrup he gave me this spring.  Fishing is fun but the people are what really make me enjoy me job the most.
Jim on!
Jim holding a nice one!