Cayuga Lake out of Myers Park 9/17 – 9/19
Fishing has been top-notch for September on Cayuga Lake as of late.  Cooler weather has cleared up the lake and algae.  Water flea numbers are down.  Leaves are just starting to change color.  Boat traffic is light.  What's not to like about September on Cayuga Lake?
9/17 AM:  Guided Alex and his wife Natalie, both whom I hadn't seen in two years.  They tried to book a trip last year but it was right when we were getting deluged by rain.  We had a terrific double-digit morning on lakers including some big fish.  Fun day!
Alex with a fine trout
Natalie with one
Another one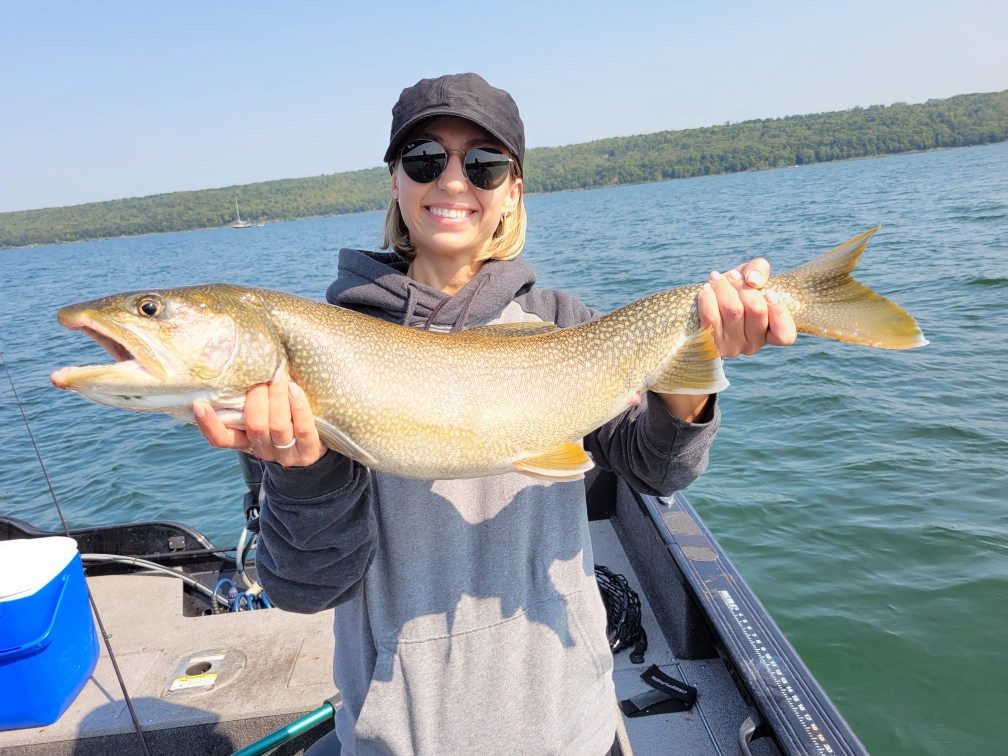 9/17 PM:  My noontime trip was with Justin and Kelli, neither of whom I'd guided before.  They were up here enjoying the wineries and other niceties of the Finger Lakes Region.  We got off to a bit slower start than on my AM trip but fishing really amped up after I made a move.  Kelli caught her biggest fish to date and Justin nabbed a beautiful 28.5″ rainbow trout!   Awesome fish!  It was a hatchery fish and we kept it.  It weighed in at just under 9lbs and was full of alewives including plenty of small ones that I'm guessing were about a year old.  Some more large lakers filled out the day and we wound up hitting the double digits before heading in.
Kelli with a nice laker
28.5" Rainbow!
9/18:  Today was a full day with regular Ron.   We had a good start to the day and then a lull for maybe two to three hours.  As potential storms started developing, the fish really started hitting crazily.  It was fish after fish after fish at times – one drop of the jig after another.  Ron also managed a 19″ gorgeous wild male rainbow trout as well as a very skinny, if not emaciated salmon that was around 23″.   All fish released today.  Lakers are starting to develop some nice spawning brilliance!
Rainbow in net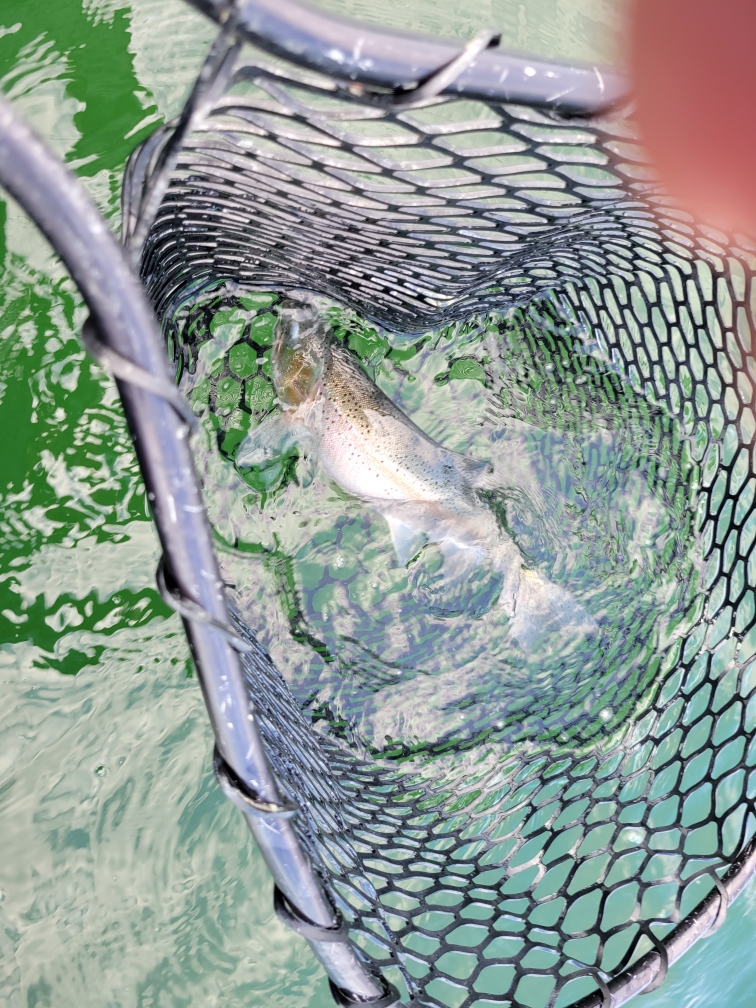 Another shot of it
9/19 AM:  Guided Tony and Pete for a 1/2 day starting at around 7:30 am.  We kept an eye on the weather and were able to get the full trip in without having to deal with any thunderstorms/lightning.  Fishing was good with the guys just hitting the double-digits.  Best fish of the day was Tony's 31″er.  Pete had the hot hand for much of the day.
Myers Park Rainbow!