Cayuga Lake out of Taughannock State Park 12/27 + 28
Did back to back trips on Cayuga Lake.  Fishing remains excellent for lake trout.  We are also encountering occasional other species.  Over the past month I've seen bonus brown trout, salmon, pike, pickerel and smallmouth bass.  Lakers I've cleaned have had zero to maybe two or three gobies in their stomachs.  It's a big difference from the past two or three years when fish were stuffed with gobies.
12/27:  Guided Jeremy and his friend Keith for a full day starting just after 8 am.  We had stellar action to start with a bunch of lakers caught in fairly short order. The weather stayed decent.  We had windy conditions in the morning that subsided throughout the day.  By the trip's end we had sunny calm conditions which slowed our shallow bite down a bit, but not completely.   We did a little bit of pike fishing for maybe two hours with two pike to show.  They were nice sized fish (29″ to 31″) but a little beat up looking.  Later in the day Keith nabbed a bonus pickerel that was a thick bodied beauty at 24″.  Pike came on jerkbaits and spoons.  Lake trout came on bladebaits and tube jigs.  We might have had one or two on swimbaits too.  I can't recall.  It was another great day with a lot of fish landed.  If this keeps up on Cayuga I'll be a very happy guide!
Big Lake trout for Jeremy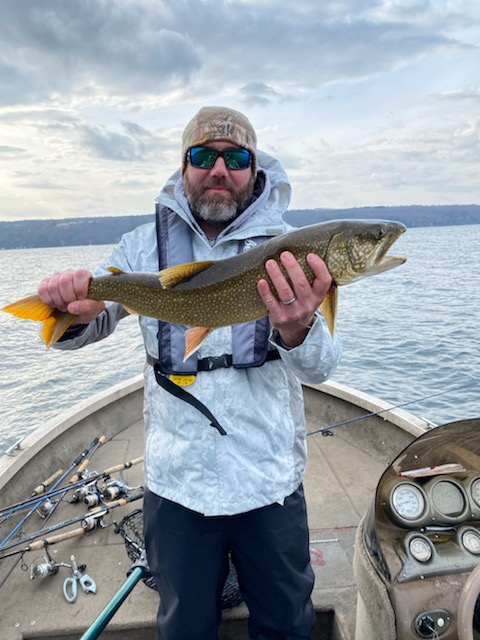 Jeremy's Pike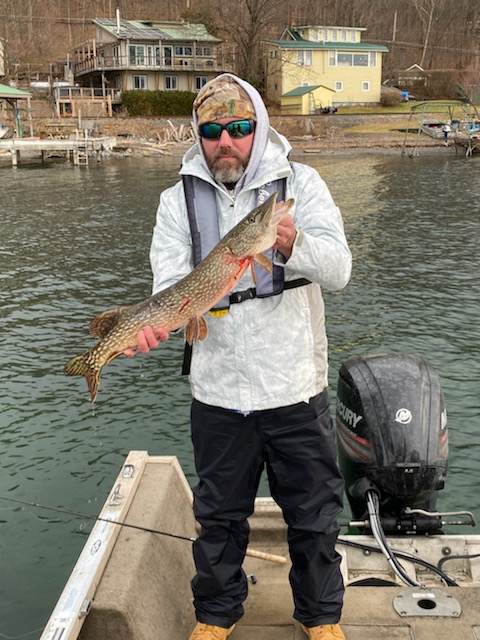 Keith with a lake trout
Another....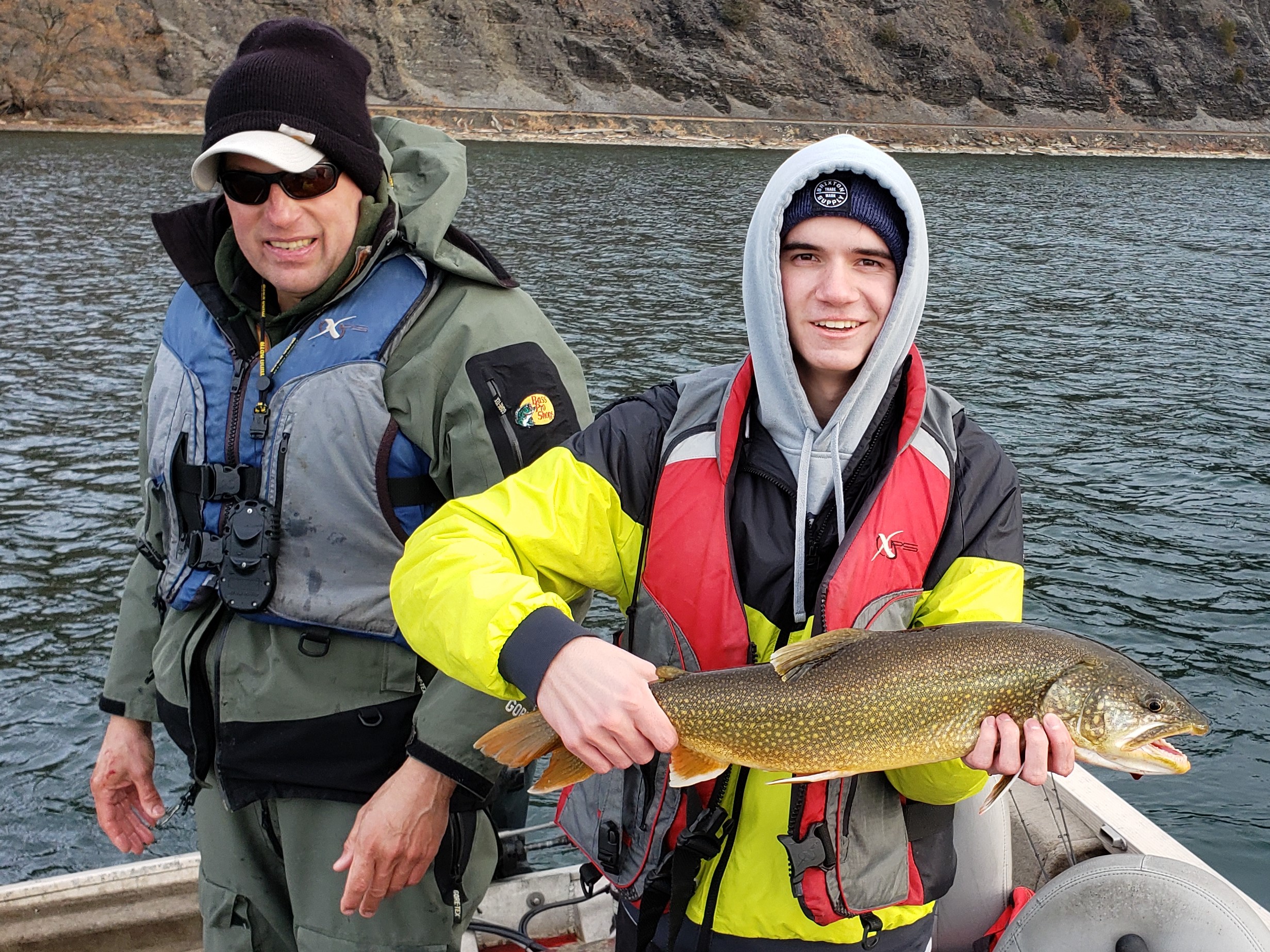 Keith's Pike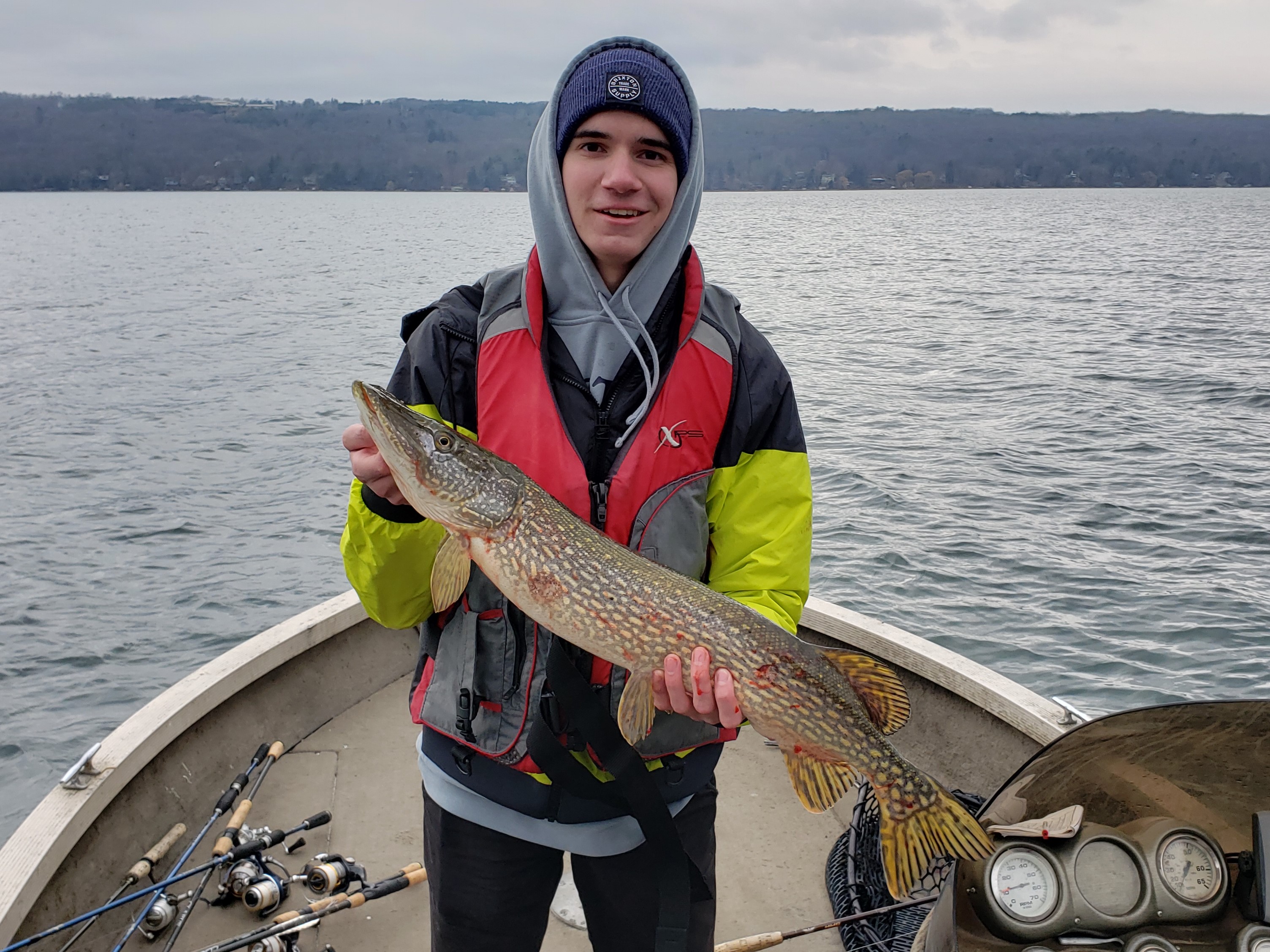 Keith's Pickerel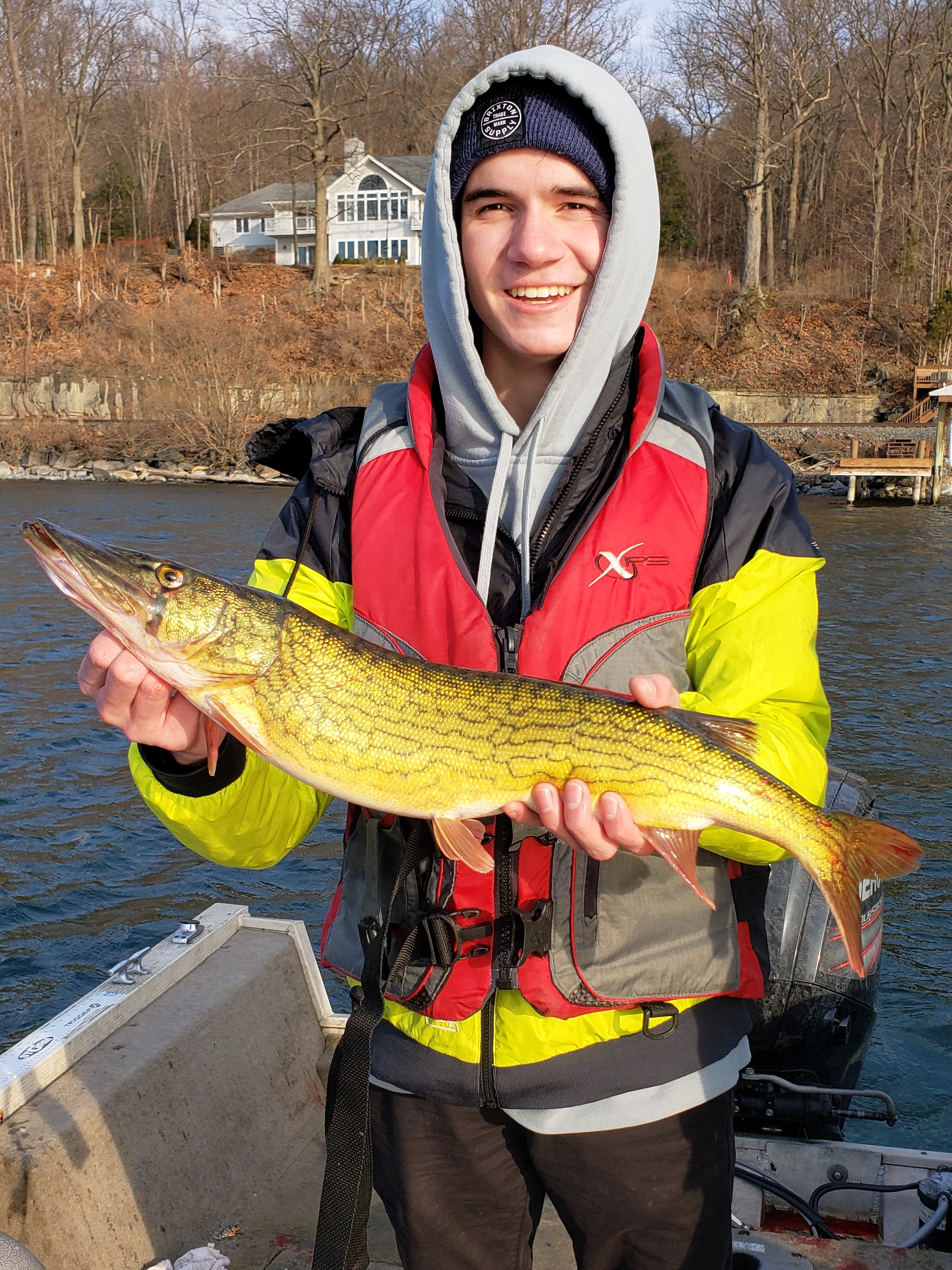 Saturday December 28th was a half day morning trip with John and Lynn.  I have taken these guys out a fair amount going back maybe 12 years in the case of John.   They are locals and it's always great seeing them.  Lynn fishes a lot from the spring through fall and is a DEC Diary cooperator for Cayuga Lake.  He had his boat in storage and wanted to try some of this hot winter fishing.  Well Cayuga Lake did not disappoint!  We had top-notch action from beginning to end of this trip with close to 20 fish landed including a solid 18″ bonus smallmouth and a nice brown that I think was around 18″ (both landed by John.)  Lynn did great on the big lake trout.  We kept two lakers.  A few small gobies were in the bigger one.  Some fans of this website might remember Lynn from maybe 5 years ago when he nabbed and released a 47″ Tiger Musky with me and our friend Ed out on Otisco Lake.  There is a pic of it at Bass Pro Shops in Auburn.
John's smallmouth
Chunky brown that we released to grow up a bit
Lynn with a 28"+ lake trout
As I brought the guys back into Taughannock Park I ran into my old friend Jeff aka "Hoss" shorefishing.  Action had been slow with the exception of a few perch.  I wasn't planning on fishing after my trip today, so I didn't have anything with me to eat or any cigars but I knew how good the fishing was so we went out for an hour and a half.  The wind had died but we still managed four nice lakers.   We fished the same stretch I'd taken John and Lynn to in the morning.  I usually don't repeat areas unless that's the only deal going, but what the heck.  It worked.
Jeff with a bloody shot aka "Earl Holdren"!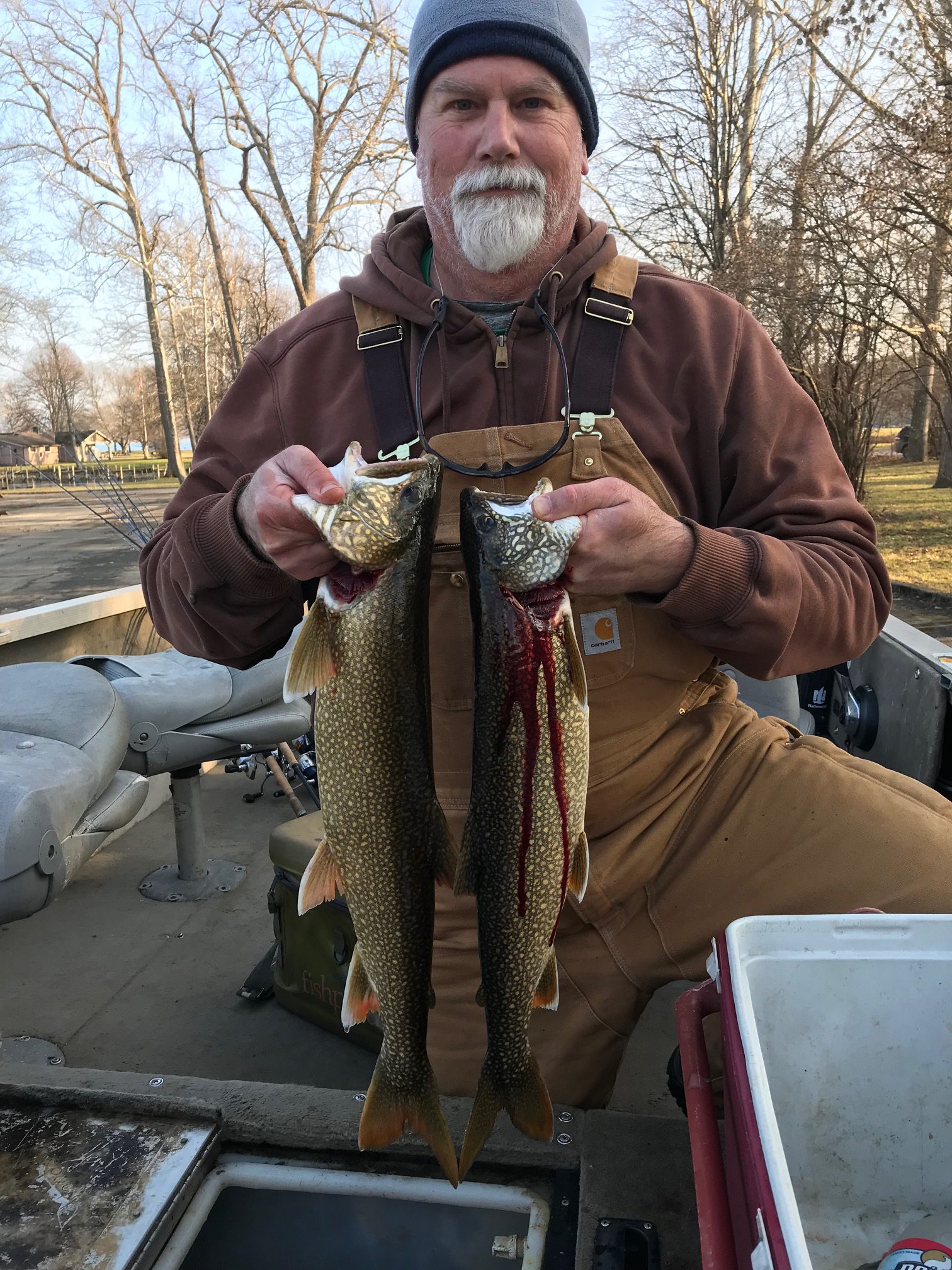 If you don't know who Earl was, he wrote the excellent book "Fishing New York's Finger Lakes for Lunker Trout and Salmon"  A fantastic book that although dated now "technique wise" is still way ahead of its time.  These hard core fishing fanatics really knew their stuff and this was obviously way before the internet and any real technical fishing magazines/books.  There was next to nothing to refer to back in the early 1970s and late 1960s when this book was written.
The Holdren Book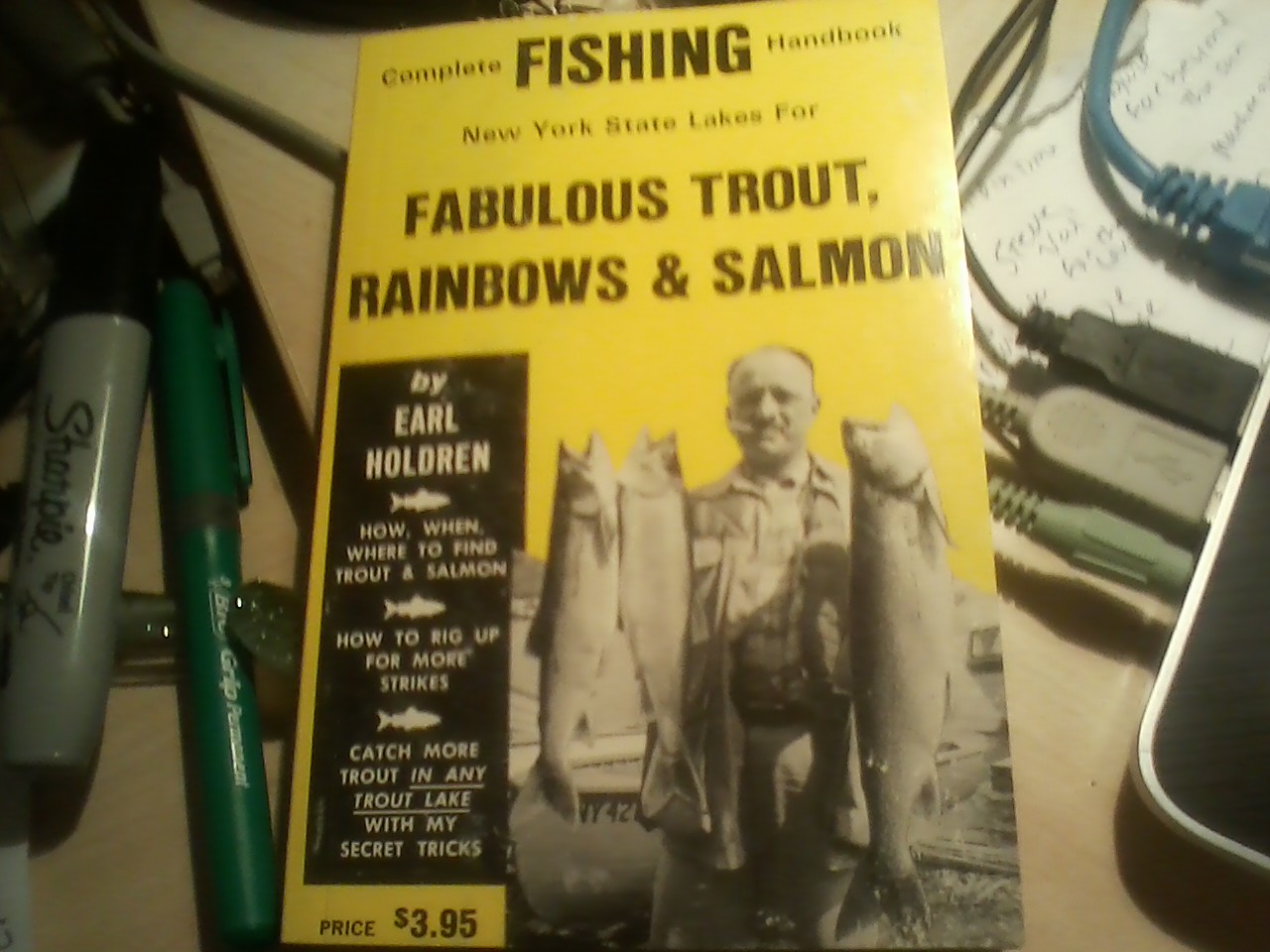 Jeff with a "cleaner" lake trout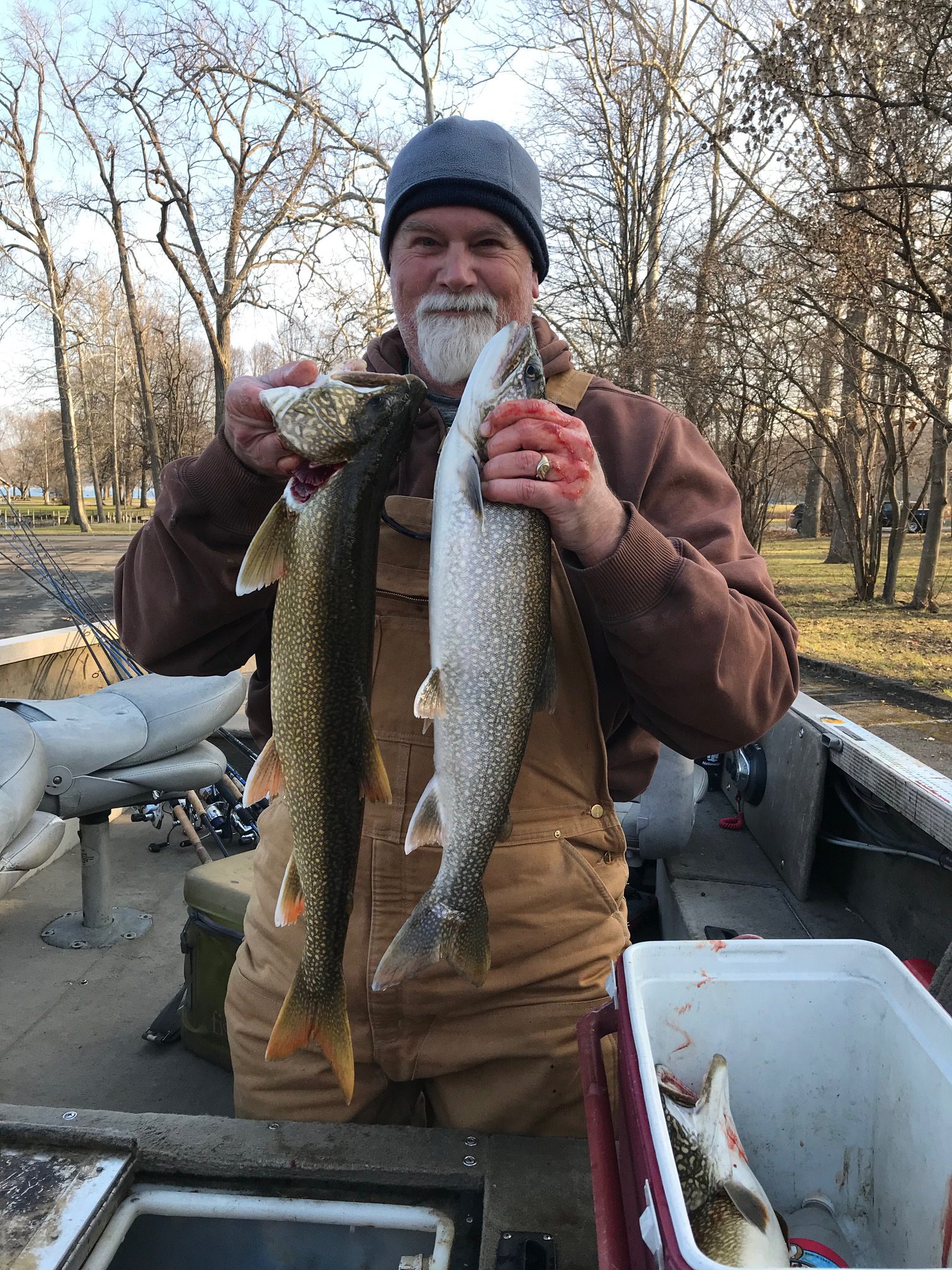 If this hot fishing continues, I hope to guide quite a bit throughout the winter when conditions aren't miserable.   Don't be afraid to call on short notice!  I am booked this Friday then will be unable to guide the following week (January 4th – 11th.)