Cayuga Lake out of Taughannock State Park 3/8 + 3/9
Guided back to back half days out of Taughannock.  Here's the breakdown:
Sunday March 8th:  Met Zach at the launch at around 11:30 am and we were underway about 15 minutes later.  The park was swarming with people enjoying the unseasonably warm weather.  A lot of boats went out today as well.  Lake levels are up at least a foot from last week.  Both sides of the launch are usable, but the ladder on the south side is still a big help for boarding.
Zach got to experience a great day of salmon fishing.  He landed 9 solid salmon to 20″ and lost one by the boat that was a very nice fish as well.  He also nabbed a couple lakers jigging.  Conditions weren't my favorite for salmon fishing but we went with some finesse stuff – basically light home-tied hairjigs and that did the trick.  It was the same way I was approaching the lake a few years back.  All the fish were released in good shape.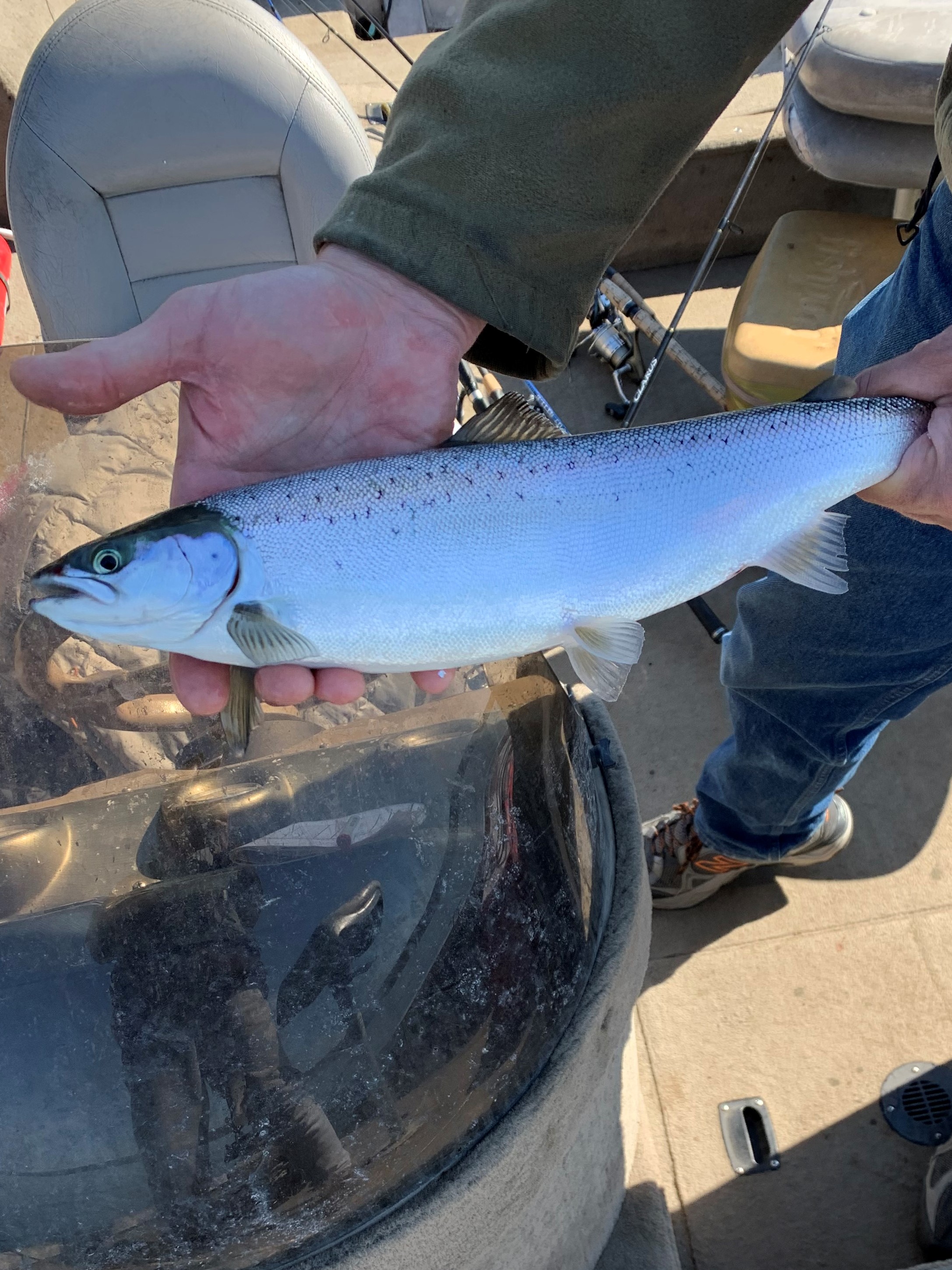 3/9 AM:  Guided Andy today from just after 8:15 am until around 12:45 pm.  Conditions were good to start with steady south winds and then the winds shifted out of the west and swirled all over the place.  At times it got very calm.  We had pretty good action to start – Andy nabbed an 18″ salmon in short order on a swim jig.  He had quite a few grabs including some tail bite-offs.  In another area he landed a good fighting 19″ fish. He also had more hits including a nice follow from a laker.  We tried some other stuff without action. He had one laker hit momentarily while fishing vertically.   Boat traffic (angling pressure) was pretty heavy today.
As an added note:  the state launch on Skaneateles was opened today.  My pal Mike reported some superb perch fishing on Owasco Lake on Sunday.   Action is also solid on Skaneateles Lake for perch.  I'd expect the same out of the north end of Cayuga, on Keuka and on Canandaigua too.