Cross Lake 6/4 + Owasco Lake 6/5 – 6/6
Cross Lake 6/4:  Got out on Cross Lake for the first time I'm guessing in 7 or 8 years.  I had an email from an angler asking me about gar flies.  He'd seen good numbers of gar in an area on the Seneca River, so I thought why not give the lake/river a shot.  I invited my friend Jeff to come out with me.  He's a big fly-fisherman and gar is on his bucket list.
Not a lot has changed here over the years.  The launch is the same – fair but usable.  I generally like gar fishing best here in the heat of the summer.  This time of year with the colder water temperatures it's likely that a lot of gar are still in spawn mode up the river.  We were not able to locate any concentrations of fish in the muddy river (likely due to the prior night's rain) or the lake.  In the lake we did find a handful of gar, some bass and a few bowfin that were likely guarding fry on nests.  That was very cool to see!  There was a minor die-off of white perch in the lake – we saw at least a dozen.  We had a few shots at gar but not many. Jeff had one grab his rope fly but not well enough to "hook."   We had fun and who knows, maybe we'll come back here in a month or so if we don't try elsewhere for gar.
Owasco Lake 6/5 AM:  Got out here with Jamie and his son Brody starting at 5 am.  Catching a pike was on Brody's bucket list.  Last year we did a couple lake trout trips. The guys rented a place on the north end of Cayuga Lake and caught their share of pickerel too.  With sunny conditions and light winds forecast for most of the day, I encouraged the guys to start early.  We both wound up showing up at 5 am at the launch and I had them casting by 5:15 am.
On some lucky days everything works out better than planned.  We tried a couple areas and in our second area Brody's spoon got hammered by a nice northern!  So it was "mission accomplished" after maybe a half hour of fishing.  Within the next hour he clocked a 25″ walleye, a 27″ pike and a 17″ smallmouth bass.  Jamie had some good hits but didn't hook up.  We caught some good perch in one area and then set up for lakers and the guys each caught a solid laker.  Great 1/2 day trip!
Brody with a 34" pike
25" Walleye for Brody
17" smallmouth
Solid Lake Trout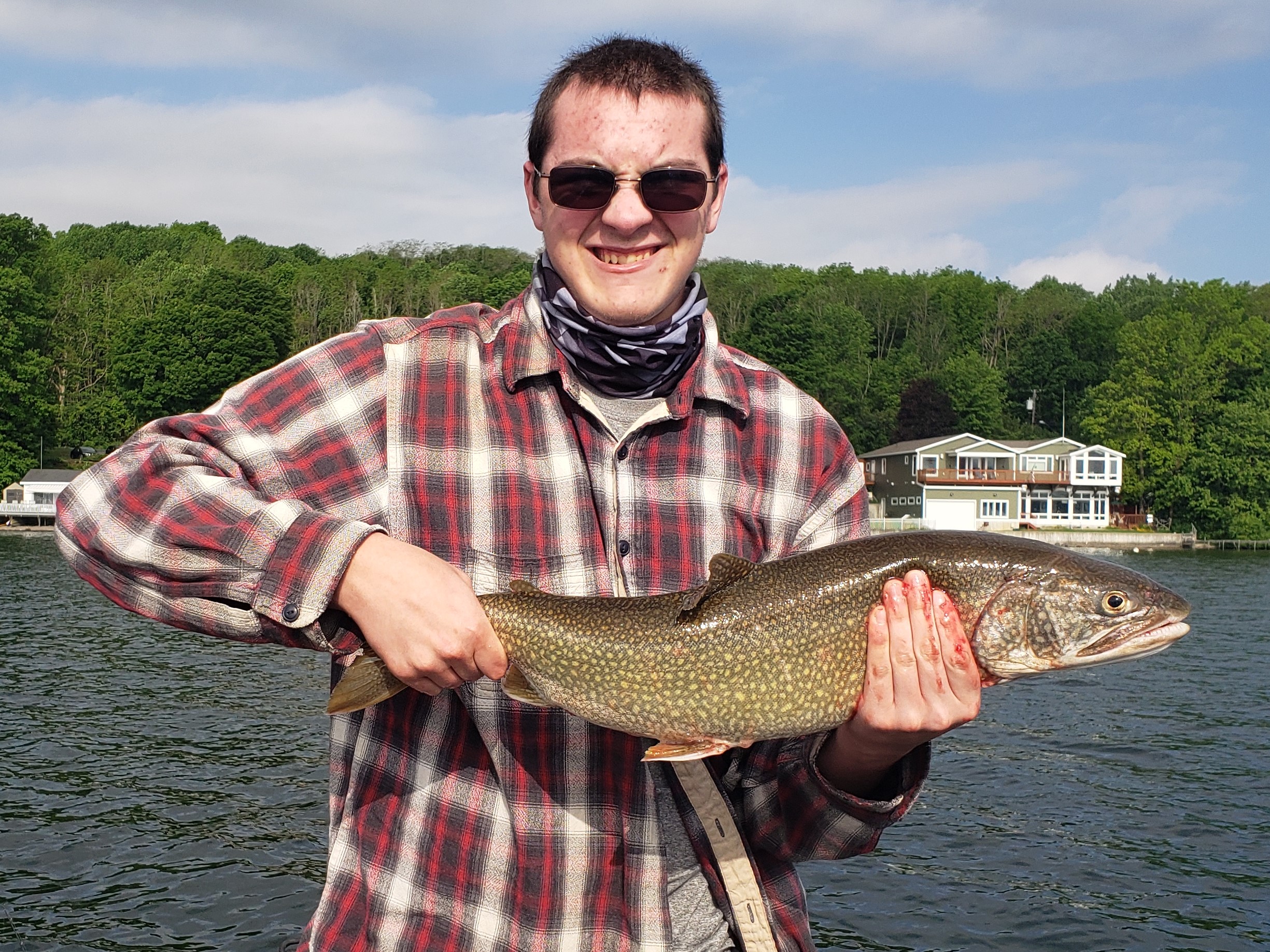 Owasco Lake 6/6:  Morning came early again as I met Kevin and Drew at Emerson Park at 5 am. Winds were forecast to bump up quite a bit today out of the north.  They were hoping to do some casting and I figured we'd have our best shot here at pike and walleyes.  There are still a lot of walleyes in this lake despite not being stocked for around 14 years.  They can live a long time.  My buddy Mike nabbed one here over the weekend along with a nice pike.  We got one yesterday and another again today.  Kevin nabbed a nice northern at 30″, a 25″ walleye and some good perch.  Drew caught a smaller pike, a couple rockbass and some perch as well.  We did not target any trout today.  Fun day.  Weedgrowth is perfect with a lot of nice pondweed around (the lake is fishing like Conesus Lake) and water temps are in the low 60s.
Kevin's Pike
Kevin's 25" Walleye