Northern Pike
If there's a harder hitting fish in our region, I haven't found it yet! These fish are native to the area and are never stocked. Big pike love soft-finned forage fish and cold water. They find plenty of each here in the Finger Lakes. Pike in this area are neglected due to the fact that most anglers target trout, salmon, bass and perch.
Seneca Lake is really the "King Finger Lake" when it comes to pike habitat and potential. The lake's pike fishery has gone through some real boom and bust cycles over the past 50 years. During the fall of 2017 I witnessed some of the best pike fishing I'd ever seen in the region in my lifetime here. 2018 was also solid.  2021 and 2022 have both been good years for pike on Seneca.  Lamprey control appears to be working and as of this writing in December of 2022, I'm finally seeing some pike in the 32″ range that look healthy.  In past years, the fish seemed to be topping off around 31″ and had numerous lamprey scars and fresh wounds.
I had one client try for pike on Cayuga Lake during the fall of 2022.  It was early in the season, but he managed a couple follows on what I'd consider fairly marginal conditions.  They can be challenging to pinpoint on Cayuga.  Weed growth continually changes on this lake and some areas are hot one year and void of fish the next year. Owasco is coming on strong as a top-notch pike fishery.  The fish appear healthy and well-fed and there are very solid numbers of young fish here as well as some nice 5 to 12lbers.  I landed a 40″ beauty here in 2021 fishing with John Sander of "Sander's Guides" fame.  Keuka Lake offers an occasional bonus fish. Pike love just about any lure, especially flashy, gaudy colored ones. Fly-fishing is deadly for pike of all sizes, and I consider fly-fishing for pike one of my specialties.
Giant pike aren't common in the Finger Lakes, but all the Finger Lakes with good pike populations – i.e. Cayuga, Seneca, Owasco, Conesus and even Keuka Lake have produced 20lb+ fish over the years.   Fishing during the winter is one of the most productive times to chase pike in the Finger Lakes region. Fish are often quite active and the weed growth is limited – concentrating the fish.
Steve with a good Cayuga fish!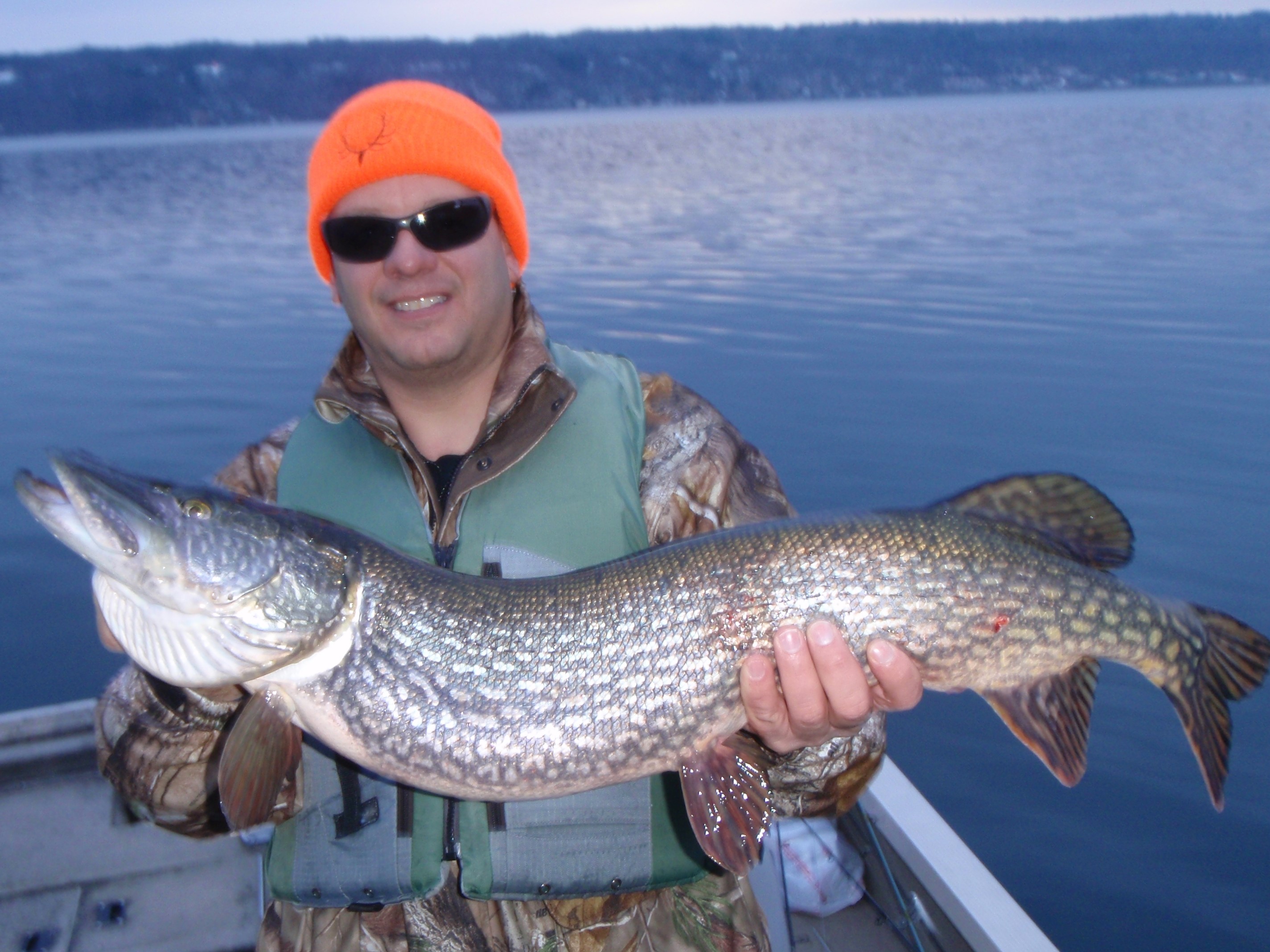 Owasco Northern caught in November 2020
John Herman with a solid Seneca Northern Pike
40" Owasco Lake fish from 2021
Mark with a nice Cayuga Lake northern