Rainbow Trout
Rainbow Trout are found in all of the cold-water Finger Lakes.  In the 1980s and 1990s, the best fishing for them was found in Skaneateles and to a lesser extent Canandaigua Lake.  (Although if you go back to the 1960s, a lot of monsters also came out of Seneca and Hemlock Lakes.)  Numbers of rainbows in Skaneateles have declined considerably over the past few years likely due to an expanding walleye population.  Canandaigua Lake remains a solid bet for 'bows and they get big there.  2020, 2021 and 2022 were excellent years for rainbow fishing on Cayuga Lake.  We've never caught more while jigging and I expect some excellent runs up the lake's tributaries in the spring of 2023.
Owasco Lake is a good rainbow trout fishery and so is Seneca when the lampreys are under control.  Rainbows are still struggling in Keuka Lake due to heavy predation by lake trout, but some nice ones were caught here in 2021.
Rainbows seem to tolerate or prefer warmer temperatures than the other salmonids, so they are occasionally taken while bass fishing. We encounter a few while lake trout jigging or casting for salmon/browns, but I consider them a bonus fish.  They are versatile feeders and can be at home feeding throughout the water column from the surface on down to the bottom.  Rainbow trout naturally reproduce in all the Finger Lakes that have them.  They are a spring spawner so the eggs hatch quickly.  Their varied diet helps their egg viability.  They do not depend on alewives as much as Landlocked salmon do.
Nice Skaneateles fish my buddy Mike caught fly fishing
Kevin and I with a Cayuga Bonus Bow! (This fish may as well be a steelhead from the looks of it!)
Many of the Finger Lakes rainbow trout may have originated from steelhead stocks.  That could be why they look so much like steelhead – they basically are!  For example, 31,000 steelhead were stocked in Skaneateles Lake in 1918 and 1927.  The fish found today in Skaneateles Lake may be descendants of that latter stocking (according to what DEC biologist Tom Chiotti wrote in the Skaneateles Lake Management Plan back in 1981.)  "Steelhead" were also stocked in Cayuga Lake.  I don't have the management plans (which illustrate the lakes' histories) of Keuka, Seneca or Hemlock Lakes, but it wouldn't surprise me if some steelhead were planted in those lakes as well.
Solid Cayuga Lake Rainbow Trout from 2022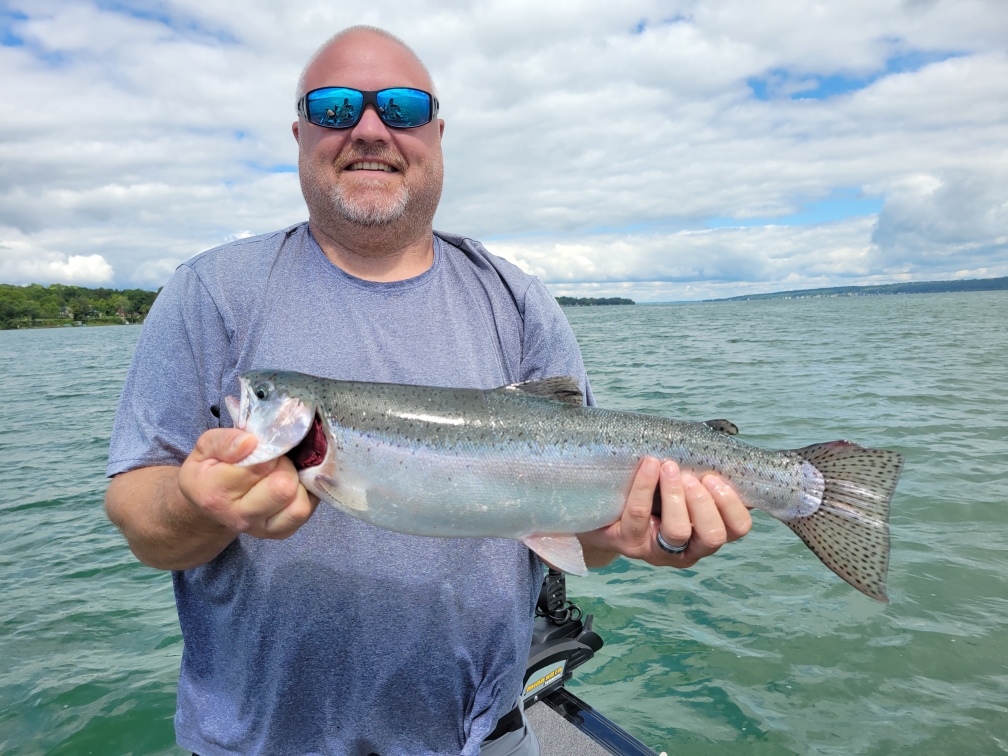 Another Cayuga beauty!
And yet another...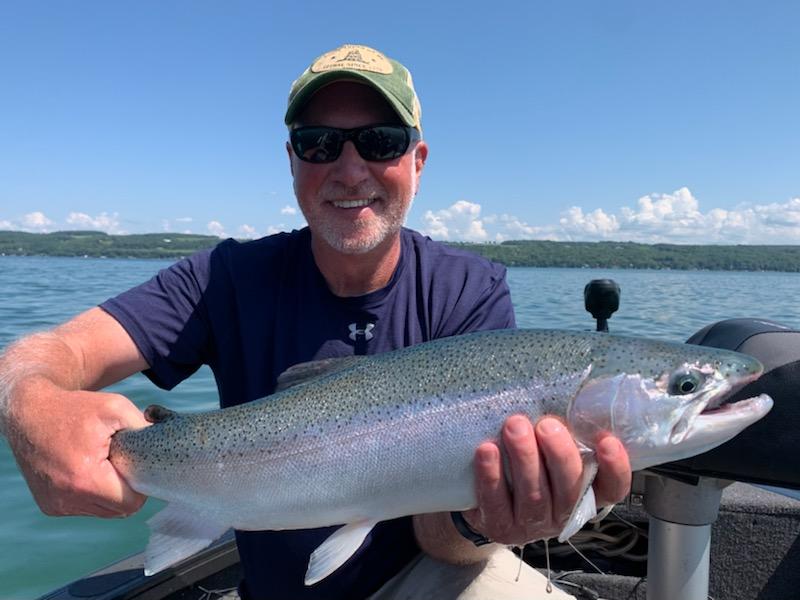 Owasco Lake Rainbow from 2022