Walleye
Walleyes are common in Conesus and and uncommon in Owasco Lake. Other Finger Lakes having populations of them include Honeoye and Otisco Lakes. There are a few in Cayuga Lake but you could fish it for 20 years and never catch one. Walleyes, like channel catfish and crappies, seem to draw fanatical anglers that illegally stock them in various waterways. Skaneateles Lake has been victim to an illegal introduction that has proven very "successful" in terms of walleyes produced naturally. In 2020 we caught a handful of walleyes here, ranging from around 12″ to over 21″.
Over the past year or two, oddball walleyes have shown up in Seneca and Keuka Lakes in DEC nets.
These fish are superb eating and highly sought after, which makes sense given that they are part of the perch family. The best fishing for them is usually at night – since they are nocturnal. Casting stickbaits like Rapala Husky Jerks can be very effective.
I fish walleyes occasionally but I don't specifically guide them. Pulling an "all-nighter" is effective, but not my favorite thing to do. Many walleye anglers are highly secretive. I can't figure it out, since the average person isn't going to pull that "all-nighter". They aren't hard to catch if you pick the right night and are patient and perseverant. Look for water temps in the upper 50s and lower 60s. Find some spawning alewives and cast the flats, making sure to stop your lure frequently. This is easiest before the weeds come up to the surface. Overcast windy days in the spring and fall can be productive for daytime walleye fishing.
One of the coolest things to do in the Finger Lakes Region is get out and fish all night long – especially out on Conesus Lake. The activity level of the gamefish when alewives move in is outrageous. Giant pike, tiger muskies, walleyes and huge bass all feeding like crazy, jumping and splashing all over the place. As soon as the sun hits the water everything dies right down! It's like night and day….
Large Conesus 'Eye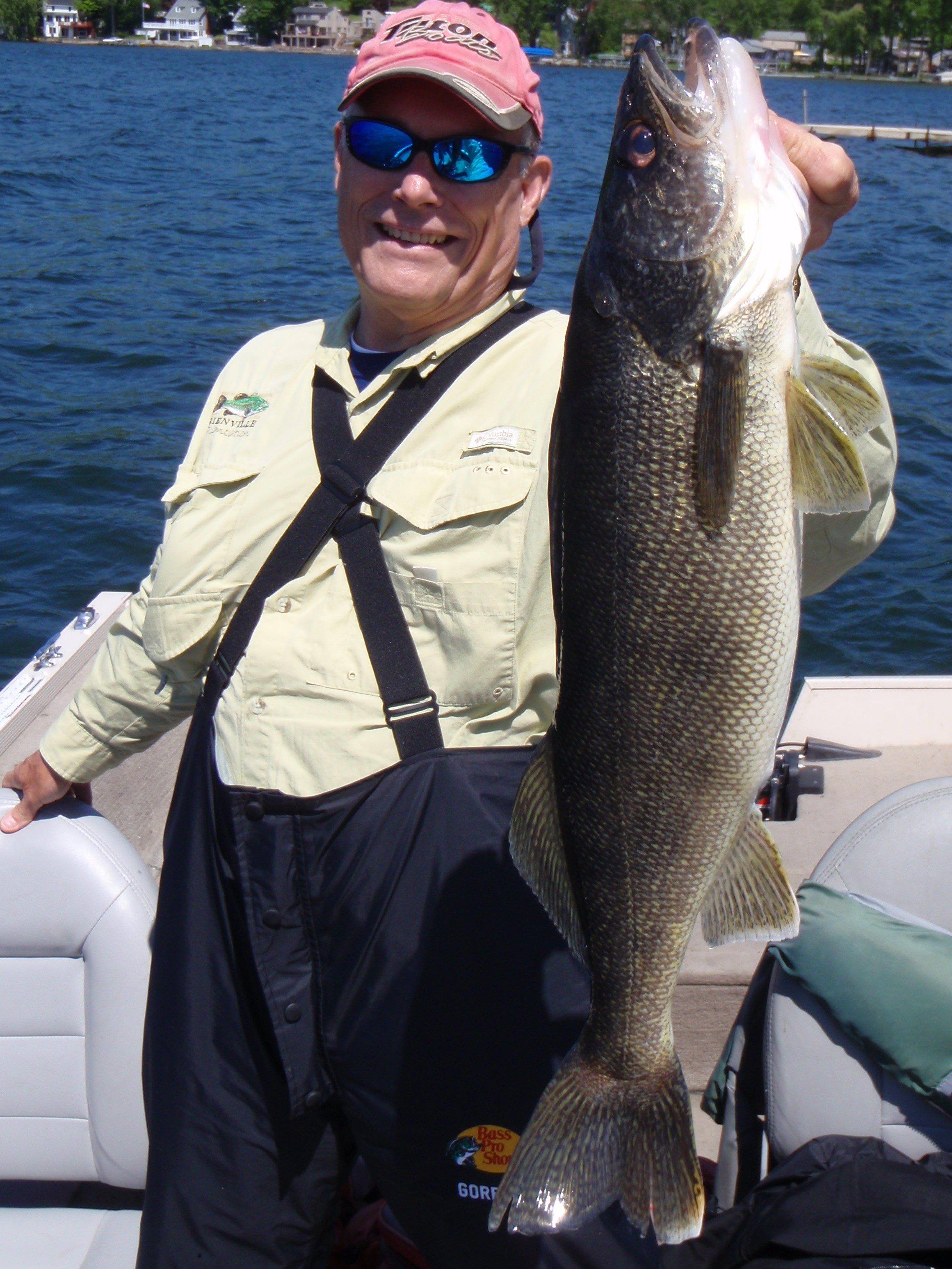 Owasco Lake Walleye