Keuka Lake out of Branchport 3/16
Where to begin?  I felt like a hungry young angler out here today – as I was trying to see how viable fly-fishing is for these Keuka Lake lake trout.  It was like a flashback to Cayuga Lake and Seneca Lake, after getting my first boat late in 2001, after targeting salmon from shore for a few years on the fly.  It also reminded me of shore fishing Seneca in the late 1990s and early 2000s when the alewives were way down over there – we caught a lot of lakers (including some beauties) from shore on the fly. Anyways, for years now, ice-fishermen up around Penn Yan have been catching plenty of lake trout through the ice while targeting perch and bluegills in shallow water.  I was out here a month ago and had some killer shallow fishing, roughly from 10′ to 30′ of water.  All I could think of in the back of my mind is "these fish are fly-fishable!"
My original intention when I got my guide's and Captain's licenses was to focus heavily on fly-fishing, primarily for landlocked salmon and northern pike.  In a nutshell, the lake fly-fishing never took off for me, despite some great opportunities back then.  I still have some clients that love it, but it's clearly a niche thing.  Maybe at some point it'll take off.  We'll see.  The laker jigging thing started going big back around 2004 (via Toby Wood) and that changed things around. More and more people wanted to jig lake trout and my demand for laker jigging trips remains very strong.
I get asked about fly-fishing trips fairly frequently and don't have a ton of solid options throughout the seasons.  Landlocked salmon are my favorite, but that is very weather/condition dependent, especially for on the fly.  Cayuga Lake and Skaneateles Lake have also been very poor for salmon as of late.  Rainbows are not doing well on Skaneateles Lake either – and that was one of my favorite species/lakes to guide fly-fishers on.
Pike season is closed and they are spawning now – but fall pike fishing happens the same time that steelhead are running and deer season is going full-out.  Gar are great fun, but they've been tougher to locate at times and the best fishing for those is quite a drive away, plus that's a summer thing for me.  Carp on the fly is cool, but that requires a lot of time, study and effort – which I can't provide at this time.  How about bass, you might ask! Skaneateles Lake is a great fly-fishing lake but is a pain for launching in the summer for bass.  Cayuga Lake is a tournament machine – that's not fun for a guide and client for the most part, plus I'm out on lakers these days 90% of the time and can't stay on top of the bass fishing.  Bottom line is that it's tough to find good, consistent lake fly-fishing opportunities in the Finger Lakes.
Anyhow, I had a great afternoon of fly-fishing lake trout on Keuka Lake today.  The fish here are plentiful and all wild.  They are HUNGRY!  That's a great part of being a diary cooperator – I get the latest fisheries information and know who to contact if I have questions.
Because I've spent so much time on these lakes over the years (my first time ever fishing Keuka Lake was on a boy scout weekend trip back in 1979 or around that time), I know the contours fairly well.  When I decided to give the shallow fishing a try a month ago, I had some areas in mind.  Today I knew what I needed my fly set-up to do – how deep to go, what the fish were feeding on and what to expect.  God forbid the gobies ever take off in Seneca Lake (I hope they don't) but if they do, I already have an idea of where to fish.  That comes from a lot of time on the lakes.  Pro-bass fishermen can show up at a strange (to them) lake and motor around – within a few hours they can decipher the best areas just by using their eyes or electronics.  Once you know what good bass cover looks like, you have that knowledge for the rest of your life.  That's a great aspect of fishing.  Experience on one body of water is often transferable.  Two decades of fishing Irondequoit Creek in Penfield NY taught me a ton about stream fishing.  I learned how to fish current, rapids, "frog-water" and more.  When I went to Alaska a couple times in the late 1990s/early 2000s and fished the Anchor River, for all intents and purposes, I'd already fished it hundreds of times.  It was basically Irondequoit Creek!   I knew how long to fish certain runs before moving and how to approach the river.
Anyways I had a great afternoon on Keuka Lake.  I rigged up a new fly-line the night before – it's a RIO 24′ Sink Tip, 300 grain line.  It's basically an integrated shooting head.   It's designed for use with 8 weight rods, but I had a fast action 6 weight (an old Temple Forks which is basically a 7 weight sold as a 6.)  I coupled that with a short leader of 10lb flourocarbon and was good to go.  I used an assortment of flies, including some of the ones Dave Skok  ( https://saltwaterflies.com/daveskok.html )  gave me last spring.  Within maybe four casts, I had my first laker.  Over the next couple hours, I landed another 2 on the flies up to 24″ long.  I lost two good fish, which would have given me my limit on the fly in about 3 or 4 hours.  I probably had a dozen follows and some short grabs as well – so the action was excellent.   I wound up checking out a few other areas with gear and getting my limit.
One topic that comes up with lake trout jigging is the hits.  People sometimes say to me, "these fish don't hit very hard, do they?" and my response is that the way we are fishing for them doesn't lend itself to lake trout really hitting hard.  With the fly-rod and a more horizontal presentation, I experienced a couple of bone-jarring strikes!  They hammered that streamer!
This stuff is technical fly fishing.  You aren't going to go from solely fishing streams 30′ wide to making long casts out on the lake, but if you've done some lake fly-fishing or better yet, ocean fly-fishing for bonefish, stripers, tarpon and the like, you'll have no trouble adjusting to this.  Spinning gear is also super-effective out here and you can pretty much "pick your poison" – whether you want to cast jigs, swimbaits, stickbaits or whatever, you can score.
Fish on!
Another hookup
Keuka Lake wild lakers can put in deep bend in a fast action fly-rod
The Results...
Another...
And another...
The tip of the bluff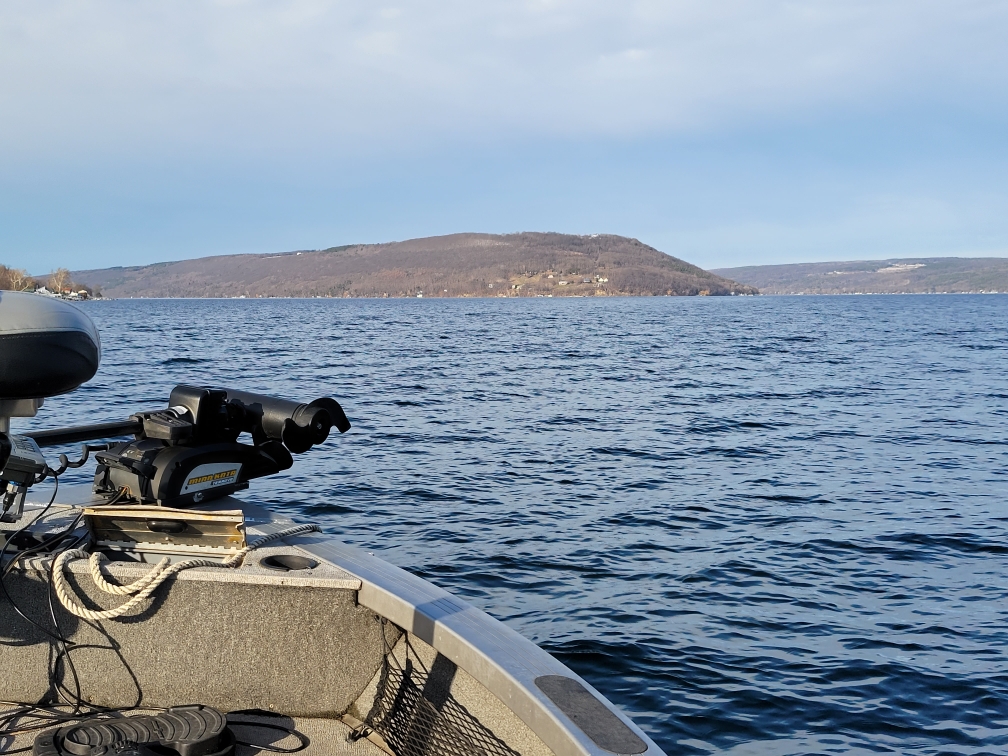 New challenges – e.g., the bait collapse on Keuka Lake, present new opportunities.  Just like the burgeoning walleye population on Skaneateles Lake more or less collapsed the rainbow/salmon population, we now have some great new opportunities on Keuka Lake.  The fish I filleted today had a few young perch and some freshwater shrimp in their stomachs.  As the photos display, these fish are on the "lean" side, but like Alaskan lakers, they fight outside of their weight-class!  They are also superb eating out of Keuka Lake; their diet is freshwater shrimp, perch and sculpins – no, or I should say very few greasy alewives, not that alewife fed fish taste bad, but they are much fattier.  These fish are very lean.  Guys that fish Keuka for the most part like eating lakers as much as any other salmonid.  They are also all wild.  Normally, people would have to travel to Canada or Alaska for an opportunity like this, although some fisheries out west now have laker populations (and would like to eradicate illegally introduced ones.)  Another boat was right behind me as I pulled out of the launch.  I met two guys up here from Ohio.  They LOVE Keuka Lake and have been knocked out by the laker fishing (and bass fishing) here.  I guess I can't complain about the extra drive-time, given where those guys came from!  They were hardcore anglers and told me that they have fished all over the country, and Keuka is their favorite.  Can't beat that endorsement!