Keuka Lake
The crash of this lake's alewife population has been the biggest change here on Keuka Lake.  Fish are behaving differently with smallmouth bass apparently keying in more on crayfish and perch.  Lake trout fishing has been spottier – though still good, with fish often feeding up high in the water column on perch fry.  I'm sure we'll notice more changes.
DEC has come up with a basic management strategy on this lake.  Ciscoes have been experimentally re-introduced to the lake.  Landlocked salmon and brown trout stocking has been terminated and lastly, rainbows are now being stocked as yearlings instead of fingerlings.
The lake trout fishing here is still good and downright excellent at times during the late fall and early winter.   They are starting to eat more freshwater shrimp and perch fry. The condition of the lakers here has remained fair to good, not poor like so many of Skaneateles Lake's fish tend to be.
Rainbow over Keuka Lake in the fall!
This is a solid lake for largemouth bass and smallmouth bass fishing from the early season opener in May through the fall. Both fish reach trophy sizes on this lake.    I've heard more stories of 8lb+ largemouths on this lake than on any other Finger Lake!    The lake also offers a variety of other fishing options including lake trout jigging, some HUGE pickerel and giant yellow perch. I consider this lake to be a good secondary option when winds aren't conducive to fishing Cayuga or Seneca Lakes.  This lake is protected from strong west winds since it is surrounded by hills.   The Penn Yan branch usually freezes over and on occasion most of the lake will freeze up.
Keuka is a very interesting lake in many respects.   Some of the deepest water is found further north (relatively speaking) than on other Finger Lakes.   The lake trout are abundant and all wild.   They taste great!   The lake trout spawn later here than on other Finger Lakes and they tend to hit very well throughout the fall.  Very interesting structure here too.
Uncommon Keuka Lake Northern Pike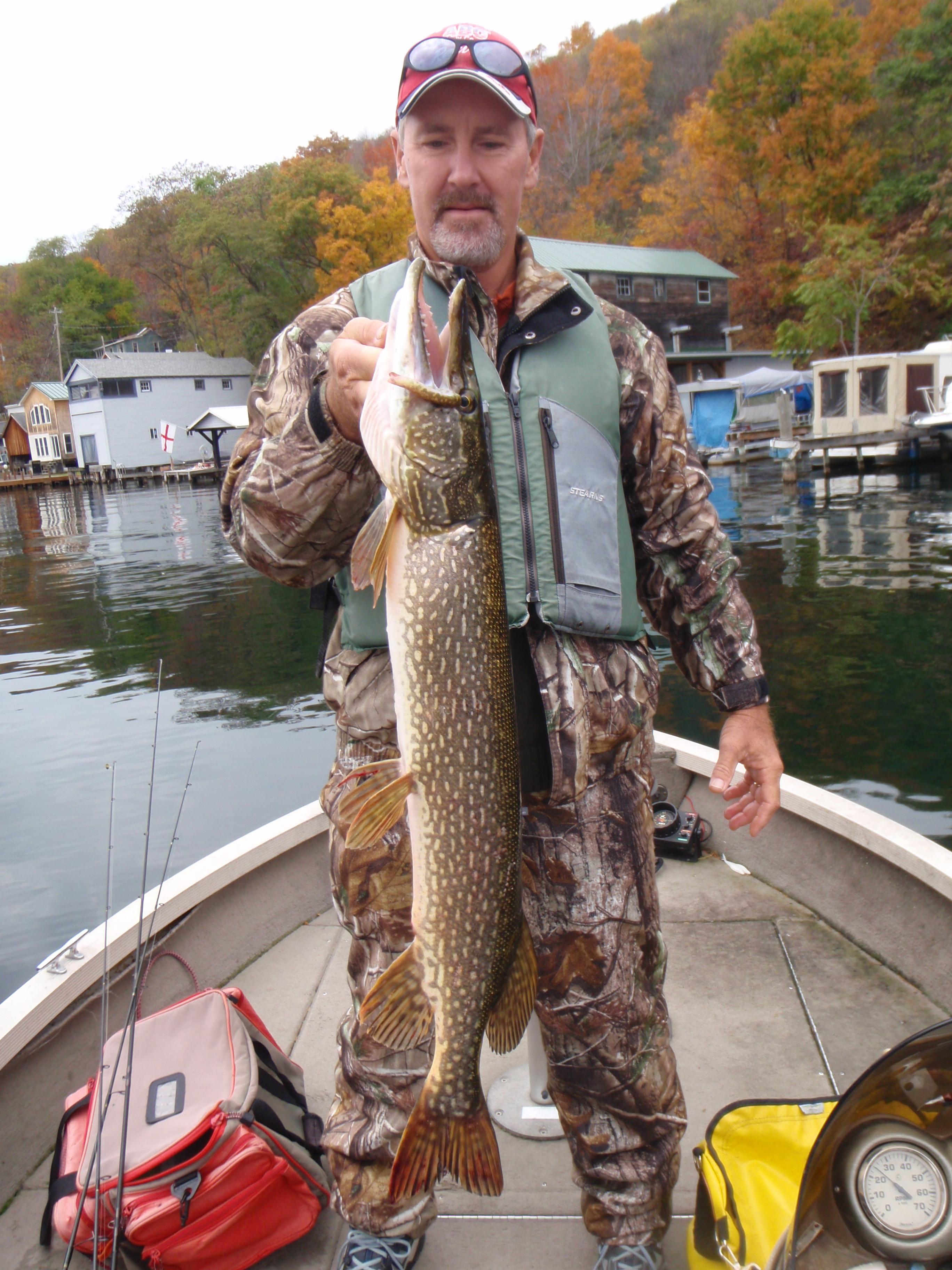 In 2020 and 2021, I spent more time targeting bass on this lake.   It's a deceptively large lake and there are plenty of areas that harbor nice bass.  Many of these areas don't "jump off the map".   It takes time to learn them.  The pickerel population is very large and we had a 28″er in 2011.
Other species found on Keuka Lake include crappies, northern pike, rockbass and bluegills/sunfish.    Pike numbers seem to be on the rise, but they would still be considered bonus fish on this lake.   In 2006 I managed to catch a 35″ beauty on this lake and we had some good pike in 2010 – including a 36″er.   They are around, but not something I'd necessarily target here.  A 23lb northern was taken through the ice here during March of 2009!
Like Skaneateles Lake, logistical issues have made it tougher to access this lake's great fishing.  The owners of the Hammondsport Hotel did some great improvements to the launch but have decided to stop allowing the public non-guests to launch there anymore.  I'm not pleased with this move, but it's their property and they have a right to do as they see fit.  Thus, some of the best angling areas for lakers from the fall through early spring (as well as good pickerel/pike areas and perch areas) are now only accessible via a 12 mile or better boat ride.  Not worth it for me.
I did a little bit of ice-fishing here in 2022 but never made it out here during the open-water season.
Keuka Lake Pickerel - 28"