Skaneateles Lake
This lake is unique among Finger Lakes. It has the highest water quality of any of the Finger Lakes. The sheer beauty of this lake and its shoreline – lined with forests and cliffs up to 100' high makes fishing here an unforgettable experience.
There is no alewife or smelt forage base here, thus fish are typically hungrier and often move shallower than in other Finger Lakes.
The fishing in this lake is remarkably consistent from year to year and this lake offers good opportunities to consistently catch rainbow trout and lake trout on the fly-rod as well as by conventional techniques. The rainbow trout fishing here is amongst the best in the Finger Lakes, though it's slowing down due to competition from walleyes. Landlocked salmon fishing here has been good over the past three or four years.   All species of fish present in this lake have wild populations.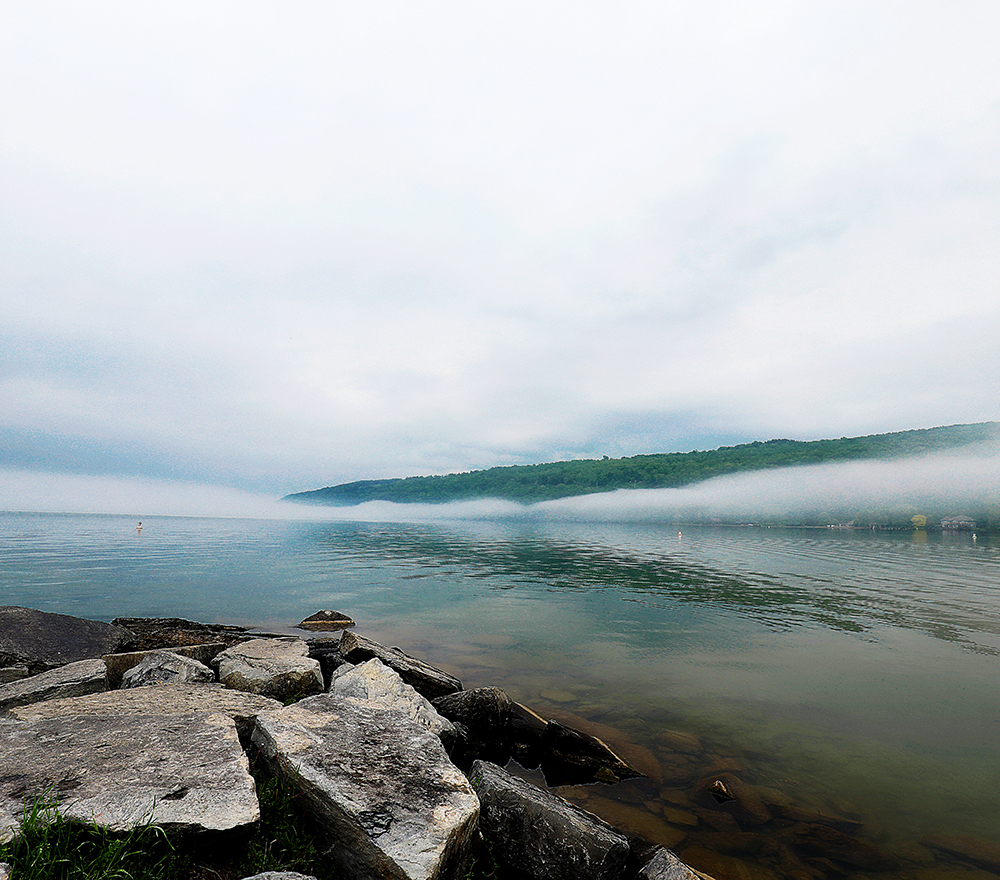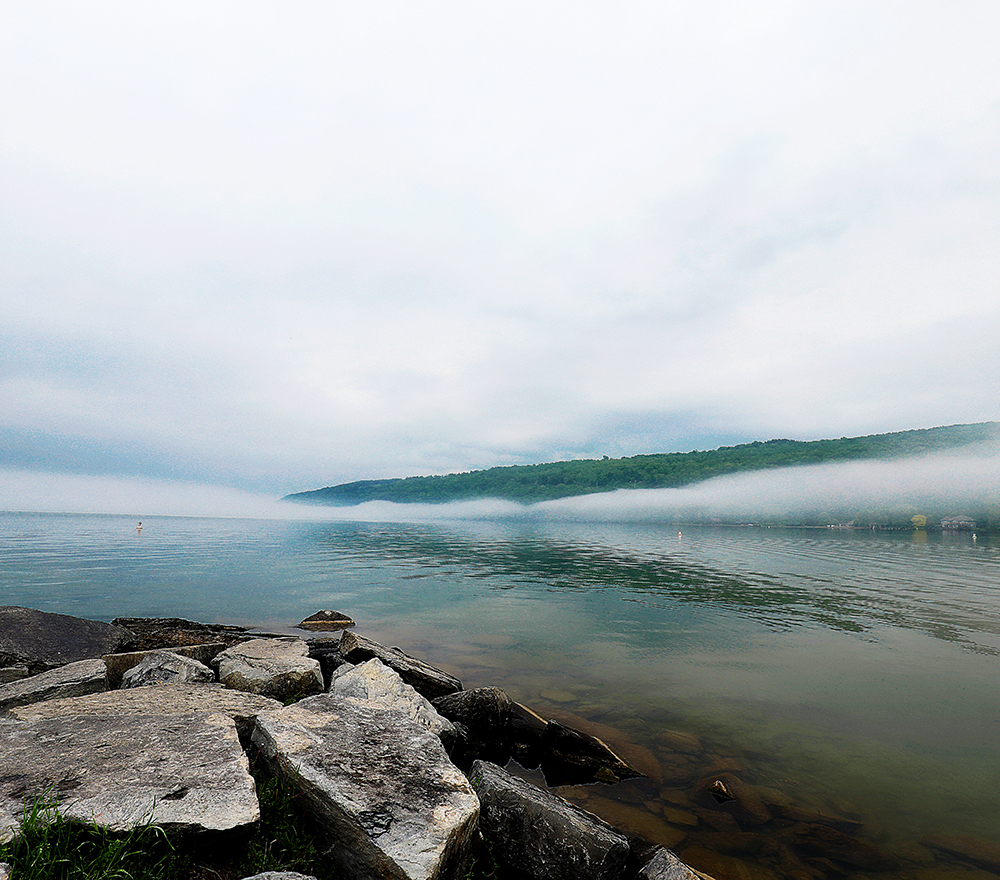 The yellow perch and smallmouth bass fishing is excellent here. This lake has a tremendous population of smallmouth bass, including some large fish.  I caught a 21″er here this past fall. It was close to 5lbs.   The lake fishes really well from ice-out through early June and then again in the fall from late October through December.  Smallmouth bass fishing holds up all summer long.  Other species found here include largemouth bass, brown trout (rare) and chain pickerel.   This lake has some very nice sized pickerel, panfish (huge rockbass and sunfish) and largemouths.
Summer nettings for lake trout revealed average numbers of trout.  Ciscoes (a forage species) appear to have made a comeback here.  The big news in 2017 was that DEC found a few strong classes of walleyes in their nets. There have been walleyes in the lake since the mid to late 1970s but their numbers remained low.  Walleyes are a direct threat to the rainbow trout and salmon population here, since they frequent the same predatory niche and water temperatures.  Walleye like mid-50s water temps and so do rainbow trout. The building walleye population certainly explains the decline in the rainbow trout numbers that I've witnessed on this lake over the past 10+ years. DEC is still debating how they are going to tackle the walleye issue regulation-wise. Walleyes can live to be 25 years old.  They will be around for a long time here.  I caught two healthy looking walleyes in here while dropshotting in early fall.  They are here to stay.
This lake's clear water can make for tough fishing when there's no wind and a high sun – especially in the fall.   But the beauty of this lake is unsurpassed – a slow day fishing here is still a day you will remember (fortunately we don't have many slow days fishing here.)
My success rate during these time periods on the lake is virtually 100%! It's an awesome fishery and incredibly underrated lake and my #1 pick for a beginning lake fly-fisherman or for someone who just wants to consistently catch some nice trout or bass.
Parking at the State Launch is no longer allowed for single cars between April 15th and around October 15th if I remember correctly.  It might even be November 1st – I can't recall offhand.  Either way, it makes logistics for meeting clients here a pain. Mandana is now charging people to launch and park there and it isn't cheap by regional standards. I did four guided trips here in 2017 and  three guided trips here in 2018, compared to 15 to 25 on average during prior years.  I'm still happy guiding this lake but don't ever expect to do more than a handful of trips here a year unless the walleye fishing really takes off or something of that nature happens here.