Onondaga Lake 7/29 midday
Did a 6 hour trip today with Scott, who wanted to check out the lake.  I've logged in a fair number of personal fishing trips here over the last few years but have never guided it before.  It is a bit "out of my wheelhouse" in terms of driving.  These days I'm mainly guiding Cayuga, Seneca, Owasco and Skaneateles, though it's fun on occasion to do trips elsewhere.  Since I'm a licensed Captain and NYS Guide I can guide virtually anywhere in the State if I want.  Onondaga is part of the Canal system, so to guide here you'd have to be a licensed Coast Guard Captain.
We targeted bass today and fishing was as tough as I've seen it here.  The water is low and warm.  The shallows here are oftentimes teaming with bass.  That was not the case today.  I had Scott work a bunch of areas.  We had great conditions as well – nice west wind, overcast out and what seemed to me to be a good weather pattern.  But for most of the day we couldn't buy a hit.  We didn't even see many bass.  Scott had never fished Senkos before, so I had him working one along a deep edge alongside a good sized weedmat.   He finally nabbed a great bass!  If you're going to catch just one, make it a good one.  And it was.  Afterwards we worked out a little pattern and he had a couple more hits but nothing much.  One or two other boats were at the launch on the day, so maybe the word is out that the bass bite is a bit slow here.
Scott's First Onondaga and Senko caught bass - a 19 1/2"er!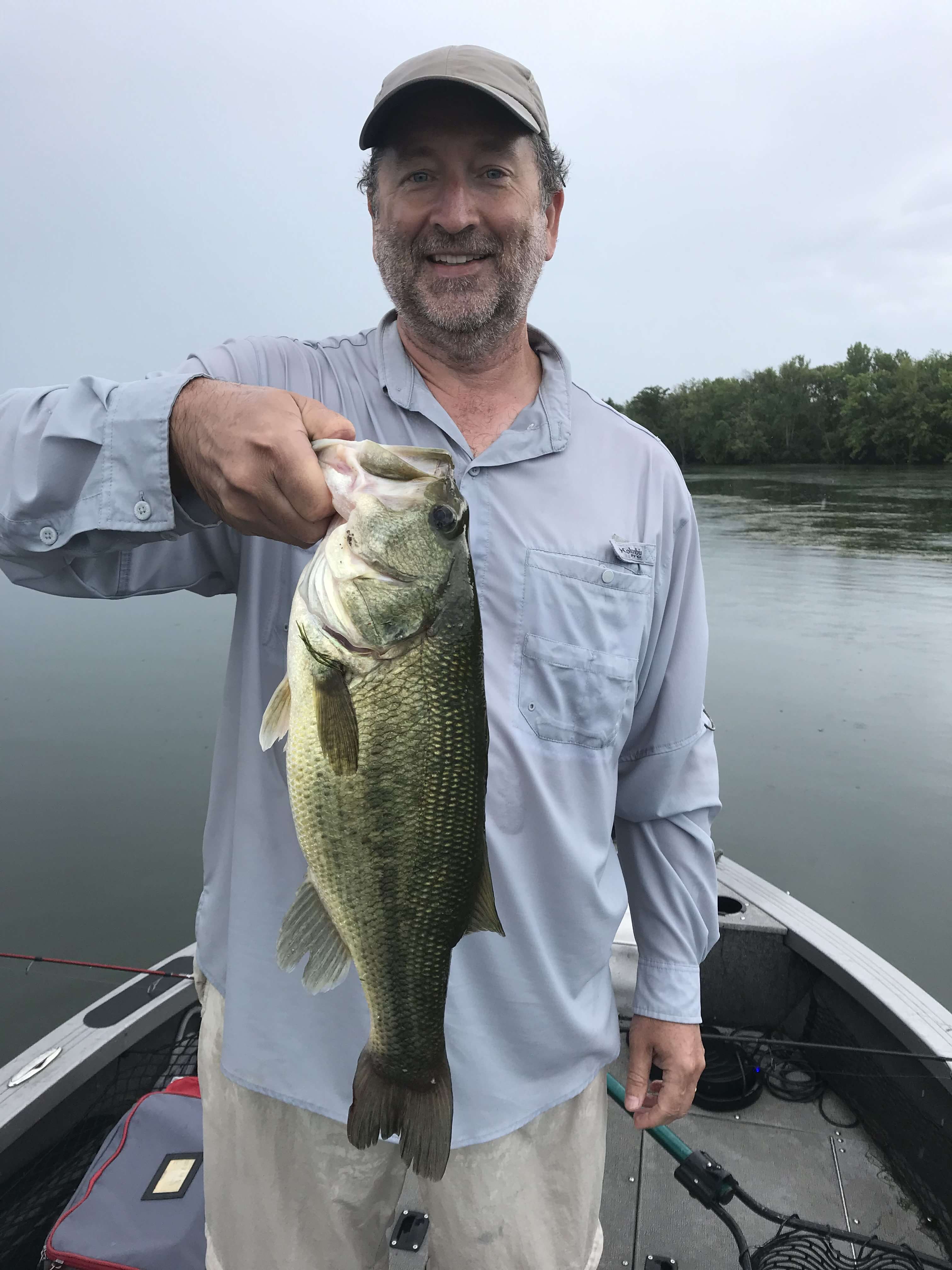 August 22nd (full or half day) and August 30th (AM 1/2 Cayuga) remain open.  Please call or email if you're interested.
This fall I will be able to guide any day of the week for full or 1/2 days.  Due to Covid-19 restrictions at Cornell University, I will be taking a break from teaching "Intro to Angling" over there.   It's the first "fall break" I've had in around 16 years, so I'm looking forward to it.  Not teaching these classes this fall is the best way I can avoid Covid-19.   Students are vectors for disease!