Owasco Lake 10/15
Had a very solid day of lake trout fishing out here with Nick, Dave and Jason.  The guys wanted to get a day of laker jigging in before heading up to Salmon River for a few days targeting browns and steelhead.  We started just after 8 am and had a fair bite in the morning, which transitioned to a better bite later on.  We had one double.  Overall the bite was fairly steady during the late AM and early afternoon.  Some large fish were in the mix – Jason nabbed a 32″ laker and Nick had a 31″.  With no lampreys in this lake, Owasco Lake has trophy potential for fish and I would not be surprised to see a 15 to 20lb lake trout come out of here in the future – since it has produced them in the past.
I kept my eyes on the weather and sure enough, a good storm cell was heading our way at around 3:45 pm.  We received alerts regarding conditions being favorable for a tornado, strong winds and large hail.  As if by magic we found that Drifter's bar/restaurant was open so we pulled in there and had a bite to eat and a couple beers.  Nice place!  The food was very good as was the atmosphere.  Very few seasonal restaurants on the Finger Lakes stay open most of the year but they were.  After the storms passed (which mostly missed us) the guys fished for another half hour or so before we wrapped up.  We got pretty soaked by some moderate rain on the way back.  Our final effort paid off with Nick nabbing a 30″ beauty in the rain that brought our tally for the day up to 20 solid fish.
It'd be nice to just catch fish and let them go without tallying everything up, but as a Diary Keeper for the DEC, I record every fish's length and fin clips.  Overall I like to rate the day fishing by the quality of the experience.  Sometimes one spectacular fish can make the day.  Catching just a couple in heinous conditions (heavy wind), when nobody else even is on the water can be quite an accomplishment as well.  The guys asked me as the trip got underway what a good day would be.   My feeling is on Cayuga or Owasco Lake, catching 5 or 6 nice fish on a half day trip is a good half day.  Anything more than that is great.  A few less is still a nice day – say catching 3 fish.  At least some fish were caught and hopefully you learned something beneficial and had fun.   Fifteen nice lakers for three people on a full day is very solid.  On Seneca Lake these days just a few nice fish (sometimes one!) is a decent day.  So everything varies by the fishery.  Keuka Lake can be smoking hot in October and November and it can be fairly easy to catch a lot of fish if the conditions are good.
I've guided people that have survived or dealt with cancer or addiction.  Folks that are getting up there in years as well will all tell you that just being out on a water can be a real treat and is to be savored.  So perspective is important to have.
As I've always said – appreciate a great day for what it is, a great day.  If you live by the numbers you will die by the numbers, and trying to top your best days every time you go out is a recipe for disappointment and failure.
We caught most of our fish from around 70′ out to 110′.  Fish were all pre-spawn.  Black Lunker City Shakers were by far the best lure for us.  We had a few hits on white, chartreuse and other colors but black ruled the roost today.
Jason's 32"er!
NIck hooked up
Nick's 31"
Last fish of the day - last drop in the rain!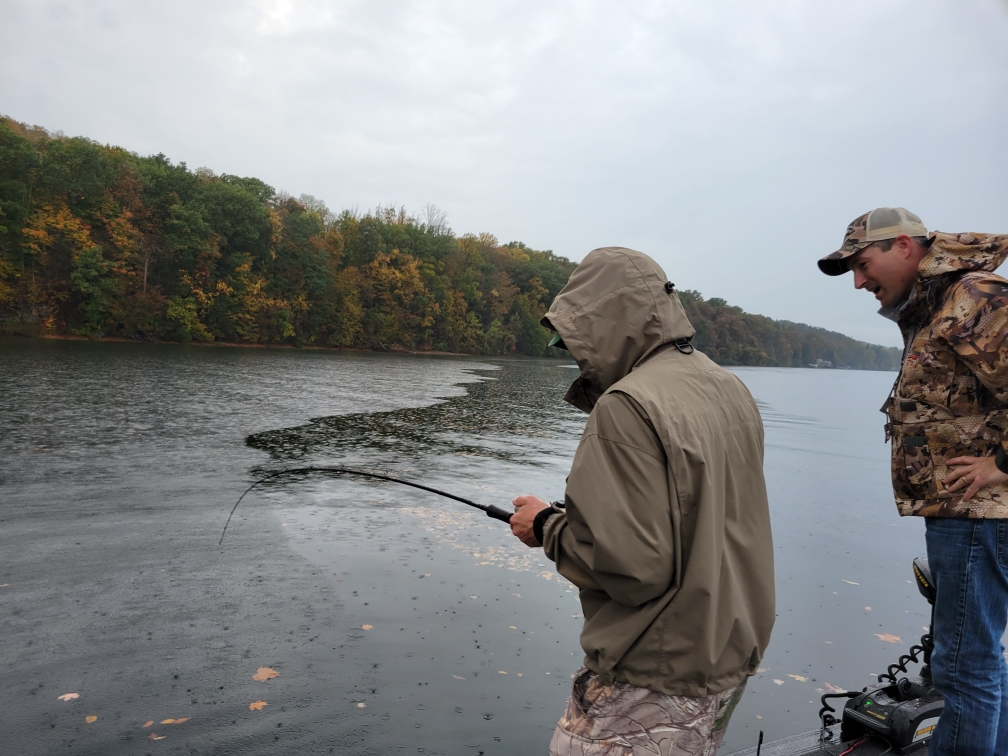 The reward after a great day!