Owasco Lake 7/4 – 7/6
Guided a one-half day on Owasco Lake on July 4th, then full days yesterday and today.  Fishing has generally been improving here since the thermocline set up over the past week; I consider the lake trout bite to be good to excellent. Laker fishing was excellent on the morning of the 4th and this morning; it was fair on the morning of the 5th but stayed steady throughout the day.  Fishing pressure here is light.  Water clarity is very good with no signs of algae.
I have not been on Cayuga Lake since Friday June 30th.  Usually this is a great time to fish Cayuga – i.e., just when the thermocline forms.  There was some terrific fishing on Cayuga Lake around a week ago in the northern portions of the lake.  I haven't had any recent reports there, apart from the lower lake and mid-lake.  Visibility is fair in those areas – there's been around 4′ of clarity at best, which isn't bad at all.  The mid-lake bite has remained fairly tough from what I've heard.  A friend of mine has had some laker luck there and even hooked a big brown and rainbow while perch fishing.
7/4 AM:  Guided Joe and his son Joel for a half-day trip starting at 6 am.  We had a great bite here from the get-go!  Nine solid lake trout were landed in our first hour of fishing.  The bite slowed after 8 am or so, but we still managed a decent steady pick of fish right up until we called it quits.  The goal was to get our fishing in before the crazy 4th of July boat traffic, and that's what we did.  Joel managed a 30.5″ beauty in one area!  Fantastic fish!  We had a solid double-digit day.
A smaller lake trout for Joe to start the day
Joel, who's 6' 5", with a 30" beauty!
Hooked up!
Another hookup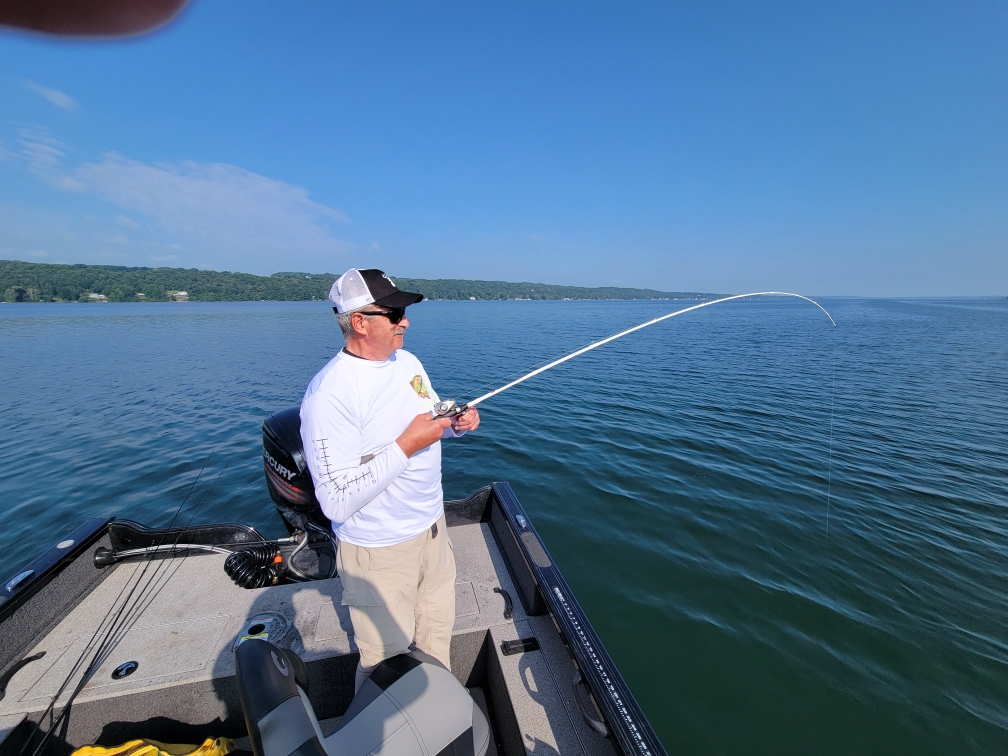 7/5:  Today was a full day trip with Steve, Dalton and Riley – all brothers whom I've guided for well over a decade.  We always have a good time.  Dalton had to catch a flight later this evening, so we dropped him off around 1 pm and then Steve and Riley did some smallmouth bass fishing.  We started at 6 am and our bite was much slower than yesterday's.  It may have been the clear conditions with a full-moon, but our area from yesterday had really cooled down.  Dalton however, did manage to nab a beautiful 29″ laker to start the day and rid any skunk from the boat early on!
Dalton hooked up with the first fish of the morning!
Dalton's 29"er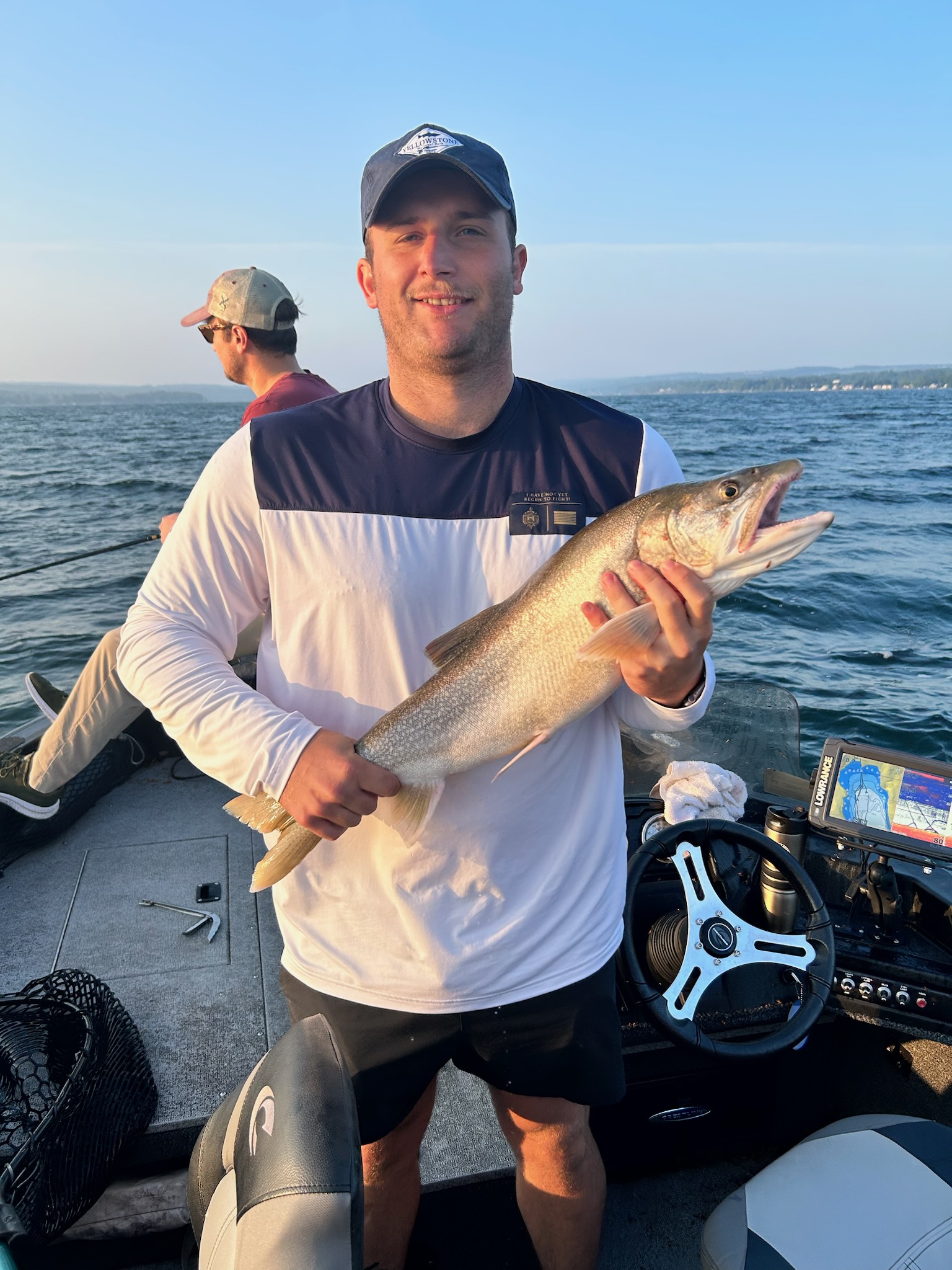 Fishing slowed a little bit after the quick AM bite (maybe they had fed more at night), however as we worked down the lake we managed to hook some fish a couple of hours later.  Some fish were lost early on as well.  We wound up having a pretty good day on some 27″ to Dalton's 29″ lakers, one small brown and several other average lakers.  After we dropped Dalton off, Steve and Riley each hooked some nice smallmouths.  Steve's 18″er was our best and Riley managed a 16″.  A couple smaller ones were released too.  The steady weather pattern really had the bass on fire and it would've been a great day for targeting them.
The guys' grandparents have a place on Skaneateles Lake.  Smallmouth fishing there has been excellent.  Dalton picked up a nice walleye that appeared to be around 22″ to 24″ at dusk on a crankbait on one area.  It's tough to beat Finger Lakes fishing!
Riley lake trout
Hooked up!
Another one for Dalton
Steve finally lands one after dropping a few!
Riley 16" smallmouth
Steve's 18" smallmouth!
7/6:  Today was the best day I've seen on Owasco Lake since I moved over from Cayuga Lake after the 30th of June.  I guided Andrew and Phillip for a full day trip, and we got off to a hot start just after 6 am.  We had a good bite all day and reached the double digits, then called it a day around 45 minutes early.  The guys kept close to a limit of fish for the smoker and grill today. Most of my photos are of Andrew although both guys caught roughly the same number of fish.  Andrew also managed a nice 22″ chunky brown trout.  We have seen small rainbow trout under our jigs all week over here, but haven't hooked up any of them, or bigger ones yet for that matter.
First fish of the day
Another...
Another
Phillip with one
Andrew's brown
Another laker on!
Over the next week, I have trips scheduled on Owasco Lake and Keuka Lake.  I hope to be on Seneca Lake shortly.  I do have a Cayuga Lake trip scheduled as well.  A few openings remain in late-July – the 23rd through the 25th and the 30th, and then we're into August.  I have some availability left in August, but not a lot.  Stay tuned!  Each season can be so different from years' past!