Reports 10/21 – 23
Did trips on Skaneateles Lake, Cayuga Lake and Owasco Lake over the past three days.  Here's the breakdown:
10/21 – Skaneateles Lake:  Guided Keith and his brother in-law Steve for a full day here starting just after 8:30 am.  The guys enjoy fishing Honeoye and Keuka Lake for bass.  They hadn't fished Skaneateles Lake before and were looking to get out here.  Steve is a die-hard bass fisherman.
We had a very solid day of fishing here with some different species in the mix.  Steve stuck with his own baitcasting gear for most of the day while Keith used my spinning outfits.
We wound up with very good action on smallmouth bass averaging around 12″ to 13″ with some in the 15″ range and the top bass being Keith's 19 1/2″ beauty.  Most bass came on tube jigs.
Keith's 19 1/2" smallmouth
We had some bass come on soft and hard jerkbaits as well.  Steve wasn't a dropshotting fan so we avoided that technique.  I don't think that hurt us at all.  Keith also nabbed a wild 17 1/2″ rainbow trout, which was good to see given the amount of walleyes presently in this lake.  Walleyes are heavy predators on young rainbow trout and other salmonids.  As the walleye population has expanded in this lake, the landlocked salmon and rainbow trout populations have declined precipitously.
Speaking of walleyes, Steve managed to nab two of them, including a 27 1/2″ beauty!  He would rather have caught smallmouths, and since he doesn't eat fish he happily donated them to me!   I don't need to tell anybody about the eating qualities of walleyes, so needless to say I was very appreciative!
Steve's 22 1/2" jerkbait Walleye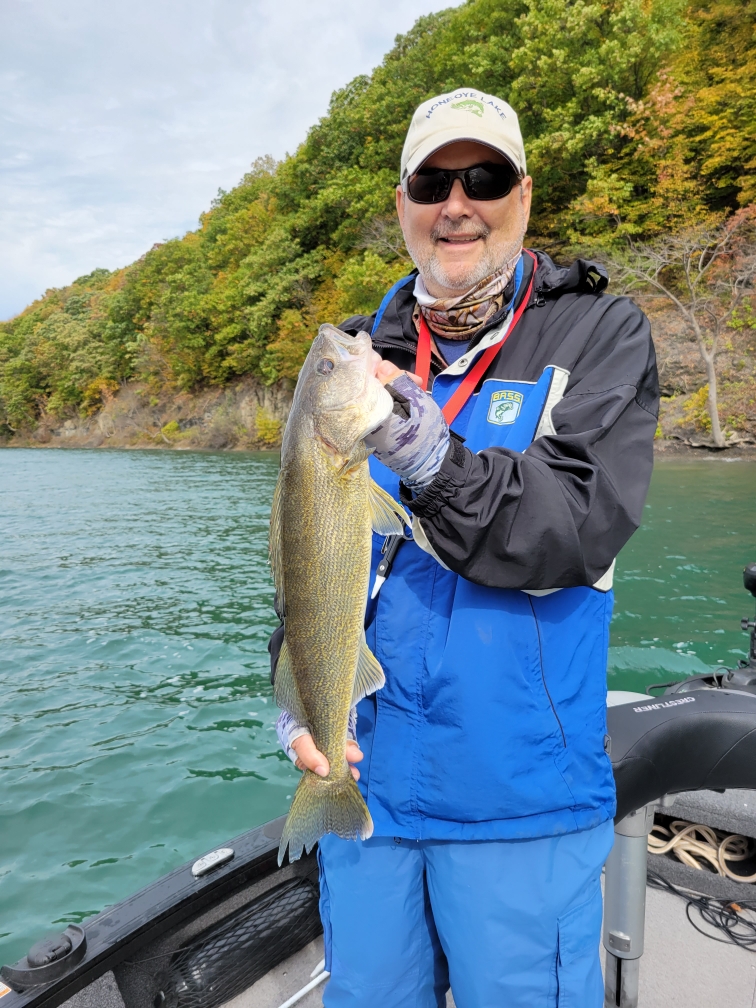 We didn't know what Steve had on when he hooked the big one on a tube jig on one of my spinning set ups.  I thought it might have been a big pickerel when I first saw it, but nope, it was a big 'eye!
Steve's big Skaneateles Walleye - 27.5"
Neither fish had anything in their stomachs.   With all the walleyes in this lake, the perch population is probably going to start taking a bit of a hit here.  Some rockbass and one big perch also were in the mix today.  All in all a fun day on the lake with some steady action and variety.  Docks were still in.  Water temp was 63.  We saw a bald eagle, which is always cool.  Boat traffic was light.
10/22 – Cayuga Lake out of Union Springs:  Guided Ron and his daughter Rachel for a full day starting at 8:30 am.  Ron has been a regular of mine since around 2007 or 2008.  Rachel joins us on occasion during the warm summer months for lake trout jigging trips.  Since she doesn't fish a whole lot, Ron wanted to make sure she got into some action today.  I figured pickerel would be a great choice, since we could also run south and possible score on lake trout as well.  Owasco Lake was another idea, but I think pickerel are a more sure-bet than pike.
Fishing started out slow.  We had a hard rain last night and some big swaths of muddy water.  A few hits were had and a few fish lost.  Ron hadn't caught pickerel in around 30 years so he was up for it.   We had some nice perch hit our toothy set ups!  A half dozen boats were out perch fishing.  Perch were scattered throughout the shallows of the lake, so it's a good time to perch fish.
After landing a couple pickerel between the two of them, we decided to move south and try for some lakers.  It was windy and cold outside and only got more so when we moved south into Cayuga Lake's "inland sea" (a la Lake Champlain.)  Rachel had a laker hooked up in short order but lost it.  She was tired and cold, so that didn't help.  Ron nabbed one nice 25″ to 26″ laker before we decided to get back into the more sheltered pickerel zones.  It was a good move and before long we had a solid bite going on pickerel and some more nice perch.
All in all a good day and with luck we'll get Rachel back out for more cold weather fishing, though I wouldn't count on it!  But we did accomplish our mission with her winding up having a good day on the pickerel and perch.
Rachel with a 22.5" pickerel
Rachel with a 12.5" perch!
10/23 AM Owasco Lake:   Guided Larry (who joined me last spring for a hot day of deep laker jigging) for a half day today.  Larry hadn't fished Owasco Lake before, despite being on the lake many times in the past.  We had fairly unsettled conditions today with periods of wind, sun, clouds and even some rain.  That hurt our bite a bit.  It was a slower day numbers-wise today with 3 nice lakers landed.  Another 8 to 10 fish were missed/dropped.  We spent some time working on solidifying Larry's technique, which was helpful.  It was a beautiful day to be out.  Lake temps are around 62 to 63.  The lake levels are dropping.
I have a few openings left in November – It is looking like this will wind up being the busiest year I've ever guided and I'm grateful for all the business.  Keep in mind that I also have to protect myself from burnout.
Late November remains open along with Sunday the 14th.  I guide throughout the winter weather permitting.
November:  14th, 25th – 29th.
December and onwards:  I can take reservations but keep in mind that there's a good chance that we will have to reschedule or cancel the dates if the weather is prohibitive for fishing.