Reports 11/2 – 11/7
Lakes in the area are still slowly getting back to normal after being deluged by rain on October 26th and then hit with another 1/2″ to 3/4″ around the 31st/1st.  Fishing for lake trout has been very tough, if not downright brutal lately on Cayuga and Owasco Lakes.   I have never seen the lake trout fishing this tough in early November.  Water sinks as it cools and those rains were cold rains, so my guess is that we had an influx of muddy, cold water that settled down on the bottom on the lakes.  I don't know.
Water temperatures are also warmer than I have ever seen them this time of year.  We had 56 on the surface on Skaneateles, Cayuga and Owasco Lakes this past week.  For the heck of it, I checked my old records and on 11/13/2002 I had 48 degrees on top on Cayuga and 49 on Seneca.  In 2003 we had 50 degrees on Cayuga on 10/28 and 49 on 11/12.   2004 was 48 to 50 on 11/8.   2005 was 54 on Cayuga's surface on 10/28 and 49 on 11/14.   You get the picture!  The reason I used the early 2000s was because I had the temps handy on a chart I wrote up back then.  Even though summer-like temperatures have lingered on into October in recent years, it's been nothing like we're seeing now.
This time of year I'm usually not guiding a lot of lake trout.  Fishing for pike has been good on Owasco and Seneca Lakes.  Bass fishing is likely good to excellent throughout the region.  The steady dry weather this week should help the lake trout bite get back on track.  Cayuga Lake remains close to flood stage.  Keep in mind, that Keuka and Seneca Lakes need to be lowered before Cayuga can come down much, since all the water from those three lakes drains out of the Seneca River.   The Canal Authority can't just let the flood gates rip.
11/2 Skaneateles Lake:  Guided Ted and his friend Regan for a half day here starting around 10/30 am.   I was happy to see the docks still in at the state launch.  I expect them to be removed early this week.  The operations crew probably saw that the weather was going to be nice this week and likely decided to wait on pulling out the docks.  I'm grateful for that!   I guided Ted way back around 2012 or 2013 and he's been kind enough to send me detailed reports ever since then on his fishing trips on Keuka Lake and Lake Ontario.  He gave me some good tips on places to try next time I head north for bass or pike.
Regan doesn't fish a whole lot but he did a good job working the tube jigs and getting a knack for it.  The guys had a very fun and solid half day of fishing with a dozen nice smallmouth bass landed – nearly all being legal (12″) fish and many around 15″ to 16″.  The guys also landed a half dozen jumbo perch.
11/3 Owasco Lake:  Guided Ron here for a full day.  We split the day targeting lakers and northern pike.  The laker bite was brutal and we went 4 hours without any action.  We tried deep, shallow and in-between.  We tried hardware.  We tried various areas of the lake both north and south and east and west.   Nada hit.   I had a lot of weird marks on my sonar.  We did mark some fish but to no avail.  Water color was not great.  In some areas we only had two feet of visibility.  That isn't good for deep sight-feeding fish.   Fortunately the pike action was pretty good.  Ron nabbed three nice northerns in the 27″ to 29″ range.  He also caught one good perch.  I probably should have met him on Keuka Lake but hindsight in 20/20.  Tough day but it happens.
11/5 Skaneateles Lake:  Guided Kevin and Drew for what has become an annual half day trip around this time of year.  Last year we tried Otisco on a flat sunny day and Drew managed a dink musky.  I managed a run-in with Bambi!   This time the guys wanted to hit Skaneateles Lake and it was a great call.  Fishing was excellent!   Drew really got things going with a couple smallmouths including a 19 1/2″er!   But that wasn't all the magic that Drew had up his sleeve.  Next fish was a jumping brown trout around 17″!   Browns aren't stocked here but on occasion they drop down from Grout Brook.  In my 20 years on this lake Drew's brown was the third one ever landed on my boat.  It was a brighter fish, but definitely a brownie.   Kevin nabbed a 22 1/2″ gorgeous rainbow.  A couple walleyes were also landed today along with a few perch and rockbass.  Terrific day both fishing-wise and weather wise.
Drew's big bass
Drew's longstanding reputation as a "dink-monger" has definitely been laid to rest!
Drew's Skaneateles Lake brown trout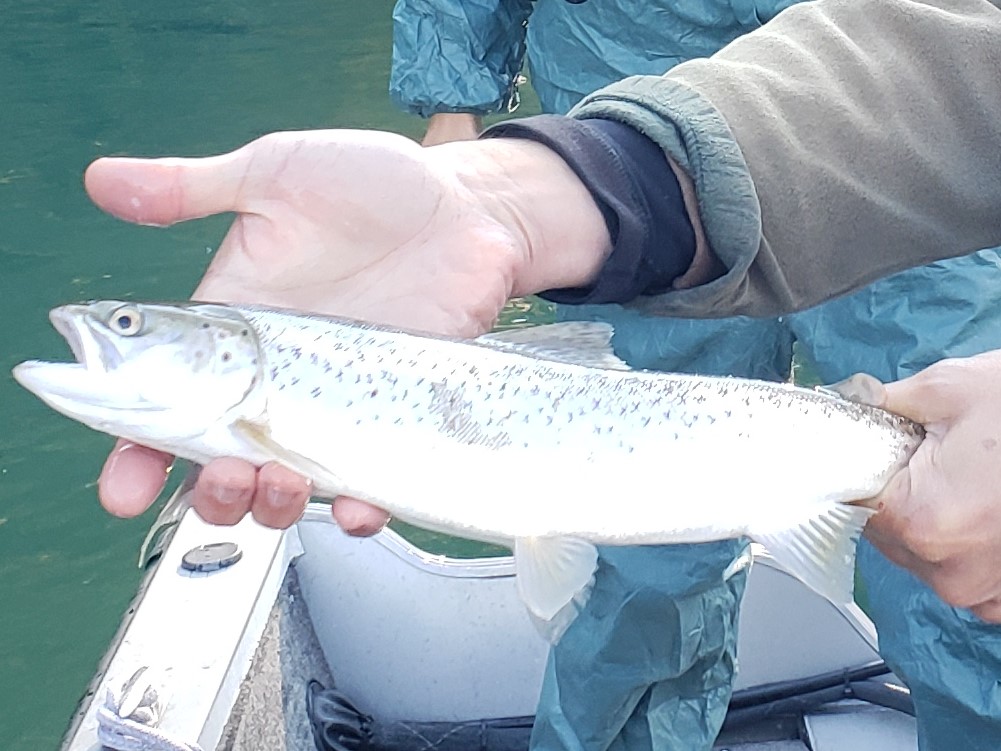 There's a bit of glare on this photo, but it was a brown.
Kevin's big rainbow
11/6 Cayuga Lake out of Long Point State Park:  Guided Toby and his nephew Bailey for a full day on Cayuga Lake targeting lake trout.  I was leery about this trip given that I hadn't been out here since 10/11 targeting lakers (with the exception of the pickerel trip on 10/22 with Ron/Rachel in which we spent a little time on lakers here.)  But I felt the lake had enough time to settle.  It's still not quite where it should be.   We had a very tough day here.  We worked areas from Aurora down to AES on both sides of the lake.  Water clarity varied a lot.  There were still some debris lines here with occasional big stuff (logs) floating around.
On the bright side, we heard a few loons.  The weather was chilly but nice and sunny.  We had very few fish even move for jigs (or hardware).   We finally had a little, and I mean small bite window around 2 or 3 pm.  Give Toby all the credit in the world – he said he felt he was going to catch one on one particular drop and he did!  At least he kicked the skunk out of the boat.  It's probably the first year where I didn't have a single skunking on lakers, thanks to him.  He had another hit and tail bite off shortly afterwards.  On the day we had 3 encounters with small salmon, but nothing solid.
11/7 AM Cayuga Lake out of Union Springs:  Guided Adam and his son Ian for a half day trip starting just after 8:30 am.  Adam's wife Ellen doesn't fish but she joined us on the trip.  She was a friend of mine going back to my waitering days at "Thai Cuisine" in Ithaca and it was great catching up with her.   She actually trained me when I started there and it had been nearly twenty years since we'd seen each other, although we did catch up a few weeks ago on the phone when she booked the trip.  Adam and Ian are getting more into fishing and neither had dealt with open faced spinning gear.  So we took it from the start.  I got them working some spoons, jerkbaits and tube jigs today.  Pickerel were the main target.  Fishing wasn't easy but they landed 4 solid pickerel and a few nice perch as well.  We kept everything and they have a few pounds of meat for pickerel cakes and some fried fish.   A decent number of boats were out perch fishing.  Water level is still very high here – more or less just below the level of the docks.
Going forward:  I think this week should really help get the lake trout fishing back to normal.  I expect some good to excellent fishing for pike and pickerel this month.  Solid salmon fishing is still going to be a few weeks away although I know a few have been caught.  Smallmouth bass fishing continues to excel.
Sunday November 15th remains open.  I can also guide from November 25th (Thanksgiving) through the 29th.  December is wide open and it should be a good pike/salmon month and barring any crazy weather, the lake trout fishing should be good then.  Stay tuned!