Reports 5/5 to 5/8
Fished Skaneateles Lake on my own on Thursday, then guided Friday through Sunday out of Long Point.
5/5 Skaneateles Lake:  Got over here at around 11 am and fished until 5:30 pm or 6.   Around 5 or 6 boats were out.  I threw my usual hairjigs in hope of trout/salmon or maybe a walleye.  Jigs will catch just about anything that swims in this lake.  I also brought tubes, dropshot rigs and hard jerkbaits.  Water temps ranged from around 41 to 43 degrees on top.  I actually took a photo of a brave(?!) women who jumped in the lake today, so she could be the first out of her family to "swim" this year.  It was hilarious and I sent her the photo.  That water was cold!!!
The news here since last time I was out here, is that quite a few smallmouth bass have moved up.  Fish I caught ran from 13″ to 15″.  They fought pretty well given how cold the water was.  Last time I was out here was around 3 weeks ago, so it's been awhile.   I landed a half dozen smallmouths.  I also caught a laker around 19″, a rockbass (first of the year for me) and around 10 or 12 perch, half of which were in the 12″ to 13″ range.  I did have a couple jarring hits that were likely rainbow trout or landlocked salmon (I'm going to say rainbows.)  Overall trout fishing here is terrible compared to what it was even just a few years ago and it's leagues away from what it was in the early 2000s.  No sign of walleyes for me today.  A few people were definitely out targeting them.   Water level is high here, but not nearly as high as last year.
About as many fish as I care to clean in a sitting....
Skaneateles Lake remains a very enjoyable and picturesque lake to fish.  As I've said before, I'll continue to guide here primarily for smallmouth bass and only on weekdays during the summer months.  I can do weekends during the spring/fall.  These days most of my demand by far is for lake trout, so I'm very content staying local (Cayuga/Owasco) and targeting them.  Shifting gears and lakes like I used to do years ago can be tough. You don't really learn a fishery very well unless you're on it consistently.
5/6 Cayuga Lake out of Long Point:  Guided Dan today with his cousin (if I remember correctly) Ron.  We had overcast calm conditions today with a chance of rain, which never materialized.  Today was non-stop lake trout action and I certainly gleaned a lot of data for the DEC diary program today.  The good news was we didn't see many lampreys show up today – just a couple if I remember right.  It was off the chart fishing again. and we quit an hour or so early (leaving them biting) so the Dan could meet a commitment he had.  We stayed deep today – 150'+ for the most part.
Ron with one
Dan hooked up
Dan again
Ron again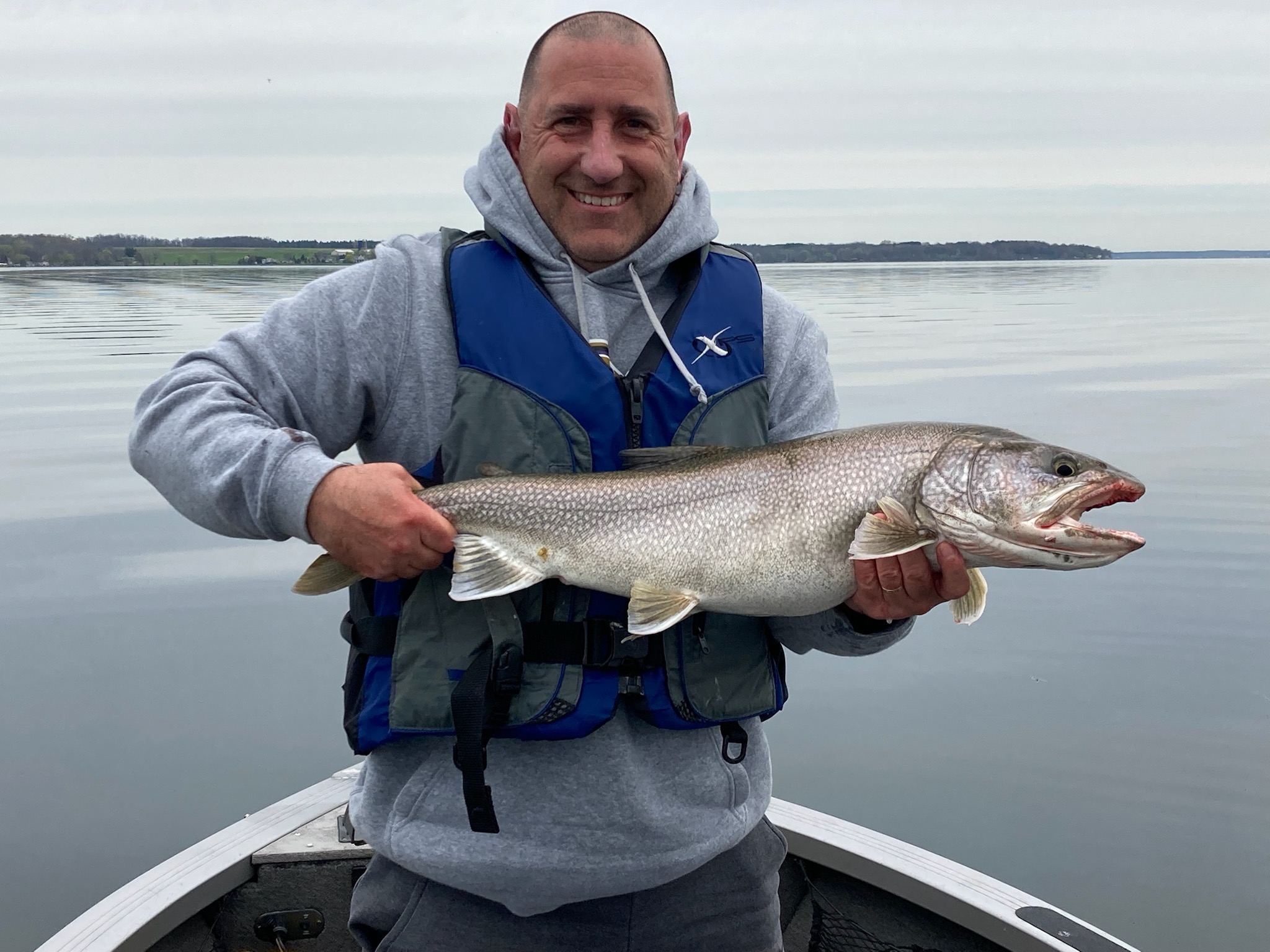 5/7 Cayuga Lake out of Long Point:  Guided regular Ron, his daughter Rachel and Rachel's husband Tyler for a full day.  Tyler doesn't fish much, so today was a new experience for him.  It was another very solid day of angling.  The good news was that we only had one or two lampreys come up attached to fish today.  We also contacted some better fish.  Angling Zone client friend Jim landed a 34″ laker last week, so that was great to hear.  We've been seeing more 30″+ fish lately and fewer lampreys, which is great.  We had light winds today but in the afternoon they cranked up pretty good out of the east.  We moved shallower and managed to keep contacting fish.
Rachel and Tyler
Rachel with a good fish -either a 28" or 30"
5/8 Cayuga Lake out of Long Point:  After having a great day of "catching" yesterday, I decided to try something different today with the same crew (Ron, Rachel and Tyler.)  We worked some shallower water (around 100′) and wound up doing very well.  The deep bite is probably still the best in terms of numbers but as is usually the case this time of year, fish are working their way shallower.  My friend Todd was out today and did some "fish watching" with his kids and saw some lakers cruising around in 20′ of water.   Other species are around too, and trollers are picking up some nearshore rainbows and salmon.  We tried some areas I hadn't fished yet this season and it paid off.  Rachel caught and released a 34″ laker today!  Awesome fish!
Todd's son Dalton - "boys will be boys"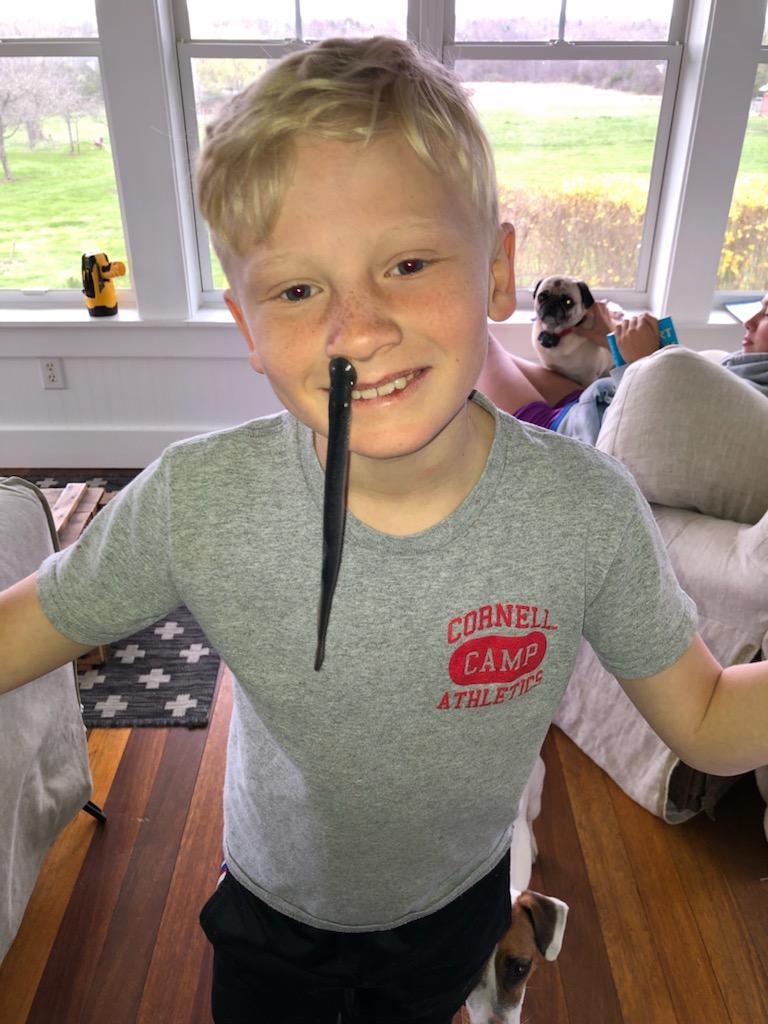 You could probably count the girls in the developed world that would do something like this on one hand and still have a couple spare fingers!
Rachel's Monster Laker!
She does a good job rocking the Angling Zone Sweatshirt!