Reports 6/17 – 6/19
I had a very busy week of guiding.   I finally got out to Owasco Lake on Saturday the 18th of June.  Here's the breakdown:
6/17 AM:  I was hoping to be able to do my scheduled trip with the Mariano party on the 16th, but high winds with a good probability of strong storms put the kibosh on that trip.  We started our Friday trip early at 6:30 am.  On this trip I had Steve, Steve Jr. and grandson Matt, who just finished 4th grade.  The goal was to get Matt into a fish or two.  We obviously wanted a good day all the way around, and fortunately that's what we got.  We had a solid double-digit day with plenty of nice sized fish.  One came up with a lamprey but most were clean.  The guys wanted to help Matt out with hooking fish and handing him the rod, but I felt he could do it on his own and he did.  He wound up landing three solid lakers after losing a few.  Great day!  Top color was Arkansas Shiner.  Unfortunately I found out that Lunker City has discontinued their black 3.75″ Shaker.  It's amazing to me that anglers don't purchase one of the most solid, intense colors around.  They'd rather have a blended lure.  All I can say is that black saved our day many a time and fortunately I still have some black swimbaits.
The Mariano crew was kind enough to present me with a nice gift at the end of our run.  The "Slate Boys" gave me a nice slate clock, a slate refrigerator magnet with a fishing motif and some slate coasters.  I'll probably have "slate-dreams" over the next week!  Very nice people!
Matt hooked up! Get that rod up, young man!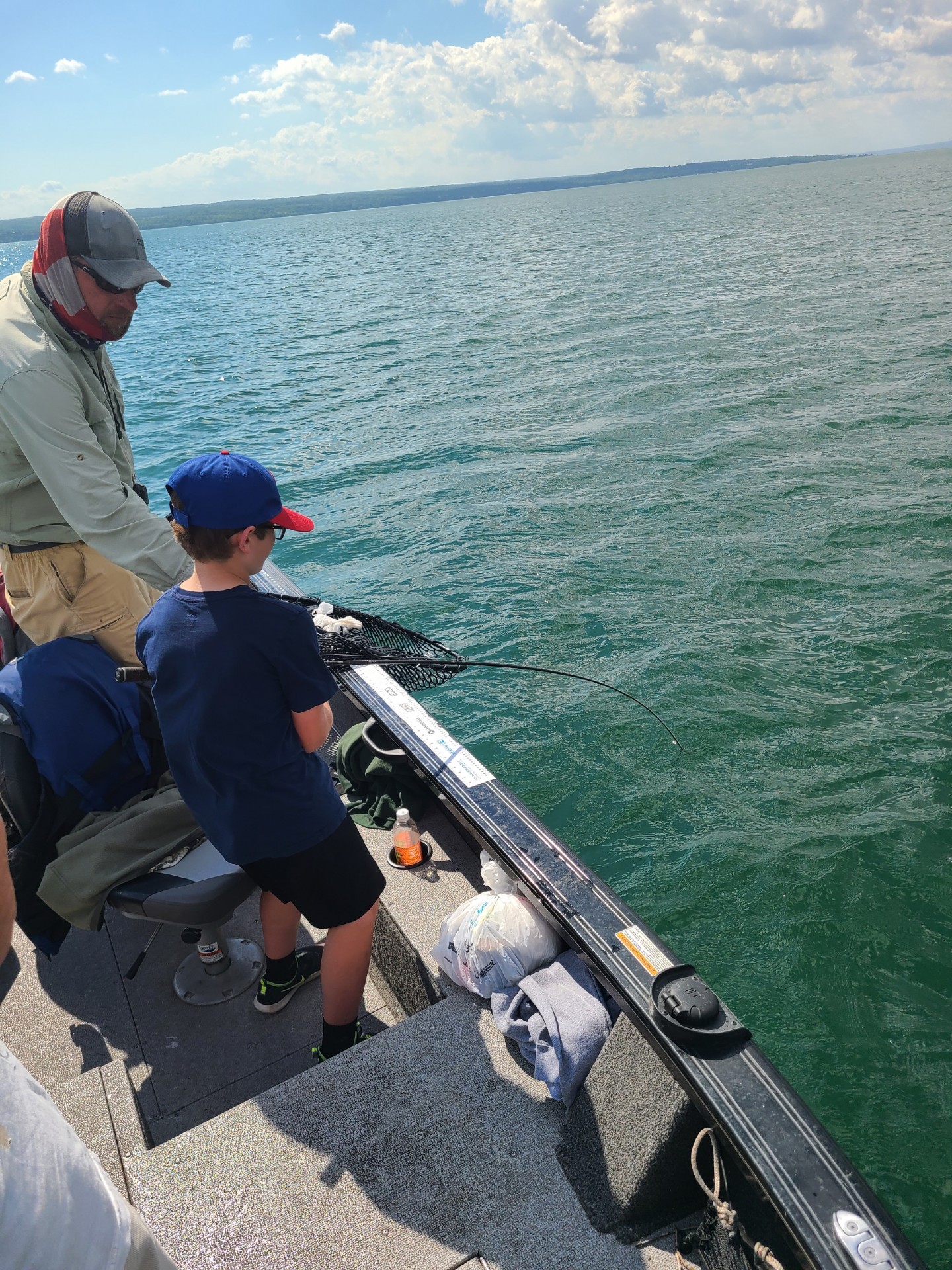 Matt fighting a fish. Will this be the one he lands?
Matt with a fish. Nice going!
Grandpa aka Steve holding one of Matt's bigger fish
6/17 PM:  My PM trip was with David, Laurel and their son Erik – so my day was more or less an encore with the 15th's crew. The lake kicked up a bit and we ran to our morning area.  We had another good to excellent bite with Laurel kicking us off with a perch!  Yes, we were pretty shallow.  The bite was very good and I think we wound up with 9 nice lakers, all of which were released.
6/18 AM Owasco Lake out of Emerson Park:  Guided Dave and his son Evan, both over here from England!  What a crazy weather day!   I actually had to dig out my knit Carhart hat, my grungy old fleece, a light down vest and a sweatshirt today.  On top of that, I wore raingear to block the wind.  I am getting older (and colder) but frankly it was cold out this morning for mid-June.  We had 50 degrees, misty rain and wind.  I moved my trip over to Owasco Lake for a couple reasons: 1.) We had forecast winds out of the NW of 15 mph gusting into the upper 20s (and probably low 30s) and 2.)  I knew with this being opening weekend of bass season (the season opens on the 15th nowadays) that the launch at Dean's Cove would likely be packed with bass boats AND trout anglers given that the Lansing Derby was also taking place on Cayuga Lake.  Lo and behold I pulled into Emerson Park only to find a fairly packed parking lot.  The South Shore Marina Derby was going on here on Owasco Lake. Oh well!
We had very good fishing given the conditions we were dealt.   The guys landed 8 nice lakers to over 29″.  A bunch were dropped as well.  The guys do a lot of carp fishing in England as well as other "coarse fishing" and we had a good time discussing life in England and fishing.  They were cold today to say the least and the wind really jacked up around 11:30 am, so I asked them if they'd rather just make it a half day and head back in.  They both jumped on it, so we wound up fishing an abbreviated day.  Arkansas Shiner and Alewife colored 3.75″ Lunker City baits did the trick for us again.  Everything looks great on Owasco Lake right now.  As I write this draft report (on Saturday June 18th) the wind is howling – gusting to over 36 mph.  We made a good call getting off of the lake.
All the way from England....to get hooked up on Owasco Lake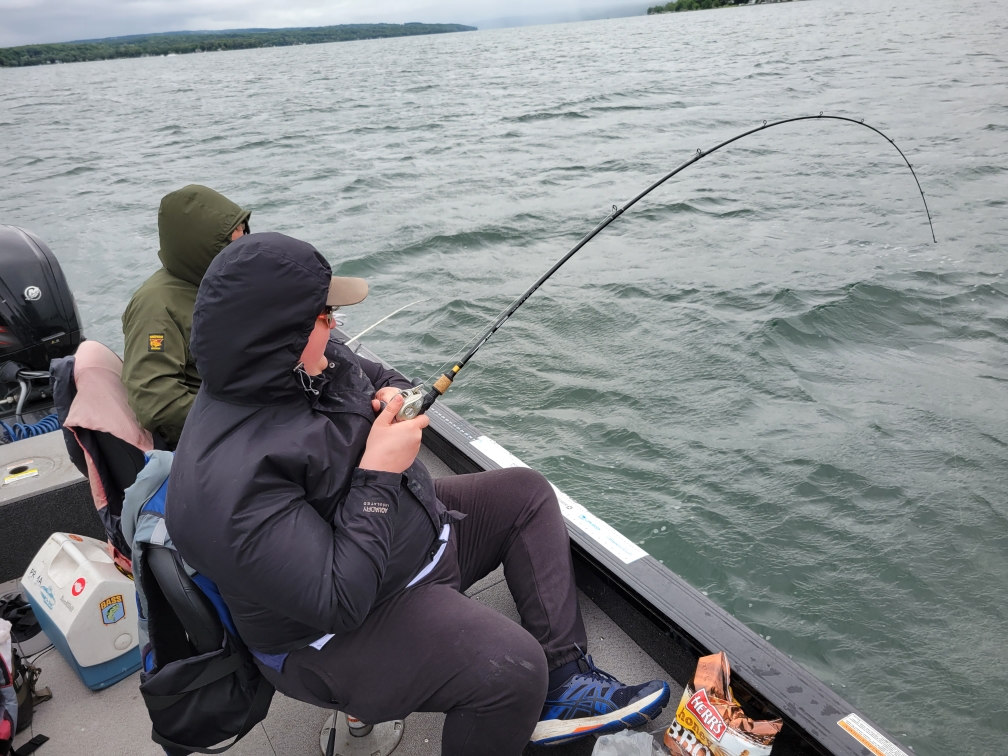 Holding a laker that Evan caught
Another...
Heading back in after a cold and windy, yet fun and productive morning on the water.
6/19 AM Cayuga Lake out of Dean's Cove:  I had a lot of fun guiding this AM with Mark and his friends Kirk and Steve.  It was very windy out and we had some tough conditions for fishing with what basically amounted to a strong upwelling of cold water.  The guys had been trying some jigging on their own and were looking to see a different approach, which is what I specialize in.  We managed 4 nice fish with quite a few other hits and follows.  Steve had a follow from what was likely a rainbow.  Kirk landed a 32″ beauty of a lake trout but we didn't bother with pics since Mark hooked up seconds after I landed Kirk's and we wanted to release the big one without stressing it.  Fun day but cold and windy!
Mark grew up on Cayuga Lake and fished it from the late 1960s onwards.  Pike fishing was much better back then up north, as was the crappie fishing.  He still targets crappie on Cayuga Lake with some decent success.
Many of you may not know this, but New York's State record American eel came out of Cayuga Lake in 1984.  It was 7lbs and 14 oz caught by Larry Mannino.   Steve knew Larry back then and Larry caught the fish while bullhead fishing at Cayuga Lake State Park at night.
6/19 PM:  My PM trip was with John and Johnny – basically a Father's Day trip.   They typically fish Owasco Lake, although they live in the Catskill Region.  They have done well jigging on their own, but I was able to give them a few tips on pinpointing fish locations with accuracy.  We had a solid day (the winds diminished a bit and more baitfish/trout moved in during the afternoon than what we had encountered in the morning.)  I don't remember exactly but I think the guys landed 7 fish and lost one good one up towards the boat.  It was a fun trip and next to nobody remained on the lake after the morning wind and due to the holiday.  We arrived back at Dean's Cove around 5 pm with two trailers left.
Mark with a solid laker from 6/19 AM
Plenty of dates remain open from July 2nd onwards!   Book with confidence!  Once in a while we get an algae bloom that slows trout action down on Cayuga Lake, but if that happens, I can easily move trips over to Owasco Lake, which isn't much further from Ithaca and downstate areas.  I will be checking on Seneca Lake again shortly – that lake usually features some stellar July fishing.