Reports 6/21 – 6/23 Cayuga Lake
Lake trout fishing ran from fair to good for us on Sunday and Monday to downright excellent on Tuesday.  The water remains clear and gorgeous with no signs of any algae blooms, which have become the norm over the last few years.  The region has seen little rain overall apart from a few localized downpours from thunderstorms.  Usually the blooms follow periods of heavy rain, which winds up dumping nutrients into the lake.
Sunday June 21st:  Fished a full day with Scott, who has a place on Skaneateles.  For the first half of the day we were joined by his neighbor Dick.  Lake trout jigging was good for us throughout the morning with a somewhat slow but steady pick of fish.  Dick managed to land 4 nice lakers and Scott got 2.  Fish continue to look great.
After we dropped Dick off at the launch, Scott wound up having some good afternoon action topped off by a beautiful rainbow that ran around 24″ or so.  It was a fin-clipped fish.
Scott and Dick with a solid fish
Dick and I pose for one
Scott's Nice Rainbow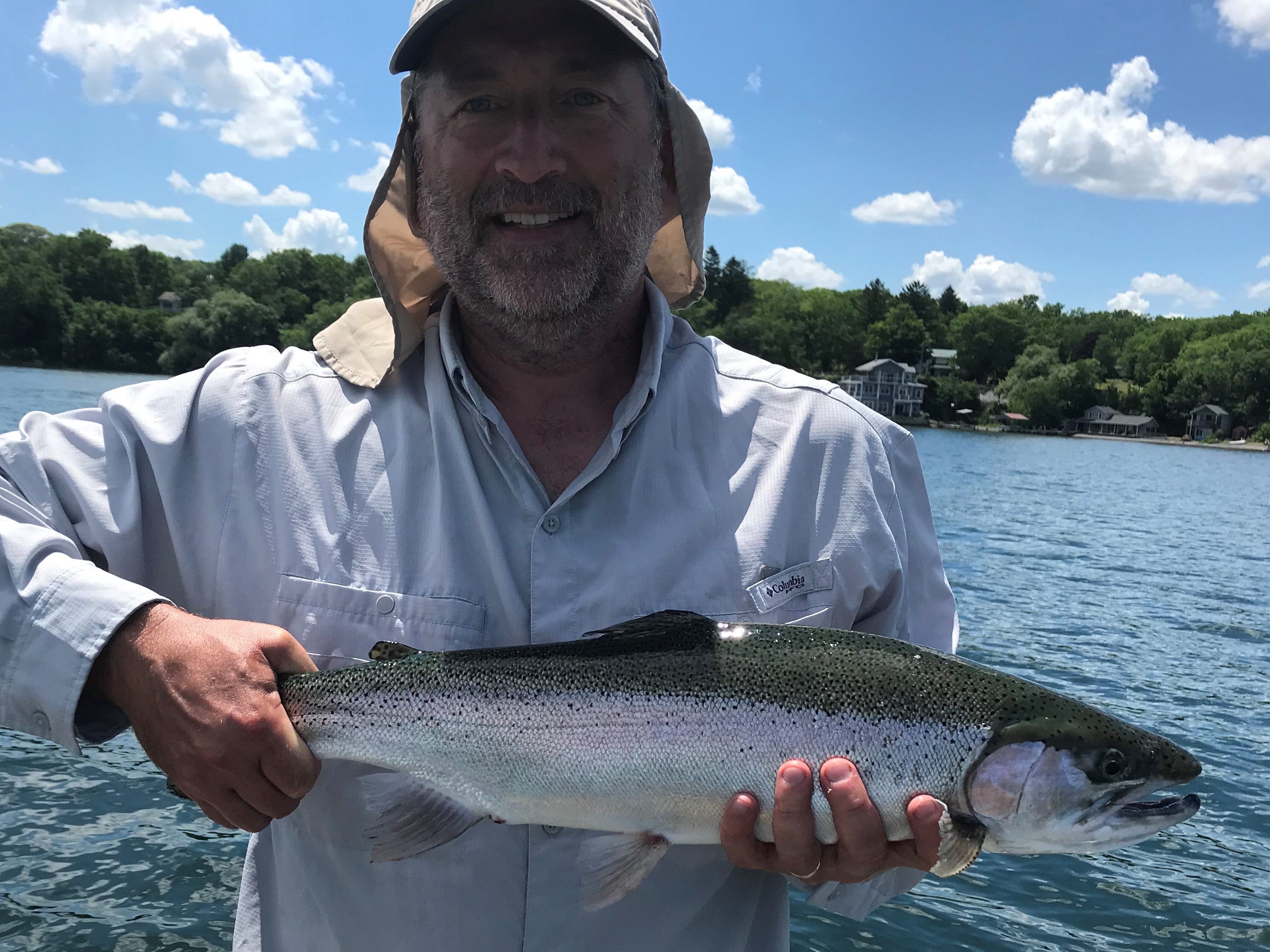 Tuesday June 22nd:  My AM trip was out of Myers with Fred and his wife Chris.  Fred has a place near Taughannock and wanted a tutorial style trip on the jigging focusing on areas not too far from his place.   The tutorial went great but the "catching" around that part of the lake left a lot to be desired.  There are certainly fish around those areas and some nice ones, but for sheer numbers of lake trout most remain uplake.  We jigged to some fish and they were pretty negative – possibly and most likely due to the weather conditions, so we took a run uplake.  After 3 hours with no fish Fred didn't think he would land anything, but everything looked good from what I could see and sure enough he managed to land a couple great fish for the grill/smoker – a 30″ wild laker and one around 25″ or so (if I remember right) that was a stockie.
Fish on! The grin says it all!
30" wild beauty!
My PM trip was with Pete, who I had guided once or twice in the past with his Dad.  They have a place near the south end of Seneca Lake and had a good year for landlocked salmon down there.  Pete told me he lost a very solid laker on the north end of Seneca Lake last Saturday.
He'll be keeping a DEC Diary for Seneca Lake this year.  They still need cooperators over there and on Owasco Lake if you happen to fish there.   I can't stress enough how much valuable information the cooperators provide to DEC.  I'm always amazed when some folks get upset with the State and decide not to keep a book.  If you don't want any say in the management of your fishery, be my guest.  But it's kind of like cutting off your nose to spite your face.  I'm not thrilled with all the management decisions DEC makes but then again I'm not thrilled with all the decisions I've made in my life either.  Nobody's perfect and the guys who work there do the best jobs they can and take pride in our fisheries.  I respect them a lot.  But again people like to sit back and criticize.  It's like the fat armchair quarterback who couldn't throw a football, run or catch to save his life bitching about some NFL play on the field.  I get it….
I picked Pete up via boat at Taughannock and we ran north.  He had some very solid fishing with fish running to 29″.  He almost caught a real nice salmon in the 24″ class too.  The wind was fairly calm and we spent a lot of time on the electronics but it paid off.
Pete with a solid!
Peter with a bigger one
6/23 out of Long Point:  Guided Wesley and his Grandfather Doug for just under a full day today.  We had a really tough trip maybe 6 years ago targeting lake trout out of Long Point.  Wes was 8 years old, which can be young to really do the technique well.  Last year, we went to Skaneateles Lake targeting smallmouth and rockbass and did a little laker jigging too.  Wes has grown up fast and managed his first jigged laker last year over there.  Today he had some fantastic action! He hammered fish on a Lunker City Chartreuse Silk 3.75″ Shaker.  He landed 15 today!   Fish ran to 29.5″.  Wes had quite a few around 27″ to 29″.  Great day!
Wes trying to get ahold of one!
Ran into Jon Evans on Sunday.  He runs a bass guiding service in the Finger Lakes and has won numerous tournaments.  He's always a major stick on Keuka and Canandaigua Lake all season long and he's exceptionally deadly on Cayuga Lake on early season smallmouths.  He and his partner had 5 smallmouths for 27lbs on Saturday.  That was good for 2nd place!  The winners had 5 fish for 29lbs!  Cayuga is as good as a lake as you'll find for large smallmouths.  Jon can be found at www.fishingthefingerlakes.com    He started his guide service around the same time I started mine – 2005ish.