Reports 8/10 – 8/14
Fished Seneca and Oneida Lakes on my own Wednesday and Thursday respectively and then guided Cayuga Lake from Friday through Sunday.
8/10 PM Seneca Lake:  Decided to take a drive out here and check on lake trout locations and do some bass fishing.  I have freed up my schedule a little bit to allow for some downtime and fishing for the remainder of the year.  We'll see how that holds up.  I watched a bit of Major League Bass Fishing online.  I hadn't really checked out any MLF tournaments before.  Like a lot of people, I was impressed with how the leaders did – they had some amazing catches.  My hat is off to Dustin Connell, Jacob Wheeler and Justin Lucas along with the rest of the top guys – they are superb anglers. I was also impressed by the format in terms of quick catch, weigh and release for fish.  I can't say I'm much of a fan of the Live-Scope and 360 Sonar.  To me it really takes a lot of the challenges out of the sport. To "pre-fish" by driving around for 12 hours a day watching a sonar screen and marking school locations of fish is a far cry from what bass fishing used to be.  Pros used to have to actually fish areas and use their intuition and experience to decipher the potential of those areas.  It didn't surprise me at all that many of the old-school pros ended up near the bottom of the standings and the "TV Screen" guys prevailed.   I can't imagine staring at a screen while throwing a crankbait.
Now the knee-jerk reaction from some people might be that us lake trout guys do the same thing – watch electronics.  The main difference as I see it, is that prior to the modern (using electronics) form of lake trout fishing, if we wanted to catch trout, we had a few choices:  1.) Invest in a trolling set-up – basically spending thousands of dollars on a boat, downriggers, tackle, kicker motors and so on.  2.)  "Pull copper" – which can be fun but isn't everyone's cup of tea.  3.)  Fish live-bait – which can be boring at times.  You also have to purchase or obtain live-bait, which isn't necessarily easy.  4.)  Jig fish on the points in the fall (which is something anglers have done for decades – at least since the 1980s if not before), but forget about locating them in the winter, spring and summer unless you knew the lake like the back of your hand or had some other way of figuring out where the fish were.  Good luck with that.  5.)  Lastly, guys could hire a guide/charter and go out for trout maybe once or twice a year depending on your finances/availability and so forth.  Which is what many people do today, both here in the Finger Lakes and on the Great Lakes.
Modern jigging has SIMPLIFIED fishing.  It is inexpensive to invest in a decent fish-finder, a boat and motor.  I know anglers that do great with a $3000 boat set up, a few rods/reels, a depthfinder and a handful of jigs.
Modern competitive bass fishing necessitates $10,000 to perhaps $30,000 just in sonar and trolling motors alone!  That isn't simplifying anything or helping to grow the sport in any way.  Gone are the days when the average working class guy could expect to compete well in certain tournaments.  I think standard 2-D sonar is a good compromise between fair-chase and embracing modern technology.   Others may disagree, but that's my take on it.  I just see it taking a lot of the fun out of fishing.  Musky have been known as the fish of a thousand or ten-thousand casts.  Maybe in the future they'll be known as the fish of 40 hours of screen watching and 5 casts.  We'll see.
I remain somewhat fried from this season.  I ran more trips than usual in June, and it was a hot July.  I just wanted to get over to Seneca, relax for the afternoon and check things out.  I marked a fair number of lake trout but did not hook any.  I didn't spend much time with them.  Lake temperatures over there were very warm.  I had 80 degrees in one area.  I fished one very obvious bass area and caught 5 largemouths.  Nothing special, but fun fish running 11″ to 14″.  In another area I saw a few fish slamming some bait on the surface.  I cast my Super-Fluke and a tank of a smallmouth railed it after a couple missed attempts.  I landed a dark 18 1/2″ smallie that fought like a beast and made my day.  I wasn't able to relocate that group of fish after having another one chase my soft jerkbait.  I caught one smaller smallmouth in a different area and that was it.  It was a fun afternoon, and I remembered a few areas and patterns for Seneca bass from around 15 to 20 years ago when I did tournaments for two years with my old Cornell boss and friend Phil.
8/11 PM Oneida Lake:  "Relaxing" on Oneida Lake sounded like a great idea and looked good on paper.  I hadn't been out here since June.  In July, I only fished one time on my own – on Seneca (which wound up being a great lake trout day.)  The updated forecast had called for north and northwest winds around 5 to 10 mph – nothing I can't handle with ease.  What gave me some trepidation was that the initial forecasts were for gusts out of the west around 20 mph and more.  That's nasty from where I launched from (South Shores.)   I had a trip booked the next morning and running onto the lake, and back off and re-launching was not something I considered an option – I wanted to be off the lake and heading home by 6:30 pm or so.
When I arrived at the launch at around 1:30 pm, there were three trailers in the lot.  (I should have been thinking "Ruh-Roh Raggy…") but things looked calm in front of me, although the lake was white-capping.  As I launched, the three boats were all coming in!  Needless to say, I got my butt kicked pretty good out there with 3'+ waves.  Nothing too bad was taken over the bow, but it was not a pleasant fishing experience by any means.  After a half-hour, I headed back towards the launch and fished nearby for a little while.  I almost pulled the boat out but felt that conditions might improve as the afternoon went on.  Fishing near the launch got me a big pumpkinseed and a small perch, but that isn't why I fish Oneida.  After 45 minutes inshore I finally ventured back out.  I was the only boat I could see on the lake apart from a big sailboat.  I figured maybe walleyes would be super-charged and biting great.  They probably were somewhere, but not where I was.  I did not feel comfortable venturing out too far.  I wound up having a few quick hits out deep and landed a short walleye.  Apart from that, I had a hit or two, but the rough water either slowed down the shallow fish, made it hard for them to see my lures or moved the fish.  Precision casting and boat control was out of the question.  Lesson learned but in hindsight, I was still glad I picked up the experience.  Now I know better when to avoid Oneida or pick a different launch.
8/12 Cayuga Lake:  Did a 6-hour trip with long-time client George's son-in-laws Perry and John (who'd both been out with me on separate occasions with George before) and John's son Finn.  (For what it's worth -I generally don't offer 6-hour trips but will do them on occasion upon request in certain circumstances.)  George has a beautiful place on the lake and I picked the guys up there just after 7:30 am.
Fishing over the past few days has been decent, but not as hot as what we experienced over my past run of trips.  The mega-full-moon probably plays into it, with fish feeding all night long during the low-light period and then being tentative until midday, when there has been another feeding window.  High-pressure hanging overhead could also play into it.  We had a fun day with 7 nice fish landed.  Finn looked like he would be the odd-man out without catching one, but he managed a 30″er – the day's best fish up to that point, only to be topped just before the end of the trip by his dad's 30 1/2″!
Perry with a nice fish
Finn's 30"er
John with a solid laker
8/13 AM Cayuga Lake Myers Park:  Guided Amy and James today for a half-day.  We had a late start due to Amy forgetting something and after yesterday's tougher bite, I thought that it might cost us, but fortunately it didn't.  Fish hit well in the AM and we had a steady bite throughout the trip.  We had double-digit hookups today with 8 nice trout making it to the net.
Amy with a good fish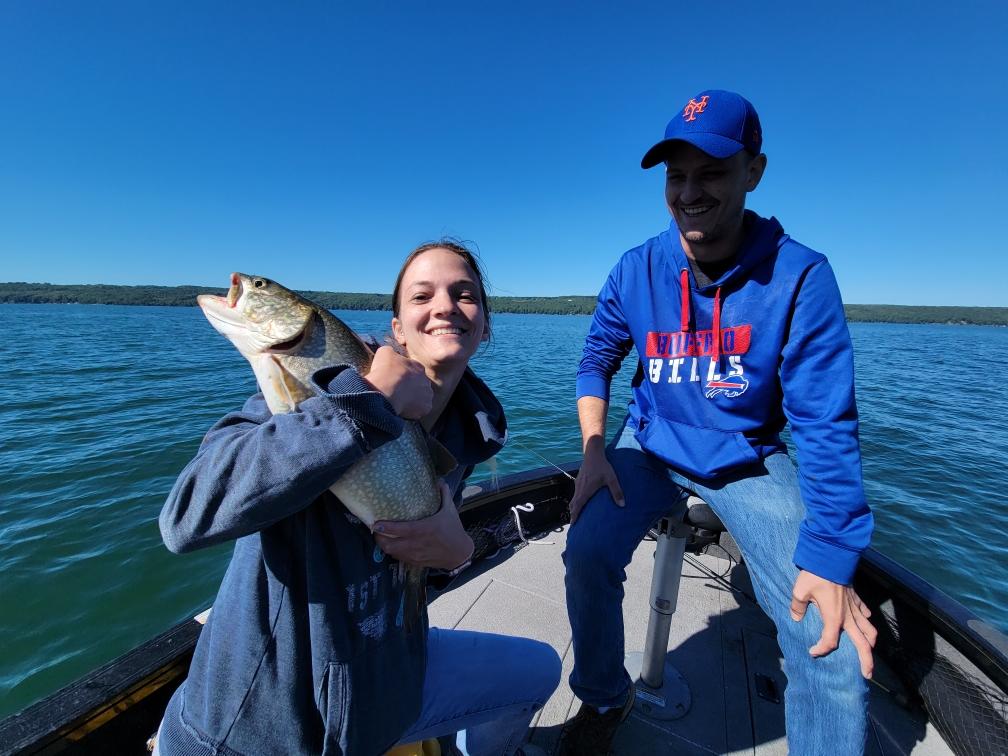 James and Amy
8/14 AM Cayuga Lake out of Myers:  Guided Jim today for a 1/2 day.  We met around 6:45 am and were underway soon thereafter.  He lives near the Hudson River and does a lot of striper fishing over there.  With relatives near Cayuga Lake, he also fishes here quite a bit.  He wanted to learn some jigging tips and tricks and we accomplished that today.  The bite was a bit spotty for us today – again, likely due to the full moon.  He did manage to land some nice fish.  I think he got 5 if I remember right.  He kept three and I filleted two of them.  Oddly enough, there wasn't much bait in them.  No photos today.