Reports 8/25 – 8/29 Oneida/Cayuga Lakes
Fished Oneida Lake solo last Thursday and then guided the next four days.  Here's my report:
8/25 PM Oneida Lake:  Made it out here on my own for around 5 hours of fishing.  I had an annoying half-hour delay on the way over due to some paving.  Air temps were hot and it was humid outside as well.  The lake did have a nice light chop on it, so it was much, much nicer than a couple of weeks ago when I got my butt kicked by 3 footers.  Water temp at Oneida Lake was around 79 to 80 degrees.  Fishing wasn't easy.  I wound up doing ok, but it took a lot of moving around, casting and concentration to get what I got.  As usual, I fished some "new" areas (new to me or areas I'd maybe fished 15 years ago out on a friend's boat but hadn't been to in a long time and certainly wasn't familiar with.)   One of my favorite areas wound up being the best, so had I started there, I likely would have had a better day.  Anyways, I wound up with a couple nice perch running from 9″ to over 11″.  I took two 18″ walleyes, both on bladebaits.  A couple dinks – and I mean DINKS also found my bladebait.  I landed one brute of a smallmouth (18″+) on a tube jig and lastly one good drum, also on a blade.  I lost/missed a few drum as well.  I felt lucky to get what I got.  I wasn't able to pattern much – i.e., when I caught a fish in a certain area on a specific presentation, I didn't have much luck duplicating it.  Fishing/boating traffic on the lake was light.  The usual summer algae over here was in full force.
A legit DINK!
Small walleyes sure do look a lot like their close relatives, yellow perch!
8/26 AM Cayuga Lake out of Myers Park:  I always have a lot of fun guiding George and his sons, George Jr. and Andrew.  Today was no exception.  I had the guys work an area I hadn't worked since Sunday, and it wound up paying off.  Fishing was steady but not spectacular by any means.  George Jr. had been in a slump on my boat over the past two trips (over the last two years) and today he got the monkey off his back, landing three nice trout.  Andrew has always seemed to have the magic touch and today he caught and released a monster – a 34.5″ laker!  It wasn't fat, so I'm guessing 12 to 13lbs, but again – I don't know.  A fat one around that length would go 14lbs +.  It was a great fish either way and fought well.  We wound up with 7 nice lakers today – all released.  The bite slowed down as the day went on.
George with a good lake trout
Andrew with a laker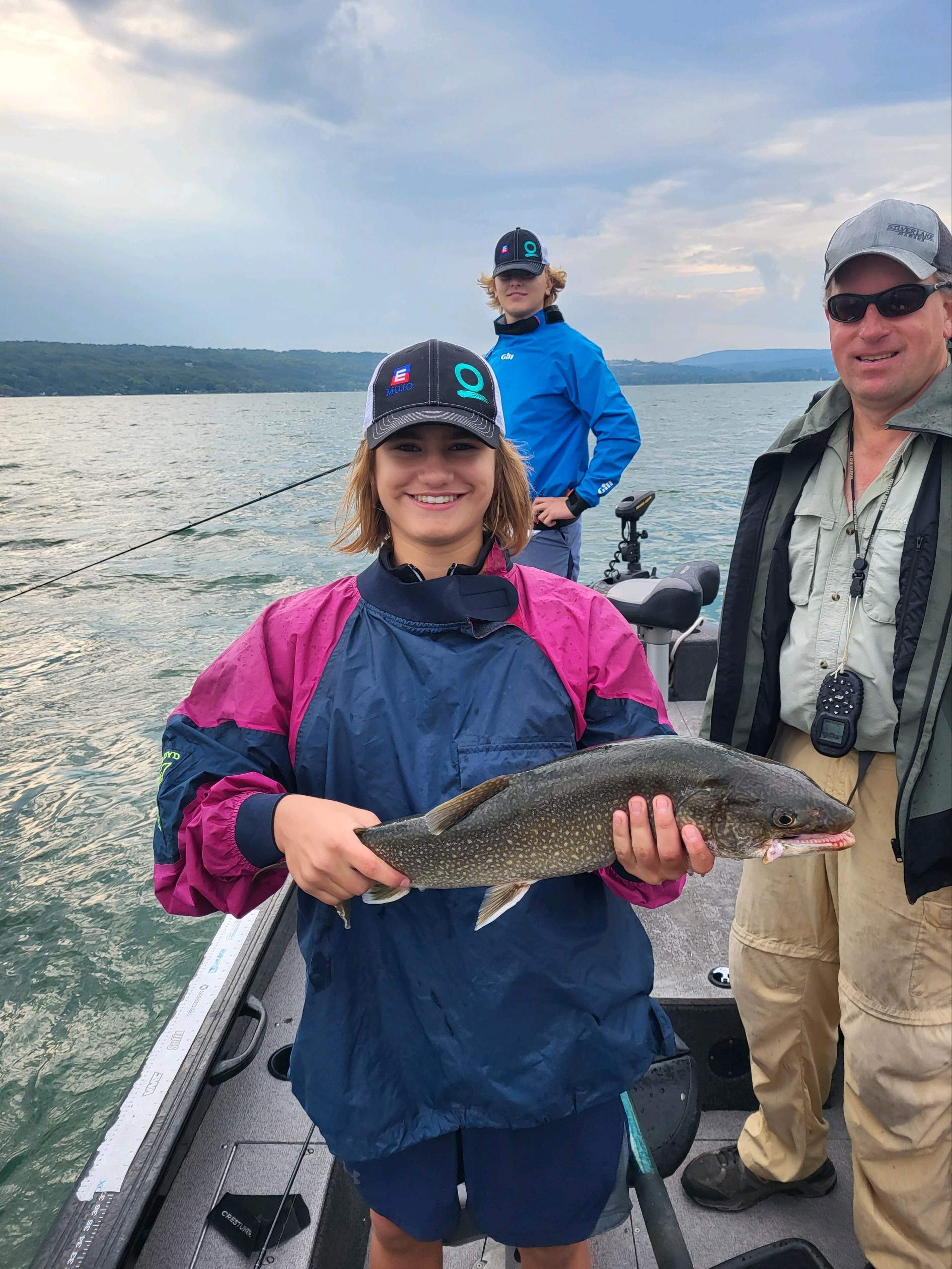 Andrew's Lunker laker! (Say that three times in a row fast!)
That fish was long – like a pike!  Tough one to hold!
George Jr. hooked up!
George Jr. with his slump buster!
George Jr. actually caught a walleye on Keuka Lake last year up in the Penn Yan arm.  DEC found a bunch of walleyes over there in some nets they'd recently set to access the perch population.  Skaneateles Lake all over again.  We'll see how that pans out.
8/27 Cayuga Lake out of Myers Park:  Guided regular Jamie today with his friend Joe.  Joe was out here last year with his son Joey and Jamie.  We had a good day.  Fishing didn't start off very easy today.  We had a couple momentary hookups but nothing landed.  It took a few hours for the fish to really get active and eventually we did make it a double-digit day.  Cayuga Lake still has discoloration and the fishing isn't easy right now at times.  Jamie has done a lot of fishing on this lake but never landed a brown or rainbow.  We wound up having a solid day on lakers and he also got the "rainbow monkey" off his back today – not just once but twice!
Jamie's first Cayuga Lake rainbow!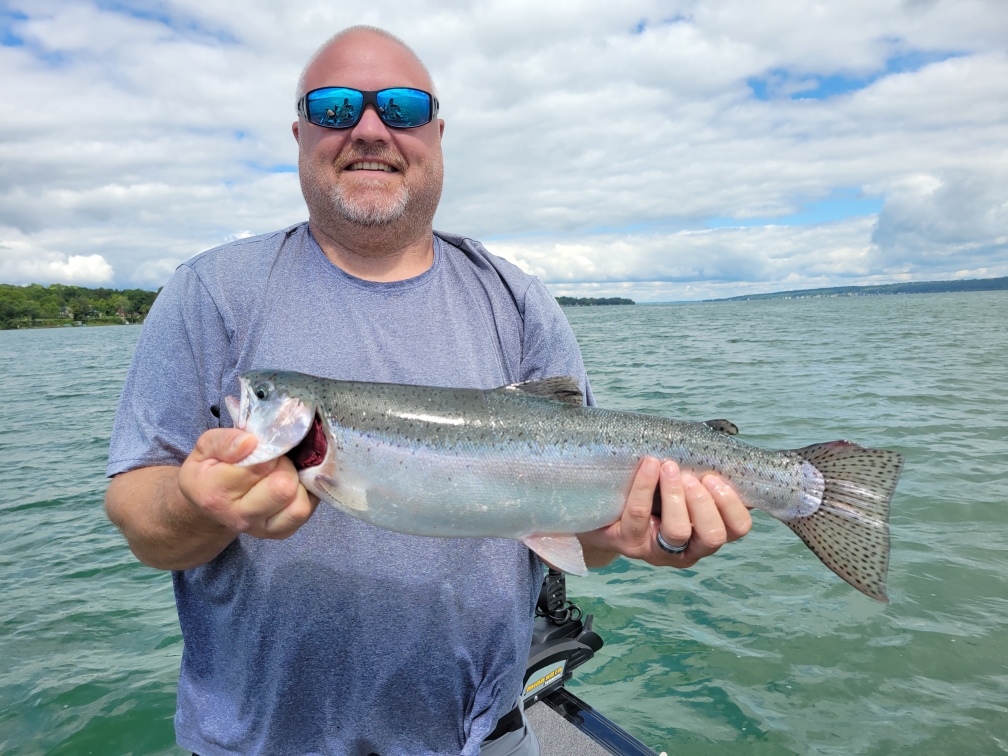 We kept this rainbow – a 22″er, and then released Jamie's second rainbow that he caught an hour or two later – a 23″er.
"Smokin' Joe" having a good laugh
It's always a fun day with Jamie.  With Joe onboard, you can have a party without bringing any refreshments – just bring Joe and it's an instant party!
8/28 Cayuga Lake out of Myers Park:  Today I guided George and his friend Brian.  George has been a fan of this website for awhile and had been thinking about getting on a guided trip for a few years now.  Scheduling can be tough when you don't know when you'll be available.  George doesn't live that close to the Finger Lakes but manages to fish them a bit every year.  The guys had just fished Otisco Lake and reported some good action there for bass and tiger muskies.
Fishing started off good for us with Brian nabbing the first two lakers.  The bite was a bit weird and George did some experimenting with the jigging technique.  He came up with what we called the "George jerk" and it worked wonders for much of the day.  We ended up having a decent double-digit day anchored by George's 26″ rainbow!  The fish was a deep hooked (it had no chance of survival) hatchery fish, so the guys will be enjoying some grilled rainbow trout soon.  Later in the afternoon, Brian had a hook up from what had to be a massive rainbow but unfortunately it broke off.
Brian with a nice lake trout
George's 26 inch rainbow
8/29 Cayuga Lake out of Myers Park:  We thought about fishing Skaneateles or Owasco Lakes today, but the wind forecast called for possible gusts out of the south up over 30 mph.  As refreshing as that "breeze" may have felt given the 100 degree plus heat-index, it didn't sound like a lot of fun to fish in, so the guys were happy to give Cayuga Lake another shot today.  I tried like heck to get them into some non-lakers today, but we didn't get much cooperation.  We had a few chases from salmon but no solid hookups.
As much as George had the hot-hand yesterday with his patented jigging technique, today was Brian's day.  He got the ball rolling after a slow morning.  The guys had another great day and we just made it into the double-digits.   We kept 6 lakers today and they were feeding on alewives.  I haven't seen many gobies in these fish yet, although at times I've seen some.  As for smelt, since I get asked that question a lot, I haven't cleaned a laker with a smelt in it in a couple decades.  That being said, I don't do a lot of fishing for lakers around Myers/Taughannock in April and May, which is when we'd be most likely to encounter smelt.
Brian and George! We did have a double or two over the past couple of days.
Brian hooked up! Let's get that bite started!
George with a solid lake trout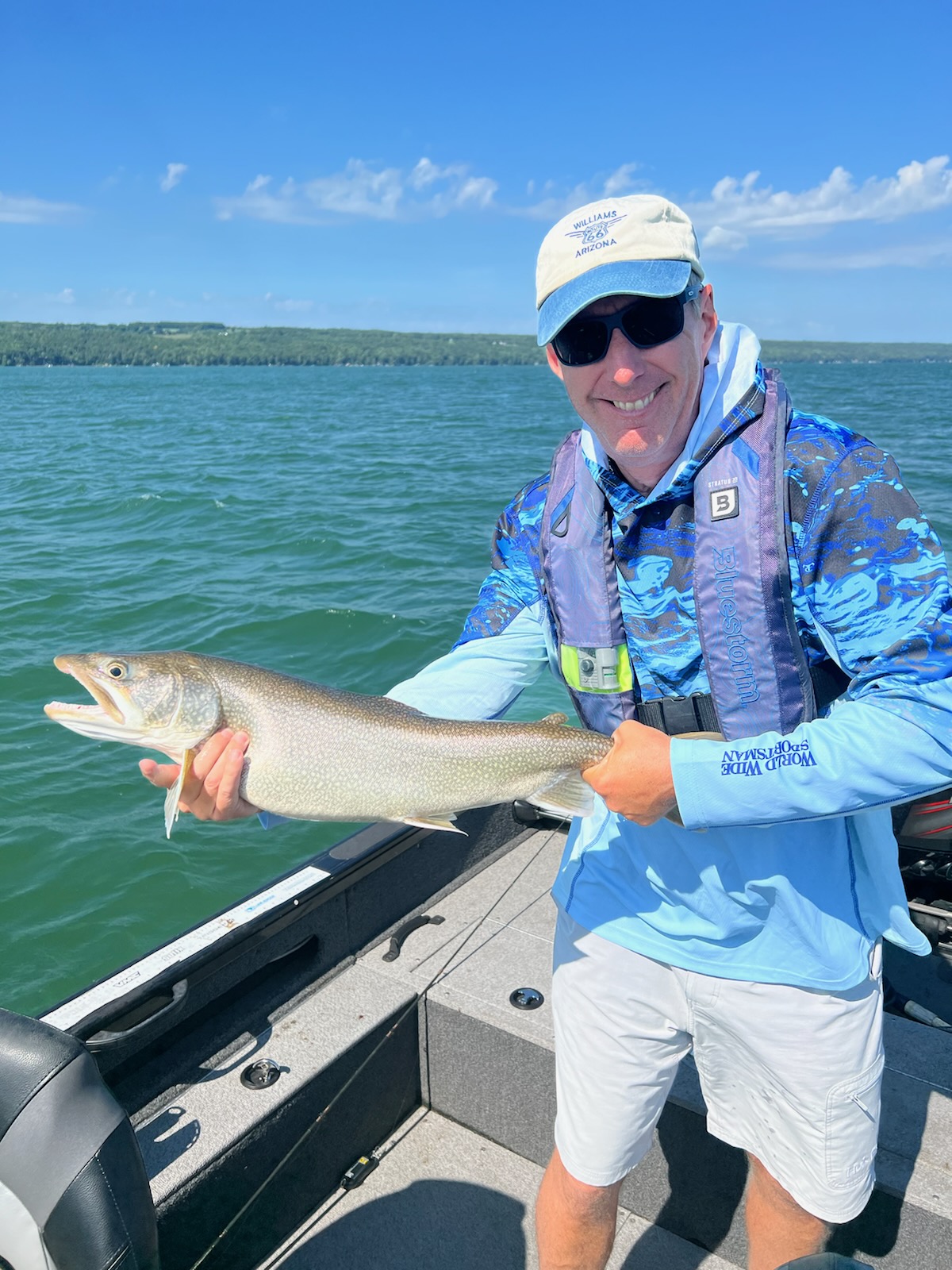 We managed to make out pretty well over the past week on Cayuga Lake, but overall there's still a bit of discoloration to the water.  I didn't consider to the fishing to be very easy – or what it usually is for the time of year.  Perseverance is very important, as is patience.