Reports Cayuga Lake 7/23 – 7/27
Guided 8 trips over the past 5 days.  Air temps have been well above average and surface temps on Cayuga are up around 81/82 degrees.  Fish are widely distributed around the lake and are basically in an August pattern already.  Plenty of rainbows, salmon and browns are mixed in with the usual lake trout.  Bait is everywhere.  Anglers from shore are catching plenty of gobies at Taughannock and Myers Parks, so there's no shortage of those either.   Boat traffic has been much heavier than usual especially on weekends and Fridays.  Traffic over the past couple weeks on Mondays and Tuesdays has been very light.  Congestion at the Myers Launch has been a regular part of the weekend routine.  Taughannock is much less busy for launching and retrieving boats.  Water fleas are low but weedmats are abundant.  Water clarity remains at around 2′ to 3′ – not great for this time of year but better than the second week in July was.
August 22nd remains open for trips.  I also have Friday PM trips (usually starting around 11:30 am or so) available in August.   Sunday August 30th is available for a morning 1/2 day on Cayuga Lake.
I have plenty of availability from September onwards.  
Sept. 3rd, 4th PM, 5th AM, 6th – 7th, 12th, 19th, 20th – 21st, 26th, 28th.
October is wide-open with most dates open.
Time is flying by and it's a good time to think about fall fishing!  If the heat keeps up, patterns will be delayed considerably.  Back in 1979 we had a super hot summer and wound up with a super cold winter, so what will happen remains to be seen.
7/23 AM:  Guided Tom, his son Mack and his son Jack for a 1/2 day starting around 7:45 am.  We did this trip last year and Tom and Mack had most of the luck with Jack coming through in the end with a real trophy laker around 32″ if I remember right.  This time it was Jack and Tom who had all the luck.  Oh well.  We can put the blame on Tom's bananas.  The guys had a solid morning with 5 lakers landed from 21″ to 28″ including three at 27″.   The guys also landed 2 nice rainbows – both wild fish at 21″.  The weather forecast was for possible storms but the day wound up to be a great one to be on the water.
Tom with a solid laker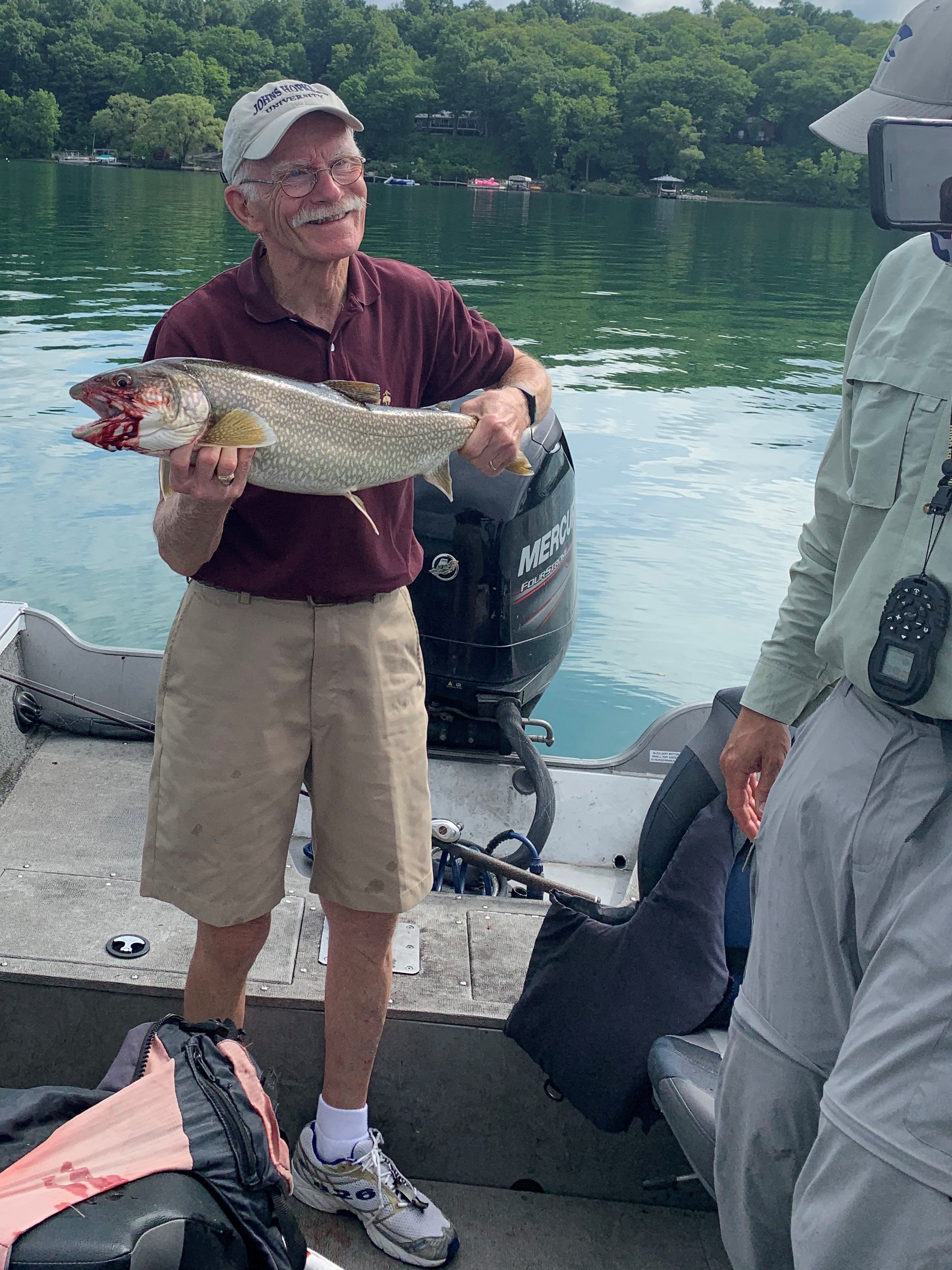 Jack with a nice one
And another...
And another...
Rainbow in the net!
Tom's Bow
Measuring a rainbow for the DEC Diary Program
7/23 PM:  Guided Zach and his son Kieran for the PM trip starting at around 1:15.  Zach has a place on the lake and we fished nearby it so we could seek shelter if any storms popped up.  Two storms did pop up on us and we were able to take a couple breaks from the fishing.  If major storms are inevitable, I generally cancel and reschedule trips.  Pop-up storms can be handled with radar that's easily accessible on smartphones.  With hot and humid weather, storms are often a daily occurrence, especially in places like Florida, where guides wouldn't even be able to work if they had to cancel trips on the basis of "pop ups."   Here they aren't as common.
The guys hooked and lost some nice fish today.  Zach managed his personal best salmon – a 24 1/2″ beauty.   He also caught a nice 25″ laker.  I'm guessing the fish he lost were browns and perhaps another salmon or rainbow.  He brought his own tackle but unfortunately his leader was due to be replaced.  We found that out the hard way today and nobody felt worse than he did.  Still, it was a fun and educational day.  We always have a good time on the water together and Kieran provides a lot of entertainment.
7/24 AM:  Guided Greg today for a 1/2 day.  We went chasing after non-lakers.  Fishing was tough.  Greg did manage a couple lakers – a 19″ and a 26″ wild fish.  I am finally starting to see a few younger wild fish around, so there has been some wild production.  Greg lost a solid brown after a great digging battle and a tackle busting jump that sent his jig flying back towards us.  Fun but disheartening!  We'll be back…
7/24 PM:  My PM trip was with Jim and Becky.  They were up here from Delaware on vacation.  We had a short, fun trip.  They just wanted to get out and fish for a few hours before hitting some wineries, so we jigged from 11:30 am until 2:45 pm.  By then the heat was getting to us.  They managed three solid lakers.  Becky caught an exceptional 32″ wild fish that we released.  We also had a wild 27″er and a stocked 27″er.  They kept the stockie for dinner.  Becky had a tough time bringing in the 32″er.  Was she a wimp or did she have a big hard fighting fish on?  Fortunately for her reputation, it was a monster laker!  Fun day!
Becky's 32"er (I think this is that fish)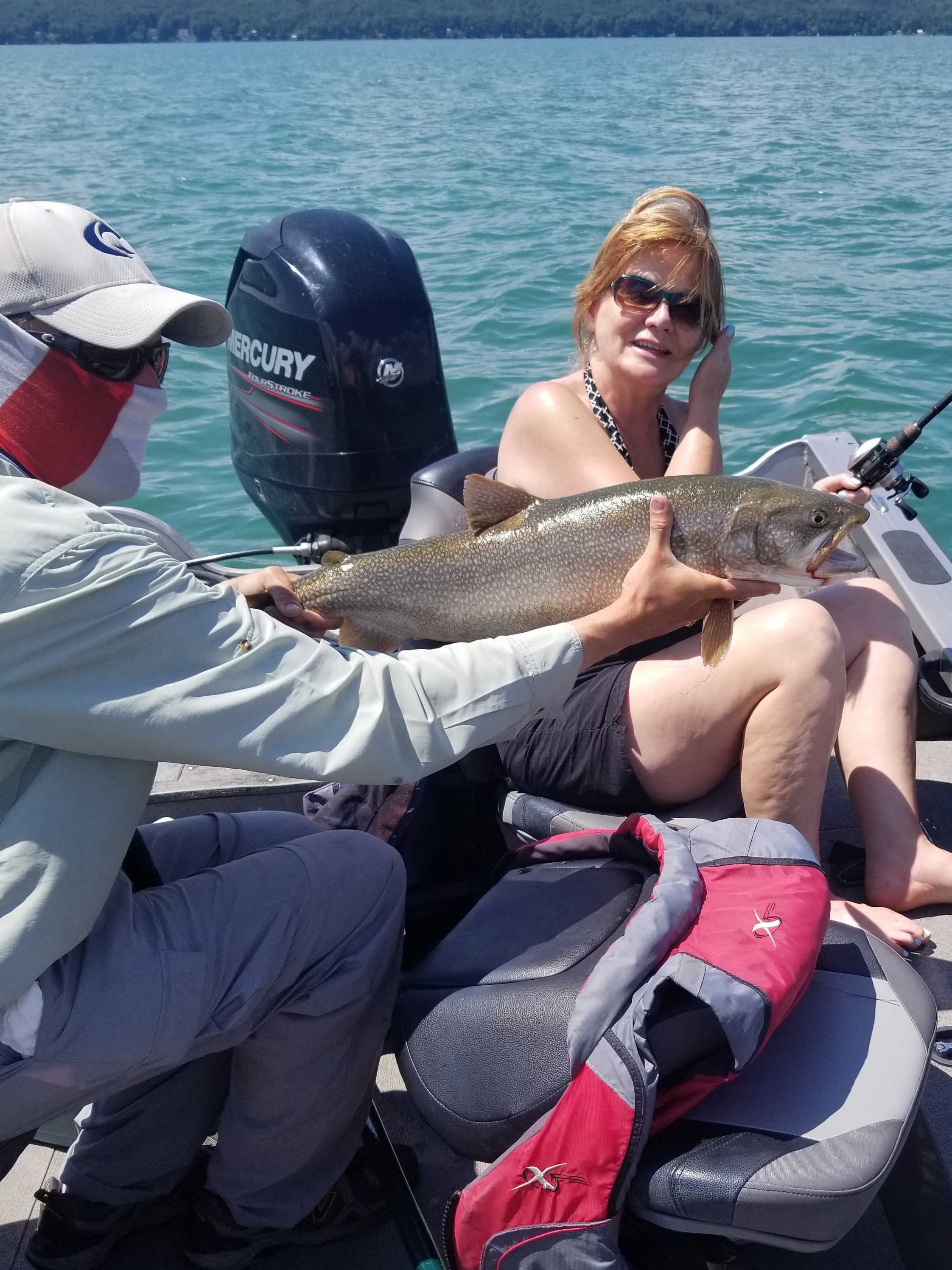 "Rare" Lamprey - we haven't seen many this year at all!
Jim's Laker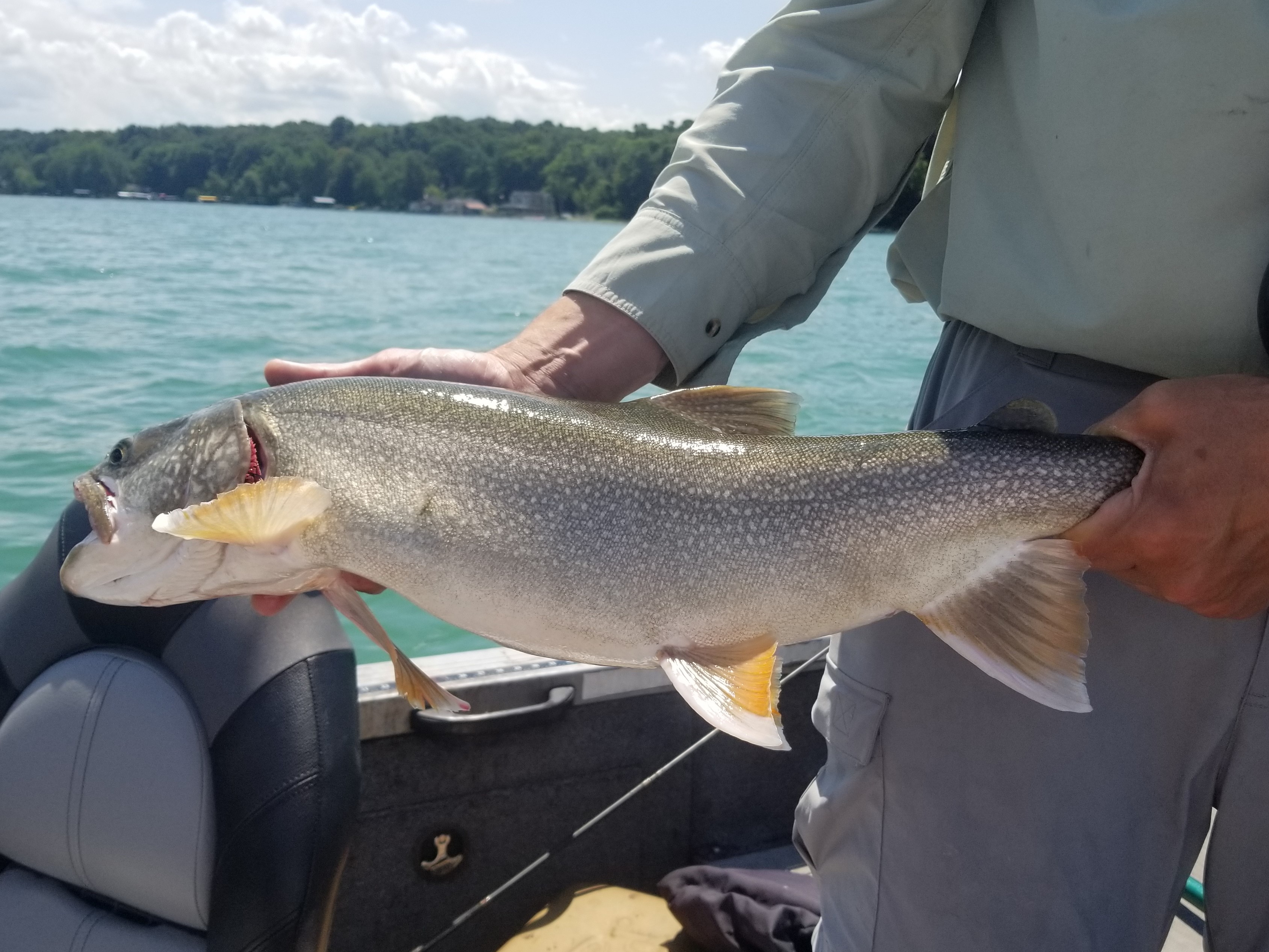 As seen above, we had one lamprey come up on a laker.  We've seen very few lampreys this year.  It's been amazing!
7/25 AM:  Did a half day today with Will, his son Jonah and Jonah's friend Rich.  Jonah first joined me two years ago when he was 9 years old. Of course now he's 11.  We both had delays getting to Myers Park today with a detour.  I made a wrong turn right near Ludlowville Falls and wound up 10 miles north!   Will took the detour on 34B which took him around in a square and delayed them by around 20 minutes, so we weren't on the water until 7 am.  Fishing was slow for us.  Rich had a couple lakers on – one which was almost in netting range.  Jonah has a big fish on that really wore him down – he couldn't land it!   He slacked the line and the fish got off.  Will eventually landed a fish so at least we weren't skunked.  I really covered a lot of water today – the fish just weren't very cooperative for us.
7/26 AM:  Today was a 1/2 day with Alex and Natalie.  After yesterday's tough bite, the fish really got back on the feed again today.  I should have photos soon.   Natalie had never fished before.  She started us off with a gorgeous 25″ landlocked salmon that was super silver and clean.  What a first fish!   Alex followed with a 17″er.   Another 7 lakers were landed up to 28″ long.  Great day of fishing and it really felt like August out there in terms of action.  Other silver fish were hooked/missed.  I think Alex had a hold of a brown too.  Fun day and very pleasant in the morning thanks to the thermals out of the south.
Natalie's First Fish! A 25" Landlocked Salmon!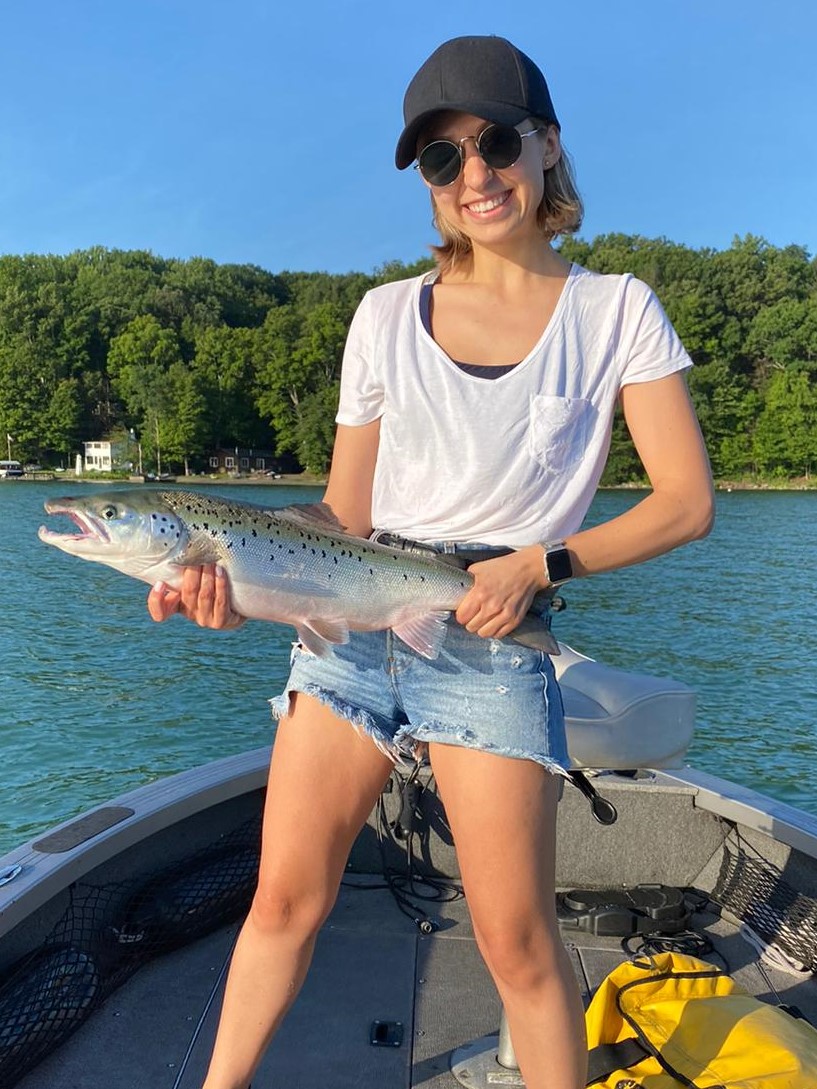 Laker for Natalie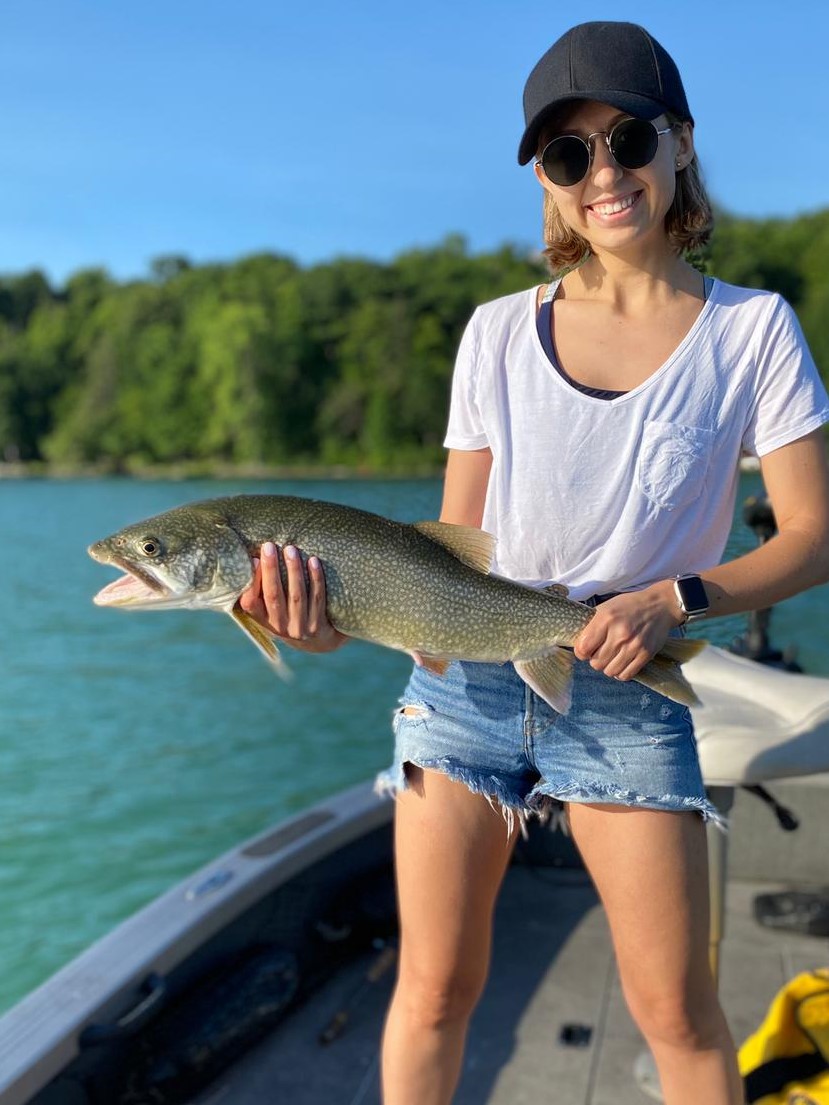 Alex with a nice laker
7/26 PM:  My PM trip was with Mark and his son John.  Fishing wasn't easy to start.  The bite slowed down quite a bit.  Fish and bait moved in after maybe 90 minutes of pretty blank screens on the depthfinder.   I felt the fish would hit and they did.  A fair number of fish were dropped today but the guys each landed a laker.  We had a dropped/missed rainbow and salmon today.  Fun day but it got very hot out there!
7/27:  Guided Bob, his brother Chris and Bob's son Erik today for a full day starting at 7:45 am.  The guys drove in from Buffalo this morning.  Bob was someone who'd contacted me a good 10 to 12 years ago and was kind enough to send me a nice assortment of pike flies to try out.  The guys fish Lake Erie once to twice a week for walleyes – both trolling and jigging.  We had a very solid day today with 7 nice lakers landed to 29 1/2″ and one 21″ stocked rainbow.   We had hits and/or follows from salmon, at least one other rainbow and a nice brown today too.  Some fish were dropped as well.  Two wild lakers were in the mix today.  The breeze kept us pretty cool but I still managed to drink three liters of water and was pretty darn parched when I got off the water.
Bob's Rainbow
Fish have been moving deeper lately, as is typically the case this time of year.  75′ to 85′ or 90′ has been good for us over the past week.  Occasionally we've been doing well in 65′.  Black has produced rainbows and salmon for us but not lakers strangely enough this year.  It was hot for us last year.  Whites have been best for us lately.  The usual Shakers and various YUM Money Minnows have all been very productive.  Owasco Lake continues to produce hot lake trout action with my friend Mike's girlfriend landing a nice laker at 29″ over the weekend, so some bigger fish are starting to show over there.  The launch at Emerson Park has been ridiculously crowded as well (I can only imagine what the scene is like at the State Launch on Skaneateles Lake!)