Reports: Cayuga Lake and Skaneateles Lake 5/13 + 5/16
Cayuga Lake out of Myers 5/13:  Got out here with my buddy Mike starting at around 11:45 am.  With cold water temps and plenty of murky water around I decided to make a run.  It wound up paying off with some terrific salmon fly-fishing action.  Fish ran to 23″ and were super-charged!   All fish released today.  I think tributary anglers will see another great salmon run this fall if we get the rain since the fish are out there.
Fly-Casting - My favorite way to salmon fish...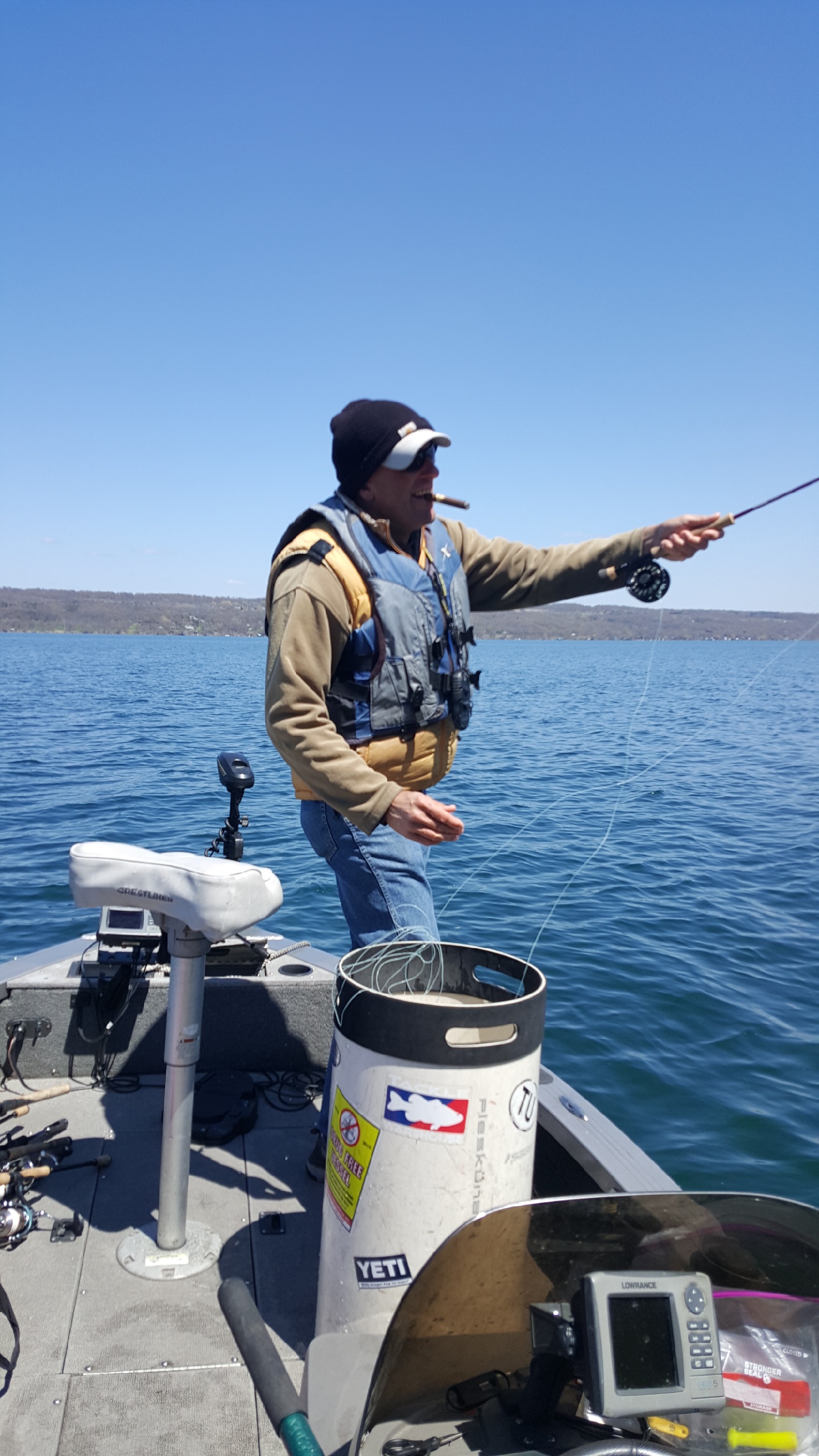 One on spinning gear
Bonus Smallmouth
Skaneateles Lake 5/16:  Needless to say, I'm thrilled to be able to guide again.  I enjoyed my "vacation" immensely and it gave me quite a bit of time to go fishing on my own in April/May, which is a rarity for me.  But sitting around not earning gets dull after a while.  I enjoy what I do and I feel most productive when I'm working.  Scott grew up vacationing on Skaneateles Lake but nearly always comes up here in the summer, so he hadn't experienced the top-notch multi-species angling on this lake available in the spring and fall.  Today was a perfect day for it and he caught his first Skaneateles salmon as well as walleye (yes – yet another walleye on this lake.)   Water temps were cold 43 to 45 degrees.
Nice Perch
20" Skaneateles "Eye" - nice barred marking ala a perch
Lake Trout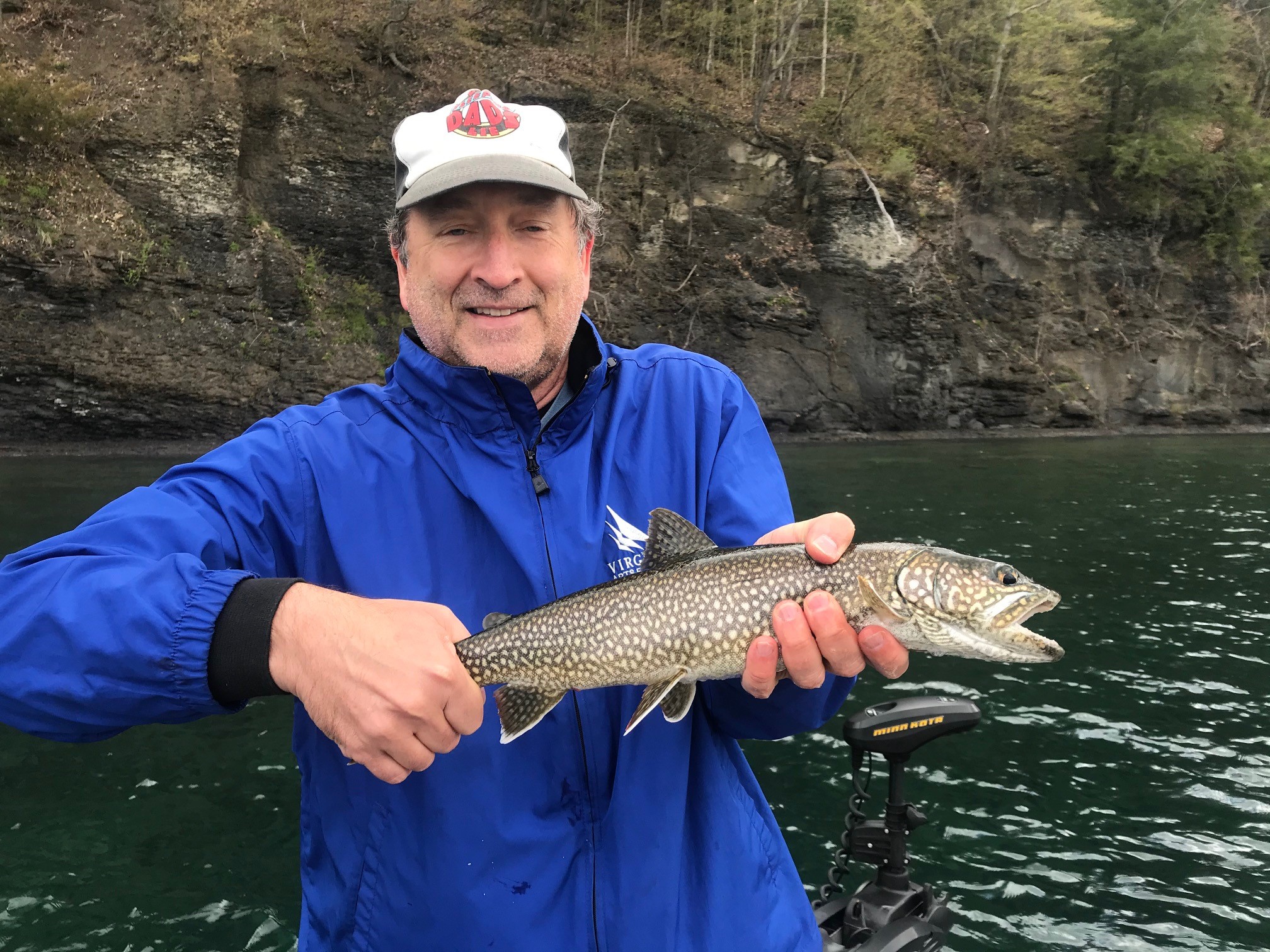 Salmon
Average Bass over here
Moving forward – at last!
Here are my openings for the remainder of May and through June.  From July onwards most dates are available with the exceptions of Fridays, which are nearly all booked.
May 25th – 29th, May 31st.   I will not book all these days – after (if) three or four of them book I will not take anymore bookings in May.
June 1 – 4, 6, 7, 15 – 16, 18, 21, 22, 24 – 26th.  Ditto goes for June – I hope to book another 8 or 9 days and then close off the month.  It wasn't great losing my entire April, but I'm not going to burn out because of it either.
Here's what to expect:  Water temperatures are MUCH colder than normal.
Pike fishing should get better by the day on Seneca Lake.  Some pike are available on Owasco and Cayuga Lakes but they would not be my first choice to fish (for northerns.)
Salmon are available on Cayuga, Seneca and Skaneateles Lakes.  This should hold up for another week or two at least but they are scattering by the day and will get harder to find for casters.   I will NOT be doing weekend trips on Skaneateles Lake due to the crowding at the State Launch and I'm not paying $20 to launch/park at Mandana.
Pickerel fishing should be superb at Cayuga Lake and I can combine a full day trip for lakers and bass/pickerel!  Can't beat that!
Lake trout fishing – both jigging and casting remains excellent on Cayuga Lake.  Fish are big and healthy!  They are fighting and tasting great. It will be fair on Owasco and Seneca Lakes.
Mixed bag casting and fly-casting should remain very good on Skaneateles Lake.  Please don't call asking me for walleye trips over there.  I see them as a bonus fish. I'm sure a night fisherman could do well there (and I may try it in a few weeks) but that's not my thing. By the way, perch taste better anyways though walleyes are certainly top-notch (just my opinion since this is my website if you haven't noticed – and you won't change my opinion on that one.)
Cayuga is the best place for a successful trip as close as I can guarantee one (I do not guarantee fish on any trips, but Cayuga Lake has the most "fall back" aka quality secondary options.
If you sent me a deposit and we were not able to do the trip due to the shutdown, please contact me!  It is your responsibility to do so.  I typically don't go through my records to see who send deposits and so forth.  If you sent one, it is good indefinitely.  Book at your convenience.
COVID-19 Going Forward:   Due to the outbreak of this virus I will reserve the option to cancel ANY TRIP at ANY TIME.   I'm sure all of you would agree – you wouldn't want me to guide you if I was sick!   And of course I don't want anyone on or near my boat if you have symptoms.  So if you need to cancel a day or two before a trip because you are sick, you will not forfeit your deposit.
You must bring a face mask, bandana or Buff (which is what I've been wearing for years for sun protection) if you can't socially distance 6′.   So when we motor out, you need to wear it.  When you're fishing and can maintain distance you don't need to have it on.  I have some hand sanitizer but please bring your own.  I will get more but I do not want to run out on a given trip.