Seneca Lake 1/2 + Cayuga Lake 1/3
Seneca Lake out of Watkins Glen 1/2:  Kicked off the new year with some fishing.  Had rare January trips scheduled back to back this week but I received a late cancellation for my Thursday trip.  I called my buddy Mike and off to Seneca we went.  We brought outfits for salmon, that was it.  We started with a couple follows on the fly outfits but no grabs.  Mike went to gear and wound up hooking and losing a nice fish in the 19″ to 20″ range.  Nothing after that despite working a bunch of different areas.
Conditions changed a bit and we gave the fishing another shot.  Mike nabbed a 19″ salmon on the fly and missed a solid hit.  I hooked up and lost two fish (after enjoying some good jumps) that were both in the 17″ to 18″ range.   Mike kept his fish and it had alewives in its stomach.  Water temp remains at 41 degrees in Seneca.  A few boats were out perch fishing and we saw what appeared to be one boat trolling.  Salmon fishing on Seneca remains fair to good.  We had ideal conditions today.
1/3:  Guided David out of Taughannock this morning starting around 8:15 am.  Cayuga continues to throw curveballs.  The hot shallow bite wasn't happening for us today. He had a few hits shallow but not much to write home about after two hours of fishing. One noteworthy fish Dave landed was a fat 20″ smallmouth on a blade bait.  It was a beauty!  Again – it's been nice seeing some better smallmouth action on Cayuga over the past 3 years after a good drought.
We worked deeper water vertically and the fishing was excellent.  Dave landed 4 lake trout in short order and lost 3 or 4 as well.  We had a dink or two in the mix.  He kept 3 fish.  One had a couple large alewives in it.  None had gobies.  At the end of the trip I took some casts and managed one laker shallow, but again it wasn't close to the level of fishing we experienced over the past 6 to 8 weeks by a long shot.
Mike with a Seneca solid caught fly-fishing!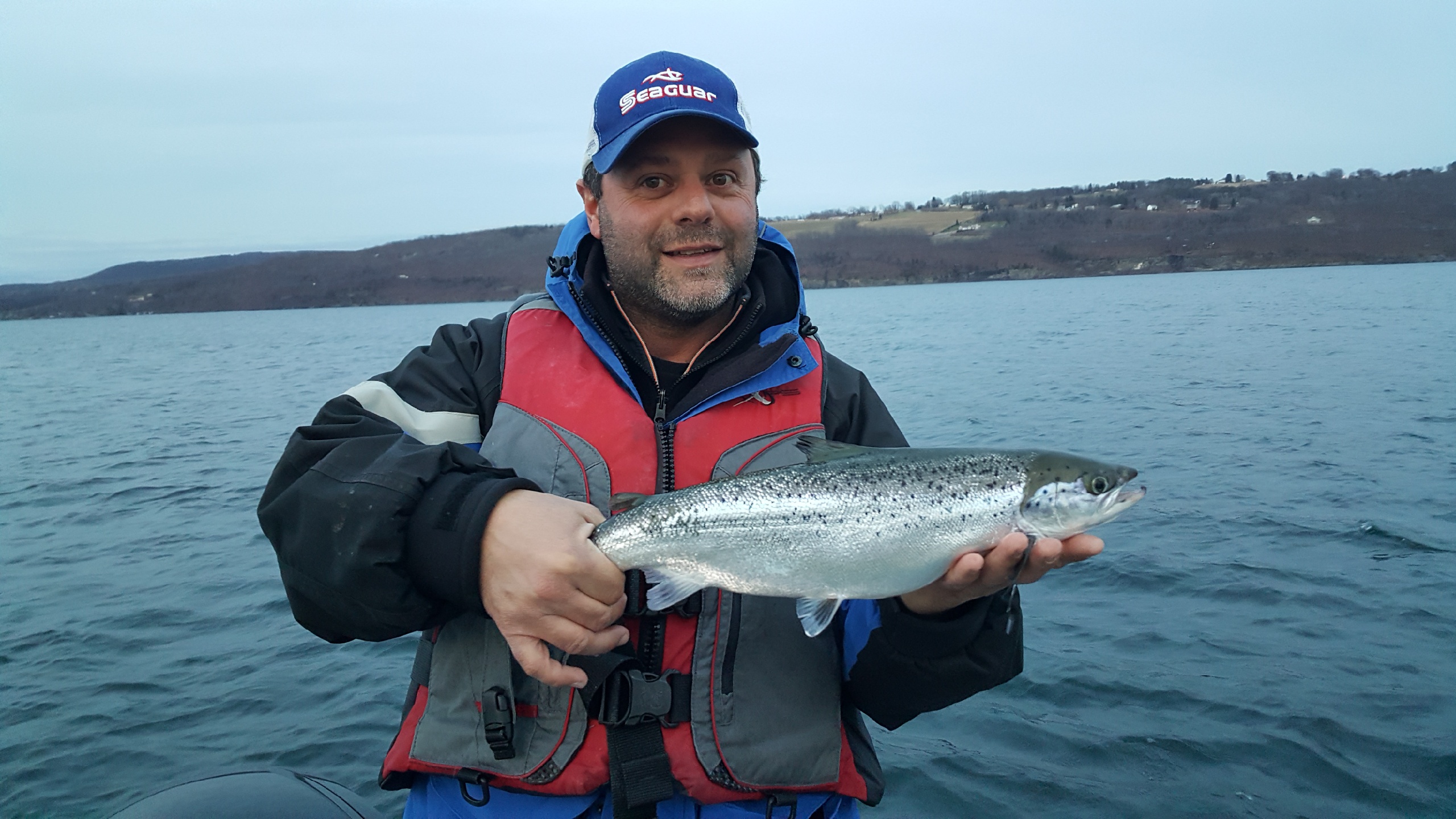 Dave with a beautiful smallmouth!