Seneca Lake 11/22 AM + Skaneateles Lake 11/23 midday
Late fall fishing is underway with water temperatures finally dropping into the 40s.  Our area was spared any snow and lakes/launches are generally in good shape.
Seneca Lake out of Watkins Glen 11/22 AM:  I was prepared to head out on my own onto Seneca Lake to check on salmon fishing when I got a call from Zack, looking to see if I was available.  He loves salmon fishing and hadn't fished Seneca before so off we went.  We didn't have the greatest conditions with a lack of steady wind.  Water temps on the surface were at 49.  Zack fished hard and had a light hit on a jig.  Later on he had another grab and follow.  About two hours into the trip he connected with a nice 20″ clean salmon in some fairly deep water.  Salmon fishing should be good to very good this winter/spring on Seneca Lake.  For some reason they are doing better here than on Cayuga or Skaneateles Lakes.  I think the large lake trout population, which roams shallow during the cold-water months on Cayuga Lake, along with hundreds of double-crested cormorants hanging around (and feeding on) the south end of the lake both combine to diminish the success of salmon stocking.  On Skaneateles Lake, we have a low-nutrient environment combined with a growing walleye population.  These are my best theories on why salmon don't appear to be doing as well on these waterbodies.
Zach's 20" hair-jig caught salmon
Close-up of hair jig in salmon's mouth!
Skaneateles Lake 11/23 midday trip:  Today I guided regular client Gordon for a 6-hour day starting around 10:30 am.  We usually manage to do a couple trips a year and he's been coming out with me since my second year of guiding – 2006.  He likes to fly-fish, so that's what we do unless he wants to take a little break or the conditions, like the wind get too crazy.  I wasn't thrilled with today's forecast for light westerlies and calm conditions (in some of the region,) but we'd already rescheduled this trip a few times and Gordon liked the forecast.  Who wouldn't?  Sun, light winds and air temperatures in the low-40s.  That's not bad for late-November!
We fished "the moment" today and I set us up in an area that looked good.  In short order he nabbed a good perch on the fly.  Follows by lake trout and other fish came soon thereafter.  Before long Gordon was tight to a silver fish!  Rainbow!  He was using a two-hook jointed (like articulated) streamer.  It was effective.  The first bow was around 15.5″ long.  That was the typical size of rainbows here back 20 years ago.  He nabbed another gorgeous rainbow shortly after – one around 16.5″ or 17″.  I thought it was a laker when he hooked it, since it was so dark.  But it was thicker than a lake trout from this lake and Gordon called it.  A nice 16.5″ smallmouth bass followed along with another perch.  We kept at it with a few more hits and follows, but no hookups.  For the last hour of the day Gordon tossed hairjigs and landed a few more nice perch.  We kept some perch so he could have a nice meal.
Water temperature was 48 degrees.  The lake remains low.  Around a half-dozen boats went out of the state launch today.
It's great to see some rainbows surviving the walleye-gauntlet here.  The rainbow fishing is about 10 to 20 percent as good as it used to be, if that.  Landlocked salmon have been scarce this year from what I've seen and heard (actually make that the past two years.)  I believe that casting and fly-fishing for rainbow trout on Skaneateles Lake is still more productive here than on any other Finger Lake.  Sure, you'll do better trolling in Cayuga or Canandaigua Lakes, but the alewife populations over there tend to keep the rainbows offshore most of the year.  DEC is doing the right thing with the walleye regulations here and they should keep it up. Oligotrophic lakes do not tend to produce large numbers of walleyes.  Angler harvest along with DEC netting efforts can at least help to keep walleye numbers in check and give these rainbow trout a chance.
Fly-Fishing holds its own special thrill!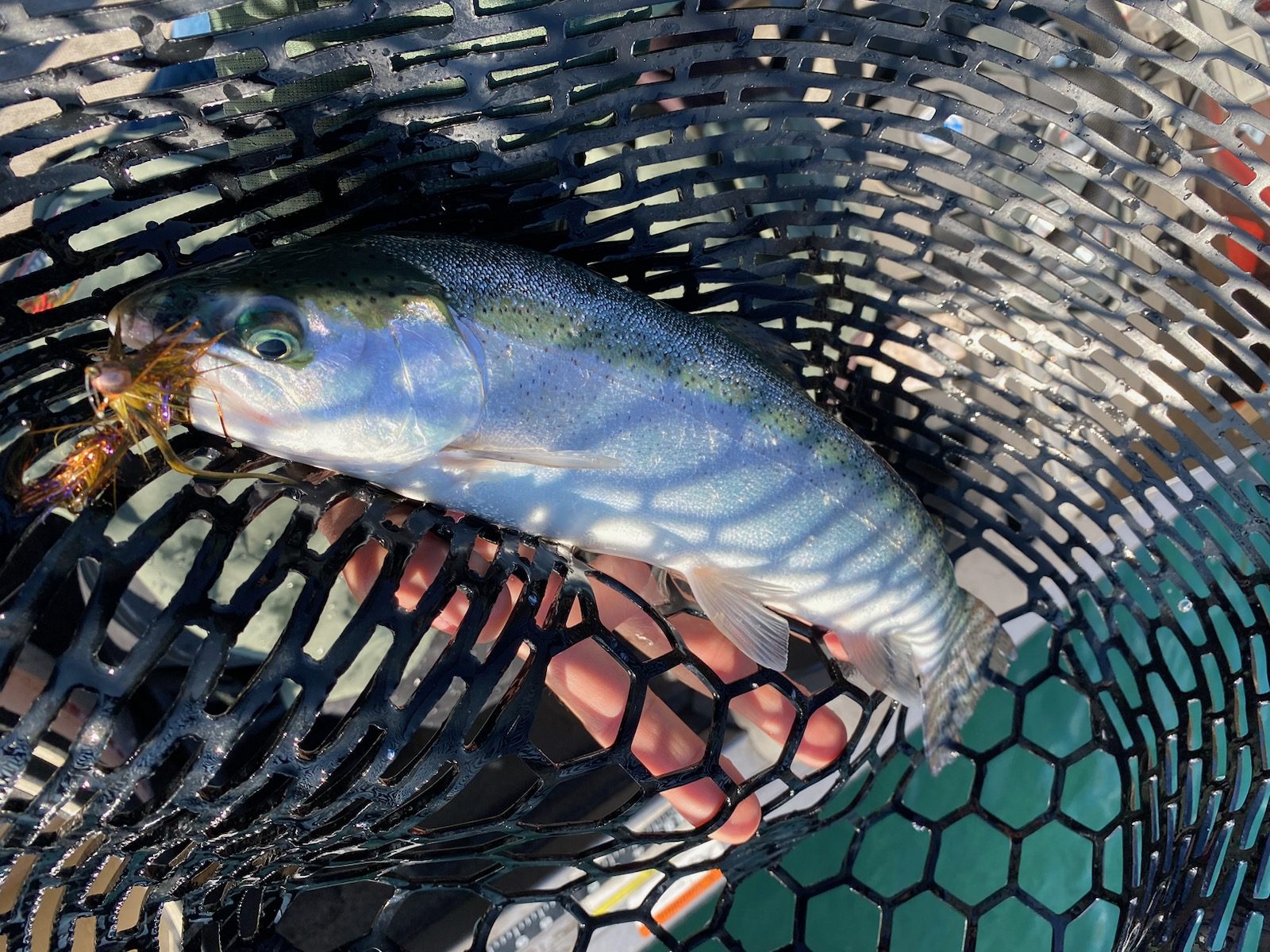 Gorgeous dark rainbow!
Solid fly-caught smallmouth bass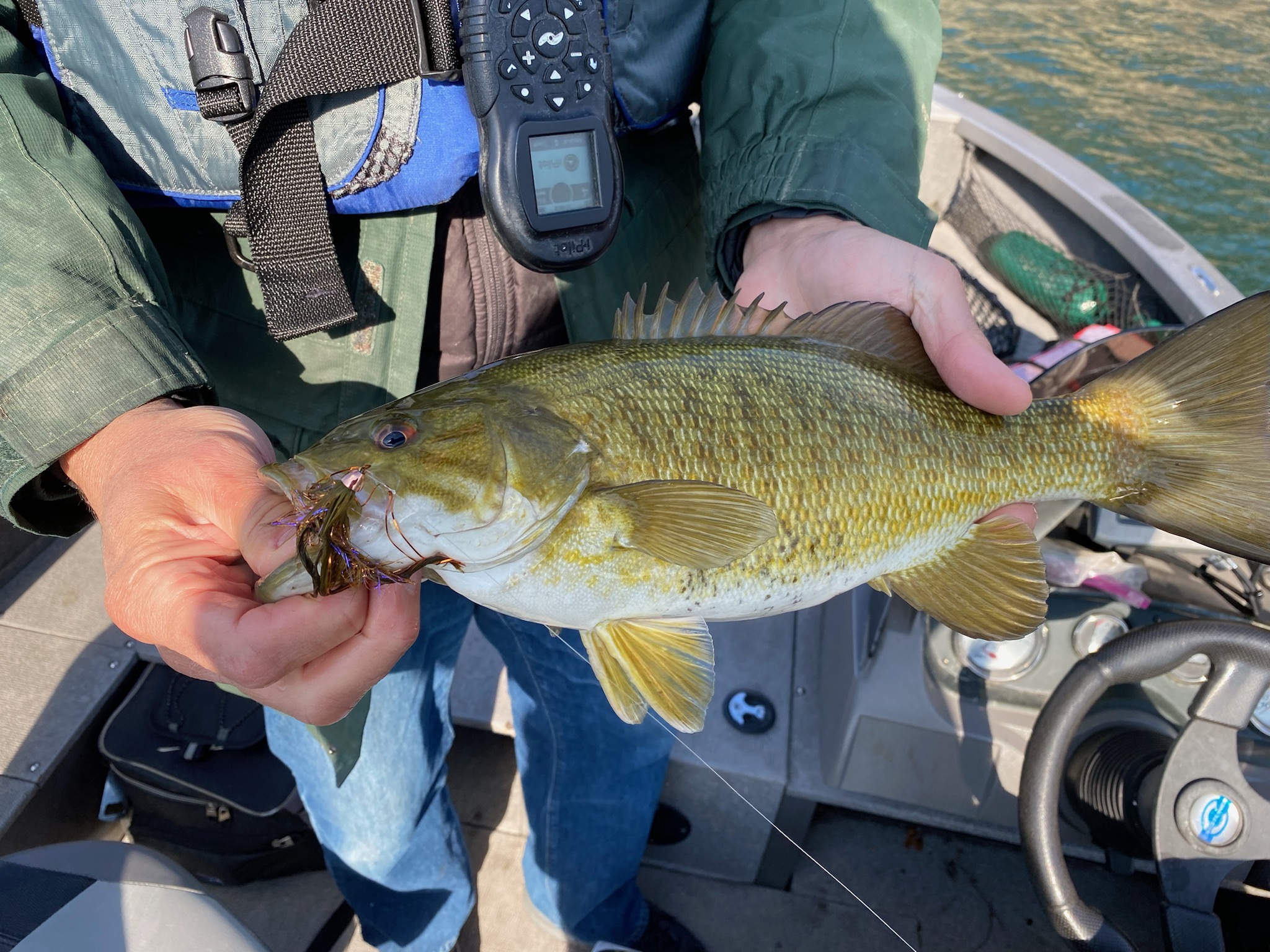 Closer photo of the fly