Seneca Lake out of Sampson State Park 6/28 AM
Gary and his family rented a place on Seneca Lake near Dresden.  Today I was joined by Gary, his son Eric and Eric's 10-year-old son Blake.  (Previously when Gary contacted me, I gave him the lowdown on the trout fishery here and his crew was still up for it, so they booked the date.)   Seneca Lake's lake trout fishery is on the upswing.  As I've mentioned in past reports on this lake, the gradual building up of the lake trout population here will help the rainbows, browns, salmon, pike and perch fisheries.  In a nutshell, the lake trout attract lampreys to themselves and tend to survive the attacks.  That serves as a buffer for the other more susceptible species like rainbows and browns.  It also helps the pike.  The larger lake trout population also helps suppress the alewive population; alewives are huge predators of perch fry, so perch populations will start to rebound here in the next 3 to 5 years.
We motored up to the Geneva area and set up to jig.  Within 5 minutes of starting, Eric had a hit.  Shortly thereafter Gary hooked and landed a nice 5 1/2lb 25″ wild lake trout.  It was stuffed with fresh alewives.
Gary with a nice fish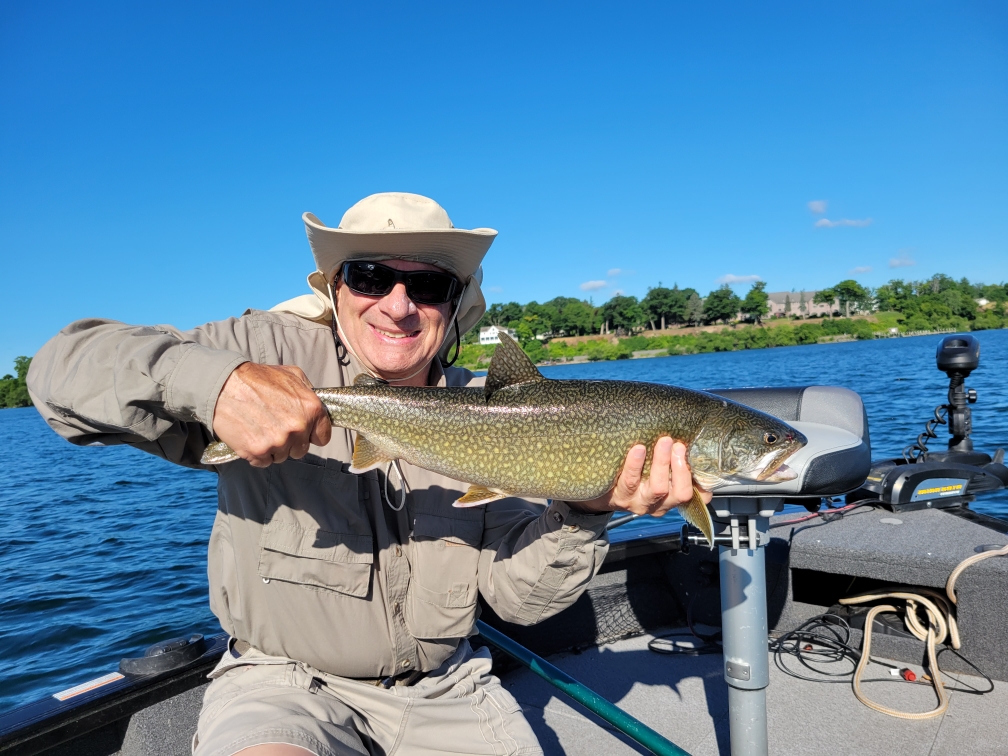 Fish gorged on "sawbellies" aka alewives (or if you live near Owasco Lake, "mooneyes.")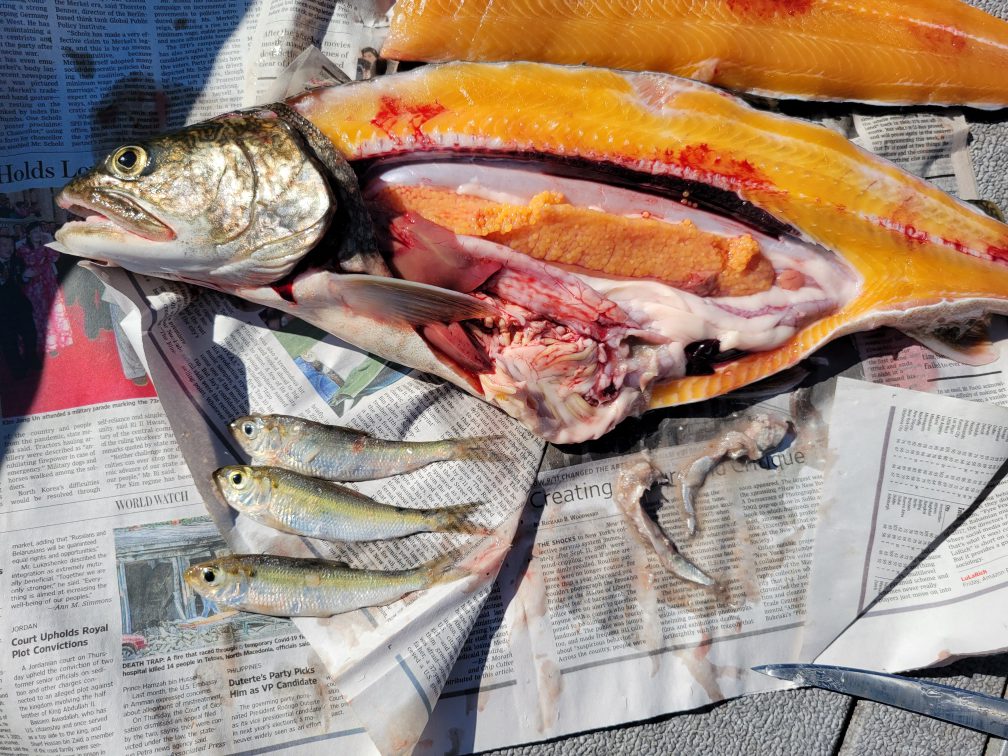 Eric lost a good laker soon after Gary landed his.  He put a bit too much pressure on the fish, but within the hour he hooked and landed another nice trout.
Eric on!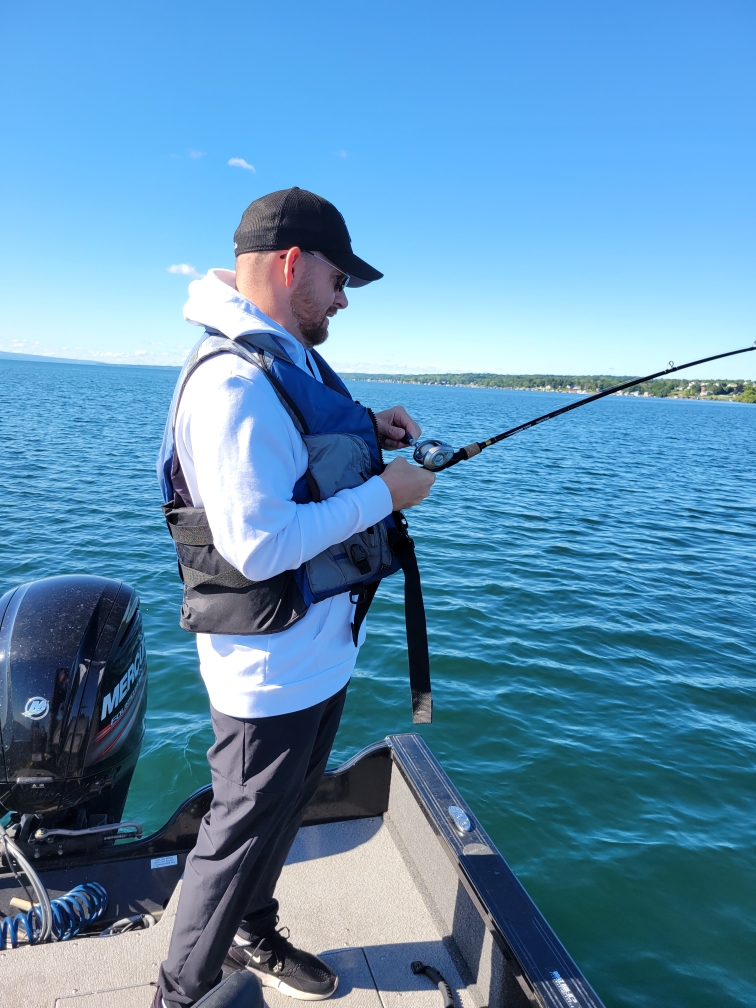 Laker #2 for the grill
Eric was stoked to get his first laker of the day in the boat.  Unbelievably, we were the only boat we saw out fishing on the entire day in the northern 10 miles of the lake, apart from one bass boat I saw when I dropped the guys back home!
After maybe 90 minutes of good fishing, our bite really slowed down to what anglers have come to expect on Seneca Lake over the past 6 years.  We tried some different areas and eventually wound up fishing in front of the guys' rental.  Eric had a few tricks up his sleeve and managed to hook and land another nice trout!  The two he caught were both stocked fish.
Eric on again! He was not to be denied.
Eric's second landed trout on the day. "Two out of three ain't bad..." (as Meatloaf used to say!)
All three fish had HEALED lamprey scars – just some areas of missing scales from the parasites.  All wounds were old and well healed up.  Blake didn't hook any fish but really got his technique together by the end of the trip, when he did have a hit.  I consider the fishing here good enough to be worthy of guiding it.  I haven't been able to say that in over 6 years.  If you live on the lake or vacation here and want to do a trip, please contact me.  July is typically a great month here.  It's a great lake to jig.  We saw a good amount of bait today and well as plenty of marks/fish throughout the lake.  Cayuga Lake is still a better fishery, but Seneca Lake is on its way back and should get exponentially better by the year.  Fish mostly came on chartreuse silk 3.75″ Lunker City Shakers.  Depths ranged from 40′ to 90′.