Seneca Lake out of Watkins Glen 1/25
Guided Mark I. for a full day starting at 8:45 am. Originally we were thinking about targeting pike but we decided to bring tackle for salmon as well.  We're both very happy we did.  Conditions dictated targeting salmon in the morning so I had Mark casting my SAGE 6 wt. Motive rod set up with a Rio Lake Series In-Touch WF6S3 full sinking fly-line.  It's basically the same set up of one of the fly outfits I had on sale earlier this week (both sold quickly – thanks!)
Fishing for salmon remains fair on Seneca Lake.  My buddy Mike had some decent action here the prior day.  Overall I'm not seeing a lot of fish around.  But either way, today was Mark's day.  We didn't have much action except for three hits, two of which he landed (the other hit was likely the same fish hitting prior to the hookup.)  Mark's first fish was a 24″ beauty that jumped three times and fought like a champ.  The fish did have some considerable lamprey scarring but didn't seem weakened because of it.
Mark's second fish was a pig!  I thought he had a big brown on while fighting it, but nope, it was another solid salmon.  This fish jumped twice and did some serious digging. We were very fortunate to land it!  It was 25 1/2″ long and very fat.  A 26″ salmon in average condition weighs about 6lbs even on a certified scale.  This fish had to go between 6 1/2 and 7lbs.  Both fish were released to hopefully make somebody else's day.  Apart from those two great salmon, we didn't see much. We tried two hours of pike fly-fishing without any grabs, though we weren't able to cover much water.  Water temperature remains 39/40 – it hasn't changed much over the past three weeks.  A couple boats were out perch fishing.  I'm not sure how they were doing.
Mark's first fish - a 24"er
Mark's 25.5" beauty!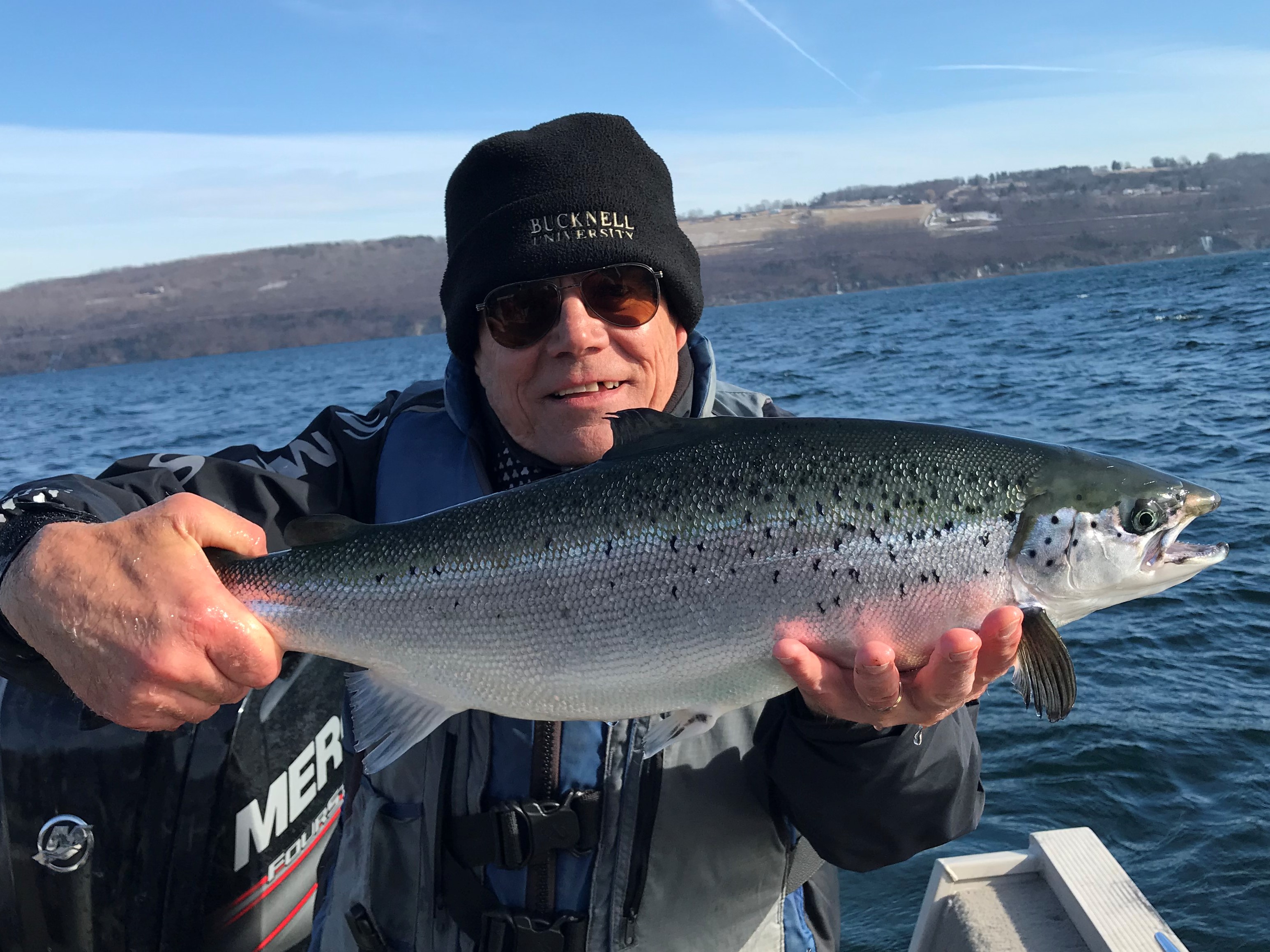 The release