Lake Trout
Lake trout are abundant in the Finger Lakes region with Seneca Lake being the most famous for its lake trout fishing. Lakers are absolutely the top predator in the region. I've caught plenty of lakers with northern pike, yellow perch, brown trout, sunfish and bass in their stomachs! I've never caught another type of fish with a laker in its stomach.
Cayuga Lake is my pick for the most consistent laker action on large fish year 'round due to an abundant forage base and generally good to excellent lamprey control.   Expect Cayuga Lake to provide good to excellent lake trout action on some big fish in 2023.  Fishing is top-notch on Cayuga Lake throughout the entire year!  If and when Cayuga's round gobies move up shallow and the lakers follow, the fishing can be fantastic.
Seneca Lake was neck and neck with Cayuga Lake as the top lake trout lake in the region.  Biologists have their hands full on Seneca Lake trying to keep the lamprey population in check.  Cayuga Lake has one major lamprey spawning stream – Cayuga Inlet, which features a low-head dam and a fish ladder.  As long as Cayuga Lake water levels remain low in the spring, lampreys cannot swim over the dam and access their spawning grounds.  Fish are just removed when they get trapped in the fish ladder and destroyed.  Seneca Lake has two major lamprey spawning streams and delta areas – Catherines Creek and Keuka Outlet (at Dresden.)  Lamprey larvae on average, spend four years in the stream silt as juveniles and then two years out in the lakes in their parasitic phase.  As long as successful treatments can be completed within every 4 years, the lamprey population can be kept in check.  Two successive years were missed in the 2010s and we are still dealing with the fallout of that on Seneca Lake.  Fortunately, the lake appears to have turned around this year.  2022 was the best year for lake trout I've seen on that lake since the early 2010s.
Keuka Lake generally provides top-notch lake trout action from September through December and then again in the spring for all wild fish. The numbers can be great although these fish run smaller than the Cayuga and Seneca fish.  Summer fishing over the past couple years has been pretty good on Keuka Lake.  When the lake freezes over – which happens to varying degrees during exceptionally cold winters, the ice-fishing for lake trout can be excellent here.
Owasco Lake's laker action has been solid over the past 4 or 5 years.  Overall, the fish are in balance with the forage base and the fishing pressure on them is light.  Expect some big fish out of this lake!   My client Greg hooked a monster here that we never saw in 2016. He's landed 32″ lakers and said this fish was a notch or two bigger!  We had a couple fish around 31″ to 32″ in 2020 and I think one in that range in 2021.
Canandaigua Lake is another good laker producer – kind of like a cross between Keuka and Seneca. A lot of the fish are Keuka sized but there are some bigger ones to be found. The lake's wild fish number around 15% of the population.
Skaneateles Lake has some decent fishing too, though numbers have been down in recent years. I think this lake really hits its peak in the fall. I don't vertically jig here much.   I find that casting in May and November is a great way to connect with "Skinny's" wild lakers. Most fish here are small – averaging 16″ to 18″. The lake holds a few real trophies, but we haven't encountered them with the way we fish.
If you like eating fish, you'll enjoy keeping some lake trout. They are superb smoked and excellent on the grill as well as in the pan or in chowders. (As a matter of fact, I prefer lake trout in chowders over walleyes or yellow perch!)  We have plenty of lakers in the region and they could use some harvesting, so I encourage clients to keep and eat them. The 15″ to 22″ fish from Canandaigua, Skaneateles and Keuka lakes are beyond compare on the dinner table!
The bottom line is that we have terrific lake trout fishing in the Finger Lakes! Pick your lake…..
Rob with a Cayuga Lake beauty!
Rachel with a big fish from Cayuga Lake in 2022
Gorgeous Cayuga fish! Todd and his son Dalton.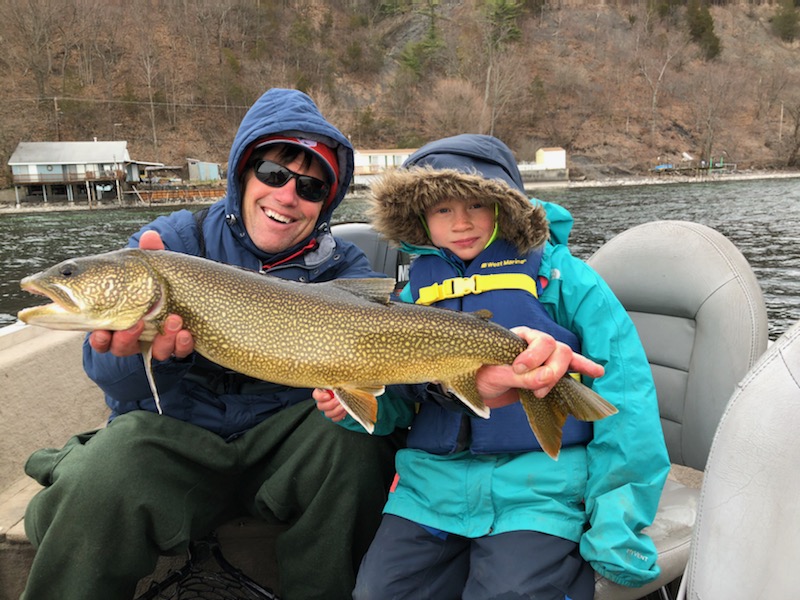 Another colorful Cayuga fish!
Owasco Slob!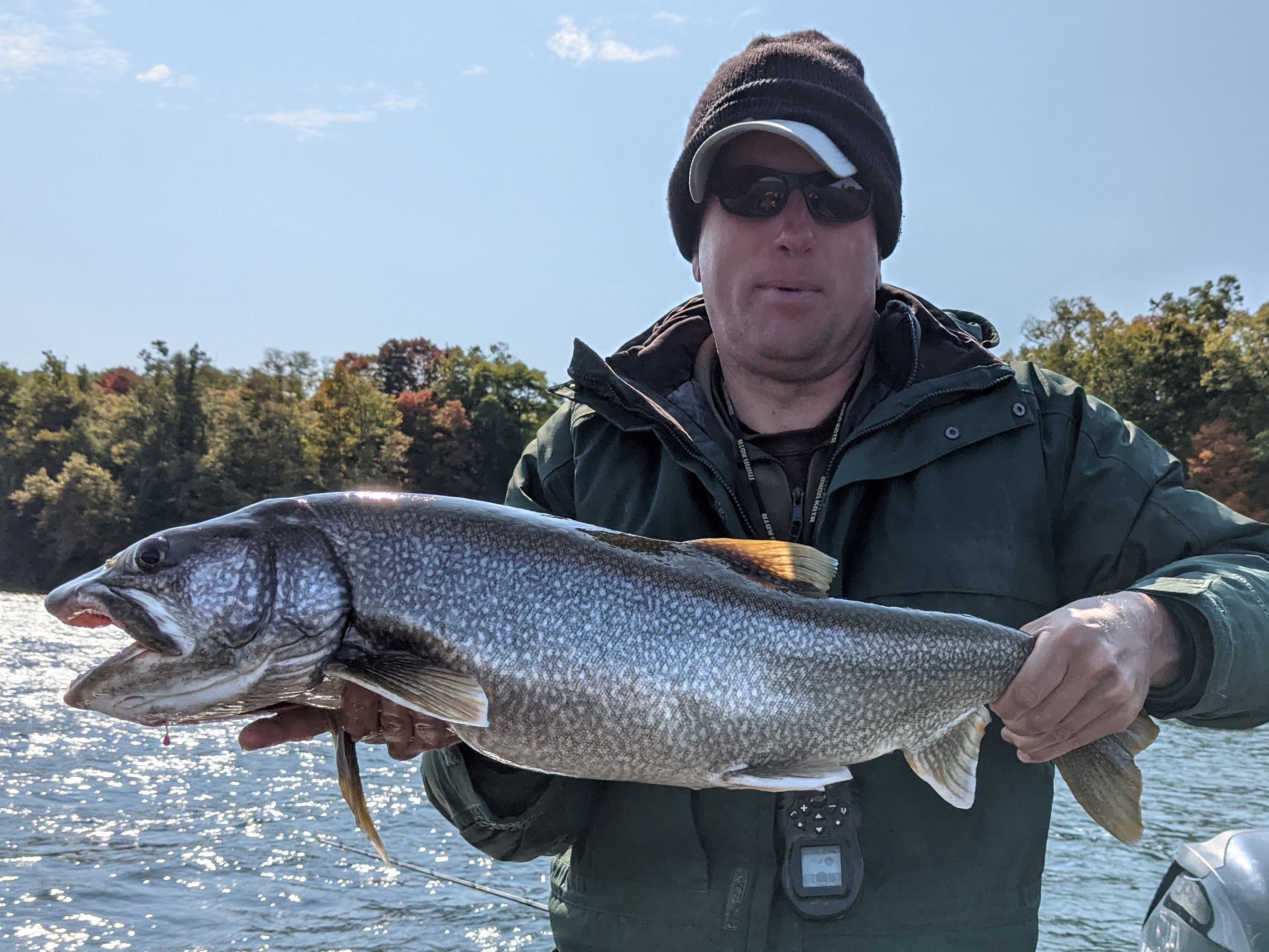 Mark with a 10lb+ fish from Seneca Lake in 2022!