Smallmouth Bass
These fish are common throughout the Finger Lakes region and typically run from about 12" to 17", with occasional bigger fish mixed in. Pound for pound they are one of the best fighting fish in freshwater.  New York State now allows year around "Catch and Release" fishing for smallmouth bass on ALL the Finger Lakes! This is a golden opportunity to catch smallmouths averaging 15″ to 18″ in shallow water! Bigger fish are available too, especially on Owasco and Keuka Lakes.
My first choice for smallmouth bass in the Eastern Finger Lakes is Skaneateles Lake.   Bass here behave like smallmouth bass should!  They aren't suspended over deep water chasing alewives.   They are often found near shore and they do a lot of feeding on bottom on crayfish.   Even tough days are usually productive on Skaneateles.   Keuka Lake is a good smallmouth fishery with big fish as well as decent numbers, though fish often go pelagic there.   Owasco Lake is a fair smallmouth fishery, known more for size than numbers.   Otisco Lake also produces some big alewife-fed smallmouths.   Six to seven pound smallmouth bass are a possibility on many of the Finger Lakes.
As of this writing the smallmouth population is down a bit on Cayuga Lake, but slowly appears to be bouncing back.  Quite a few small fish are around!  Seneca is full of small bass as well, so it's on the rebound too.   I like the spring and fall for bass on Cayuga and Seneca Lakes. Tactics that work well for Finger Lakes smallies include topwater, tube jigs, spinnerbaits, stickworms, lipless crankbaits, jig 'n pig, deep jigging and crankbaits – basically just about everything!
I did a lot of fishing for smallmouths in Lake Ontario during the 1990s and up until a couple years ago.   The fishing was phenomenal for 12″ to 15″ bass.   Action slowed down a lot in the late 2000s with the appearence of gobies.   Slowly but surely things are reaching a balance and fishing has improved considerably since then.    I've had some good to excellent smallmouth fishing over the past couple seasons around Oswego – in the river, harbor and the lake.
Fat Cayuga Smallmouth!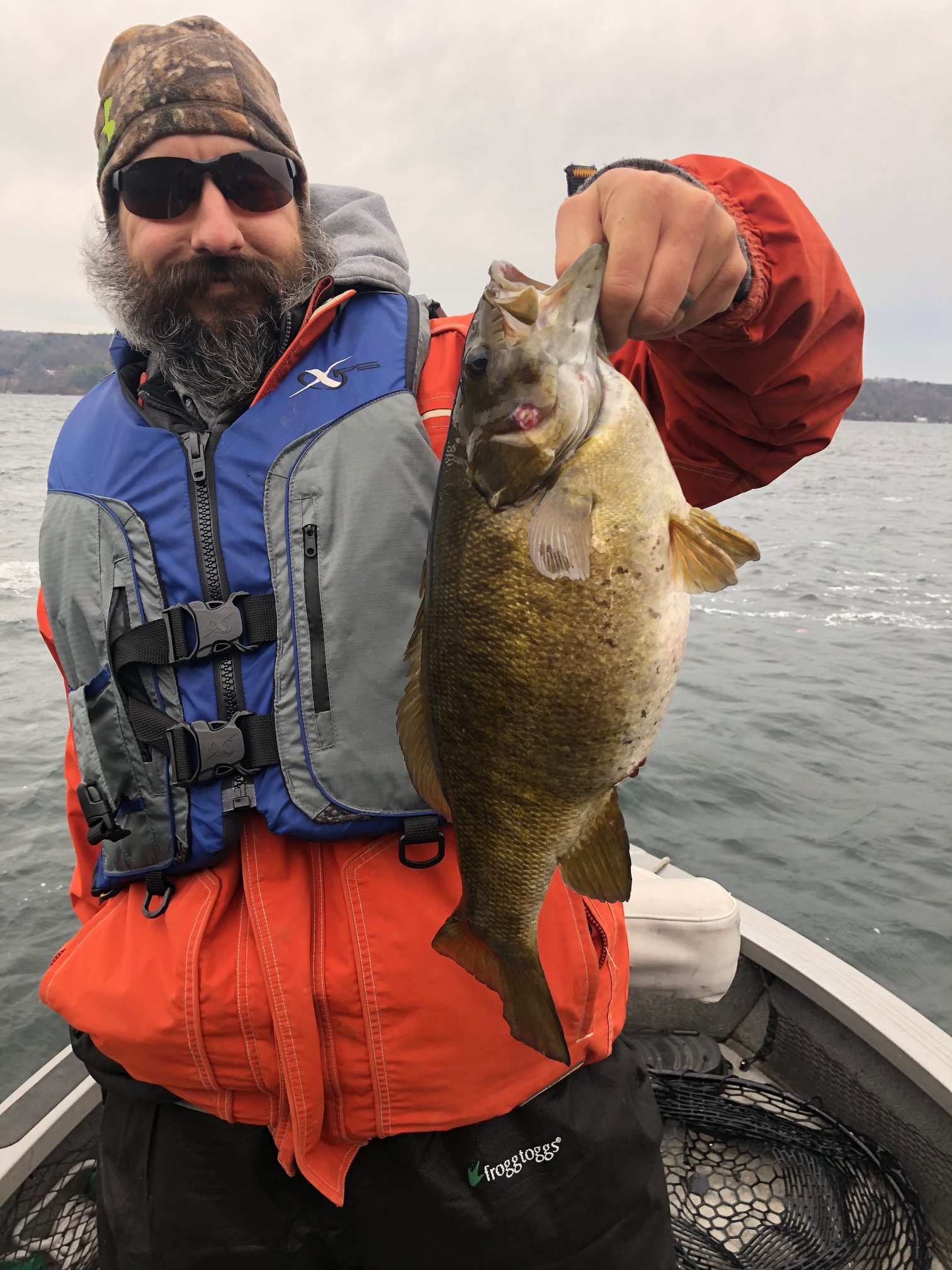 Another Cayuga Lake solid!
Skaneateles Smallmouth