Canandaigua Lake 10/11 midday
No fishing reports from this past weekend – I've been taking care of some "loose ends" lately with regards to my boat(s) and truck maintenance.  I had one trip cancellation and I moved another one.  It was probably the first time in all my years guiding that I did not do any trips on Columbus Day weekend.  My newer boat trailer is currently undergoing some routine preventive maintenance and an inspection.  One of my Minn-Kota trolling motors just conked out on my last trip as well.  There's always something that needs taking care of when guiding at this level.  I'm currently running my 2013 boat and will be throughout the fall/winter/early spring, barring any issues with it.
Got out on Canandaigua Lake with my friend John Sander from "Sander's Guide" fame.  I haven't been on this lake in a good five or six years and it was on my list.  John lives in Amherst (Buffalo area) and I figured we'd meet here or on Keuka.  I just had a Keuka report last night from my friend Jeff (and fishing was pretty good) but I decided to check out Canandaigua, since it had been so long.  I also wanted to take some photos for my Canandaigua Lake webpage.
Lake level was good and water temps ran around 61 out of Woodville (south end.)  Foliage looks tremendous and still has a week or two to go before it really peaks.  Lake trout jigging was fair – not bad but not great.  Fish are probably spawning now.  I landed two nice fish that I kept (both hatchery fish) and lost a couple not far from the boat.  John had some good hits.  We tried a stretch for smallmouth bass that used to be pretty good this time of year – we each had a few hits but no hook-ups.  The bass that hit appeared to be on the small side.  Only a few anglers were out today.  The lake was super quiet.  Fun day and it flew by like 2 hours, despite being out for 6 hours!
You can't beat fall in the Finger Lakes!
John Sander working his jig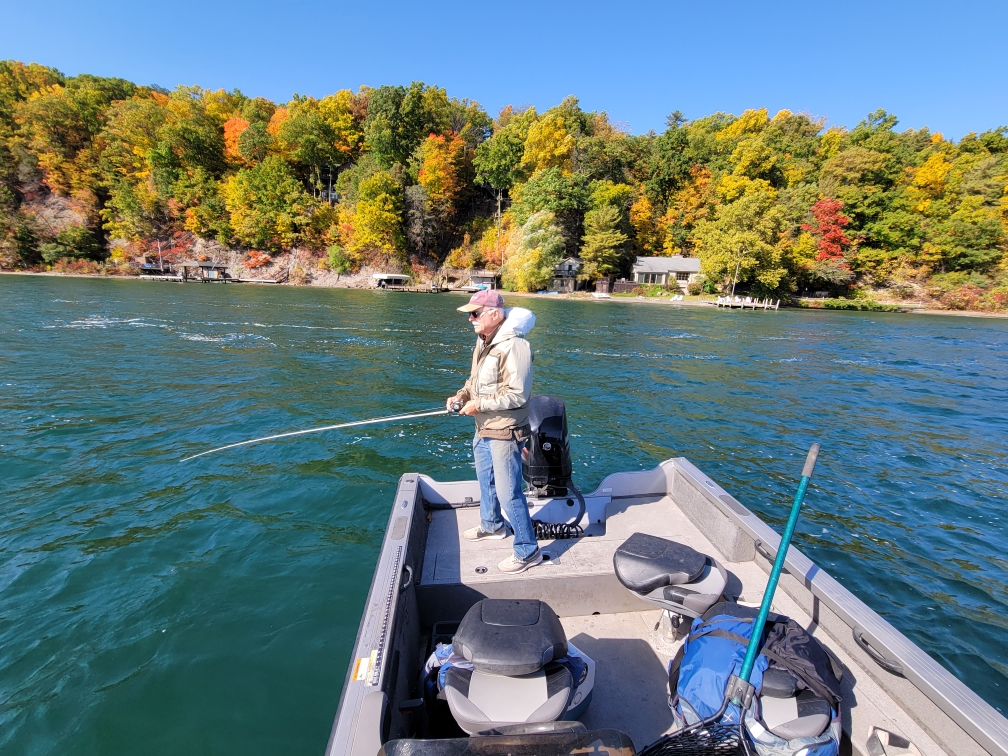 Beautiful Cliffs!
Couple nice trout for chowder and some baked fish
There's still a lot of foaming on Canandaigua Lake
Close up of the foam "balls"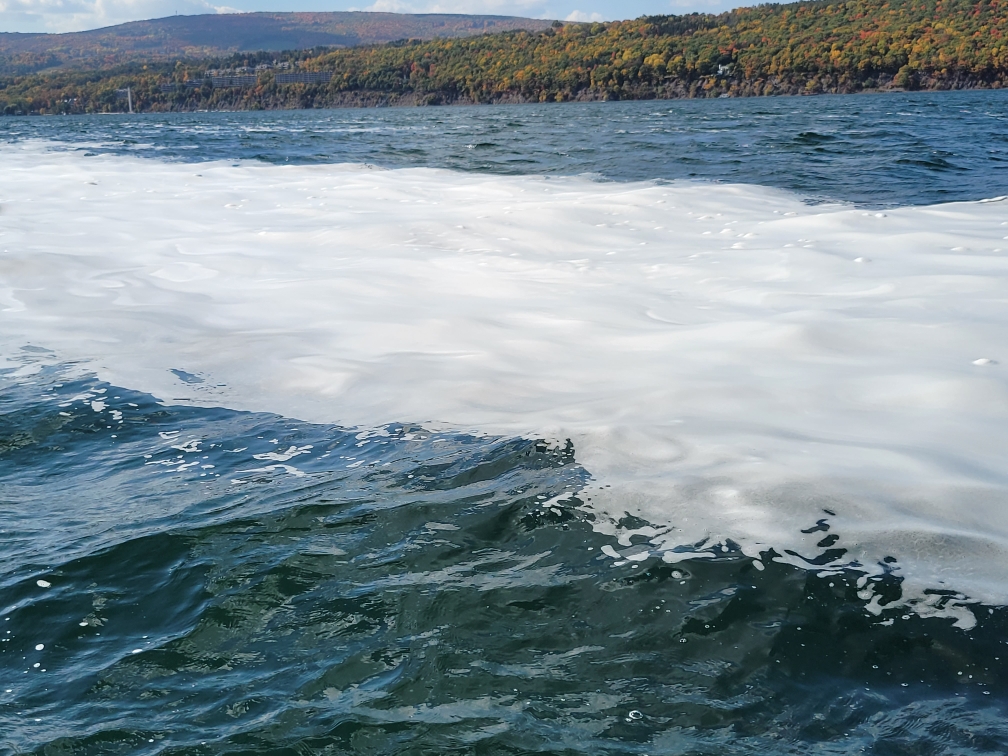 This foam has been looked at over the years and analyzed and it appears to come from organic (natural) sources.  Some have thought it's from invasive mussel die-offs.