Cayuga Lake 8/16 AM, 17th + Owasco Lake 8/18 AM
August is typically my busiest month and this August has been no exception.  I'm getting close to 20 years of guiding, mostly full-time and one thing I've finally learned is that to not burn out, I need to relax on my days off and not get up early and drive around to go fishing, so I've laid off of Oneida Lake and Lake Ontario trips – two of my favorite places to fish in August.  Usually I'm a partial zombie by August, but not this year; I feel great and am going to keep pushing it on the guide trips.  I could probably fit in one or two more PM 1/2 days this month, and then we're into September, which is currently around 70% filled up.
Cayuga Lake continues to fish well.  Owasco Lake is still looking great with no signs of algae blooms.  I am scheduled to be on Seneca Lake at least once more this month.  Here's the breakdown of the past few days:
8/16 AM:  Guided Mac along with his adult daughters Meredith and Lindsey for a half-day.  Mac's had a place on Cayuga Lake for a long time.  We had a solid morning of fishing with 9 nice lake trout landed.  The gals got us going in the morning and then Mac took over in the latter half of the trip.  Weather forecasts have been pretty off all summer long.  Forecasts need to be checked over and over again, right up until the night before, or day of a trip – that's how much they've been changing.  Wednesday (today) was supposed to be a sunny, beautiful day and we wound up with showers in the area through half of the morning.  It was a fun trip.
Lindsey hooked up
The fish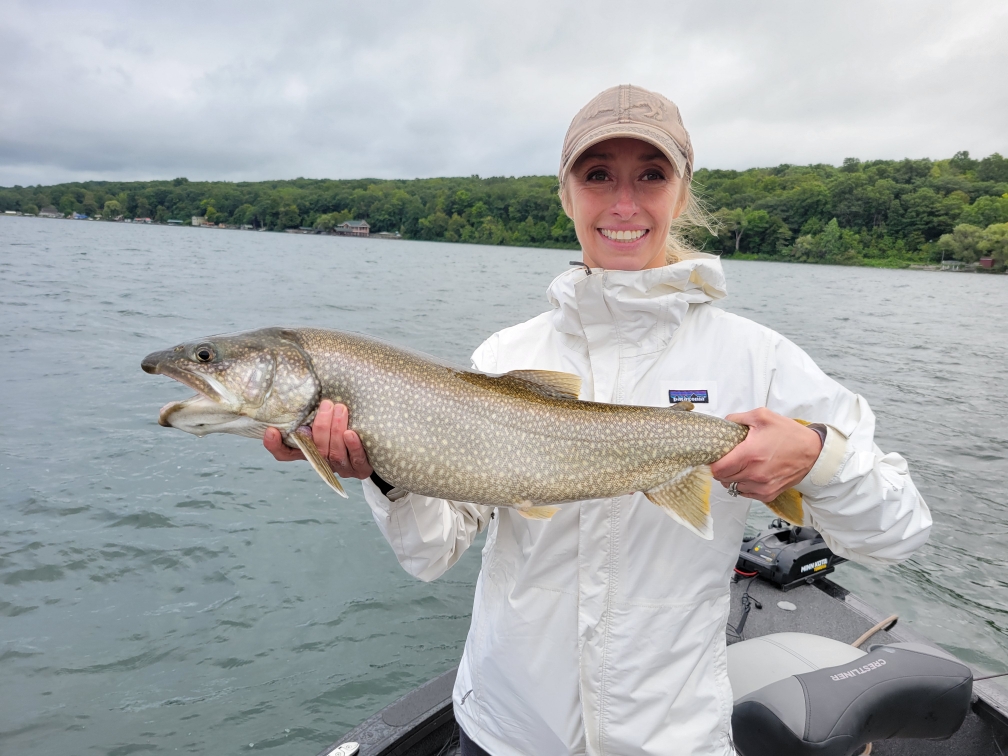 Mac with a nice fish, along with his daughters
8/17 AM:  My AM trip started at 6:30 am and was with Mike and his buddies, Bill and Dave.  We had a terrific double-digit morning and really never moved much at all.  Fish just kept coming through and the guys did great.  Arkansas Shiner was a hot color if I remember correctly, but a lot of different baits worked for us.
Mike and I with a nice fish
Bill with a good fish
David with one
Mike with another
8/17 PM:  My PM trip was with John and Kevin, who joined me on Tuesday during the rain, along with John's other nephew Kyle.  The fishing was slower than the morning trip, but we still wound up having a good day.  John lost a very, very nice landlocked salmon that appeared to be in the 6lb – 7lb range.  We got a couple good looks at it when it jumped twice near the boat and threw the jig!  What a beauty! We had to move around a bit more than during my morning trip.  We wound up with a couple thirty-inchers.  We had a half-dozen fish total.  A fair number were lost too.
Me with an alewife that John snagged. Baitfish numbers are thick on Cayuga Lake!
John with a nice laker
Kevin with a nice fish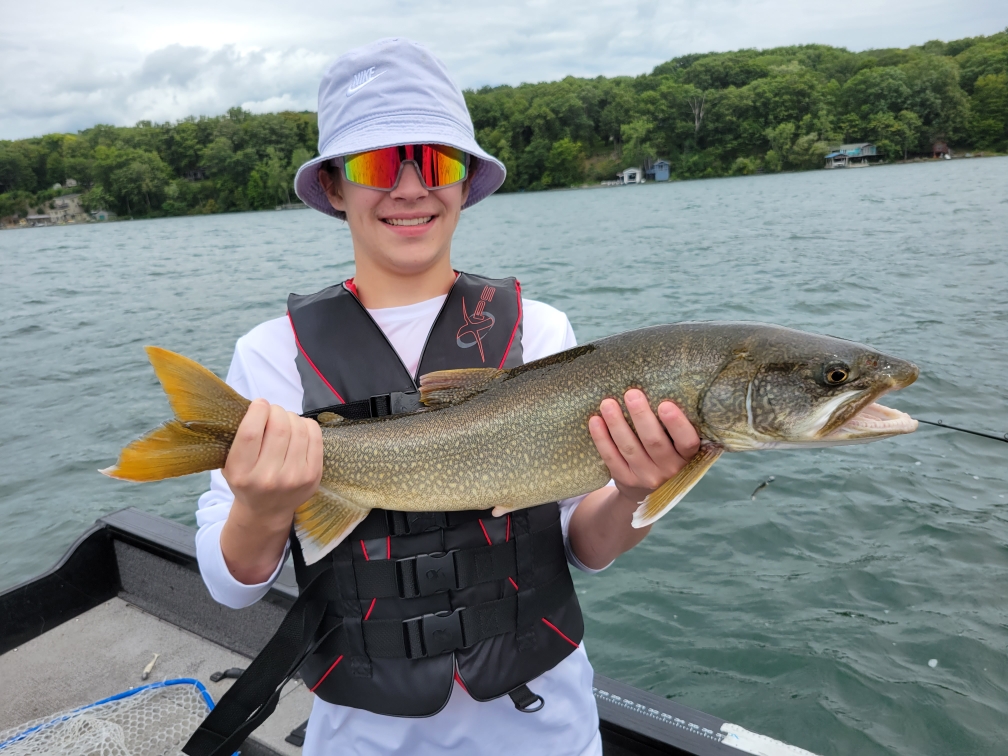 8/18 AM Owasco Lake:  Guided Greg for a 1/2 day on Owasco Lake starting just after 7 am.  We had a wind forecast blowing hard out of the west.  Lake Ontario maritime forecasts were calling for 8-to-9-foot waves today and tonight!  We decided to let Cayuga rest for a day.  The cold front made for some tougher fishing to start, but Greg had a solid day with three nice lakers landed, one lost and one nice smallmouth lost.  The weather was reminiscent of fall!  Nice cool breeze with some beautiful cloud formations.  We saw a huge bald eagle as well.  Plenty of baitfish are around and the water still looks great over here.
Greg hooked up
Greg with two of his three fish - both are destined for the smoker!