Cayuga Lake out of Long Point 4/24
Did back to back half days here starting at just after 8 am.  Fishing was excellent!
AM Trip:  My morning trip was with Larry and his friend Kevin, who had booked at the beginning of last year just before the Covid-19 virus changed everything.  I felt that our conditions were good for today and that feeling proved to be right.  The guys wound up having a banner day with plenty of nice fish landed up to 30″+ if I remember correctly.  We took fish on Lunker City Shakers and Yum Money Minnows – colors like white, black and smelt all produced fish.  We did our angling from 120′ out to around 140′ FOW.  Fish were very clean although we had two fish come up with small lampreys attached to them.  That is not a concern, given how few lampreys appear to be around.  When lampreys are bad, most fish have scars and it isn't uncommon to have a live lamprey come up on virtually every other fish.  This certainly isn't even close to the case here on Cayuga.
The guys do quite a bit of fishing both in New York State and outside of the State and Country.  It's always informative talking to avid anglers – that is a big perk of my job!
Kevin with one on
A beauty!
Larry with a big fish
Another Larry shot....
Kevin with another
Doubled up!!!
A better angle
PM Trip:  My PM trip was with Chandler, Jacob and Matthew – all originally from Texas.  The guys aren't super avid anglers but enjoy fishing and today they had a banner day.  Doing back to back trips can be great fun when the fish are hitting.  Sometimes the second group gets right onto the fish that I worked hard to find with the first group.  On other occasions, the first group does great with a hot morning bite and then the fishing slows down for the second group.  Today we had stellar action all day long.  The guys had terrific fishing with over 20 lakers landed.  The four 25″/26″ers I filleted were stuffed with multiple classes of alewives.  We have ample baitfish on Cayuga Lake.  I even heard of a small push of smelt a few weeks ago.  So they are still around albeit in much smaller numbers than in the past.  I'm not seeing many gobies right now in fish's stomachs out of Long Point.
Nothing really changed from the AM – the bite stayed hot and we ended the trip with the fish probably hitting better than they had all day, so it was pretty wild.
Chandler hooked up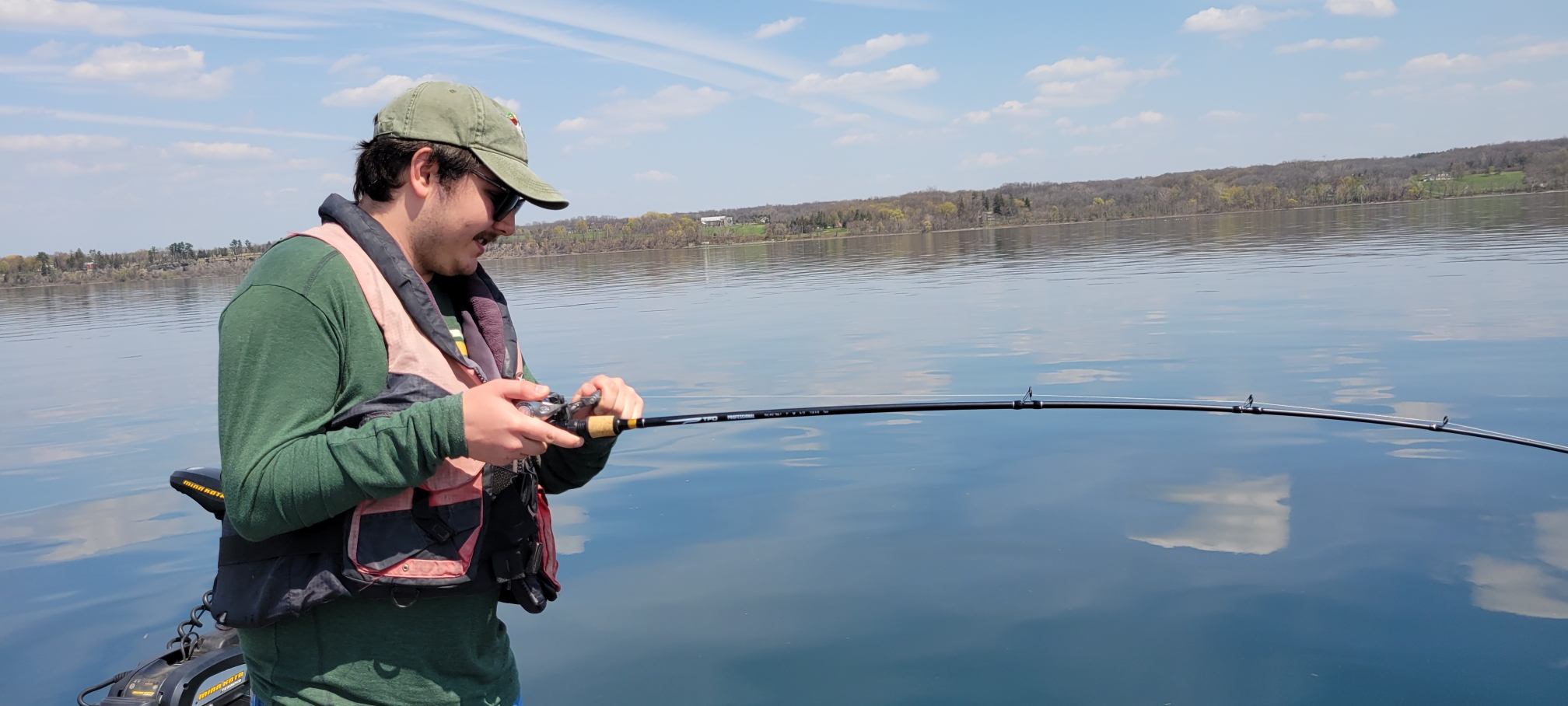 A nice fish
Jacob with a nice fish - I think it was a 31"
I believe my availability onwards is about the same as with my last post.  Looks like some warm to hot weather coming up in the forecast then back to the wind and rain.