Cayuga Lake out of Long Point 4/3 + 4/4
Did two back to back half day trips targeting lake trout.  Fishing was good on Saturday and excellent on Sunday.  The lake level continues to rise.  Launching and boarding/de-boarding is much easier now at Long Point.  Restrooms are still closed.
4/3:  My Saturday trip was with Ashik and his son Alex.  We had tried to coordinate a trip on and off for a long time and it was good to finally be able to make something happen.  It was a very cold morning (I think around 22 degrees) so we held the trip back to around 11 am.  In short order Ashik nabbed a beautiful fish around 31″ long.  We had another half dozen or so fish after that.  Fish were a bit scattered and we worked a lot of different depths.  Gorgeous day with fairly calm conditions and blue skies.  The loons have shown up as well, which is always cool.
Action shot of Ashik
"Conehead" Alex
Another Alex shot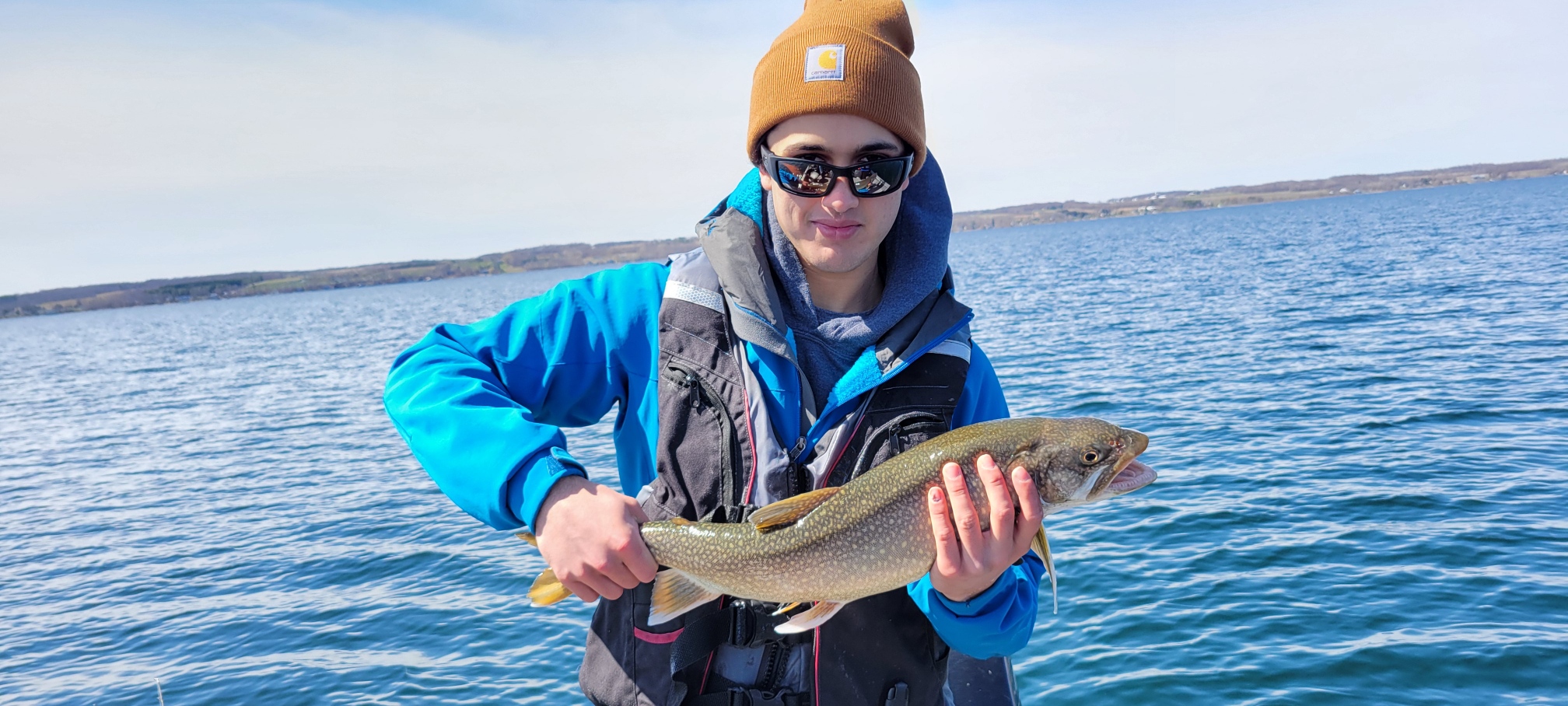 Ashik with a fish
4/4:  Today was a trip with Jim, his son Dan and Dan's girlfriend Sawson.  The stabilizing weather made for a top-notch trip with a laker caught first drop by Dan.  Within 2 and 1/2 hours we were pretty much boxed out with a 15 lake trout limit.  Jim tells me that the fish will be put to good use with his smoker running overtime this week.  Just to make sure we were legal, Dan happens to be a NYS DEC ECO (Conservation Officer), so it was great chatting with him and asking him questions about his job.
I have one shot I took of the group fishing.  If I get some pics from the gang, I'll put them up.
Easter Sunday on the water
My availability remains excellent for weekdays in April.  I am keeping my prior availability post updated.  I am not currently at Cornell with the Covid-19 restrictions in place, so all days are available for halves and full days.  I am looking forward to hitting some different waterways on my own when I have time.  I am looking forward to enjoying this (so far) beautiful spring out on the water!