Cayuga Lake out of Long Point 6/13, 15 + Oneida Lake 6/14 PM
First of all, it looks like a new state record smallmouth was caught yesterday out of Cayuga Lake.  I did see a bunch of bass boats out fishing. The fish reportedly weighed 8.57lbs and the photos certainly display the immensity of this fish.  As is the case with most smallmouths caught this time of year, it was reportedly caught bed-fishing.  I don't think anyone is surprised by this fish given the goby population on Cayuga Lake. A few 7lb+ smallmouths have been taken in early-season tournaments over the past 5 years.  We've also seen some massive largemouth bass pushing 8lbs come out of this lake.  Most smallmouths here are caught while in a pre-spawn pattern or while spawning from April/May – early July or in the fall when they stop suspending on offshore bait and move along ledges.   Cayuga Lake probably has a record class pickerel in it (my friend Eric caught one maybe 4 or 5 years ago that was close) and it wouldn't shock me to see a record sized drum or even yellow perch come out of here in the future.  Congrats go out to the angler!  It's a heck of a fish.
6/13 AM Cayuga Lake:  Guided the Mariano clan (or at least a portion of them) for a 1/2 day AM trip out of Long Point State Park.   They have a nice boat and like to troll the lake out of Long Point.  Due to some issues, this year they decided to hire me for the better part of this week and do some jigging.  That certainly works for me.  The guys did bring their own gear to fish with.
We had a decent morning with 8 fish landed and a fair number dropped.  Clients are welcome to bring their own tackle, but it's harder for me to ascertain their technique and efficiency with it.  I recommend using my gear on guided trips.  All in all it was a fun and productive morning.
6/13 PM:  I had a late call from Danny, who resides in Texas inquiring about any availability I might have.  He was up here with his two sons, Chris – who's 19 years old and Nico (short for Nicholas) who's 13.  Amazingly, Dan was referred to me by a former co-worker that lived in Texas!   I love word-of-mouth referrals and it's how I get a good chunk of my business.  I am not a social media fan.  After moderating Lake Ontario United's message board for a few years back in the early 2000s, I quickly soured on interacting online with strangers.  Most people were fine but a few of them made the job tedious and mentally draining.  The only way I'll ever get on Facebook, Instagram or other platforms would be in the future if my guiding drops off and I'm not reaching young people.  For now, this website seems to do the trick.  I am all for my clients posting on social media if they want.  It's their choice and the publicity certainly helps.
We had a slow start to our afternoon trip.  Cottonwood seed was all over the place in some areas and hampered our presentation.  As is often the case this time of year, the proverbial "switch" flipped on after an hour and we had a tremendous bite including a triple!   Young Nico wound up landing a solid 31″ laker.  The guys finished up with a double-digit day and called the trip early after our flurry.
Danny hooked up
I should be receiving more photos later this week from these trips.
6/14:  Oneida Lake – I got back out on Oneida Lake from 2:30 to 6:30 pm after a two-week layoff.  Anybody who has fished with me knows that I love casting hair and tube-jigs, so fishing here gives me a good chance to do it.  I had a lot of fun out here today.  As always, I started my day off fishing an area I probably hadn't fished in 20 years or more.  It paid off.  Within 10 minutes I'd hooked two nice drum and landed one.  Before long I had a nice smallmouth bass and decent walleye.  I kept working the area and landed another good walleye and a couple more solid bass.
I didn't do much deep bladebait fishing today.  I worked another area and landed another drum and good walleye as well as more bass.  I finished up the day with 3 walleyes running 18″ to 19″, a half-dozen smallmouths to 17 1/2″ and three drum.  I missed a fair number of other hits.  I caught half my bass on jerkbaits and the smallmouths were hitting so hard – I felt like they were going to jerk the rod out of my hands!  The mayfly hatch was in "full-bloom" and that can make the bite tough for walleyes, so I was happy with what I had.  It was a four- hour day.  The water still is nice and clear although there's some algae (which is common on this lake.)  The surface temp was 73 degrees.
Mayfly bodies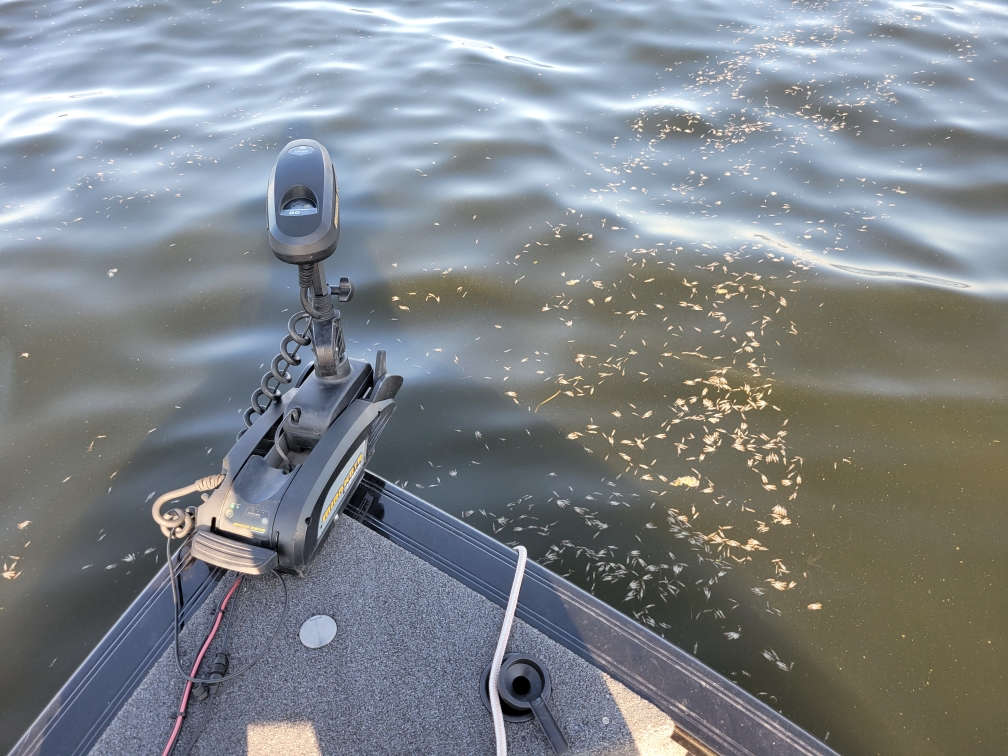 6/22:  Cayuga Lake out of Long Point – Started out at 7:30 am with Steve, Sal and David (aka the Mariano Gang.)  Our morning bite was tougher for us today.  A decent number of boats were out and most appeared to be catching some fish in the morning.
We wound up landing 5 this morning and dropping a couple. I should have ground it out in our original areas but decided to look for better concentrations of fish elsewhere.  That did not prove to be productive apart from a shot at a rainbow that Dave had.  It can be tricky as a guide knowing the potential of a lake like Cayuga and whether to settle for great over good. Guitarist George Barnes was a terrific guitar player and major studio musician back in the 1930s and onwards.  He was a Louie Armstrong fan and had seen him play many times.  He said that one problem with Louie is that he "…tries so hard to be great sometimes that he isn't good."  We still didn't do badly today but would've done better just sticking with our slow but steady pick.
6/15 PM:  Guided David, his wife Laurel and son Erik starting at around 12:30 pm.  I started us off in our AM area (that had been productive) and fishing remained tough.  One or two fish were dropped in short order but otherwise they weren't hitting for us very well.  We changed locations a few times and finally got into a pattern.  The fishing was fair and we wound up with four nice lakers.  A few others were dropped.
June is completely booked up.  I still have plenty of openings in July and onwards.  My "availability onwards" post is up to date.  I keep those posts updated by the day.   I expect continued good fishing on Cayuga Lake but if we do get some tough fishing in July, I'll probably move some trips over to Owasco Lake.  I will be out on Seneca Lake again soon and am looking forward to seeing how the bite is shaping up over there.