Cayuga Lake out of Long Point 6/15 + 16, AM trips
Did back-to-back morning trips with Mike and his 16-year-old grandson Maxx.  Mike lives in the area and does quite a bit of laker jigging with his friends.  Maxx was up here from California for the week.  Water temperatures remain cool on Cayuga Lake.  Surface temps are in the low-60s.  There are large swaths of laker-friendly temperatures and even larger areas of rainbow/salmon friendly temperatures.  Baitfish are pretty much everywhere. This is making for generally good fishing – you can catch lake trout in plenty of different areas, but the fish aren't particularly concentrated and their hunger-level really varies.  At least these are my findings and observations.  Trout/salmon boat traffic has been light lately.  Bass fishermen on the other hand, are all over the place with the first weekend of the season coming up tomorrow.  Expect plenty of bassers on the lake!
You'd have to be living under a rock not to hear about the 9lb smallmouth taken yesterday by the same guy who landed the state record last year.   As a matter of fact, he's certain it's the same fish!  After the recent BPT event, expect more and more bass fishermen to descend on Cayuga Lake.  We certainly have a terrific largemouth bass fishery here and some beautiful smallmouths, but as I've mentioned before, our smallmouth population is very modest compared to other area waterways and when compared to Cayuga in the 1990s and early 2000s.  Don't be fooled by the hype during the BPT event – many of those guys were catching the same fish over and over again.  I watched boats fishing the same beds continually over a couple day period, and I wasn't even around those areas for long.  I wouldn't be surprised if a dozen different anglers worked the same fish over the week.
6/15 AM:  We started at 7 am with good conditions on the lake.  I had the guys work three different areas and they caught fish in each of them.  We finished the day with 9 solid lakers caught and released up to 29″ and probably 9lbs.  Best colors were chartreuse and white with a chartreuse tail.  Maxx had the hot hand and managed to give his Grandfather a good helping of good-natured ribbing.
6/16 AM:  Today we had the threat of rain upon us throughout the morning, but it never wound up being much apart from some light showers, if you even want to call it that.  Unfortunately for Maxx, he dropped 5 hookups today and never landed a fish.  His Grandfather had the last laugh, landing three cookie-cutter lakers around 23″ each.  We had plenty of fish and bait located today, but the bite was a bit tentative.  That being said, the fishing was much better today than our tally would indicate.  Mike dropped some good hits as well.  It was still a beautiful day to be out on the water.
First one for Maxx
Another for Maxx
A 29"er for Maxx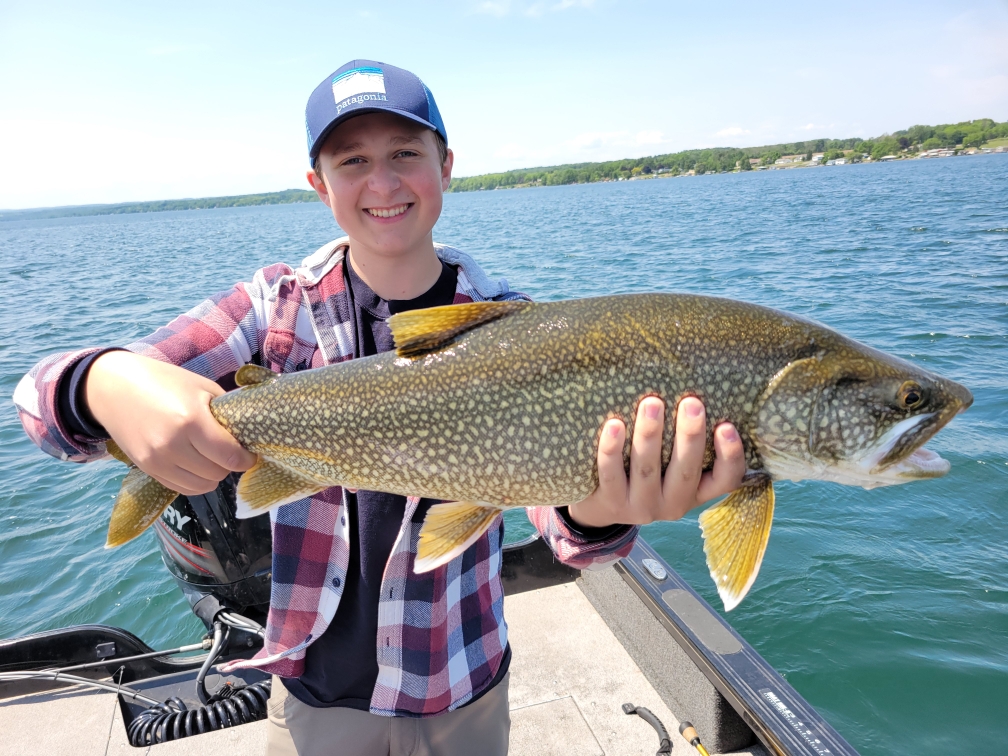 Mike hooked up
Mike with a beauty!
My availability is listed on another post under "Reports."  June 29th (a Thursday) remains open in June.  I still have a couple of Saturdays, most Sundays and one Friday open in July along with a couple of weekdays mostly during the 1st and last week of July open.  This year is just FLYING by!