Cayuga Lake out of Long Point State Park 5/12 – 5/14 AM trips
Guided three one-half-day morning trips on Cayuga Lake going out of Long Point State Park.  Lake trout are fairly scattered on Cayuga Lake at this point in time.  Not surprisingly, there are fish from 10′ of water out to probably 200′ or more.  The challenge of lake trout fishing this time of year is figuring out where the active fish are and timing the bite-windows.   The front that came through on Saturday night slowed down the bite a bit on Sunday, although it was still fairly decent.
5/12 AM:  Guided outdoor writers Bill Hilts Jr. and Chris Kenyon for a few hours so they could get a few good photos and some info for articles.  I've read their stuff for years.  Chris did the article on our 2013 Memorial Weekend Lake Trout Derby grand prize victory on Seneca Lake, where my friend Jarrod landed a few beauties in deep water.  I've read Bill's articles for years in the New York Outdoor News and Buffalo News.  These guys worked for their respective counties tourism departments and were the genesis for the LOC Derby a while back.
Memorial Derby Victory over 10 years ago! Time sure flies...
We had an awful lot of fun on the boat.  I'd be hard pressed finding better company for a morning of angling.  Bill nabbed a few beauties – he landed a 31″ and a 32″ laker among a couple others.  We got to rank on Chris a bit until he hooked a hard fighting fish that kept diving back down!   I'm sure those guys will do the fish tale justice, but long story short, Chris boated a FAT 33″er!  It was a picture-perfect lake trout that we released (along with the others.)  Fun day!
Bill with a nice one
Bill hooked up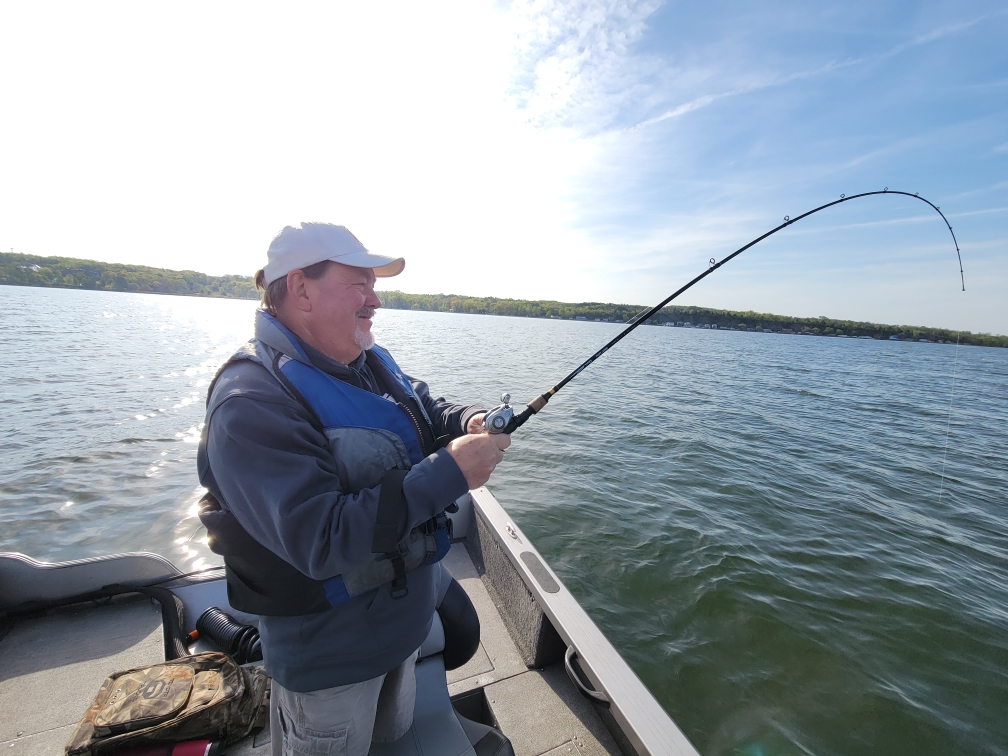 Smiling Bill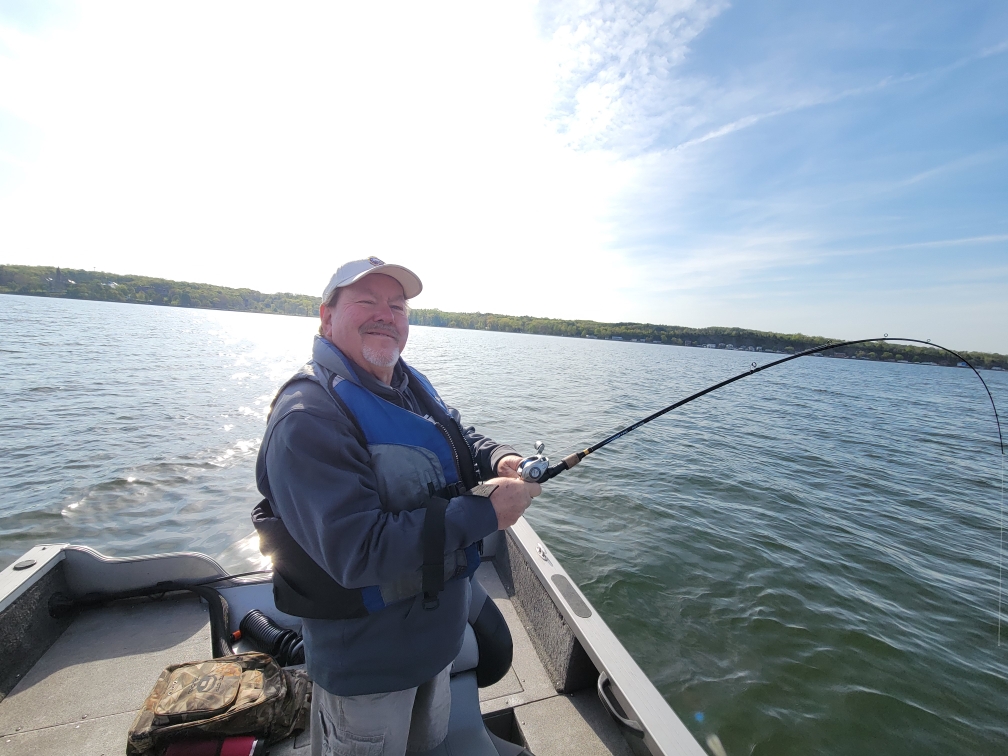 Nice fish Bill!
Chris on!
33" Hard-Fighting Lake Trout!
5/13 AM:  Guided Larry and his friend Kevin today.  We had a solid shallow bite today with some good to excellent action at times.  Unfortunately, we only have one so-so, bright light photo of Larry, but we did get some nice fish shots of Kevin, who had the hot hand for much of the morning.   Fun morning!  The midges have been active over the past few days for what it's worth – at least they don't bite!
Right into the sun for Larry's fish!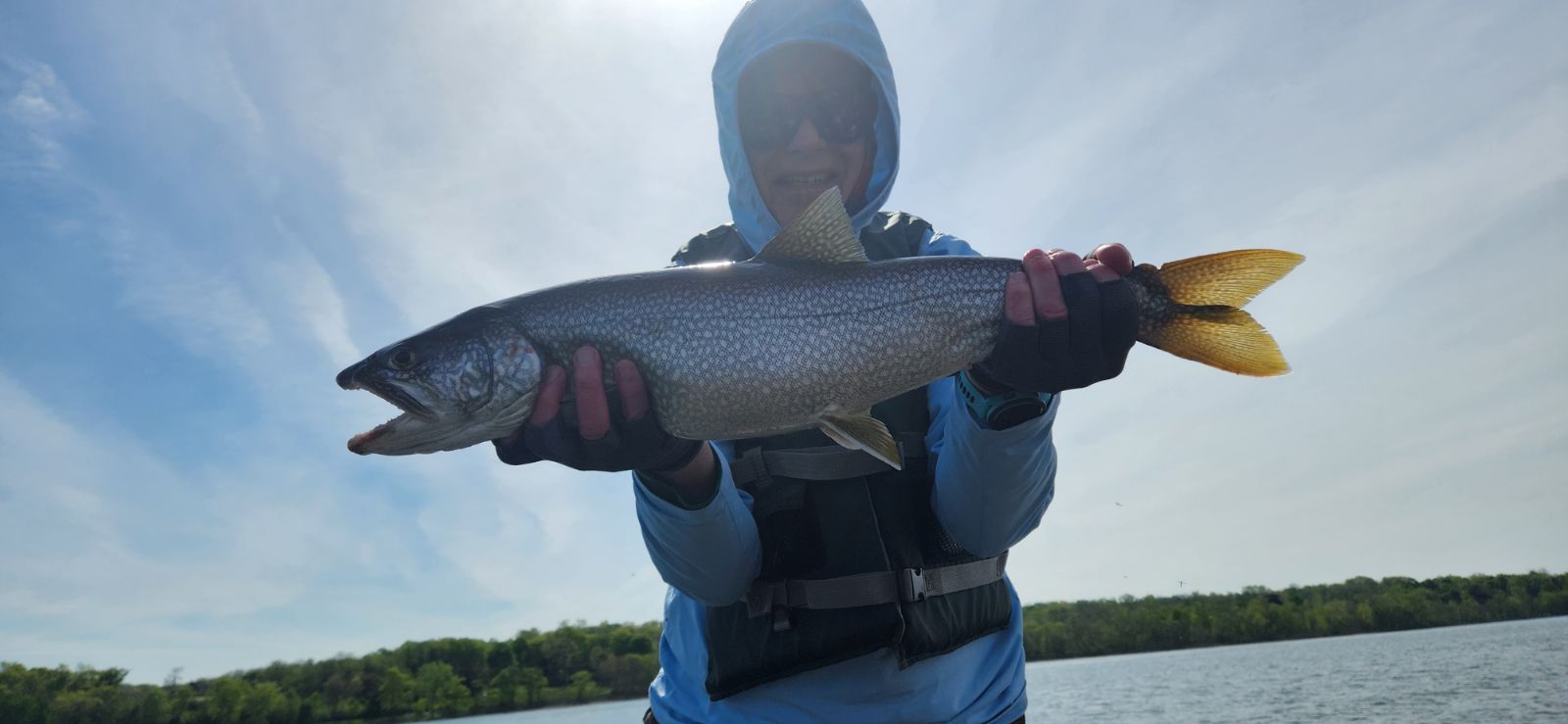 Kevin with one
Another...
Another....
The guys do a bit of Lake Ontario steelhead fishing and trolling at times, so it's always nice to get an update with regards to what's happening up north.
5/14 AM:  Today I guided Vincent and his friends (Dr.) Mohammed and Doc's son, Allah.  The Doc and his son are novices at angling, so today was a big day for them.   Vince does a ton of fishing and hunting but had never caught a lake trout before.  We had a solid day with 8 nice fish landed up to over 30″ long.  We dealt with a bit of chop and wind out of the north.  The front appeared to slow down the bite a bit from the past couple of days.  No photos at the moment, but the guys did take some and I'll get them up on the site when I get them.  We took all our fish in less than 70′ of water today.  I gutted them and they were full of baitfish – all alewives.