Cayuga Lake out of Long Point State Park 5/6 – 5/8
At present, lake trout fishing on Cayuga Lake is still good to very good, although it's been challenging at times over the past few days.  The large influx of warm water after last week's rains resulted in some major shallow movements of fish and bait (like on 5/5), but since then, they've been fairly scattered with fish being taken from 10′ all the way out to 180′.
5/6:  I guided Dan and his cousin Ron for a full day of fishing.  Last year, the guys timed the fishing perfectly and we had a ridiculous bite all day in water around 130′ to 160′ if I remember right.  This year we fished around 120′ to 140′ and had a good double-digit day with fairly steady fishing throughout the day.
Ron hooked up
5/6 AM:  Did a half-day AM trip with Bernie and his friend Brandon.  We had a killer bite right from the get-go with Bernard nabbing a nice fish on his first drop of the jig.  Fishing was great throughout the morning and the guys were both impressed with the action.
PM:  My PM trip was with Dan, from yesterday and his father Dan Sr., who joined me a couple years ago with Dan for a laker trip that I think was out of Myers.  Our hot AM bite had slowed down considerably as the trip started.  We wound up boating 5 or 6 lakers with Dan's dad having the hot hand.  We fished all over the place and caught fish from around 45′ on out to 130′ or more, but nothing was consistent.
Bernard hooked up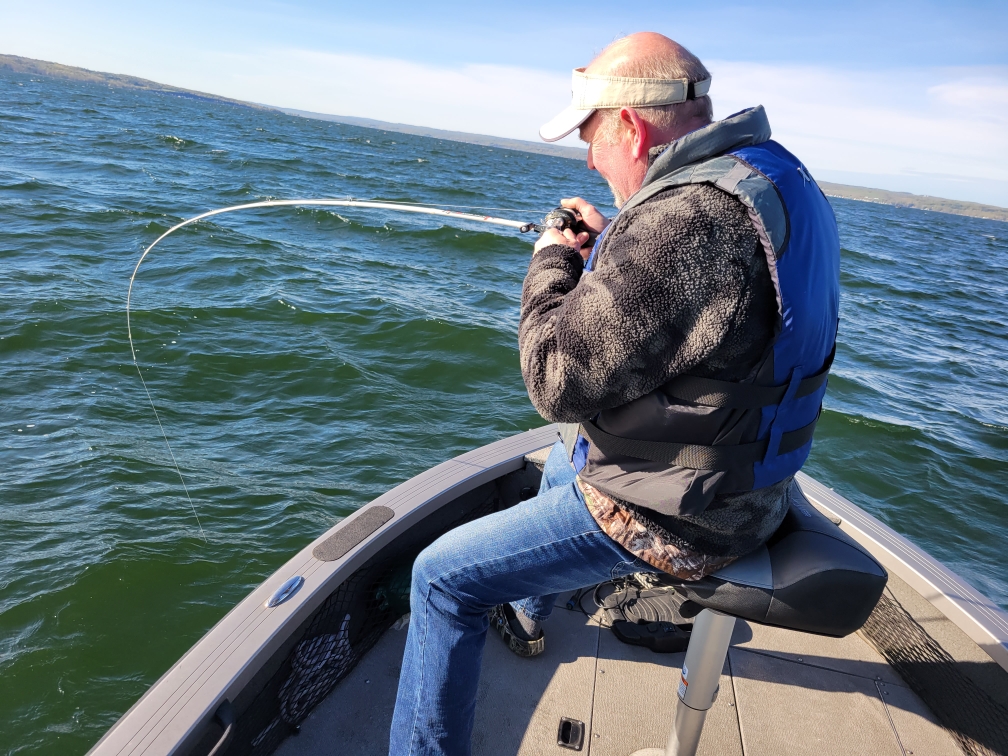 5/8:  Today I guided Dean and his brother Scott, along with Scott's son, Aiden for a full-day trip.   It's always a lot of fun with these guys!  Fishing continued to be challenging for us – especially when compared to the easy fishing of the past couple of months.  We worked a bunch of different areas and the guys wound up landing 9 nice fish on the day.  A lot of fish were dropped as well, all the way around.  We had some smaller fish in the mix too, which may have been part of the reason for the drops.  No specific depth was really markedly better than any other.
Dean on!
The midges were out over the past few days, but they weren't too much of a hassle.  Some loons remain on the lake.  Surface temperatures are running from 47 to 53 degrees.  The lake level is around full-pool, so thankfully we didn't get any flooding. We had one live lamprey come up over the past few days, that was it.  A few non-lakers have been taken – I've heard of one rainbow hooked along with one salmon landed.  Usually by mid-May, the salmon, browns and rainbows start showing pretty well around Dean's Cove and Long Point/Levanna.