Cayuga Lake out of Myers Park 10/12 AM + 10/13
Guided a 1/2 day trip yesterday and back-to-back 1/2 days today targeting lake trout.  Surface temperatures are around 64 degrees.  Foliage is around 33% peak, so we have a ways to go.  Boat traffic remains light although I saw a few more boaters out today than I had in quite some time.  Lake trout are mostly post-spawn right now and some have resumed feeding.  I would guess that fish are gradually migrating back up to the northern deep basin of the lake at this time.
10/12 AM:  Guided Sion and his dad Gwyndof – both originally from Wales!  Gwyn is a sheep farmer over there and was in town to visit his son.  We had a lot of fun today as the guys gave each other flack all day long.  Plenty of nice fish remain throughout the lake.  Best color was Alewife.  Chartreuse Silk also worked well for us.
Sion (pronounced Shawn) with a nice laker
Gwyn with one
10/13 AM:  This morning I guided Larry and his wife Jennifer.  Larry and I have both  enjoyed watching Jennifer get more and more into fishing.  She's a competitor and it shows out on the water!  We had a slow start to the morning, but the fish eventually came around.  We wound up with a half-dozen fish including what looked like a small salmon (that flipped off the hook before I could positively identify it.)  Fun day and we actually had a lot more action than our tally would have indicated.  A lot of fish just seemed to be striking short or not getting hooked well.
Larry with a nice fish
Jennifer with a nice fish
A old beater with scars and a dorsal fin clip (an ugly clip that hasn't been used in probably 15 years or more!)
Measuring a fish for the DEC Diary Program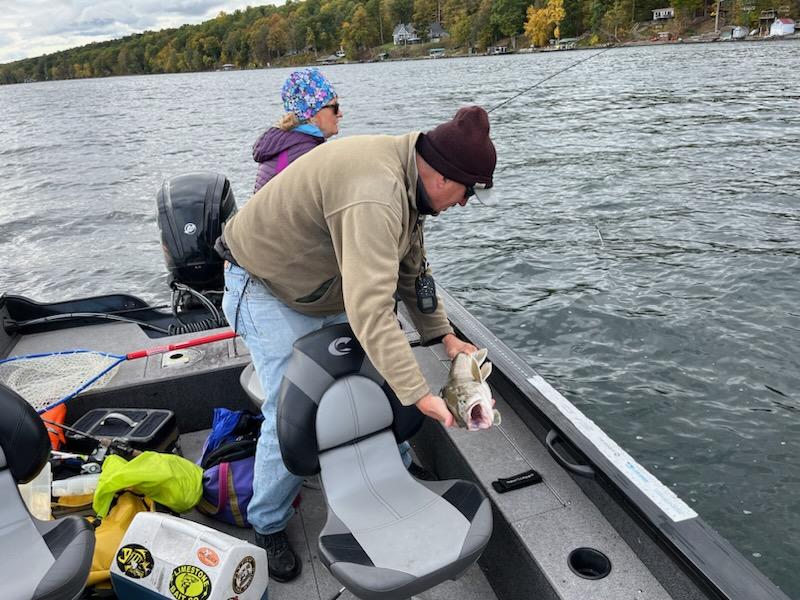 Netting a lake trout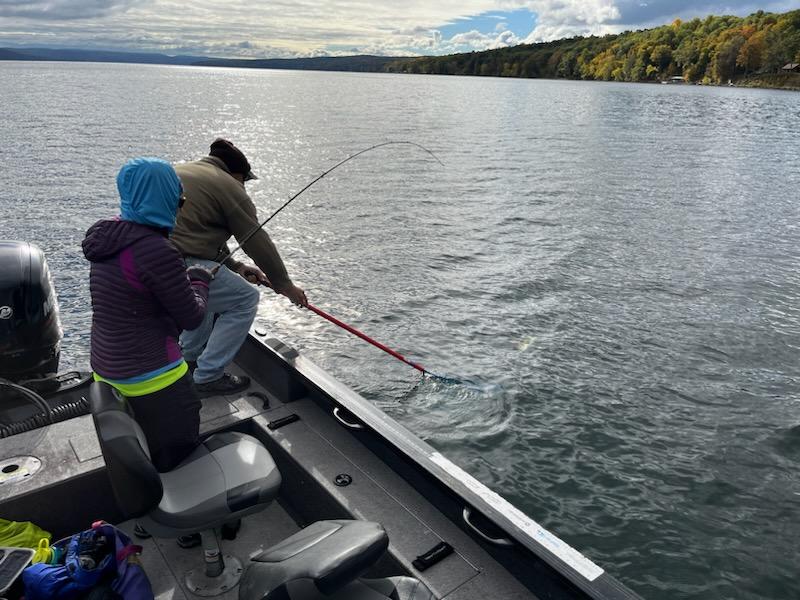 10/13 PM:  Guided Justin and his friend Eric today starting around 1 pm.  I don't typically book doubles this time of year, but the guys were scheduled for tomorrow and early in the week the forecast called for a real washout with cold temps and plenty of rain.  Justin was originally scheduled back in September when I came down with a stubborn case of the flu.
With the fish biting pretty decently towards the end of my morning trip, I decided not to run north where we'd been fishing, but instead to try closer to Taughannock Park, where a lot of fish still remain.  It paid off and the fish were still hitting fairly well.  We wound up with another 1/2 dozen solid lakers running 25″ or so up to 29″.  A few were lost too.  Solid fishing, not spectacular, but certainly not bad.  I filleted the two fish the guys kept this afternoon.  One was FULL of round gobies!  The other had alewives in it.  The fish were post-spawn and had clearly got back on the feed again.  Late-October last year provided us with a couple of the best days of the season.  We'll see how things set up this year!  Fun day all the way around!
Eric got us started this afternoon
Justin with his first of the day
The scenery and weather was beautiful over the past couple of days (actually for most of the week,) although it was chilly this morning (38 degrees.)
Jigging for lake trout will hold up throughout November.  I'll be getting into some pike fishing shortly as well as some mixed bag fishing on Skaneateles Lake (bass, perch, trout and occasional walleyes) and possibly elsewhere.  I still have decent availability during the last two weeks of October and into November.  I hope to do a lot more personal fishing as well, now that my schedule has cleared up a bit.